Abstract
The inhibitory effects on tyrosinase activity by extracts of several mushrooms belonging to Basidiomycetes were evaluated. Among the tested mushrooms (Ganoderma lucidum, Antrodia camphorata, Agaricus brasiliensis, and Cordyceps militaris), G. lucidum exhibited significant inhibition of tyrosinase activity (IC50 value 0.32 mg/ml), compared to those prepared from other Basidiomycetes. Tyrosinase inhibitors are effective components of skin-lightening compounds and other cosmetics; currently many of the facial mask cosmetics in the market contain Ganoderma extracts in their ingredients. The finding that mushroom extracts contain tyrosinase activity inhibition will contribute to better understanding of how their 'healing' properties in various Chinese traditional herbal on skin care products.
Access options
Buy single article
Instant access to the full article PDF.
US$ 39.95
Tax calculation will be finalised during checkout.
Subscribe to journal
Immediate online access to all issues from 2019. Subscription will auto renew annually.
US$ 119
Tax calculation will be finalised during checkout.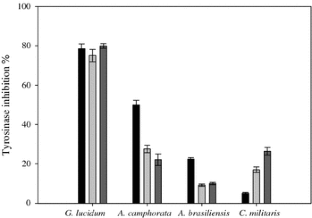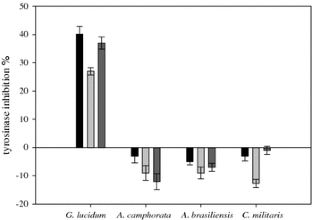 References
1.

Huie CW, Di X. Chromatographic and electrophoretic methods for Lingzhi pharmacologically active components. J Chromatogr B. 2004;812:241–57.

2.

Jong SC, Birmingham JM. Medicinal benefits of the mushroom Ganoderma. Adv Appl Microbiol. 1992;37:101–34.

3.

Lakshmi B, Ajith TA, Sheena N, Gunapalan N, Janardhanan KK. Antiperoxidative, anti-inflammatory, and antimutagenic activities of ethanol extract of mycelium of Ganoderma lucidum occurring in south India. Teratog Carcinog Mutagen Suppl. 2003;1:85–97.

4.

Lin ZB, Zhang HN. Anti-tumor and immunoregulatory activities of Ganoderma lucidum and its possible mechanisms. Acta Pharmacol Sin. 2004;25:1387–95.

5.

Yuen JW, Gohel MD. Anticancer effects of Ganoderma lucidum: a review of scientific evidence. Nutr Cancer. 2005;53:11–7.

6.

Zhou X, Lin J, Yin Y, Zhao J, Sun X, Tang K. Ganodermataceae: natural products and their related pharmacological functions. Am J Chin Med. 2007;35:559–74.

7.

Hung WS, Fang CL, Su CH, Lai WF, Chang YC, Tsai YH. Cytotoxicity and immunogenicity of SACCHACHITIN and its mechanism of action on skin wound healing. J Biomed Mater Res. 2001;56:93–100.

8.

Hung WS, Lai WF, Leu B, Su CH, Fang CL, Tsai YH. Effect of SACCHACHITIN on keratinocyte proliferation and the expressions of type I collagen and tissue-transglutaminase during skin wound healing. J Biomed Mater Res. 2004;70:122–9.

9.

Mizuno T. Bioactive biomolecules of mushrooms: food function and medicinal effect of mushroom fungi. Food Rev Int. 1995;11:7–21.

10.

Su CH, Sun CS, Juan SW, Hu CH, Ke WT, Sheu MT. Fungal mycelia as the source of chitin and polysaccharides and their applications as skin substitutes. Biomaterials. 1997;18:1169–74.

11.

Burdock GA, Soni MG, Carabin IG. Evaluation of health aspects of kojic acid in food. Regul Toxicol Pharmacol. 2001;33:80–101.

12.

Hakozaki T, Minwalla L, Zhuang J, Chhoa M, Matsubara A, Miyamoto K, et al. The effect of niacinamide on reducing cutaneous pigmentation and suppression of melanosome transfer. Br J Dermatol. 2002;147:20–31.

13.

Sugimoto K, Nishimura T, Nomura K, Sugimoto K, Kuriki T. Inhibitory effects of α-arbutin on melanin synthesis in cultured human melanoma cells and a three-dimensional human skin model. Biol Pharm Bull. 2004;27:510–4.

14.

Hearing VJ, Jimenez M. Mammalian tyrosinase—the critical regulatory control point in melanocyte pigmentation. Int J Biochem. 1987;19:1141–7.

15.

Duckworth HW, Coleman JE. Physicochemical and kinetic properties of mushroom tyrosinase. J Biol Chem. 1970;245:1613–25.

16.

An BJ, Kwak JH, Park JM, Lee JY, Park TS, Lee JT, et al. Inhibition of enzyme activities and the antiwrinkle effect of polyphenol isolated from the persimmon leaf (Diospyros kaki folium) on human skin. Dermatol Surg. 2005;31:848–54.

17.

Yoshimura M, Watanabe Y, Kasai K, Yamakoshi J, Koga T. Inhibitory effect of an ellagic acid-rich pomegranate extract on tyrosinase activity and ultraviolet-induced pigmentation. Biosci Biotechnol Biochem. 2005;69:2368–73.

18.

Wang KH, Lin RD, Hsu FL, Huang YH, Chang HC, Huang CY, et al. Cosmetic applications of selected traditional Chinese herbal medicines. J Ethnopharmacol. 2006:106:353–9.

19.

Mau JL, Lin HC, Chen CC. Antioxidant properties of several medicinal mushrooms. J Agric Food Chem. 2002;50:6072–7.

20.

Chan WK, Lam DT, Law HK, Wong WT, Koo MW, Lau AS, et al. Ganoderma lucidum mycelium and spore extracts as natural adjuvants for immunotherapy. J Altern Complement Med. 2005;11:1047–57.

21.

Wang HX, Ng TB. A laccase from the medicinal mushroom Ganoderma lucidum. Appl Microbiol Biotechnol. 2006;72:508–13.

22.

Joo SS, Ryu IW, Park JK, Yoo YM, Lee DH, Hwang KW, et al. Molecular cloning and expression of a laccase from Ganoderma lucidum, and its antioxidative properties. Mol Cells. 2008;25:112–8.

23.

Di X, Chan KK, Leung HW, Huie CW. Fingerprint profiling of acid hydrolyzates of polysaccharides extracted from the fruiting bodies and spores of Lingzhi by high-performance thin-layer chromatography. J Chromatogr A. 2003;1018:85–95.

24.

Lin SB, Li CH, Lee SS, Kan LS. Triterpene-enriched extracts from Ganoderma lucidum inhibit growth of hepatoma cells via suppressing protein kinase C, activating mitogen-activated protein kinases and G2-phase cell cycle arrest. Life Sci. 2003;72:2381–90.

25.

Park EJ, Ko G, Kim J, Sohn DH. Antifibrotic effects of a polysaccharide extracted from Ganoderma lucidum, glycyrrhizin, and pentoxifylline in rats with cirrhosis induced by biliary obstruction. Biol Pharm Bull. 1997;20:417–20.
Acknowledgments
This work was supported in part by a grant (contract number NSC95-2221-E-155-021) from National Science Council, Taiwan. We are also grateful to Dr. Thomas J. Lie, University of Washington, Seattle, USA, for the editing assistance.
About this article
Cite this article
Chien, CC., Tsai, ML., Chen, CC. et al. Effects on Tyrosinase Activity by the Extracts of Ganoderma lucidum and Related Mushrooms. Mycopathologia 166, 117 (2008). https://doi.org/10.1007/s11046-008-9128-x
Received:

Accepted:

Published:
Keywords
Ganoderma lucidum

Lingzhi

Medicinal mushroom

Tyrosinase