Abstract
Fatigue behaviour of woven E-glass/epoxy composite laminates containing off-centre interacting circular holes was determined under sinusoidal loading in tension–tension at 0.1 stress ratio. Laminate samples with central hole were also investigated. Tensile and fatigue tests were conducted on specimens in load control mode. For the unnotched, central holed and off-centre interacting holed laminates, fatigue life was evaluated using a two-parameter Weibull distribution function at different probabilities and confidence levels. Results indicated that the number of samples taken at each stress level of fatigue experiments is adequate for the S–N curve generation at 90% confidence level and 90% Weibull probability. From the traditional and mean S–N curves, the effect of scatter on fatigue strengths of the specimens was investigated. Life distribution graphs were constructed to determine the fatigue life at any survival per cent. Damage forms and the associated causes were also explained.
Access options
Buy single article
Instant access to the full article PDF.
US$ 39.95
Tax calculation will be finalised during checkout.
Subscribe to journal
Immediate online access to all issues from 2019. Subscription will auto renew annually.
US$ 79
Tax calculation will be finalised during checkout.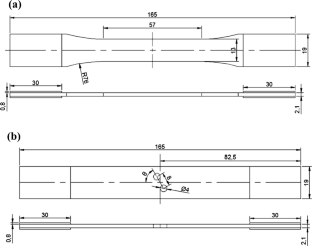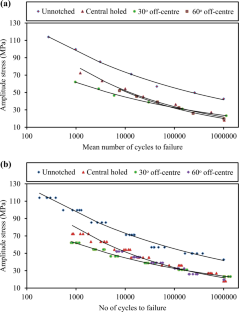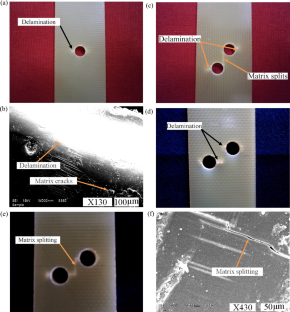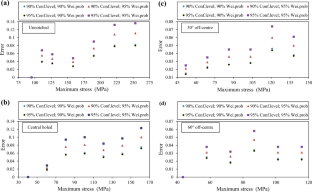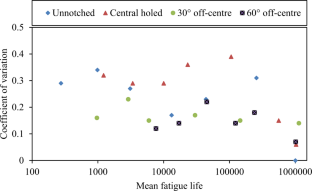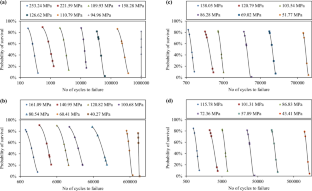 References
Barnard, P.M., Butler, R.J., Curtis, P.T.: Fatigue scatter of UD glass epoxy, a fact or fiction? In: Proc. 3rd Conference on Composite Structures, pp. 69–82 (1985)

Degrieck, J., Paepegem, W.V.: Fatigue damage modelling of fibre-reinforced composite materials: review. Appl. Mech. Rev. 54(4), 279–300 (2001)

Ferreira, J.A.M., Costa, J.D.M., Richardson, M.O.W.: Effect of notch and test conditions on the fatigue of a glass fibre reinforced polypropylene composite. Compos. Sci. Technol. 57, 1243–1248 (1997)

Frost, N.E., Marsh, K.J., Pook, L.P.: Metal Fatigue. Clarendon Press, Oxford (1974)

Gao, Z.: The confidence level and determination of the minimum of specimens in fatigue testing. In: Proceedings of 2nd International Conference on Fatigue and Fatigue Threshold, pp. 1203–1211. EMAS Ltd, West Midlands (1984)

Gathercole, N., Reiter, H., Adam, T., Harris, B.: Life prediction for fatigue of T800/5245 carbon fiber composites: I. Constant amplitude loading. Int. J. Fatigue 16, 523–532 (1994)

Ghezzo, F., Giannini, G., Cesari, F., Caligiana, G.: Numerical and experimental analysis of the interaction between two notches in carbon fibre laminates. Compos. Sci. Technol. 68(3–4), 1057–1072 (2008)

Gope, P.C.: A method for sample size determination to estimate average fatigue life. In: Proc. of 4th ISME Conference on Mech. Engg. 1, pp. 497–501 (1994)

Gope, P.C.: Determination of sample size for estimation of fatigue life by using Weibull or log-normal distribution. Int. J. Fatigue 21, 745–752 (1999)

Gope, P.C.: Scatter analysis of fatigue life and prediction of S–N curve. J. Fail. Anal. Prev. 12(5), 507–517 (2012)

Graham, R.H., Raines, M., Swift, K.G., Gill, L.: Prediction of stress concentrations associated with interacting stress-raisers within aircraft design: methodology development and application. Proc. Inst. Mech. Eng., Part G, J. Aerosp. Eng. 219, 193–203 (2005)

Hwang, W., Han, K.S.: Statistical study of strength and fatigue life of composite materials. Composites 18(1), 47–53 (1987)

Jones, R.: Mechanics of Composite Materials (1998)

Kazemahvazi, S., Kiele, J., Zenkert, D.: Tensile strength of UD-composite laminates with multiple holes. Compos. Sci. Technol. 70, 1280–1287 (2010)

Khashaba, U.A.: Fatigue and reliability analysis of unidirectional GFRP composites under rotating bending loads. J. Compos. Mater. 37(4), 317–331 (2003)

Khashaba, U.A., El-Sonbaty, I.A., Selmy, A.I., Megahed, A.A.: Machinability analysis in drilling woven GFR/epoxy composites: Part I—Effect of machining parameters. Composites, Part A, Appl. Sci. Manuf. 41, 391–400 (2010)

Liu, H., Cui, H., Wen, W., Kang, H.: Fatigue characterization of T300/924 polymer composites with voids under tension-tension and compression-compression cyclic loading. Fatigue Fract. Eng. Mater. Struct. (2017). https://doi.org/10.1111/ffe.12721

Maillet, I., Michel, L., Rico, G., Fressinet, M., Gourinat, Y.: A new test methodology based on structural resonance for mode I fatigue delamination growth in a unidirectional composite. Compos. Struct. 97, 353–362 (2013)

Marines, I., Dominguez, G., Baudry, G., Vittori, J.F., Rathery, S., Doucet, J.P., Bathias, C.: Ultrasonic fatigue tests on bearing steel AISI-SAE 52100 at frequency of 20 and 30 kHz. Int. J. Fatigue 25, 1037–1046 (2003)

Marwa, A.A.E., Mohamed, A.A., Madeha, K.: Flexural fatigue and failure probability analysis of polypropylene-glass hybrid fibre reinforced epoxy composite laminates. Plast. Rubber Compos. (2017). https://doi.org/10.1080/14658011.2017.1397252

Meguid, S.A., Gong, S.X.: Stress concentration around interacting circular holes: a comparison between theory and experiments. Eng. Fract. Mech. 44(2), 247–256 (1993)

Mohamed, N.S., Ying, W., Arief, Y., Adam, J., Prasad, P., Gilles, L., Soutis, C.: Investigating the potential of using off-axis 3D woven composites in composite joints' applications. Appl. Compos. Mater. (2016). https://doi.org/10.1007/s10443-016-9529-9

Nakazawa, H., Kodama, S.: Statistical research on fatigue and fracture. In: Tanaka, T., Nishijima, S., Ichikawa, M. (eds.) Current Japanese Materials Research 2, vol. 2, pp. 59–69. Elsevier, Amsterdam (1987)

Parida, N., Das, S.K., Gope, P.C., Mohanty, O.N.: Probability, confidence and sample size in fatigue testing. J. Test. Eval. 18(6), 385–389 (1990)

Ratnaparkhi, M.V., Park, W.J.: Lognormal distribution-model for fatigue life and residual strength of composite materials. IEEE Trans. Reliab. 35(3) (1986)

Sakin, R., Irfan, A.: Statistical analysis of bending fatigue life data using Weibull distribution in glass-fiber reinforced polyester composites. Mater. Des. 29, 1170–1181 (2008)

Satapathy, M.R., Vinayak, B.G., Jayaprakash, K., Naik, N.K.: Fatigue behaviour of laminated composites with a circular hole under in-plane multiaxial loading. Mater. Des. 51, 347–356 (2013)

Shimokava, T., Hamaguchi, Y.: Distributions of fatigue life and fatigue strength in notched specimens of a carbon eight-harness-satin laminate. J. Compos. Mater. 17(1), 64–76 (1983)

Shimokawa, T., Hamaguchi, Y.: Fatigue life distributions of notched graphite/epoxy composite specimens. J. Soc. Mat. Sci. 30, 373–379 (1981)

Sohar, C.R., Betzwar-Kotas, A., Gierl, C., Weiss, B., Danninger, H.: Gigacycle fatigue behavior of a high chromium alloyed cold work tool steel. Int. J. Fatigue 30(7), 1137–1149 (2008)

Soutis, C., Fleck, N.A., Smith, P.A.: A compression fatigue behaviour of notched carbon fiber epoxy laminates. Int. J. Fatigue 13, 303–312 (1991)

Vassilopoulos, A.P.: Introduction to Fatigue Life Prediction of Composites and Composite Structures. Woodhead Publishing, New Delhi (2010)

Wei-xun, F., Jian-guo, W.: Stress concentration of a laminate weakened by multiple holes. Compos. Struct. 10, 303–319 (1988)

Wicaksono, S., Chai, G.B.: A review of advances in fatigue and life prediction of fiber-reinforced composites. J. Mater.: Des. Appl. 227(3), 179–195 (2012)

Xu, X.W., Man, H.C., Yue, T.M.: Strength prediction of composite laminates with multiple elliptical holes. Int. J. Solids Struct. 37, 2887–2900 (2000)

Yang, J.N., Jones, D.L.: Statistical fatigue of graphite/epoxy angle-ply laminates in shear. J. Compos. Mater. 12, 371–389 (1978)

Yang, J.N., Miller, R.K., Sun, C.T.: Effect of high load on statistical fatigue of unnotched graphite/epoxy laminates. J. Compos. Mater. 14, 82–94 (1980)
Additional information
Publisher's Note
Springer Nature remains neutral with regard to jurisdictional claims in published maps and institutional affiliations.
About this article
Cite this article
Bhaskara Rao Pathakokila, Ramji Koona, Rama Krishna Avasarala et al. Statistical analysis for fatigue life evaluation of woven E-glass/epoxy composite laminates containing off-centre interacting circular holes. Mech Time-Depend Mater (2020). https://doi.org/10.1007/s11043-020-09444-2
Received:

Accepted:

Published:
Keywords
Off centre

Fatigue life

Weibull distribution

Statistical analysis

Scatter

Reliability