Abstract
Bitumen is a viscoelastic material that exhibits both elastic and viscous components of response and displays both a temperature and time dependent relationship between applied stresses and resultant strains. In addition, as bitumen is responsible for the viscoelastic behaviour of all bituminous materials, it plays a dominant role in defining many of the aspects of asphalt road performance, such as strength and stiffness, permanent deformation and cracking. Although conventional bituminous materials perform satisfactorily in most highway pavement applications, there are situations that require the modification of the binder to enhance the properties of existing asphalt material. The best known form of modification is by means of polymer modification, traditionally used to improve the temperature and time susceptibility of bitumen. Tyre rubber modification is another form using recycled crumb tyre rubber to alter the properties of conventional bitumen. In addition, alternative binders (synthetic polymeric binders as well as renewable, environmental-friendly bio-binders) have entered the bitumen market over the last few years due to concerns over the continued availability of bitumen from current crudes and refinery processes. This paper provides a detailed rheological assessment, under both temperature and time regimes, of a range of conventional, modified and alternative binders in terms of the materials dynamic (oscillatory) viscoelastic response. The rheological results show the improved viscoelastic properties of polymer- and rubber-modified binders in terms of increased complex shear modulus and elastic response, particularly at high temperatures and low frequencies. The synthetic binders were found to demonstrate complex rheological behaviour relative to that seen for conventional bituminous binders.
Access options
Buy single article
Instant access to the full article PDF.
USD 39.95
Price excludes VAT (USA)
Tax calculation will be finalised during checkout.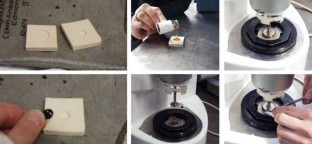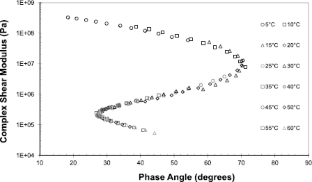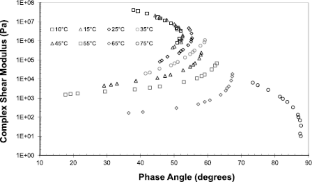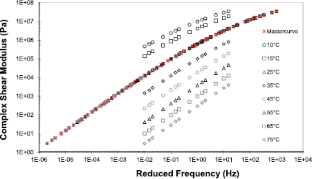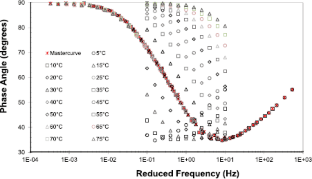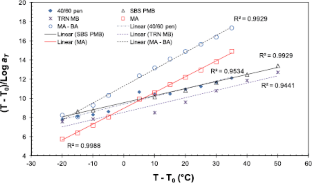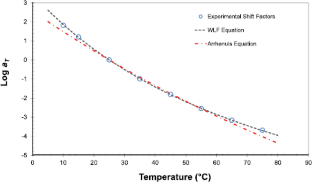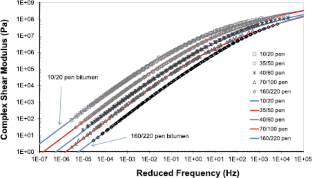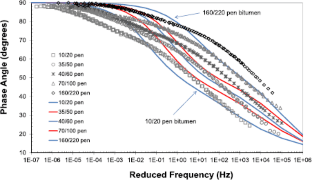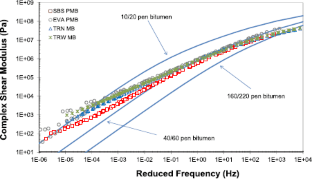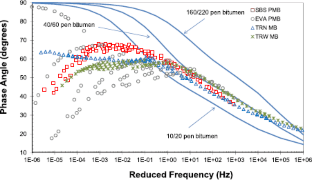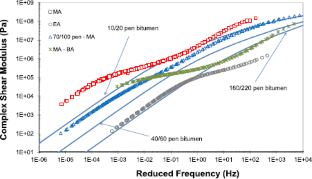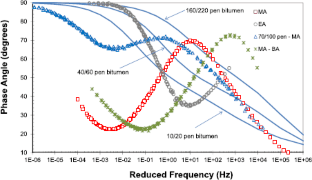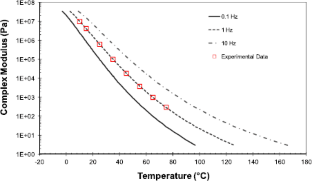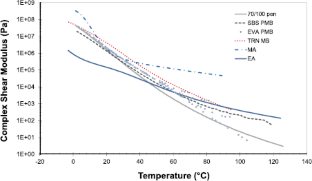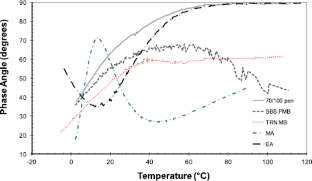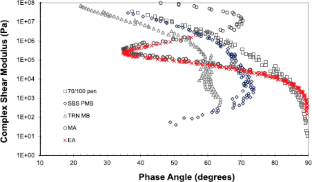 References
AASHTO Designation: TP5, Standard method of test for determining the rheological properties of asphalt binder using a dynamic shear rheometer (DSR) (1994)

Airey, G.D., Brown, S.F.: Rheological performance of aged polymer modified bitumens. Assoc. Asph. Paving Technol. 67, 66–100 (1998)

Airey, G.D.: Rheological evaluation of ethylene vinyl acetate polymer modified bitumens. Constr. Build. Mater. 16(8), 473–487 (2002a)

Airey, G.D.: Use of black diagrams to identify inconsistencies in rheological data. Road Mater, Pavement Des. 3(4), 403–424 (2002b)

Airey, G.D.: Rheological properties of styrene butadiene styrene polymer modified road bitumens. Fuel 82(14), 1709–1719 (2003)

Airey, G.D., Hunter, A.E.: Dynamic mechanical testing of bitumen—sample preparation methods. In: Proceedings of the ICE—Transport, 156(TR2), pp. 85–92 (2003)

Airey, G.D., Mohammed, M.H.: Rheological properties of polyacrylates used as synthetic road binders. Rheol. Acta 47, 751–763 (2008)

Airey, G.D., Mohammed, M.H., Collop, A.C., Hayes, C., Parry, T.: Linear viscoelastic behaviour of polyacrylate binders and bitumen blends. Road Mater, Pavement Des. 9, 13–35 (2008a), Special issue

Airey, G.D., Mohammed, M.H., Fichter, C.: Rheological characteristics of synthetic road binders. Fuel 87, 1763–1775 (2008b)

Airey, G.D., Wilmot, J., Grenfell, J.R.A., Irvine, D.J., Barker, I.A., El Harfi, J.: Rheology of polyacrylate binders produced via catalytic chain transfer polymerization as an alternative to bitumen in road pavement materials. Eur. Polym. J. 47, 1300–1314 (2011)

Ahmad, N.M., Lovell, P.A., Underwood, S.M.: Viscoelastic properties of branched polyacrylate melts. Polym. Int. 50, 625–634 (2001)

Anderson, D.A., Christensen, D.W., Bahia, H.U., Dongre, R., Sharma, M.G., Antle, C.E., Button, J.: Binder Characterisation and Evaluation. Vol. 3: Physical Properties. National Research Council, Washington, D.C. (1994). SHRP-A-369

ASTM: Standard test method for viscosity of asphalt with cone and plate viscometer. ASTM D 3205-77, Annual Book of ASTM Standards, 4.03, pp. 468–472 (1986)

Bardesi, A., et al.: Use of modified bituminous binders, special bitumens and bitumens with additives in pavement applications. Technical Committee Flexible Roads (C8), World Road Association (PIARC) (1999)

Barnes, H.A., Hutton, J.F., Walters, K.: An Introduction to Rheology. Elsevier, Amsterdam (1989)

BS EN 1426: Bitumen and bituminous binders—determination of needle penetration. British Standards (2007a)

BS EN 1427: Bitumen and bituminous binders—Determination of the softening point—Ring and Ball method. British Standards (2007b)

Bull, A.L., Vonk, W.C.: Thermoplastic rubber/bitumen blends for roof and road. Shell Chemical Technical Manual TR 8, 15 (1984)

Cavaliere, M.G., Diani, E., Vitalini Sacconi, L.: Polymer modified bitumens for improved road application. In: Proceedings of the 5th Eurobitume Congress, Stockholm, pp. 138–142 (1993). 1A, 1.23

Celauro, B., Celauro, C., Lo Presti, D., Bevilacqua, A.: Definition of a laboratory optimization protocol for road bitumen improved with recycled tire rubber. Constr. Build. Mater. 37, 562–572 (2012)

Chailleux, E., Audo, M., Bujoli, B., Queffelec, C., Legrand, J., Lepine, O.: Alternative binder from microalgae. Transportation Research Circular, Number E-C165. Papers from a Workshop, 7–14 (2012)

Daga, V.K., Wagner, N.J.: Linear viscoelastic master curves of neat and laponite-filled poly(ethylene oxide)–water solutions. Rheol. Acta 45, 813–824 (2006)

Delaporte, B., Di Benedetto, H., Chaverot, P., Gauthier, G.: Linear viscoelastic properties of bituminous materials; from binders to mastics. J. Assoc. Asph. Paving Technol. 76, 455–494 (2007)

Dickinson, E.J., Witt, H.P.: The dynamic shear modulus of paving asphalts as a function of frequency. Trans. Soc. Rheol. 18, 591–605 (1974)

Diehl, C.F.: Ethylene–styrene interpolymers for bitumen modification. In: Proceedings of the 2nd Eurasphalt and Eurobitume Congress, Barcelona, vol. 2, pp. 93–102 (2000)

Ferry, J.D.: Viscoelastic Properties of Polymers. Wiley, New York (1980)

Fini, E.H., Kalberer, E.W., Shahbazi, G., Basti, M., You, Z., Ozer, H., Aurangzeb, Q.: Chemical characterization of biobinder from swine manure: sustainable modifier for asphalt binder. J. Mater. Civ. Eng. 23(11), 1506–1513 (2011)

Fini, E.H., Al-Qadi, I.J., Xiu, S., Mills-Beale, J., You, Z.: Partial replacement of asphalt binder with bio-binder: characterisation and modification. Int. J. Pavement Eng. 13(6), 515–522 (2012)

Gaw, W.J.: The measurement and prediction of asphalt stiffness at low and intermediate pavement service temperatures. Assoc. Asph. Paving Technol. 47, 457–494 (1978)

Goodrich, J.L.: Asphalt and polymer modified asphalt properties related to the performance of asphaltic concrete mixes. Assoc. Asph. Paving Technol. 57, 116–175 (1988)

Goodrich, J.L.: Asphaltic binder rheology, asphalt concrete rheology and asphalt concrete mix properties. Assoc. Asph. Paving Technol. 60, 80–120 (1991)

Goos, D., Carre, D.: Rheological modelling of bituminous binders a global approach to road technologies. In: Proceedings of the Eurasphalt & Eurobitume Congress, Session 5: Binders—Functional Properties and Performance Testing (1996), E&E.5.111, Strasbourg

Gridnev, A.A., Ittel, S.D.: Catalytic chain transfer in free-radical polymerizations. Chem. Rev. 101(12), 3611–3659 (2001)

Griffen, R.L., Miles, T.K., Penther, C.J., Simpson, W.C.: Sliding Plate Microviscometer for Rapid Measurements of Asphalt Viscosity in Absolute Units. ASTM Special Technical Publication, vol. 212, p. 36 (1956)

Heitzman, M.: Design and construction of asphalt paving materials with Crumb Rubber Modifier. Transportation Research Record 1339, pp. 1–12 (1992)

Institute of Petroleum: Determination of the complex shear modulus and phase angle of bituminous binders—dynamic shear rheometer (DSR) (1999). Method, IP PM CM/99

Isacsson, U., Lu, X.: Testing and appraisal of polymer modified road bitumens—state of the art. Mater. Struct. 28, 139–159 (1995)

Kato, M., Kamigaito, M., Sawamoto, M., Higashimura, T.: Polymerization of methyl methacrylate with the carbon tetrachloride/dichlorotris- (triphenylphosphine) ruthenium(II)/methylaluminum bis(2,6-di-tert-butylphenoxide) initiating system: possibility of living radical polymerization. Macromolecules 28(5), 1721–1723 (1995)

Kriz, P., Stastna, J., Zanzotto, L.: Glass transition and phase stability in asphalt binders. Road Mater, Pavement Des. 9, 37–65 (2008)

Lesueur, D., Gerard, J.F., Claudy, P., Letoffe, J.M., Planche, J.P., Martin, D.: A structure-related model to describe bitumen linear viscoelasticity. J. Rheol. 40, 813–836 (1996)

Lesueur, D.: On the thermorheological complexity and relaxation modes of asphalt cements. J. Rheol. 43, 1701–1704 (1999)

Lo Presti, D., Airey, G.D., Partal, P.: Manufacturing terminal and field bitumen-tyre rubber blends: the importance of processing conditions. Proc., Soc. Behav. Sci. 53, 485–494 (2012)

Lo Presti, D.: Recycled tyre rubber modified bitumens for road asphalt mixtures: a literature review. Constr. Build. Mater. 49, 863–881 (2013)

Lo Presti, D., Airey, G.D.: Tyre rubber–modified bitumens development: the effect of varying processing conditions. Road Mater, Pavement Des. 14(4), 888–900 (2013)

Loeber, L., Durand, A., Muller, G., Morel, J., Sutton, O., Bargiacchi, M.: New investigations on the mechanism of polymer–bitumen interaction and their practical application for binder formulation. In: Proceedings of the Eurasphalt & Eurobitume Congress, Session 5: Binders—Functional Properties and Performance Testing (1996), E&E.5.115, Strasbourg

McKee, M.G., Unal, S., Wilkes, G.L., Long, T.E.: Branched polyesters: recent advances in synthesis and performance. Prog. Polym. Sci. 30, 507–539 (2005)

Md. Yusoff, N.Y., Shaw, M.T., Airey, G.D.: Modelling the linear viscoelastic rheological properties of bituminous binders. Constr. Build. Mater. 25, 2171–2189 (2011)

Md. Yusoff, N.I., Mounier, D., Ginoux, M.S., Hainin, M.R., Airey, G.D., Di Benedetto, H.: Modelling the rheological properties of bituminous binders using the 2S2P1D model. Constr. Build. Mater. 38, 395–406 (2013)

Mezger, T.G.: The Rheology Handbook: For Rotational and Oscillatory Rheometers. Vincentz Network, Hannover (2002)

Monismith, C.L., Alexander, R.L., Secor, K.E.: Rheological behaviour of asphalt concrete. Assoc. Asph. Paving Technol. 35, 400–450 (1966)

Olard, F., Di Benedetto, H.: General "2S2P1D" model and relation between the linear viscoelastic behaviours of bituminous binders and mixes. Road Mater Pavement 4, 185–224 (2003)

Olard, F., Di Benedetto, H., Eckmann, B., Triquigneaux, J.P.: Linear viscoelastic properties of bituminous binders and mixtures at low and intermediate temperatures. Road Mater Pavement 4, 77–107 (2003)

Pellinen, T.K., Zofka, A., Marasteanu, M., Funk, N.: The use of asphalt mixture stiffness predictive models. J. Assoc. Asph. Paving Technol. 76, 575–626 (2007)

Peralta, J., Williams, R.C., Rover, M., Silva, H.M.R.D.: Development of rubber-modified fractionated bio-oil for use as noncrude petroleum binder in flexible pavements. Transportation Research Circular, Number E-C165. Papers from a Workshop, pp. 23–36 (2012)

Petersen, J.C., Robertson, R.E., Branthaver, J.F., Harnsberger, P.M., Duvall, J.J., Kim, S.S., Anderson, D.A., Christensen, D.W., Bahia, H.U., Dongre, R., Sharma, M.G., Antle, C.E., Button, J., Glover, C.J.: Binder Characterisation and Evaluation, vol. 4. National Research Council, Washington, D.C. (1994). Test Methods, SHRP-A-370

Pink, H.S., Merz, R.E., Bosniack, D.S.: Asphalt rheology: experimental determination of dynamic moduli at low temperatures. Assoc. Asph. Paving Technol. 49, 64–94 (1980)

Planche, J.P., Lesueur, D., Hines, M.L., King, G.N.: Evaluation of elastomer modified bitumens using SHTP binder specifications. Eurasphalt & Eurobitume Congress E&E.5.121, Strasbourg (1996)

Raouf, M.A., Williams, C.R.: General rheological properties of fractionated switchgrass bio-oil as a pavement material. Road Mater, Pavement Des. 11, 325–353 (2010)

Schweyer, H.E., Smith, L.L., Fish, G.W.: A constant stress rheometer for asphalt cements. Assoc. Asph. Paving Technol. 45, 53–72 (1976)

Soenen, H., De Visscher, J., Vanelstraete, A., Redelius, P.: Influence of thermal history on rheological properties of various bitumen. Rheol. Acta 45, 729–739 (2006)

Subhy, A., Lo Presti, D., Airey, G.D.: An investigation on using pre-treated tyre rubber as a replacement of synthetic polymers for bitumen modification. Road Mater, Pavement Des. 16, 245–264 (2015), Issue Supplement 1: EATA

Van der Poel, C.: A general system describing the visco-elastic properties of bitumen and its relation to routine test data. J. Appl. Chem. 4, 221–236 (1954)

Wang, H., You, Z., Mills-Beale, J., Hao, P.: Laboratory evaluation on high temperature viscosity and low temperature stiffness of asphalt binder with high percent scrap tire rubber. Constr. Build. Mater. 26(1), 583–590 (2012)

Wang, J.S., Matyjaszewski, K.: Controlled/"living" radical polymerization. Atom transfer radical polymerization in the presence of transition-metal complexes. J. Am. Chem. Soc. 117(20), 5614–5615 (1995)

Wen, H., Bhusal, S., Wen, B.: Laboratory evaluation of waste cooking oil-based bioasphalt as sustainable binder for hot-mix Asphalt. Transportation Research Circular, Number E-C165. Papers from a Workshop, pp. 49–60 (2012)

Williams, M.L., Landel, R.F., Ferry, J.D.: The temperature-dependence of relaxation mechanisms in amorphous polymers and other glass-forming liquids. J. Am. Chem. Soc. 77(14), 3701–3707 (1955)

Whiteoak, C.D.: The Shell Bitumen Handbook. Shell Bitumen, Surrey (1990)
About this article
Cite this article
Airey, G.D., Grenfell, J.R.A., Apeagyei, A. et al. Time dependent viscoelastic rheological response of pure, modified and synthetic bituminous binders. Mech Time-Depend Mater 20, 455–480 (2016). https://doi.org/10.1007/s11043-016-9295-y
Received:

Accepted:

Published:

Issue Date:

DOI: https://doi.org/10.1007/s11043-016-9295-y
Keywords
Bitumen

Rheology

DSR

Complex (shear) modulus

Phase angle