Abstract
Experimental research on marl prismatic specimens under uniaxial loading indicated that, under the constant uniaxial compressive stress, marl exhibits significant time-dependent deformations, creep. A rheological model for soft rock is defined for creep after the loading and unloading (Tomanovic in Mech. Time-Depend. Mater. 10(2):135–154, 2006), whereas material parameters for the rock concerned are determined based on the result of the creep test after the initial loading. The influence of the compressive stress preconsolidation level and the loading duration on material parameters that describe the creep represents the central part of this examination. For the purpose of quantification of material parameters of the rheological model that describes creep, the laboratory research has been resumed using series of prismatic specimens under uniaxial load. The paper presents some of the so far registered results of the marl creep behavior, following previously conducted creep tests at different stress levels and different loading duration.
Access options
Buy single article
Instant access to the full article PDF.
USD 39.95
Price excludes VAT (USA)
Tax calculation will be finalised during checkout.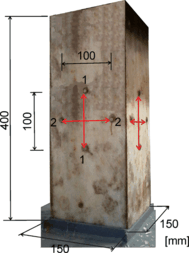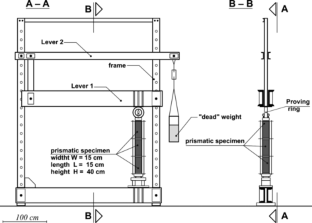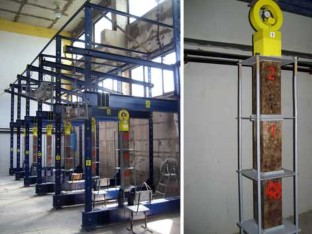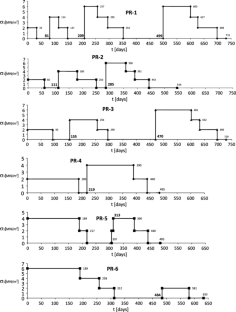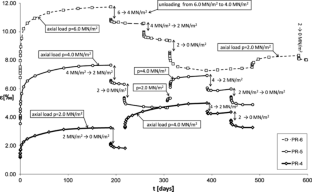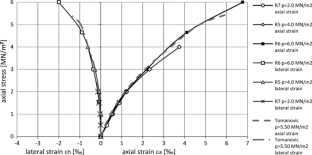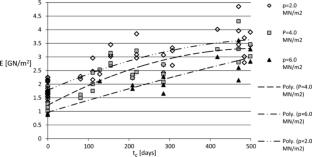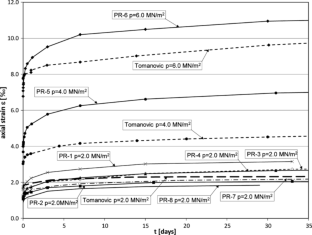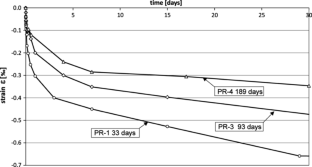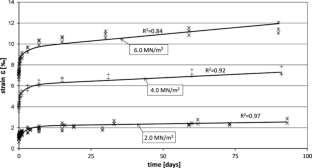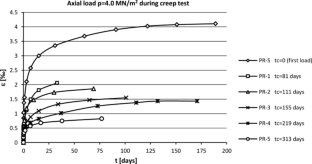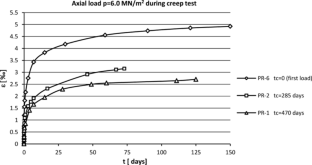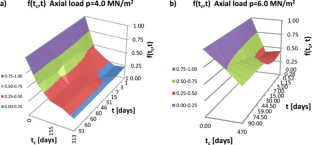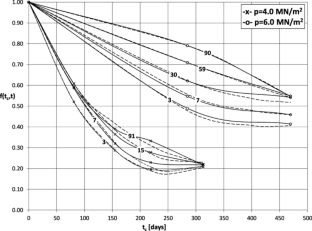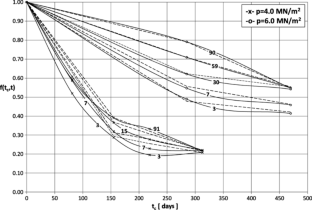 References
Aydan, Ö., Ito, T., Özbay, U., Kwasniewski, M., Shariar, K., Okuno, T., Özgenoğlu, A., Malan, D., Okada, T.: ISRM suggested methods for determining the creep characteristics of rock. Rock Mech. Rock Eng. 47(1), 275–290 (2014)

Bergues, J., Nguyen, D., Hoetit, N.: Time dependent behaviour of hard marls. In: Evangelista, Picarelli (eds.) The Geotechnics of Hard Soils: Soft Rock. Balkema, Rotterdam (1998)

Cristescu, N.D., Hunsche, U.: Time Effects in Rock Mechanics. Willey, New York (1998)

Doring, T., Kiehl, J.R.: Das primare, sekundare und tertiare Kriechen von Steinsalz – Ein dredimensionales rheonomes Stoffesetz. Geotechnick 3, 194–199 (1993)

Jaeger, J.C., Cook, N.G.W., Zimmerman, R.W.: Fundamentals of Rock Mechanics. Chapman and Hall/Science Paperbanks, London (2007)

Goodman, R.: Introduction to Rock Mechanics. Willey, New York (1989)

Keih, L. J. R, Reim, J.: A three-dimensional constitutive law for rock salt including transient, steady state and accelerated creep, failure as well as post failure behaviour. In: Proc. 9th ISRM Congress, Paris, vol. 2, pp. 917–920 (1999)

Langer, M.: Rheological behaviour of rock masses. In: Proc. 4th Int. Con. on Rock Mech., Montreux, vol. 3, pp. 29–62 (1979)

Li, P., Deng, J.C., Zhao, W.L., Feng, Y.C.: An experimental study on creep characteristics of salt rock and gypsum-salt rock in Puguang gas field. Pet. Sci. Technol. 30(16), 1715–1724 (2012)

Phienwej, N., Thakur, P.K., Cording, E.J.: Time-dependent response of tunnels considering creep effect. Int. J. Geomech. 7(4), 296–306 (2007)

Singh, T.N., Verma, A.K.: Prediction of creep characteristic of rock under varying environment. Environ. Geol. 48, 559–568 (2005)

Tomanovic, Z.: Rheological model of soft rock based on test on marl. Mech. Time-Depend. Mater. 10(2), 135–154 (2006)

Tomanovic, Z.: The stress and time dependent behaviour of soft rock. J. Civ. Eng. 64(12), 993–1007 (2012)

Wallner, M.: Stability calculation concerning a room and pillar design in rock salt. In: International Congress for Geotechnics, Melbourne (1983)

Xu, T., Tang, C., Zhao, J.: Modelling of rheological deformation of homogeneous rock and associated time-dependent response of tunnels. Int. J. Geomech. 12(2), 147–159 (2012)

Zhang, Q., Shen, M., Zhi, W.: Investigation of mechanical behavior of a rock plane using rheological tests. J. Mater. Civ. Eng. 23(8), 1220–1226 (2011)

Zuan, C.: Analysis of a microcrack model and constitutive equations for time-dependent dilatancy of rocks. Geophys. J. Int. 155(2), 601–608 (2003)
About this article
Cite this article
Zivaljevic, S., Tomanovic, Z. Experimental research of the effects of preconsolidation on the time-dependent deformations—creep of marl. Mech Time-Depend Mater 19, 43–59 (2015). https://doi.org/10.1007/s11043-014-9250-8
Received:

Accepted:

Published:

Issue Date:

DOI: https://doi.org/10.1007/s11043-014-9250-8
Keywords