Abstract
With the rapid increase in urbanisation, the concept of smart cities has attracted considerable attention. By leveraging emerging technologies such as the Internet of Things (IoT), artificial intelligence and cloud computing, smart cities have the potential to improve various indicators of residents' quality of life. However, threats to data integrity may affect the delivery of such benefits, especially in the IoT environment where most devices are inherently dynamic and have limited resources. Prior work has focused on ensuring integrity of data in a piecemeal manner and covering only some parts of the smart city ecosystem. In this paper, we address integrity of data from an end-to-end perspective, i.e., from the data source to the data consumer. We propose a holistic framework for ensuring integrity of data in smart cities that covers the entire data lifecycle. Our framework is founded on three fundamental concepts, namely, secret sharing, fog computing and blockchain. We provide a detailed description of various components of the framework and also utilize smart healthcare as use case.
This is a preview of subscription content, log in to check access.
Access options
Buy single article
Instant access to the full article PDF.
US$ 39.95
Price includes VAT for USA
Subscribe to journal
Immediate online access to all issues from 2019. Subscription will auto renew annually.
US$ 199
This is the net price. Taxes to be calculated in checkout.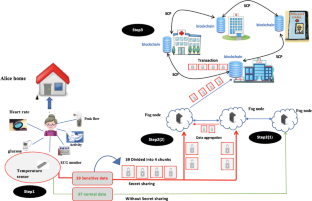 References
1.

Alghamdi WY, Wu H, Kanhere SS (2017) Reliable and secure end-to-end data aggregation using secret sharing in wsns. In: Wireless communications and networking conference (WCNC), 2017 IEEE, pp 1–6

2.

Bakıcı T, Almirall E, Wareham J (2013) A smart city initiative: the case of barcelona. J Knowl Econ 4(2):135–148

3.

Baliga A (2017) Understanding blockchain consensus models. Persistent

4.

Banerjee M, Lee J, Choo K-KR (2017) A blockchain future for internet-of-things security: a position paper. Digital Communications and Networks

5.

Biswas K, Muthukkumarasamy V (2016) Securing smart cities using blockchain technology. In: , 2016 IEEE 18th international conference on high performance computing and communications; IEEE 14th international conference on smart city; IEEE 2nd international conference on data science and systems (HPCC/SmartCity/DSS), IEEE, pp 1392–1393

6.

Chakrabarty S, Engels DW (2016) A secure iot architecture for smart cities. In: Consumer communications & networking conference (CCNC), 2016 13th IEEE annual, IEEE, pp 812–813

7.

Chang X, Yu Y-L, Yang Y, Xing EP (2017) Semantic pooling for complex event analysis in untrimmed videos. IEEE Trans Pattern Anal Mach Intell 39(8):1617–1632

8.

Dorri A, Kanhere SS, Jurdak R (2017) Towards an optimized blockchain for iot. In: Proceedings of the second international conference on internet-of-things design and implementation, ACM, pp 173–178

9.

Farooq MU, Waseem M, Khairi A, Mazhar S (2015) A critical analysis on the security concerns of internet of things (iot). Int J Comput Appl 7:111

10.

Ferreira C, Walsh R, Ferreira A (2018) Degradation in urban areas. Current Opinion in Environmental Science & Health

11.

Gope P, Hwang T (2016) Bsn-care: a secure iot-based modern healthcare system using body sensor network. IEEE Sens J 16(5):1368–1376

12.

Jararweh Y, Al-Ayyoub M, Benkhelifa E, et al. (2018) An experimental framework for future smart cities using data fusion and software defined systems: the case of environmental monitoring for smart healthcare. Future Generation Computer Systems

13.

Jose J, Jose J, Princy M (2014) A survey on privacy preserving data aggregation protocols forwireless sensor networks. J Comput Inf Technol 22(1):1–20

14.

Li X, Jiang P, Chen T, Luo X, Wen Q (2017) A survey on the security of blockchain systems. Future Generation Computer Systems

15.

Liu B, Yu XL, Chen S, Xu X, Zhu L (2017) Blockchain based data integrity service framework for iot data. In: 2017 IEEE international conference on Web services (ICWS), IEEE, pp 468–475

16.

Liu C, Yang C, Zhang X, Chen J (2015) External integrity verification for outsourced big data in cloud and iot: a big picture. Futur Gener Comput Syst 49:58–67

17.

Mazieres D (2015) The stellar consensus protocol: a federated model for internet-level consensus. Stellar Development Foundation

18.

Patil NS, Patil P (2010) Data aggregation in wireless sensor network. In: IEEE international conference on computational intelligence and computing research, vol 6

19.

Perera C, Qin Y, Estrella JC, Reiff-Marganiec S, Vasilakos AV (2017) Fog computing for sustainable smart cities: a survey. ACM Comput Surv (CSUR) 50(3):32

20.

Rezvani M, Ignjatovic A, Bertino E, Jha S (2015) Secure data aggregation technique for wireless sensor networks in the presence of collusion attacks. IEEE Trans Dependable Secure Comput 12(1):98–110

21.

Rifi N, Rachkidi E, Agoulmine N, Taher NC (2017) Towards using blockchain technology for iot data access protection. In: 2017 IEEE 17th international conference on ubiquitous wireless broadband (ICUWB), IEEE, pp 1–5

22.

Sagirlar G, Carminati B, Ferrari E, Sheehan JD, Ragnoli E (2018) Hybrid-iot: Hybrid blockchain architecture for internet of things-pow sub-blockchains. arXiv:1804.03903

23.

Salama U, Yao L, Wang X, Paik H-Y, Beheshti A (2017) Multi-level privacy-preserving access control as a service for personal healthcare monitoring. In: 2017 IEEE international conference on Web services (ICWS), IEEE, pp 878–881

24.

Sandhu RS (1993) On five definitions of data integrity. In: DBSec, pp 257–267

25.

Sharma PK, Chen M-Y, Park JH (2018) A software defined fog node based distributed blockchain cloud architecture for iot. IEEE Access 6:115–124

26.

Sharma PK, Moon SY, Park JH (2017) Block-vn: a distributed blockchain based vehicular network architecture in smart city. J Inf Process Syst 13(1):84

27.

Sheng M, Qin Y, Yao L, Benatallah B (2017) Managing the Web of things: linking the real world to the web. Morgan Kaufmann

28.

Sivathanu G, Wright CP, Zadok E (2005) Ensuring data integrity in storage: techniques and applications. In: Proceedings of the 2005 ACM workshop on storage security and survivability, ACM, pp 26–36

29.

Song T, Li R, Mei B, Yu J, Xing X, Cheng X (2017) A privacy preserving communication protocol for iot applications in smart homes. IEEE Internet Things J 4(6):1844–1852

30.

Su K, Li J, Fu H (2011) Smart city and the applications. In: 2011 International conference on electronics, communications and control (ICECC), IEEE, pp 1028–1031

31.

Yang Y, Wang X, Zhu S, Cao G (2008) Sdap: a secure hop-by-hop data aggregation protocol for sensor networks. ACM Trans Inf Syst Secur (TISSEC) 11(4):18

32.

Yao L, Sheng QZ, Dustdar S (2015) Web-based management of the internet of things. IEEE Internet Comput 19(4):60–67

33.

Yao L, Sheng QZ, Ngu AH, Li X (2016) Things of interest recommendation by leveraging heterogeneous relations in the internet of things. ACM Trans Internet Technol (TOIT) 16(2):9

34.

Yi S, Li C, Li Q (2015) A survey of fog computing: concepts, applications and issues. In: Proceedings of the 2015 workshop on mobile big data, ACM, pp 37–42

35.

Zeng Z, Li Z, Cheng D, Zhang H, Zhan K, Yang Y (2018) Two-stream multirate recurrent neural network for video-based pedestrian reidentification. IEEE Trans Ind Inf 14(7):3179–3186

36.

Zheng Z, Xie S, Dai H-N, Wang H (2016) Blockchain challenges and opportunities: a survey. Work Pap.–2016
Additional information
Publisher's note
Springer Nature remains neutral with regard to jurisdictional claims in published maps and institutional affiliations.
About this article
Cite this article
Altulyan, M., Yao, L., Kanhere, S.S. et al. A unified framework for data integrity protection in people-centric smart cities. Multimed Tools Appl 79, 4989–5002 (2020). https://doi.org/10.1007/s11042-019-7182-7
Received:

Revised:

Accepted:

Published:

Issue Date:
Keywords
Internet of Things

Smart cities

Blockchain

Data integrity