Abstract
Many public services and entertainment industries utilise Mixed Reality (MR) devices to develop highly immersive and interactive applications. However, recent advancements in MR processing has prompted the tourist and events industry to invest and develop commercial applications. The museum environment provides an accessible platform for MR guidance systems by taking advantage of the ergonomic freedom of spatial holographical Head-mounted Displays (HMD). The application of MR systems in museums can enhance the typical visitor experience by amalgamating historical interactive visualisations simultaneously with related physical artefacts and displays. Current approaches in MR guidance research primarily focus on visitor engagement with specific content. This paper describes the design and development of a novel museum guidance system based on the immersion and presence theory. This approach examines the influence of interactivity, spatial mobility, and perceptual awareness of individuals within MR environments. The developmental framework of a prototype MR tour guide program named MuseumEye incorporates the sociological needs, behavioural patterns, and accessibility of the user. This study aims to create an alternative tour guidance system to enhance customer experience and reduce the number of human tour guides in museums. The data gathering procedure examines the functionality of the MuseumEye application in conjunction with pre-existing pharaonic exhibits in a museum environment. This methodology includes a qualitative questionnaire sampling 102 random visitors to the Egyptian Museum in Cairo. Results of this research study indicate a high rate of positive responses to the MR tour guide system, and the functionality of AR HMD in a museum environment. This outcome reinforces the suitability of the touring system to increase visitor experience in museums, galleries and cultural heritage sites.
Access options
Buy single article
Instant access to the full article PDF.
USD 39.95
Price excludes VAT (USA)
Tax calculation will be finalised during checkout.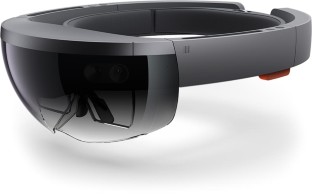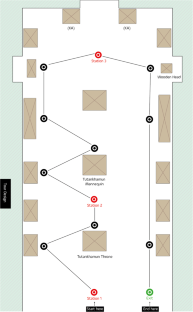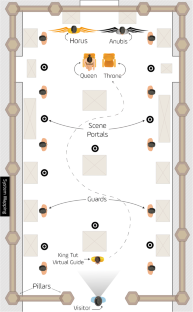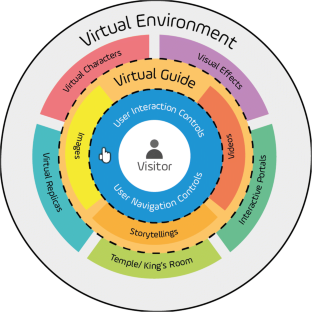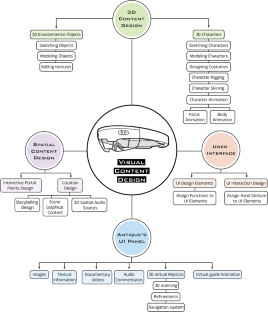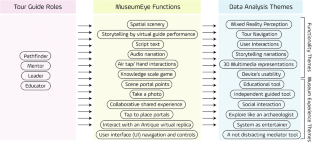 Notes
While this paper uses the word 'hologram', the reader should note this is the term Microsoft uses for the images displayed in a HoloLens, they are not actual holograms. Users in a HoloLens are seeing a 2-D graphics-based image in each eye, parallax adjusted to create the illusion of three dimensions, not true 3-D holograms.
References
Aracena-Pizarro D, Mamani-Castro J (2010) Museum guide through annotations using augmented reality. https://dspace5.zcu.cz/bitstream/11025/1105/1/Aracena-Pizarro.pdf

Best K (2012) Making museum tours better: understanding what a guided tour really is and what a tour guide really does. Museum Management and Curatorship 27(1):35–52

Bitgood S (1990) The role of simulated immersion in exhibition. Center for Social Design

Bowman SL, Standiford A (2016) Enhancing healthcare simulations and beyond: immersion theory and practice. International Journal of Role-Playing 6:12–19

Braun V, Clarke V (2006) Using thematic analysis in psychology. Qual Res Psychol 3(2):77–101

Brown E, Cairns P (2004) A grounded investigation of game immersion. In: CHI'04 extended abstracts on Human factors in computing systems. ACM

Bryman A, Bell EA (2016) Social research methods: fourth Canadian Edition. Oxford University Press

Calleja G (2011) In-game: from immersion to incorporation. MIT Press

Charles G (1981) Conversational organization: interaction between speakers and hearers. Academic Press, New York

Charmaz K (2014) Constructing grounded theory. SAGE Publications

Choi H-s, Kim S-h (2017) A content service deployment plan for metaverse museum exhibitions—centering on the combination of beacons and HMDs. Int J Inf Manag 37(1):1519–1527

Cohen E (1985) The tourist guide: the origins, structure and dynamics of a role. Ann Tour Res 12(1):5–29

Damala A, Marchal I, Houlier P (2007) Merging augmented reality based features in mobile multimedia museum guides. In: Anticipating the Future of the Cultural Past, CIPA Conference 2007, 1–6 October 2007

Damala A, Stojanovic N (2012) Tailoring the Adaptive Augmented Reality (A 2 R) museum visit: Identifying Cultural Heritage professionals' motivations and needs. In: 2012 IEEE International Symposium on Mixed and Augmented Reality-Arts, Media, and Humanities (ISMAR-AMH). IEEE

Damala A et al (2008) Bridging the gap between the digital and the physical: design and evaluation of a mobile augmented reality guide for the museum visit. In: Proceedings of the 3rd international conference on Digital Interactive Media in Entertainment and Arts. ACM, Athens, p 120-127

Damala A et al (2013) Exploring the affective museum visiting experience: adaptive augmented reality (A2R) and cultural heritage. International Journal of Heritage in the Digital Era 2(1):117–142

Dierker A, Pitsch K, Hermann T (2011) An augmented-reality-based scenario for the collaborative construction of an interactive museum

Doering ZD, Pekarik AJ (1996) Questioning the entrance narrative. Journal of Museum Education 21(3):20–23

Edmund Ng Giap W et al (2011) Augmented reality for museum artifacts visualization. International Journal of Computer Science and Information Security 9(5):174–185

Ermi L, Mäyrä F (2005) Fundamental components of the gameplay experience: Analysing immersion. Worlds in Play: International Perspectives on Digital Games Research 37(2):37–53

Fine EC, Speer JH (1985) Tour guide performances as sight sacralization. Ann Tour Res 12(1):73–95

Fineschi A, Pozzebon A (2015) A 3D virtual tour of the Santa Maria della Scala museum complex in Siena, Italy, based on the use of Oculus RIFT HMD. In: 2015 International Conference on 3D Imaging (IC3D). IEEE

Ghiani G et al (2009) UbiCicero: a location-aware, multi-device museum guide. Interact Comput 21(4):288–303

Hall T et al (2001) The visitor as virtual archaeologist: explorations in mixed reality technology to enhance educational and social interaction in the museum. In: Proceedings of the 2001 conference on Virtual reality, archeology, and cultural heritage. ACM

Harviainen JT (2003) The multi-tier game immersion theory. As larp grows up-theory and methods in larp. Copenhagen, Projektgruppen KP03. The book for Knudepunkt

Herman D (1997) Experiencing narrative worlds: on the psychological activities of reading. JSTOR

Hernández LA, Taibo J, Seoane A (2002) Empty museum: an immersive walkable VR framework for multiuser interaction and telepresence. In: ACM International Workshop on Immersive Telepresence (ITP 2002)

Holz T et al (2006) Mixed reality agents as museum guides. In: ABSHL'06: agent-based systems for human learning, AAMAS 2006 Workshop

Hooper-Greenhill E (1999) The educational role of the museum. Routledge

Houser DGK (2017) Facebook engineer asserts that augmented reality will replace smartphones in 5 years. Available from: https://futurism.com/facebook-engineer-asserts-that-augmented-reality-will-replace-smartphones-in-5-years/. Accessed 21 May 2017

Hughes CE et al (2004) Augmenting museum experiences with mixed reality. In: Proceedings of KSCE 2004

Jamison SR, DeVries DR, Jamison RL (2002) Automated touring information systems and methods. Google Patents

Jenkins H (2006) Convergence culture: where old and new media collide. NYU press

Jennett C et al (2008) Measuring and defining the experience of immersion in games. Int J Hum Comput Stud 66(9):641–661

Kajinami T et al (2010) Digital Display Case: museum exhibition system to convey background information about exhibits. In: 2010 16th International Conference on Virtual Systems and Multimedia (VSMM). IEEE

Kent T (2010) The role of the museum shop in extending the visitor experience. Int J Nonprofit Volunt Sect Mark 15(1):67–77

Loizides F et al (2014) Presenting cypriot cultural heritage in virtual reality: a user evaluation. In: Euro-Mediterranean Conference. Springer

Lombard M, Ditton T (1997) At the heart of it all: the concept of presence. J Comput-Mediat Commun 3(2)

Martin C (2018) Consumers warm to virtual, augmented reality: CES study. [cited 29 Jan 2018]. Available from: https://www.mediapost.com/publications/article/312758/consumers-warm-to-virtual-augmented-reality-ces.html. Accessed 29 Jan 2018

Mase K, Kadobayashi R, Nakatsu R (1996) Meta-museum: a supportive augmented-reality environment for knowledge sharing. In: ATR workshop on social agents: humans and machines

Mason DD, McCarthy C (2006) 'The feeling of exclusion': young peoples' perceptions of art galleries. Museum Management and Curatorship 21(1):20–31

McLoughlin J, Kaminski J, Sodagar B (2007) 3 modelling the impact of technology on the heritage sector: conceptualisation, implementation, and measurement. Technology strategy, management and socio-economic impact, p. 51

Microsoft (2015) Microsoft HoloLens. Available from: https://www.microsoft.com/en-us/hololens/buy. Accessed 18 March 2018

Moesgaard T et al (2015) Implicit and explicit information mediation in a virtual reality museum installation and its effects on retention and learning outcomes. In: European Conference on Games Based Learning. Academic Conferences International Limited

Murray JH, Murray JH (2017) Hamlet on the holodeck: the future of narrative in cyberspace. MIT press

Nacke LE, Lindley CA (2010) Affective ludology, flow and immersion in a first-person shooter: measurement of player experience. arXiv preprint arXiv:1004.0248

Okuma T et al (2007) A pilot user study on 3-d museum guide with route recommendation using a sustainable positioning system. In: International Conference on Control, Automation and Systems. ICCAS'07. IEEE

Papaefthymiou M et al (2015) Mobile virtual reality featuring a six degrees of freedom interaction paradigm in a virtual museum application. Technical Report, FORTH-ICS/TR-462. Heraklion, Greece: Foundation for Research and Technology–Hellas (FORTH), Institute of Computer Science. Retrieved from https://www.ics.forth.gr/tech-reports/2015/2015.TR462_Mobile_Virtual_Reality_Freedom_Interaction.pdf. Accessed 22 May 2018

Patrick E et al (2000) Using a large projection screen as an alternative to head-mounted displays for virtual environments. In: Proceedings of the SIGCHI conference on Human Factors in Computing Systems. ACM

Pinsonneault A, Kraemer K (1993) Survey research methodology in management information systems: an assessment. J Manag Inf Syst 10(2):75–105

Professor B (2015) Around the globe - must see places in the Middle East: Middle East travel guide for kids. Speedy Publishing LLC

Rekimoto J (1998) Matrix: a realtime object identification and registration method for augmented reality. In: Computer Human Interaction, 1998. Proceedings. 3rd Asia Pacific

Saunders MN (2011) Research methods for business students, 5/e. Pearson Education India

Schuchert T, Voth S, Baumgarten J (2012) Sensing visual attention using an interactive bidirectional HMD. In: Proceedings of the 4th Workshop on Eye Gaze in Intelligent Human Machine Interaction. ACM

Slater M, Usoh M, Steed A (1994) Depth of presence in virtual environments. Presence Teleop Virt 3(2):130–144

Soga A (2015) Virtual show, Go in!: Walk-through system and VR goggles of a temple for museum exhibits. In: 2015 International Conference on Culture and Computing (Culture Computing). IEEE

Sparacino F (2002) The museum wearable: real-time sensor-driven understanding of visitors' interests for personalized visually-augmented museum experiences

Stam DC (1992) Taming the beast: guidance for administrators on managing museum computerization. Museum Management Curatorship 11(1):45–60

Violante MG, Vezzetti E, Piazzolla P (2008) Interactive virtual technologies in engineering education: why not 360° videos? International Journal on Interactive Design Manufacturing:1–14

Violante MG, Vezzetti E, Piazzolla P (2019) How to design a virtual reality experience that impacts the consumer engagement: the case of the virtual supermarket. Int J Interact Des Manuf 13(1):243–262

Vlahakis V et al (2002) Archeoguide: an augmented reality guide for archaeological sites. IEEE Comput Graph Appl 5:52–60

White WJ, Harviainen JT, Boss EC (2012) Role-playing communities, cultures of play and the discourse of immersion. Immersive gameplay: studies in role-playing and media immersion, edited by, p. 71–86

White M et al (2003) Augmented reality for museum artefact visualization. In: Proceedings of the 4th Irish Workshop on Computer Graphics, Eurographics Ireland Chapter

Yamazaki M et al (2010) Wide FOV displays for digital museum. In: 2010 16th International Conference on Virtual Systems and Multimedia (VSMM). IEEE

Zhang S et al (2016) A mixed-reality museum tourism framework based on HMD and fisheye camera. In: Proceedings of the 15th ACM SIGGRAPH Conference on Virtual-Reality Continuum and Its Applications in Industry-Volume 1. ACM
Additional information
Publisher's note
Springer Nature remains neutral with regard to jurisdictional claims in published maps and institutional affiliations.
Electronic supplementary material
About this article
Cite this article
Hammady, R., Ma, M., Strathern, C. et al. Design and development of a spatial mixed reality touring guide to the Egyptian museum. Multimed Tools Appl 79, 3465–3494 (2020). https://doi.org/10.1007/s11042-019-08026-w
Received:

Revised:

Accepted:

Published:

Issue Date:

DOI: https://doi.org/10.1007/s11042-019-08026-w
Keywords
Immersive systems

Augmented reality

Mixed reality

Museums

Cultural heritage

HMD

Microsoft HoloLens