Abstract
This paper presents lifting wavelet transform (LWT) and discrete cosine transform (DCT) based robust watermarking approach for tele-health applications. For identity authentication, 'signature watermark' of size '64 × 64' and 'patient report' of size '80' characters are hiding into the host medical image. Further, the signature watermark is encrypted by message-digest (MD5) and 'patient report' is encoded by BCH error correcting code before embedding into the host image. Experimental demonstrations indicate that the method provides sufficient robustness and security against various attacks without significant distortion between cover and watermarked image. Further, our results proved that the method offer NC value more than 0.9214 for most of the considered attacks. Furthermore, it is evident from results our method shows the improvement in robustness to previously reported techniques under consideration while providing low computational complexity.
This is a preview of subscription content, log in to check access.
Access options
Buy single article
Instant access to the full article PDF.
US$ 39.95
Price includes VAT for USA
Subscribe to journal
Immediate online access to all issues from 2019. Subscription will auto renew annually.
US$ 199
This is the net price. Taxes to be calculated in checkout.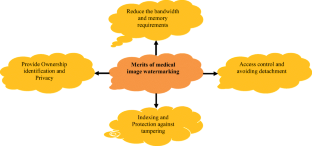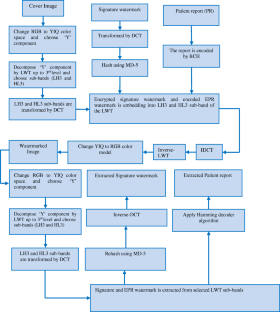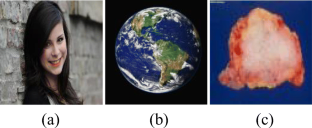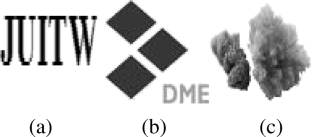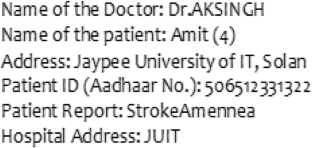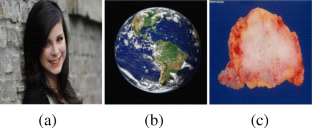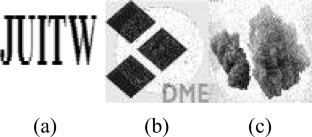 References
1.

Abbas NH, Ahmad SMS, Parveen S, Wan WA, Ramli ARB (2018) Design of high performance copyright protection watermarking based on lifting wavelet transform and bi empirical mode decomposition. Multimed Tools Appl 77(19):24593–24614

2.

Ali Hajjaji M, Bourennane E-B, Abdelali AB, Mtibaa A (2014) Combining Haar wavelet and KarhunenLoeve transforms for medical images watermarking. Biomed Res Int 2014:1–15

3.

Atawneh S, Almomani A, Al Bazar H, Sumari P, Gupta BB (2017) Secure and imperceptible digital image steganographic algorithm based on diamond encoding in DWT domain. Multimed Tools Appl 76(18):18451–18472

4.

Borra S, Thanki R, Dey N, Borisagar K (2018) Secure transmission and integrity verification of color radiological images using fast discrete curvelet transform and compressive sensing. Smart Health:1–14

5.

Bouslimi D, Coatrieux G, Roux C (2012) A joint encryption/watermarking algorithm for verifying the reliability of medical images: application to echographic images. Comput Methods Prog Biomed 106:47–54

6.

Dagadu JC, Li J (2018) Context-based watermarking cum chaotic encryption for medical images in telemedicine applications. Multimed Tools Appl:1–24

7.

Das C, Panigrahi S, Sharma VK, Mahapatra KK (2014) A novel blind robust image watermarking in DCT domain using inter-block coefficient correlation. AEU Int J Electron Commun 68(3):244–253

8.

Elhoseny M, Ramírez-González G, Abu-Elnasr OM, Shawkat SA, Arunkumar N, Farouk A (2018) Secure medical data transmission model for IoT-based healthcare systems. IEEE Access 6:20596–20608

9.

Fifth Annual Study on Medical Identity Theft report released today by the Medical Identity Theft Alliance, 2005

10.

Giakoumaki A, Pavlopoulos S, Koutsouris D (2006) Multiple image watermarking applied to health information management. IEEE Trans Inf Technol Biomed 10(4):722–732

11.

Giakoumaki A, Perakis K, Tagaris A, Koutsouris D (2006) Digital watermarking in telemedicine applications - towards enhanced data security and accessibility. In: Proceedings of the 28th IEEE EMBS Annual International Conference New York City, USA, p 6328–6331

12.

Kalra GS, Talwar R, Sadawarti H (2015) Adaptive digital image watermarking for color images in frequency domain. Multimed Tools Appl 74(17):6849–6869

13.

Kumar C, Singh AK, Kumar P (2018) A recent survey on image watermarking techniques and its application in e-governance. Multimed Tools Appl 77(3):3597–3622

14.

Li J, Yu C, Gupta BB, Ren X (2018) Color image watermarking scheme based on quaternion Hadamard transform and Schur decomposition. Multimed Tools Appl 77(4):4545–4561

15.

Li D, Deng L, Gupta BB, Wang H, Choi C (2018) A novel CNN based security guaranteed image watermarking generation scenario for smart city applications. Inf Sci. https://doi.org/10.1016/j.ins.2018.02.060

16.

Liu H, Guo Q, Wang G, Gupta BB, Zhang C (2017) Medical image resolution enhancement for healthcare using nonlocal self-similarity and low-rank prior. Multimed Tools Appl:1–18

17.

Medical report . https://www.thebalance.com/common-types-of-medical-identity-theft-4157717, 2018

18.

MedPix™ Medical Image Database https://medpix.nlm.nih.gov/

19.

Q S, Chen B (2018) Robust color image watermarking technique in the spatial domain. Soft Comput 22(1):91–106

20.

Shehab A, Elhoseny M, Muhammad K, Sangaiah AK, Yang P, Huang H, Hou G (2018) Secure and robust fragile watermarking scheme for medical images. IEEE Access 6(1):10269–10278

21.

Singh AK (2017) Improved hybrid algorithm for robust and imperceptible multiple watermarking using digital images. Multimed Tools Appl 76(6):8881–8900

22.

Singh AK, Dave M, Mohan A (2014) Hybrid technique for robust and imperceptible image watermarking in DWT-DCT-SVD domain. Natl Acad Sci Lett 37(4):351–358

23.

Singh AK, Kumar B, Dave M, Ghrera SP, Mohan A (2016) Digital image watermarking: techniques and emerging applications. In: Gupta et al. (eds) Handbook of research on modern cryptographic solutions for computer and cyber security, IGI Global, p 246–272, ISBN: 9781522501053

24.

Singh AK, Kumar B, Singh G, Mohan A (2017) Medical image watermarking: techniques and applications, first ed., book series on Multimedia Systems and Applications, Springer

25.

Thabit R, Khoo BE (2015) A new robust lossless data hiding scheme and its application to color medical images. Digital Signal Process 38:77–94

26.

Wu Z, Wang H (2016) Super-resolution Reconstruction of SAR Image based on non-local means denoising combined with BP neural network, arXiv:1612.04755

27.

Yu C, Li J, Li X, Ren X, Gupta BB (2018) Four-image encryption scheme based on quaternion Fresnel transform, chaos and computer generated hologram. Multimed Tools Appl 77(4):4585–4608

28.

Zear A, Singh AK, Kumar P, Proposed Secure A (2018) Multiple watermarking technique based on DWT, DCT and SVD for application in medicine. Multimed Tools Appl 77(4):4863–4882
Additional information
Publisher's Note
Springer Nature remains neutral with regard to jurisdictional claims in published maps and institutional affiliations.
About this article
Cite this article
Singh, A.K. Robust and distortion control dual watermarking in LWT domain using DCT and error correction code for color medical image. Multimed Tools Appl 78, 30523–30533 (2019). https://doi.org/10.1007/s11042-018-7115-x
Received:

Revised:

Accepted:

Published:

Issue Date:
Keywords
LWT

DCT

MD5

BCH

Robustness

Complexity