Abstract
Image fusion is the process of combining two or more related images to produce a single output image, containing more relevant information than any one of the input images. The image-fusion process depends upon: the application domain; the number of images undergoing fusion; and the type of imagery, such as whether it is multi-spectral or multi-modal. For clarity of presentation, this paper takes two important fusion methods, Stationary Wavelet Transform (SWT) and Principal Components Analysis (PCA), and applies them to a variety of imagery. Results show that in multi-modal image fusion, PCA appears to perform better for those input images that have different contrast/brightness levels. SWT appears to give better performance when the input images are multi-modal and multi-sensor. A feature of the paper are the number of objective functions employed to evaluate the SWT and PCA methods, allowing the utility of each to be judged. The reader will also find in this paper a concise guide to image fusion techniques with clear recommendations on how to evaluate them.
This is a preview of subscription content, log in to check access.
Access options
Buy single article
Instant access to the full article PDF.
US$ 39.95
Price includes VAT for USA
Subscribe to journal
Immediate online access to all issues from 2019. Subscription will auto renew annually.
US$ 199
This is the net price. Taxes to be calculated in checkout.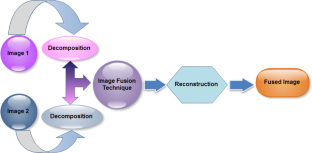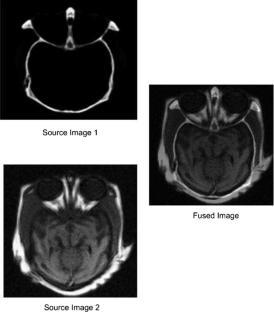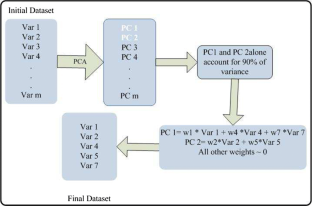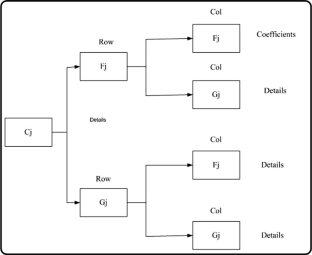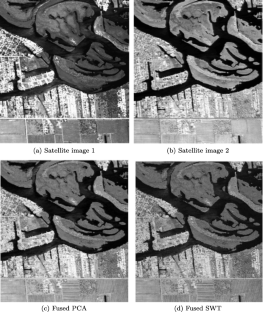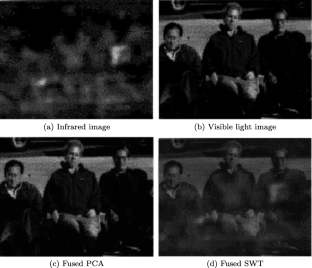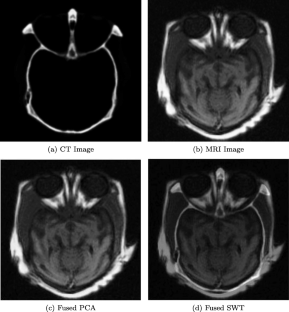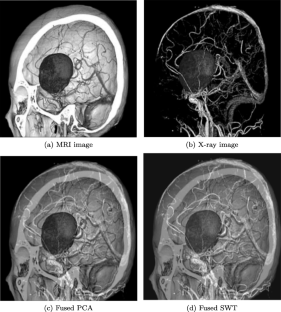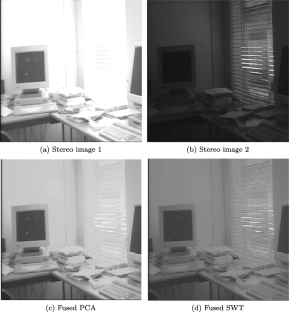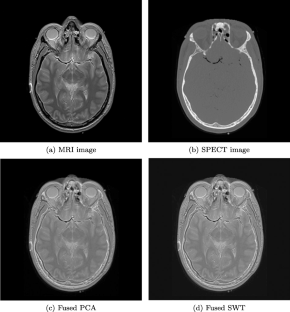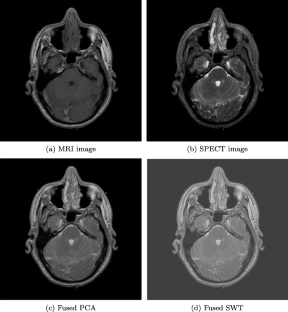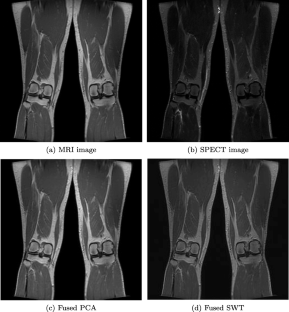 References
1.

Abdi H, Williams LJ (2010) Principal component analysis. Wiley Interdiscip Rev Comput Statist 2:433–459

2.

Al-Azzawi N, Abdullah WAKW (2011) Medical image fusion schemes using Contourlet transform and pca bases. In: Image fusion and its applications, pp 93–110

3.

Al-Wassai F, Kalyankar N, Al-Zaky A (2011) Arithmetic and frequency filtering methods of pixel-based image fusion techniques. Int J Comput Sci 8(3):113–122

4.

Al-Wassai F, Kalyankar N, Al-Zaky A (2011) Multisensor images fusion based on feature-level. Int J of Latest Tehnol 1(5):124–138

5.

Alfano B, Ciampi M, De Pietro G (2007) A wavelet-based algorithm for multimodal medical image fusion. In: 2nd Int. Conf. on semantic and digital multimedia technol., pp 117–120

6.

Babu B, Ch V, Kumar N, Vivekan K, Swamy A (2012) Comparison and improvement of wavelet based image fusion. Int J Comput Eng Manag 15(3):15–19

7.

Bedi S, Agarwal J, Agarwal P (2013) Image fusion techniques and quality assessment parameters for clinical diagnosis: a review. Int J Adv Res Comput Commun Eng 2(2):1153–1157

8.

Bharath B, Kanmani M (2017) Swarm intelligence based image fusion for thermal and visible images. In: Int. Conf. on Comput. of Power, Energy, Info. and Commun., pp 43–48

9.

Bindu C, Prasad D (2012) Performance analysis of multi source fused medical images using multiresolution transforms. Int J Adv Comput Sci 3:54–62

10.

Carper W, Lillesand T, Kiefer R (1990) The use of Intensity-Hue-Saturation transform for merging SPOT panchromatic and multispectral image data. Photogramm Eng Remote Sens 56(4):459–467

11.

Daneshvar S, Ghassemian H (2010) MRI and PET image fusion by combining IHS and retina-inspired models. Info Fusion 11(2):114–123

12.

Das S, Kundu MK (2013) A neuro-fuzzy approach for medical image fusion. IEEE Trans Biomed Eng 60(12):3347–3353

13.

Das S, Chowdhury M, Kundu M (2011) Medical image fusion based on Ripplet transform type-I. Prog Electromagn Res 30:355–370

14.

Deshmukh M, Udhav B (2010) Image fusion and image quality assessment of fused images. Int J Image Process 4(5):484–508

15.

Divya R, Palraj K (2014) Survey on multimodal image fusion using stationary wavelet transform and fuzzy logic. Int J Sci Technol Eng, 1(5)

16.

Divyaloshini V, Saraswathi M (2014) Performance evaluation of image fusion techniques and its implementation in biometric recognition. Int J Technol Enhanc Emerg Eng 2(3):25–32

17.

Ehlers M, Klonus S (2008) Quality assessment for multitemporal and multisensor image fusion. In: Proceedings of SPIE, vol 71100: Remote Sensing, pp 1–9

18.

El Ejaily A, Eltohamy F, El Nahas M, Ismail G (2013) A new image fusion technique to improve the quality of remote sensing images. Int J Comput Sci Issues 10(3(1))

19.

Gawari N, Lalitha Y (2014) Comparative analysis of PCA , DCT & DWT based image fusion techniques. Int J Emerg Res Manag Technol 3(5):54–61

20.

Godse DA, Bormane DS (2011) Wavelet based image fusion using pixel based maximum selection rule. Int J of Eng Sci and Technol 3(7):5572–5577

21.

González-Audícana M, Saleta J, Catalán R, García R (2004) Fusion of multispectral and panchromatic images using improved IHS and PCA mergers based on wavelet decomposition. IEEE Trans Geosci Remote Sens 42(6):1291–1299

22.

Gupta C, Gupta P (2015) A study and evaluation of transform domain based image fusion techniques for visual sensor networks. Int J of Comput Apps 116(8):26–30

23.

Gupta A, Cheeran A, Nikose M (2011) Image restoration using wavelet based image fusion. Int J of Eng Sci and Technol 3(2):1388–1394

24.

Haghighat MA, Aghagolzadeh A, Seyedarabi H (2011) Multi-focus image fusion for visual sensor networks in DCT domain. Comput Electric Eng 37(5):789–797

25.

He C, Liu Q, Li H, Wang H (2010) Multimodal medical image fusion based on IHS and PCA. Procedia Eng 7:280–285

26.

Indhumadhi N, Padmavathi G (2011) Enhanced image fusion algorithm using Laplacian pyramid and spatial frequency based wavelet algorithm. Int J Soft Comput Eng 1(5):298–303

27.

Jolliffe I (2008) Principal component analysis, 2nd edn. Springer, Berlin

28.

Kim YM, Theobalt C, Diebel J, Kosecka J, Miscusik B, Thrun S (2009) Multi-view image and tof sensor fusion for dense 3D reconstruction. In: IEEE Int. Conf. on computer vision workshops, pp 1542–1549

29.

Li S, Kang X, Fang L, Hu J, Yin H (2017) Pixel-level image fusion: a survey of the state of the art. Inform Fus 33:100–112

30.

Lin B, Tao X, Duan Y, Lu J (2015) Perceptual-based hyperspectral image fusion using multiresolution analysis. IEEE Access, 14(8)

31.

Maes F, Vandermeulen D, Suetens P (2003) Medical image registration using mutual information. Proc IEEE 91(10):1699–1722

32.

Mahajan S, Singh A (2014) A comparative analysis of different image fusion techniques. Int J Comput Sci 2(1):8–15

33.

Mahajan S, Singh A (2014) Integrated PCA & DCT based fusion using consistency verification & non-linear enhancement. Int J Eng Comput Sci 3(3):4030–4039

34.

Mandhare RA, Upadhyay P, Gupta S (2013) Pixel-level image fusion using Brovey and wavelet transform. Int J Adv Res Electr Electron Instrum 2(6):2690–2695

35.

Mifdal J, Coll B, Courty N, Froment J, Vedel B (2017) Hyperspectral and multispectral Wasserstein barycenter for image fusion. In: IEEE Geoscience and remote sensing symp., pp 3373–3376

36.

Mirajkar PP, Ruikar S (2013) Image fusion based on stationary wavelet transform. Int J Adv Eng Res Stud 2(4):99–101

37.

Morris C, Rajesh R (2014) Survey of spatial domain image fusion techniques. Int J Adv Research in Comp Sci Info Technol 3(3):249–254

38.

Naidu V, Raol J (2008) Pixel-level image fusion using wavelets and principal component analysis. Def Sci J 58(3):338–352

39.

Nair S, Aruna P, Vadivukarassi M (2013) PCA based image fusion of face and iris biometric features. Int J Adv Comput Theory Eng 1(2):106–112

40.

Nunez J, Otazu X, Fors O, Prades A, Pala V, Arbiol R (1999) Multiresolution-based image fusion with additive wavelet decomposition. IEEE Trans Geosci Remote Sens 37(3):1204–1211

41.

Pardnya M, Ruikar S (2012) Image fusion method based on WPCA. Int J Adv Res Comput Sci Softw Eng 2(5):1–4

42.

Parvatikar MV, Phadke G (2014) Comparative study of different image fusion techniques. Int J Sci Eng Technol 3(4):375–379

43.

Sadhasivam S, Keerthivasan M, Muttan S (2011) Implementation of max principle with PCA in image fusion for surveillance and navigation application. Electron Lett Comput Vis Image Anal 10(1):1–10

44.

Sahu D, Parsai M (2012) Different image fusion techniques - a critical review. Int J Mod Eng Res 2(5):4298–4301

45.

Sahu A, Bhateja V, Krishn A et al. (2014) Medical image fusion with Laplacian pyramids. Int Conf on Medical Imaging, m-Health and Emerging Commun Syst, 448–453

46.

Sale D, Joshi M, Sapkal A (2012) DCT, and DWT based image fusion for robust face recognition. Int J Eng Res Appl 2(1):686–692

47.

Savitha V, Kadhambari T, Sheeba R (2014) Multimodality medical image fusion using NSCT. Int J Res Eng Adv Technol 1(6):1–4

48.

Shabanzade F, Ghassemian H (2017) Combination of wavelet and contourlet transforms for PET and MRI image fusion. In: Artificial Intelligence and signal processing conference, pp 178–183

49.

Siddiqui AB, Jaffar MA, Hussain A, Mirza AM (2011) Block-based pixel level multi-focus image fusion using particle swarm optimization. Int J Innov Comput Inf Control 7(7):3583–3596

50.

Svab A, Ostir K (2006) High-resolution image fusion. Photogram Eng Remote Sens 72(5):565–572

51.

Tang M, Nie F, Jain R (2017) A graph regularized dimension reduction method for out-of-sample data. Neurocomputing 255:58–63

52.

Tank V, Shah D, Vyas T, Chotaliya S, Manavadaria M (2013) Image fusion based on Wavelet and Curvelet transform. IOSR J VLSI Signal Process 1(5):32–36

53.

Tian J, Chen L (2012) Adaptive multi-focus image fusion using a wavelet-based statistical sharpness measure. Signal Process 92(9):2137–2146

54.

Vekkot S, Shukla P (2009) A novel architecture for wavelet based image fusion. World Acad Sci Eng Technol 57:372–377

55.

Wakure S, Todmal S (2013) Survey on different image fusion techniques. IOSR J VLSI Signal Process 1(6):42–48

56.

Wan T, Canagarajah N, Achim A (2008) Compressive image fusion. In: IEEE Int. Conf. Image Process., pp 1308–1311

57.

Wang Y (2013) Image fusion based on nonsubsampled contourlet transform and principal component analysis. J Converg Inf Technol 8(8):179–186

58.

Wang Z, Ma Y (2008) Medical image fusion using m-PCNN. Info Fusion 9 (2):176–185

59.

Wang J, Zhou D, Costas A, Li D, Li Q (2005) A comparative analysis of image fusion methods. IEEE Trans Geosci Remote Sens 43(6):1391–1402

60.

Wang N, Ma Y, Zhan K, Yuan M (2013) Multimodal medical image fusion framework based on simplified PCNN in nonsubsampled contourlet transform domain. J Multimed 8(3):270–276

61.

Wang Y, Lin X, Wu L, Zhang W, Zhang Q, Huang X (2015) Robust subspace clustering for multi-view data by exploiting correlation consensus. IEEE Trans Image Process 24(11):3939–3949

62.

Wang Y, Wu L, Lin X, Zhao X (2017) Unsupervised metric fusion over multi-view data by graph random walk based cross-view diffusion. IEEE Trans Neural Netw Learn Syst 28(1):57–70

63.

Wang Y, Wu L, Lin X, Gao J (2018) Multi-view spectral clustering via structured low-rank matrix factorization. IEEE Trans Neural Networks and Learning Syst

64.

Wilson T, Rogers S, Myers L (1995) Perceptual-based hyperspectral image fusion using multiresolution analysis. Opt Eng, 34(11)

65.

Yang W, Wang J, Guo J (2013) A novel algorithm for satellite images fusion based on compressed sensing and PCA. Math Probl Eng, 10

66.

Yin H, Li S (2011) Multimodal image fusion with joint sparsity model. Opt Eng 50(6):1–11

67.

Zhang Q, Liu Y, Blum RS, Han J, Tao D (2017) Sparse representation based multi-sensor image fusion: a review. Inform Fus 40:57–75

68.

Zhanga Z, Ma A, Hui Liu H, Gong Y (2009) Sparse representation based multi-sensor image fusion: a review. Comput Math Appl 57:1265–1271

69.

Zheng Y, Essock EA, Hansen B (2004) An advanced image fusion algorithm based on wavelet transform — incorporation with PCA and morphological processing. In: Image Process: algorithms and systems III, pp 177–187

70.

Zhou X, Yin X, Liu RA, Wang W (2013) Infrared and visible image fusion technology based on directionlets transform. EURASIP J Wireless Commun Network 2013(1):1–4
About this article
Cite this article
Bashir, R., Junejo, R., Qadri, N.N. et al. SWT and PCA image fusion methods for multi-modal imagery. Multimed Tools Appl 78, 1235–1263 (2019). https://doi.org/10.1007/s11042-018-6229-5
Received:

Revised:

Accepted:

Published:

Issue Date:
Keywords
Image fusion

Multi-modal

PCA

SWT