Abstract
Rapid increase in digital images demands effective and efficient image retrieval systems. In text based image retrieval, images are annotated with keywords based on human perception. A user query is composed of keywords according to his/her requirements. Query keywords are matched with the keywords associated with images, for retrieval. This process has been extended with ontology to resolve semantic heterogeneities. However, crisp annotation and retrieval processes could not produce the desired results because both processes involve human perception. To overcome this problem, we have proposed a retrieval system that makes use of fuzzy ontology for improving retrieval performance. For modeling the semantic description of an image, it is divided into regions in our dataset and then regions are classified into concepts. The concepts are combined into categories. The concepts, categories and images are linked among themselves with fuzzy values in ontology. The retrieved results are ranked based on the relevancy between the keywords of a query and images. For evaluating the performance of the proposed methodology, we have used both the objective and subjective measures. Experimental results show that the proposed system performs better than the existing systems in terms of retrieval performance.
This is a preview of subscription content, log in to check access.
Access options
Buy single article
Instant access to the full article PDF.
US$ 39.95
Price includes VAT for USA
Subscribe to journal
Immediate online access to all issues from 2019. Subscription will auto renew annually.
US$ 199
This is the net price. Taxes to be calculated in checkout.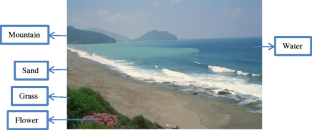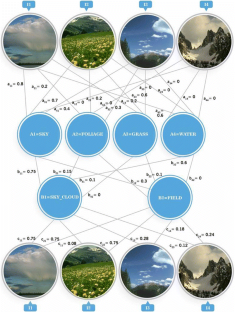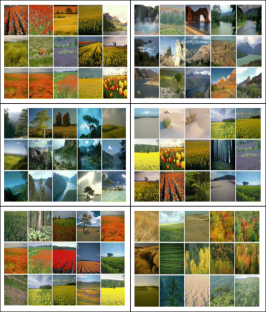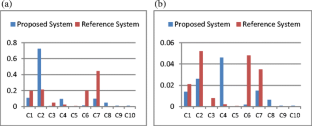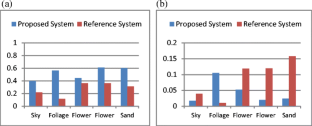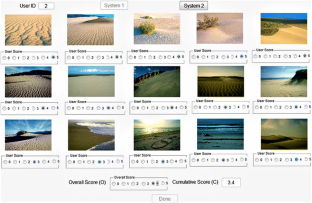 References
1.

Allani O, Zghal HB, Mellouli N, Akdag H (2016) A knowledge-based image retrieval system integrating semantic and visual features. Proc Comput Sci 96:1428–1436

2.

Bannour H, Hudelot C (2014) Building and using fuzzy multimedia ontologies for semantic image annotation. Multimed Tools Appl 72(3):2107–2141

3.

Cai B, Zheng C, Yang S, Zheng JZ (2007) Mixed query image retrieval system. ICIA'07. International conference on information acquisition, 2007

4.

Dasiopoulou S, Kompatsiaris I, Strintzis MG (2010) Investigating fuzzy DLs-based reasoning in semantic image analysis. Multimed Tools Appl 49(1):167–194

5.

Galindo J (2008) Handbook of research on fuzzy information processing in databases. Information Science Reference. https://www.ibspan.waw.pl/~kacprzyk/papers/Handbook-Galindo-2008.pdf

6.

Guo J-M, Prasetyo H (2015) Content-based image retrieval using features extracted from halftoning-based block truncation coding. IEEE Trans Image Process 24(3):1010–1024

7.

Hakimpour F, Timpf S (2001) Using ontologies for resolution of semantic heterogeneity in GIS. Proceedings of 4th AGILE Conference on Geographic Information Science

8.

Horng Y-J, Chen S-M, Lee C-H (2001) Automatically constructing multi-relationship fuzzy concept networks in fuzzy information retrieval systems. The 10th IEEE international conference on fuzzy systems, 2001

9.

Hyvonen E, Saarela S, Styrman A, Viljanen, K (2003) Ontology-based image retrieval. WWW (Posters)

10.

Jarvelin K, Kekalainen J (2000) IR evaluation methods for retrieving highly relevant documents. Proceedings of the 23rd annual international ACM SIGIR conference on research and development in information retrieval

11.

Kaur H, Jyoti K (2013) Survey of techniques of high level semantic based image retrieval. IJRCCT 2(1):15–19

12.

Liaqat M (2013) Image classification and retrieval based on crisp and fuzzy ontology. 2013 3rd international conference on Computer, Control & Communication (IC4)

13.

Liu S, Chia L-T, Chan S (2004) Ontology for nature-scene image retrieval. OTM confederated international conferences "on the move to meaningful internet systems"

14.

Liu Y, Zhang D, Lu G, Ma W-Y (2007) A survey of content-based image retrieval with high-level semantics. Pattern Recogn 40(1):262–282

15.

Long, F, Zhang, H, & Feng, DD (2003) Fundamentals of content-based image retrieval. In: Multimedia Information Retrieval and Management. Springer, Berlin Heidelberg, pp 1–26

16.

Luo B, Wang X, Tang X (2003) World Wide Web based image search engine using text and image content features. Electron Imaging 2003

17.

Manjunath BS, Ohm J-R, Vasudevan VV, Yamada A (2001) Color and texture descriptors. IEEE Trans Circ Syst video Technol 11(6):703–715

18.

Muller H, Muller W, Squire DM, Marchand-Maillet S, Pun T (2001) Performance evaluation in content-based image retrieval: overview and proposals. Pattern Recogn Lett 22(5):593–601

19.

Ogawa Y, Morita T, Kobayashi K (1991) A fuzzy document retrieval system using the keyword connection matrix and a learning method. Fuzzy Sets Syst 39(2):163–179

20.

Park K-W, Jeong J-W, Lee D-H (2007) OLYBIA: ontology-based automatic image annotation system using semantic inference rules. International Conference on Database Systems for Advanced Applications

21.

Pereira R, Ricarte I, Gomide F (2006) Fuzzy relational ontological model in information search systems. Capturing Intell 1:395–412

22.

Pereira R, Ricarte I, Gomide F (2009) Information retrieval with FROM: the fuzzy relational ontological model. Int J Intell Syst 24(3):340–356

23.

Radecki T (1979) Fuzzy set theoretical approach to document retrieval. Inf Process Manag 15(5):247–259

24.

Sarwar S, Qayyum ZU, Majeed S (2013) Ontology based image retrieval framework using qualitative semantic image descriptions. Proc Comput Sci 22:285–294

25.

Schober J-P, Hermes T, Herzog O (2004) Content-based image retrieval by ontology-based object recognition. Proc. Workshop on Applications of Description Logics, Ulm, Germany

26.

Schreiber AT, Dubbeldam B, Wielemaker J, Wielinga B (2001) Ontology-based photo annotation. IEEE Intell Syst 16(3):66–74

27.

Simou N, Athanasiadis T, Stoilos G, Kollias S (2008) 'Image indexing and retrieval using expressive fuzzy description logics', Signal. Image Video Process 2(4):321–335

28.

Smeaton AF (1996) Information retrieval and hypertext. Kluwer, New York

29.

Streijl RC, Winkler S, Hands DS (2016) Mean opinion score (MOS) revisited: methods and applications, limitations and alternatives. Multimedia Systems 22(2):213–227

30.

Styrman A (2005) Ontology-based image annotation and retrieval. Ph.D. dissertation, master thesis

31.

Town C (2006) Ontological inference for image and video analysis. Mach Vis Appl 17(2):94–115

32.

Ul-Qayyum Z, Cohn AG, Klippel A (2010) Psychophysical evaluation for a qualitative semantic image categorisation and retrieval approach. International Conference on Industrial, Engineering and Other Applications of Applied Intelligent Systems

33.

Vogel J, Schiele B (2007) Semantic modeling of natural scenes for content-based image retrieval. Int J Comput Vis 72(2):133–157

34.

Vogel J, Schwaninger A, Wallraven C, Bulthoff HH (2007) Categorization of natural scenes: Local versus global information and the role of color. ACM Trans Appl Percept (TAP) 4(3):19

35.

Wang H, Liu S, Chia L-T (2006) Does ontology help in image retrieval?: a comparison between keyword, text ontology and multi-modality ontology approaches. Proceedings of the 14th ACM international conference on multimedia

36.

Yang M, Sowmya A (2015) An underwater color image quality evaluation metric. IEEE Trans Image Process 24(12):6062–6071

37.

Zadeh LA (1975) Fuzzy logic and approximate reasoning. Synthese 30(3):407–428
About this article
Cite this article
Liaqat, M., Khan, S. & Majid, M. Image retrieval based on fuzzy ontology. Multimed Tools Appl 76, 22623–22645 (2017). https://doi.org/10.1007/s11042-017-4812-9
Received:

Revised:

Accepted:

Published:

Issue Date:
Keywords
Image retrieval

Text based image retrieval

Fuzzy ontology

Objective evaluation

Subjective evaluation