Abstract
Copy move forgery detection (CMFD) is one of the most active subtopic in forgery scheme. The methods of CMFD are divided into to block-based method and keypoint-based method in general. Compared with keypoint-based method, block-based method can detect undetectable detail without morphology segmentation. But many block-based methods detect the plain copy-move forgeries only. They have been incompetent to detect the post-processing operations such as various geometrical distortions, and then fail to detect the forgery regions accurately. Therefore, this paper presents an improved block-based efficient method for CMFD. Firstly, after pre-processing, an auxiliary overlapped circular block is presented to divide the forged image into overlapped circular blocks. The local and inner image feature is extracted by the Discrete Radial Harmonic Fourier Moments (DRHFMs) with the overlapped circular block from the suspicious image. Then, the similar feature vectors of blocks are searched by 2 Nearest Neighbors (2NN) test. Euclidean distance and correlation coefficient is employed to filter these features and then remove the false matches. Morphologic operation is employed to delete the isolated pixels. A series of experiments are done to analyze the performance for CMFD. Experimental results show that the new DRHFMs can obtain outstanding performance even under image geometrical distortions.
This is a preview of subscription content, log in to check access.
Access options
Buy single article
Instant access to the full article PDF.
US$ 39.95
Price includes VAT for USA
Subscribe to journal
Immediate online access to all issues from 2019. Subscription will auto renew annually.
US$ 199
This is the net price. Taxes to be calculated in checkout.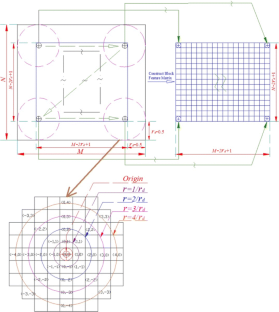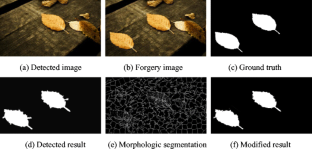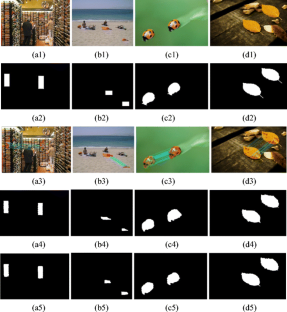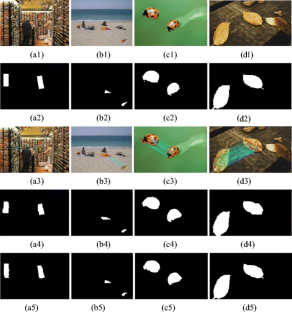 References
1.

Amerini I, Ballan L, Caldelli R, Bimbo AD, Serra G (2011) A SIFT-based forensic method for copy–move attack detection and transformation recovery. IEEE Transactions on Information Forensics and Security 6:1099–1110

2.

Amerini I, Barni M, Caldelli R, Costanzo A (2013) Counter-forensics of SIFT-based copy-move detection by means of keypoint classification. EURASIP Journal on Image and Video Processing 2013:1–17

3.

Cao Y, Gao T, Fan L, Yang Q (2012) A robust detection algorithm for copy move forgery in digital images. Forensic Sci Int 214:33–43

4.

Christlein V, Riess C, Jordan J, Riess C, Angelopoulou E (2012) An evaluation of popular copy-move forgery detection approaches. IEEE Transactions on Information Forensics and Security 7:1841–1854

5.

Debbarma S, Singh AB, Singh KM (2014) Keypoints based copy-move forgery detection of digital images. In: Proceedings of 2014 International Conference on Informatics, Electronics & Vision (ICIEV), 1–5

6.

Fridrich J, Soukal D, Lukáš J (2003) Detection of copy–move forgery in digital images. In: Proceedings of Digital Forensic Research Workshop, 55–61

7.

Gan YF, Zhong JL (2016) Application of AFMT method for composite forgery detection. Nonlinear Dynamics 84:341–353

8.

Gharibi F, Ravanjamjah J, Akhlaghian F, Azami BZ, Alirezaie J (2011) Robust detection of copy-move forgery using texture features. In: Proceedings of 2011 19th Iranian Conference on Electrical Engineering, 1–4

9.

Huynh-Kha T, Le-Tien T, Ha-Viet-Uyen S, Huynh-Van K (2015) The efficiency of applying DWT and feature extraction into copy-move images detection. In: Proceedings of 2015 International Conference on Advanced Technologies for Communications (ATC), 44–49

10.

Kashyap A, Joshi SD (2013) Detection of copy–move forgery using wavelet decomposition. In: Proceedings of 2013 International Conference on Signal Processing and Communication (ICSC), 396–400

11.

Lin HJ, Wang CW, Kao YT (2009) Fast copy-move forgery detection. In: Proceedings of WSEAS Transactions on Signal Processing 5, 188–197

12.

Popescu AC, Farid H (2004) Exposing digital forgeries by detecting duplicated image regions, technical report , 2004–515. Dartmouth College, Department of Computer Science, Hanover

13.

Pun CM, Yuan XC, Bi XL (2015) Image forgery detection using adaptive oversegmentation and feature points matching. IEEE Transactions on Information Forensics and Security 10:1705–1716

14.

Qin J, Li F, Xiang L, Yin C (2013) Detection of image region copy-move forgery using radial harmonic Fourier moments. Journal of Image & Graphics 18:919–923

15.

Ryu SJ, Kirchner M, Lee MJ, Lee HK (2013) Rotation invariant localization of duplicated image regions based on Zernike moments. IEEE Transactions on Information Forensics and Security 8:1355–1370

16.

Serra G (2014) A SIFT-based forensic method for copy-move detection. Giuseppe Serra. http://giuseppeserra.com/content/sift-based-forensic-method-copy-move-detection.

17.

Ustubıoglu B, Nabıyev V, Ulutas G, Ulutas M (2015) Image forgery detection using colour moments. In: Proceedings of 2015 38th International Conference on Telecommunications and Signal Processing (TSP), 540–544

18.

Xu B, Wang J, Liu G, Dai Y (2010) Image copy-move forgery detection based on SURF. In: Proceedings of 2010 International Conference on Multimedia Information Networking and Security, 889–892

19.

Xu Z, Mei L, Hu C, Liu Y (2016a) The big data analytics and applications of the surveillance system using video structured description technology. Clust Comput 19(3):1283–1292

20.

Xu Z, Hu C, Mei L (2016b) Video structured description technology based intelligence analysis of surveillance videos for public security applications. Multimedia Tools Appl 75(19):12155–12172

21.

Yap PT, Jiang XD, Kot AC (2010) Two-dimensional polar harmonic transforms for invariant image representation. IEEE Trans Pattern Anal Mach Intell 32:1259–1270

22.

Zheng J, Liu Y, Ren J, Zhu T, Yan Y, Yang H (2016) Fusion of block and keypoints based approaches for effective copy-move image forgery detection. Multidim Syst Sign Process 1-17

23.

Zhong JL, Gan YF, Xie S (2016) Radon odd radial harmonic Fourier moments in detecting cloned forgery image. Chaos, Solitons Fractals 89:115–129
Acknowledgements
This work is supported by the 2016 Guangzhou philosophy and social science "Thirteen Five" project-- Digital image forgery cause public opinion incident prevention countermeasures and technical research based on internet information security (No.2016gzqn23).
About this article
Cite this article
Zhong, J., Gan, Y., Young, J. et al. A new block-based method for copy move forgery detection under image geometric transforms. Multimed Tools Appl 76, 14887–14903 (2017). https://doi.org/10.1007/s11042-016-4201-9
Received:

Revised:

Accepted:

Published:

Issue Date:
Keywords
Copy move forgery detection

Block-based method

Discrete radial harmonic Fourier moments

Image geometrical distortions