Abstract
The traditional watermarking algorithms prove the rightful ownership via embedding of independent watermarks like copyright logos, random noise sequences, text etc into the cover images. Coupling biometrics with watermarking evolved as new and secure approach as it embeds user specific biometric traits and thus, narrows down the vulnerability to impostor attacks. A multimodal biometric watermarking system has been proposed in this paper in the redundant discrete wavelet transform(RDWT). Two biometric traits of the user i.e. the iris and facial features are embedded independently into the sub-bands of the RDWT of cover image taking advantage of its translation invariant property and sufficient embedding capacity. The ownership verification accuracy of the proposed system is tested based on the individual biometric traits as well as the fused trait. The accuracy was enhanced while using the fused score for evaluation. The security of the scheme is strengthened with usage of non-linear chaotic maps, randomization via Hessenberg decomposition, Arnold scrambling and multiple secret keys. The robustness of the scheme has been tested against various attacks and the verification accuracy evaluated based on false acceptance rate, false rejection rate, area under curve and equal error rate to validate the efficacy of the proposed scheme.
Access options
Buy single article
Instant access to the full article PDF.
US$ 39.95
Tax calculation will be finalised during checkout.
Subscribe to journal
Immediate online access to all issues from 2019. Subscription will auto renew annually.
US$ 119
Tax calculation will be finalised during checkout.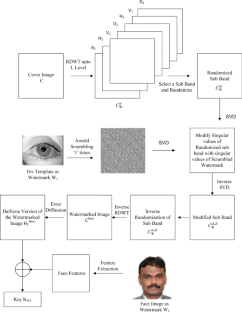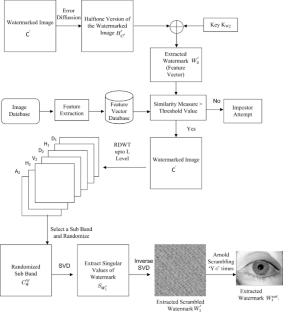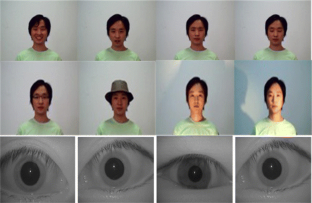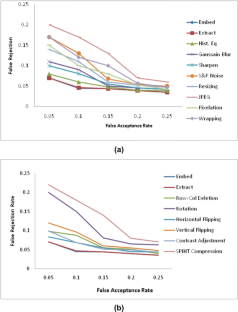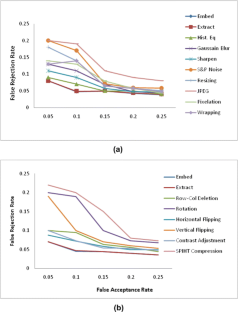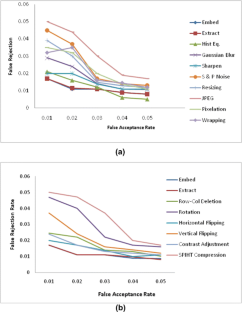 References
1.

Amirgholipour S, Aboosaleh S (2014) A pre-filtering method to improve watermark detection rate in DCT based watermarking. Int Arab J Inf Technol 11(2):178–185

2.

Barni M, Bartolini F, Cappellini V, Piva A (1998) A dct domain system for robust image watermarking. Signal Process 66(3):357–372

3.

Barni M, Bartolini F, Cappellini V, Piva A, Rigacci F (1998) A m.a.p. identification criterion for dct based watermarking. In: Proceedings European Signal Processing Conference, pp 17–20

4.

Bohra A, Farooq O (2009) Izharuddin Blind self-authentication of images for robust watermarking using integer wavelet transform. Int J Electron Commun 63 (8):703–707

5.

Chang C, Tsai P, Lin C (2005) Svd based digital image watermarking scheme. Pattern Recogn Lett 26(10):1577–1586

6.

Chu W (2003) Dct based image watermarking using subsampling. IEEE Trans Multimed 5(1):34–38

7.

Consultants T (2010) Building a digital economy. The importance of saving jobs in Europes Creative Economy, Paris: International Chamber of Commerce/BASCAP. Available on line: www.ec.europa.eu/dgs/jrc/downloads/events/.../20110405budapestturlea.pdf (access 15/05/2011)

8.

Cox I, Kilian J, Leighton F, Shamoon T (1997) Secure spread spectrum watermarking for multimedia. IEEE Trans Image Process 6(12):1673–1687

9.

Dodis Y, Reyzin L, Smith A (2004) Fuzzy extractors: how to generate strong keys from biometrics and other noisy data. Eurocrypt 2004(3027):523–540

10.

Gangyi J, Mei Y, Shi S, Liu X, Kim Y (2002) New blind image watermarking in dct domain. In: Signal Processing, 6th International Conference, vol 2, pp 1580–1583

11.

Gunsel B, Uludag U, Tekalp AM (2002) Robust watermarking of fingerprint images. Pattern Recogn 35(12):2739–2747

12.

Hernandez J, Amado M, Perezgonzalez F (2000) Dct domain watermarking techniques for still images: Detector performance analysis and a new structure. IEEE Trans Image Process 9(1):5568

13.

Hsu C, Wu J (1999) Hidden digital watermarks in images. Image Processing, IEEE Transactions 8(1):58–68

14.

Jain AK, Uludag U (2003) Hiding biometric data. IEEE Trans Pattern Anal Mach Intell 25(11):1494–1498

15.

Jain AK, Uludag U, Hsu RL (2002) Hiding a face in a fingerprint image

16.

Kalantari N, Ahadi S, Vafadust M (2010) A robust image watermarking in the ridgelet domain using universally optimum decoder. IEEE Trans Circ Syst Video Technol 20(3):396–406

17.

Li Z, Yap K, Lei B (2011) A new blind robust image watermarking scheme in svd dct composite domain. In: Image Processing (ICIP), 18th IEEE International Conference, pp 2757–2760

18.

Lu Z, Zheng H, Huang J (2007) A digital watermarking scheme based on dct and svd. In: Intelligent Information Hiding and Multimedia Signal Processing, IIHMSP 2007. Third International Conference, vol 1, pp 241–244

19.

Maity S, Kundu M (2010) Dht domain digital watermarking with low loss in image informations. Int J Electrons Commun 64(3):243–257

20.

Mohanty S, Ranganathan N, Namballa R (2003) Vlsi implementation of invisible digital watermarking algorithms towards the development of a secure jpeg encoder. In: Proceedings of the IEEE Workshop on Signal Processing Systems Based Implementation of an Invisible Robust Image Watermarking Encoder, pp 183–188

21.

Morita Y, Ayeh E, Adamo O, Guturu P (2009) Hardware/software co-design approach for a dct- based watermarking algorithm. In: Circuits and Systems, 2009. MWSCAS'09. 52nd IEEE International Midwest Symposium. IEEE, pp 683–686

22.

Patra J, Phua J, Bornand D (2010) A novel dct domain crt-based watermarking scheme for image authentication surviving jpeg compression. Digit Signal Process 20 (6):1597–1611

23.

Qi H, Zheng D, Zhao J (2008) Human visual system based adaptive digital image watermarking. Signal Process 88(1):174–188

24.

Ratha NK, Connell JH, Bolle RM (2000) Secure data hiding in wavelet compressed fingerprint images. Proceedings of ACM Multimedia:127–130

25.

Rawat S, Raman B (2012) A publicly veriable lossless watermarking scheme for copyright protection and ownership assertion. Int J Electron Commun 66(11):955–962

26.

Sadreazami H, Amini M (2012) A robust spread spectrum based image watermarking in ridgelet domain. Int J Electron Commun 66(5):364–371

27.

Soutar C, Roberge D, Stoianov A, Gilroy R, Kumar B (1999) Biometric encryption, ICSA Guide to Cryptography, McGraw-Hill

28.

Suhail M, Obaidat M (2003) Digital watermarking based dct and jpeg model. IEEE Trans Instrum Measur 52(5):1640–1647

29.

Uludag U, Pankanti S, Prabhakar S, Jain AK (2004) Biometric cryptosystems: issues and challenges. Proc IEEE 92(6):948–960

30.

Vatsa M, Singh R, Mitra P, Noore A (2004) Comparing robustness of watermarking algorithms on biometrics data. Proceedings of the Workshop on Biometric Challenges from Theory to Practice ICPR Workshop:5–8

31.

Yang C, Hu W, Lai J (2008) Dct based watermarking by quotient-embedding algorithm. In: Innovative Computing Information and Control ICICIC'08. 3rd International Conference. IEEE, pp 20–20

32.

Zhao D, Chen G, Liu W (2004) A chaos-based robust wavelet-domain watermarking algorithm. Chaos Solitons Fractals 22:47–54
About this article
Cite this article
Singh, P., Raman, B. & Roy, P.P. A multimodal biometric watermarking system for digital images in redundant discrete wavelet transform. Multimed Tools Appl 76, 3871–3897 (2017). https://doi.org/10.1007/s11042-016-4048-0
Received:

Revised:

Accepted:

Published:

Issue Date:
Keywords
Rightful ownership

Multimodal biometric systems

Redundant discrete wavelet transform(RDWT)

Impostor attacks

Non-linear chaotic maps

Hessenberg decomposition

Arnold scrambling

False acceptance rate

False rejection rate

Area under curve

Equal error rate