Abstract
Recent studies encourage the development of sensorially-enriched media to enhance the user experience by stimulating senses other than sight and hearing. Sensory effects as odor, wind, vibration and light effects, as well as an enhanced audio quality, have been found to favour media enjoyment and to have a positive influence on the sense of Presence and on the perceived quality, relevance and reality of a multimedia experience. In particular, sports is among the genres that could benefit the most from these solutions. Several works have demonstrated also the technical feasibility of implementing and deploying end-to-end solutions integrating sensory effects into a legacy system. Thus, multi-sensorial media emerges as a mean to deliver a new form of immersive experiences to the mass market in a non-disruptive manner. However, many questions remain concerning issues as the sensory effects that can better complement a given audiovisual content or the best way in which to integrate and combine them to enhance the user experience of a target audience segment. The work presented in this paper aims to gain insight into the impact of binaural audio and sensory (light and olfactory) effects on the sports media experience, both at the overall level (average effect) and as a function of users' characteristics (heterogeneous effects). To this aim, we conducted an experimental study exploring the influence of these immersive elements on the quality and Presence dimensions of the media experience. Along the quality dimension, we look for possible variations on the quality scores assigned to the overall media experience and to the media components content, image, audio and sensory effects. The potential impact on Presence is analyzed in terms of Spatial Presence and Engagement. The users' characteristics considered encompass specific personal affective, cognitive and behavioral attributes. At the overall level we found that participants preferred binaural audio over standard stereo audio and that the presence of sensory effects increased significantly the level of Spatial Presence. Several heterogeneous effects were also revealed as a result of our experimental manipulations. Whereas binaural audio was found to have a generalized impact on the majority of the quality and Presence measures considered, the effects of sensory effects concentrate mainly on the Presence dimension. Personal characteristics explained most of the variation in the dependent variables, being individuals' preferences in relation to the content, knowledge of involved technologies, tendency to emotional involvement and conscientiousness among the user variables with the most generalized influence. In particular, the former two features seem to present a conflict in the allocation of attentional resources towards the media content versus the technical features of the system, respectively. Additionally, football fans' experience seems to be modulated by emotional processes whereas for not fans cognitive processes –and in particular those related to quality judgment– prevail.
Access options
Buy single article
Instant access to the full article PDF.
USD 39.95
Price excludes VAT (USA)
Tax calculation will be finalised during checkout.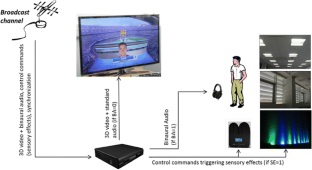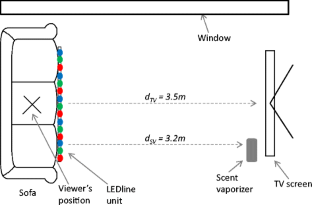 References
Alsina-Jurnet I, Gutierrez-Maldonado J (2010) Influence of personality and individual abilities on the sense of presence experienced in anxiety triggering virtual environments. Int J Hum Comput Stud 68:788–801

Baños R, Botella C, García-Palacios A et al (1999) Psychological variables and reality judgment in virtual environments: the roles of absorption and dissociation. CyberPsychology Behav 2:143–148. doi:10.1089/cpb.1999.2.143

Beck AT (1961) An inventory for measuring depression. Arch Gen Psychiatry 4:561. doi:10.1001/archpsyc.1961.01710120031004

Beerends JG, De Caluwe FE (1999) The influence of video quality on perceived audio quality and vice versa. J Audio Eng Soc 47:355–362

Benet-Martínez V, John OP (1998) Los Cinco Grandes across cultures and ethnic groups: multitrait multimethod analyses of the Big Five in Spanish and English. J Pers Soc Psychol 75:729–750

Bey C, McAdams S (2002) Schema-based processing in auditory scene analysis. Percept Psychophys 64:844–854

Bleumers L, Lievens B, Pierson J (2011) From sensory dream to television format: gathering user feedback on the use and experience of omnidirectional video-based solutions. ISPR 2011 Int. Soc. Presence Res. Annu. Conf

Bowman DA, McMahan RP (2007) Virtual reality: how much immersion is enough? Computer 40:36–43. doi:10.1109/MC.2007.257

Box GEP, Draper NR (1987) Empirical model-building and response surfaces. Wiley, New York

Box GEP, Hunter JS, Hunter WG (2005) Statistics for experimenters: design, innovation, and discovery, 2nd edn. Wiley, New Jersey

Bracken C, Pettey G, Wu M (2011) Telepresence and attention: secondary task reaction time and media form. Proc. Int. Soc. Presence

Chandrasekaran C, Ghazanfar AA (2011) When what you see is not what you hear. Nat Neurosci 14:675–676. doi:10.1038/nn.2843

Coen M (2001) Multimodal integration-a biological view. Proc. Fifteenth Int. Jt. Conf. Artif. Intell. Seattle, WA, pp 1417–1424

Cohen J (2001) Defining identification: a theoretical look at the identification of audiences with media characters. Mass Commun Soc 4:245–264. doi:10.1207/S15327825MCS0403

Cui LC (2003) Do experts and naive observers judge printing quality differently? In: Miyake Y, Rasmussen DR (eds) Electron. Imaging 2004. International Society for Optics and Photonics, pp 132–145

Curran T, Gibson L, Horne JH et al (2009) Expert image analysts show enhanced visual processing in change detection. Psychon Bull Rev 16:390–397. doi:10.3758/PBR.16.2.390

Darken RP, Bernatovich D, Lawson JP, Peterson B (1999) Quantitative measures of presence in virtual environments: the roles of attention and spatial comprehension. Cyberpsychol Behav 2:337–347

de Kort YAW, Ijsselsteijn WA, Kooijman J, Schuurmans Y (2003) Virtual laboratories: comparability of real and virtual environments for environmental psychology. Presence Teleoperators Virtual Environ 12:360–373

de Ruyter B, Aarts E (2004) Ambient intelligence: visualizing the future. Proc. Work. Conf. Adv. Vis. interfaces - AVI'04. ACM Press, New York, p 203

Decock J, Looy J Van, Bleumers L, Bekaert P (2011) The pleasure of being (there?). An Explorative study into the effects of presence and identification on the enjoyment of an interactive theatrical performance using Omni- Directional Video. ISPR 2011 Int. Soc. Presence Res. Annu. Conf

Eagly AH, Chaiken S (1995) The psychology of attitudes. Psychol Mark 12:459–466. doi:10.1002/mar.4220120509

Eagly AH, Chaiken S (1998) Attitude Structure and Function. In: Gilbert DT, Fiske, ST & Lindzey G (eds) Handbook of Social Psychology. McGraw-Hill, New York, pp 269–322. ISBN: 0195213769, 9780195213768

Emoto M, Nojiri Y, Okano F (2004) Changes in fusional vergence limit and its hysteresis after viewing stereoscopic TV. Displays 25:67–76. doi:10.1016/j.displa.2004.07.001

Galloso I, Feijóo C, Santamaría A (2015) Novel approaches to immersive media: from enlarged field-of-view to multi-sensorial experiences. In: Kondoz A, Dagiuklas T (eds) Nov. 3D Media Technol. Springer, New York, pp 9–24

Ghinea G, Ademoye O (2012) The sweet smell of success: enhancing multimedia applications with olfaction. ACM Trans Multimed Comput Commun Appl 8:1–17. doi:10.1145/2071396.2071398

Goldstein EB (2010) Sensation and perception, 8th ed. Cengage Learning, 2009, Belmont, CA

Hands DS (2004) A basic multimedia quality model. IEEE Trans Multimedia 6:806–816. doi:10.1109/TMM.2004.837233

Hands DS, Brotherton MD, Bourret A, Bayart D (2005) Subjective quality assessment for objective quality model development. Electron Lett 41:408. doi:10.1049/el:20058339

Hasebe H, Oyamada H, Ukai K et al (1996) Changes in oculomotor functions before and after loading of a 3-D visually-guided task by using a head-mounted display. Ergonomics 39:1330–1343. doi:10.1080/00140139608964553

Hendrix C, Barfield W (1995) Presence in virtual environments as a function of visual and auditory cues. Virtual Real Annu Int Symp 1995 Proceedings 74–82. doi:10.1109/VRAIS.1995.512482

Herz RS, Engen T (1996) Odor memory: review and analysis. Psychon Bull Rev 3:300–313. doi:10.3758/BF03210754

Hogg MA, Vaughan G (2005) Social psychology, 4th edn. Prentice-Hall, London

IJsselsteijn W (2000) Presence: concept, determinants, and measurement. Proc. SPIE. Spie, pp 520–529

ISO/IEC (2013) Information technology -- media context and control -- part 3: sensory information (ISO/IEC 23005–3). p 104

ITU-R (2000) Subjective assessment of stereoscopic television pictures (Rec. ITU-R BT.1438). ITU-R

ITU-T (1998) Subjective audiovisual quality assessment methods for multimedia applications (ITU-T Rec. P.911). 46

Jennings JR, Van Der Molen MW, Van Der Veen FM, Debski KB (2002) Influence of preparatory schema on the speed of responses to spatially compatible and incompatible stimuli. Psychophysiology 39:496–504

John OP, Donahue EM, Kentle RL (1991) The "Big Five" inventory: versions 4a and 5b. University of California, Berkeley, Institute of Personality and Social Research, Berkeley

John OP, Naumann LP, Soto CJ (2008) Paradigm shift to the integrative big-five trait taxonomy: history, measurement, and conceptual issues. In: John OP, Robins RW, Pervin LA (eds) Handb. Personal. Theory Res. Guilford Press, New York, NY, USA, pp 114–158

John OP, Srivastava S (1999) the big-five trait taxonomy: history, measurement, and theoretical perspectives. In: Pervin LA, John OP (eds) Handb. Personal. Theory Res., Vol. 2. Guilford Press, New York, pp 102–138

Jumisko-Pyykkö S (2011) User-centered quality of experience and its evaluation methods for mobile television. Tampere University of Technology

Kim J, Lee C-G, Kim Y, Ryu J (2013) Construction of a haptic-enabled broadcasting system based on the MPEG-V standard. Signal Process Image Commun 28:151–161

Knoche HO, McCarthy JD, Sasse M a (2005) Can small be beautiful? assessing image resolution requirements for mobile TV. Multimed'05 Proc 13th Annu ACM Int Conf Multimed 829–838. doi:10.1145/1101149.1101331

Laarni J, Ravaja N, Saari T, Hartmann T (2004) Personality-related differences in subjective presence. In: Alcañiz M, Rey B (eds) Proc. seventh Annu. Int. Work. presence 2004. UPV, Valencia, pp 88–95

LaPiere RT (1934) Attitudes vs. actions. Soc Forces 13:230–237. doi:10.2307/2570339

Le Callet P, Möller S, Perkis A (2012) Qualinet White Paper on Definitions of Quality of Experience (2012). European Network on Quality of Experience in Multimedia Systems and Services (COST Action IC 1003), Lausanne, Switzerland, Version 1.1, June 3, 2012

Lee S, Kim GJ (2008) Effects of visual cues and sustained attention on spatial presence in virtual environments based on spatial and object distinction. Interact Comput 20:491–502

Lessiter J, Freeman J, Keogh E, Davidoff J (2001) A cross-media presence questionnaire: the ITC-sense of presence inventory. Presence Teleoperators Virtual Environ 10:282–297. doi:10.1162/105474601300343612

Lombard M, Ditton T (1997) At the heart of it all: the concept of presence. J Comput Commun 3:0. doi:10.1111/j.1083-6101.1997.tb00072.x

Luque FP, Galloso I, Feijoo C et al (2014) Integration of multi-sensorial stimuli and multi-modal interaction in a hybrid 3DTV system. ACM Trans Multimed Comput Commun Appl (TOMCAPP), Spec Issue MulseMedia 10:16:1–16:22. doi: 10.1145/2617992

McGurk H, MacDonald J (1976) Hearing lips and seeing voices. Nature 264:746–748

McLeod S (2014) Attitudes and behavior. In: online. http://www.simplypsychology.org/attitudes.html. Accessed 24 Sep 2015

Murray CD, Fox J, Pettifer S (2007) Absorption, dissociation, locus of control and presence in virtual reality. Comput Hum Behav 23:1347–1354. doi:10.1016/j.chb.2004.12.010

Murray N, Qiao Y, Lee B et al (2013) Subjective evaluation of olfactory and visual media synchronization. Proc. 4th ACM Multimed. Syst. Conf. ACM, New York, pp 162–171

Nabi RL, Krcmar M (2004) Conceptualizing media enjoyment as attitude: implications for mass media effects research. Commun Theory 14:288–310. doi:10.1111/j.1468-2885.2004.tb00316.x

Neisser U (1976) Cognition and reality: principles and implications of cognitive psychology. W. H. Freeman, New York

Novak T, Hoffman D, Yung Y (2000) Measuring the customer experience in online environments: a structural modeling approach. Mark Sci 19:22–44

Obrist M, Tuch AN, Hornbaek K (2014) Opportunities for odor: experiences with smell and implications for technology. Proc SIGCHI Conf Hum Factors Comput Syst 2843–2852. doi: 10.1145/2556288.2557008

Rainer B, Waltl M, Cheng E et al (2012) Investigating the impact of sensory effects on the Quality of Experience and emotional response in web videos. 2012 Fourth Int. Work. Qual. Multimed. Exp. IEEE, pp 278–283

Raney AA, Bryant J (2002) Moral judgment and crime drama: an integrated theory of enjoyment. J Commun 52:402–415. doi:10.1111/j.1460-2466.2002.tb02552.x

Riva G, Mantovani F, Capideville CS et al (2007) Affective interactions using virtual reality: the link between presence and emotions. Cyberpsychol Behav 10:45–56. doi:10.1089/cpb.2006.9993

Rock I, Victor J (1964) Vision and touch: an experimentally created conflict between the two senses. Science 143:594–596

Rose CL, Murphy LB, Byard L, Nikzad K (2002) The role of the Big Five personality factors in vigilance performance and workload. Eur J Personal 16:185–200. doi:10.1002/per.451

Royston JP (1989) Correcting the shapiro-wilk Wfor ties. J Stat Comput Simul 31:237–249. doi:10.1080/00949658908811146

Sacau A, Laarni J (2005) The impact of personality factors on the experience of spatial presence. Presence 143–151

Sacau A, Laarni J, Hartmann T (2008) Influence of individual factors on presence. Comput Hum Behav 24:2255–2273. doi:10.1016/j.chb.2007.11.001

Sas C, O'Hare GMP (2003) Presence equation: an investigation into cognitive factors underlying presence. Presence Teleoperators Virtual Environ 12:523–537. doi:10.1162/105474603322761315

Scheier C, Nijhawan R, Shimojo S (1999) Sound alters visual temporal resolution. Invest Ophthalmol Vis Sci 40:4169

Schuemie MJ, van der Straaten P, Krijn M, van der Mast CAPG (2001) Research on presence in virtual reality: a survey. CyberPsychol Behav 4:183–201. doi:10.1089/109493101300117884

Shapiro SS, Wilk MB (1965) An analysis of variance test for normality (complete samples). Biometrika 52:591–611

Sherry JL (2004) Flow and media enjoyment. Commun Theory 14:328–347. doi:10.1111/j.1468-2885.2004.tb00318.x

Shimojo S, Shams L (2001) Sensory modalities are not separate modalities: plasticity and interactions. Curr Opin Neurobiol 11:505–509

Skalski P, Tamborini R, Shelton A et al (2010) Mapping the road to fun: natural video game controllers, presence, and game enjoyment. New Media Soc 13:224–242

Skalski P, Whitbred R (2010) Image versus sound: a comparison of formal feature effects on presence and video game enjoyment. PsychNology J 8:67–84

Slater MD (2003) Alienation, aggression, and sensation seeking as predictors of adolescent use of violent film, computer, and website content. J Commun 53:105–121. doi:10.1111/j.1460-2466.2003.tb03008.x

Slater M (2003) A note on presence terminology. Presence-Connect 1–5

Slater M (2009) Place illusion and plausibility can lead to realistic behaviour in immersive virtual environments. Philos Trans R Soc Lond B Biol Sci 364:3549–3557. doi:10.1098/rstb.2009.0138

Slater M, Steed A, McCarthy J, Maringelli F (1998) The influence of body movement on subjective presence in virtual environments. Hum Factors 40:469–477

Slater M, Wilbur S (1997) A framework for immersive virtual environments (FIVE): speculations on the role of presence in virtual environments. Presence Teleoperators Virtual Environ 6:603–616

Sowden PT, Davies IR, Roling P (2000) Perceptual learning of the detection of features in X-ray images: a functional role for improvements in adults' visual sensitivity? J Exp Psychol Hum Percept Perform 26:379–390

Sowden PT, Rose D, Davies IRL (2002) Perceptual learning of luminance contrast detection: specific for spatial frequency and retinal location but not orientation. Vis Res 42:1249–1258. doi:10.1016/S0042-6989(02)00019-6

StataCorp LP (2015) STATA 12 [Computer software]. Available online from http://www.stata.com/.Accessed 29 Jul 2015.

Steuer J (1992) Defining virtual reality: dimensions determining telepresence. J Commun 42:73–93. doi:10.1111/j.1460-2466.1992.tb00812.x

Suzuki Y, Onda Y, Katada S et al (2004) Effects of an eyeglass-free 3-D display on the human visual system. Jpn J Ophthalmol 48:1–6. doi:10.1007/s10384-003-0001-7

Sylaiou S, Mania K, Karoulis A, White M (2010) Exploring the relationship between presence and enjoyment in a virtual museum. Int J Hum Comput Stud 68:243–253

Takatalo J, Nyman G, Laaksonen L (2008) Components of human experience in virtual environments. Comput Hum Behav 24:1–15. doi:10.1016/j.chb.2006.11.003

Tamborini R, Bowman ND, Eden A et al (2010) Defining media enjoyment as the satisfaction of intrinsic needs. J Commun 60:758–777. doi:10.1111/j.1460-2466.2010.01513.x

Ukai K, Howarth PA (2008) Visual fatigue caused by viewing stereoscopic motion images: background, theories, and observations. Displays 29:106–116. doi:10.1016/j.displa.2007.09.004

Usoh M, Catena E, Arman S, Slater M (2000) Using presence questionnaires in reality. Presence Teleoperators Virtual Environ 9:497–503. doi:10.1162/105474600566989

Västfjäll D (2003) The subjective sense of presence, emotion recognition, and experienced emotions in auditory virtual environments. Cyberpsychol Behav 6:181–188. doi:10.1089/109493103321640374

Visser P, Bizer G, Krosnick J (2006) Exploring the latent structure of strength-related attitude attributes. Adv Exp Soc Psychol. doi:10.1016/S0065-2601(06)38001-X

Vorderer P, Klimmt C, Ritterfeld U (2004) Enjoyment: at the heart of media entertainment. Commun Theory 14:388–408. doi:10.1111/j.1468-2885.2004.tb00321.x

Waltl M, Rainer B, Timmerer C, Hellwagner H (2013) An end-to-end tool chain for sensory experience based on MPEG-V. Signal Process Image Commun 28:136–150

Waltl M, Timmerer C, Hellwagner H (2010) Improving the Quality of multimedia Experience through sensory effects. Qual Multimed Exp (QoMEX), 2010 Second Int Work 124–129. doi:10.1109/QOMEX.2010.5517704

Waltl M, Timmerer C, Hellwagner H (2010) Increasing the user experience of multimedia presentations with sensory effects. Image Anal. Multimed. Interact. Serv. (WIAMIS), 2010 11th Int. Work. IEEE, Desenzano del Garda, pp 1–4

Wechsung I, Schulz M, Engelbrecht K-P et al (2011) All users are (not) equal - the influence of user characteristics on perceived quality, modality choice and performance. In: Delgado RL-C, Kobayashi T (eds) Proc. Paralinguistic Inf. its Integr. Spok. Dialogue Syst. Work. Springer, New York, NY, pp 175–186

Weibel D, Wissmath B, Mast FW (2010) Immersion in mediated environments: the role of personality traits. Cyberpsychol Behav Soc Netw 13:251–256

Welch RB, Warren DH (1980) Immediate perceptual response to intersensory discrepancy. Psychol Bull 88:638–667

Werner S, Thies B (2000) Is "change blindness" attenuated by domain-specific expertise? An expert-novices comparison of change detection in football images. Vis Cogn 7:163–173. doi:10.1080/135062800394748

Willander J, Larsson M (2006) Smell your way back to childhood: autobiographical odor memory. Psychon Bull Rev 13:240–244. doi:10.3758/BF03193837

Wirth W, Hartmann T, Böcking S et al (2007) A process model of the formation of spatial presence experiences. Media Psychology 9:493–525. doi:10.1080/15213260701283079

Witmer BG, Singer MJ (1998) Measuring presence in virtual environments: a presence questionnaire. Presence Teleoperators Virtual Environ 7:225–240. doi:10.1162/105474698565686

Wrzesniewski A, McCauley C, Rozin P (1999) Odor and affect: individual differences in the impact of odor on liking for places, things and people. Chem Senses 24:713–721. doi:10.1093/chemse/24.6.713

Yoon K (2013) End-to-end framework for 4-D broadcasting based on MPEG-V standard. Signal Process Image Commun 28:127–135

Zillmann D, Vorderer P (2000) Media entertainment: the psychology of its appeal. Lawrence Erlbaum Associates, Mahwah
Acknowledgments
The work presented in this manuscript was developed partially within the ImmersiveTV project. The authors would like to thank the Spanish Ministry of Industry Tourism and Commerce for its support through the funded project TSI-020302-2010-61.
Appendices
Appendix 1 Measuring instruments and factors
The measures gathered during the experiments are summarized as follows (scales in brackets). In the case of direct scores the question asked is included preceded by a Q.
Inclusion criteria

1.

Screening for (corrected to-) normal visual acuity and stereopsis:

a.

Snellen Chart: screening for normal visual acuity

b.

self-developed materials based on Annex 1 of ITU-R Recommendation BT.1438 [35]: screening for normal stereopsis

2.

BDI-II – Beck Depression Inventory [3]: The BDI_Score was computed from the answers of each participant to the questionnaire [1–10: normal; 11–16: mild mood disturbance; 17–20: borderline clinical depression; 21–30: moderate depression; 31–40: severe depression; over 40: extreme depression]

Personal characteristics

3.

Previous knowledge of the involved technologies:

a.

KTech. [1: none; 2: basic; 3: intermediate; 4: expert]; Q. How would you rate your current level of knowledge on video, audio or home automation technologies?

4.

Preferences and habits in relation to the content:

a.

Lfoot [5-point Likert scale from 1: not at all to 5: very much]; Q. How much do you like football?

b.

Fview [5-point Likert scale from 1: never to 5: almost always]; Q. How frequently do you watch football matches?

c.

FFT [1: RMCF; 2: FCB; 3: Other; 4: None]; Q. Please select from the following options the one that includes the football team of your preference. If you do not have a preferred team, please select option 4.

5.

ITQ measures: Immersive Tendency – ITQ questionnaire [102]. The following factors were computed from the answers of each individual to the ITQ questionnaire as described in [97]:

a.

ITQ_Emot. Emotional involvement [continuous scale from 1 to 7]; it refers to the tendency to get emotionally involved. It is related to the degree of emotional reaction (either positive or negative) toward media exposure [97]

b.

ITQ_Absor. Absorption [continuous scale from 1 to 7]; it refers to the tendency to become absorbed in / focus attention on an activity. It is related to the capability of an individual to concentrate and block out external and distracting stimuli [97].

6.

BFI Measures: Personality traits – Big Five Questionnaire [5, 38, 39]: The following factors were computed from the answers of each individual to the questionnaire (see [40] for a comprehensive definition):

a.

BFI_Extrav. Extraversion [continuous scale from 1 to 5]; it implies an energetic approach toward the social and material world. That is, it measures to what extent an individual is oriented toward the external world (the opposite to introvert). In this sense, it includes traits such as sociable, active, assertive, outgoing and emotionally positive

b.

BFI_Agr. Agreeableness [continuous scale from 1 to 5]; it contrasts a prosocial and communal orientation towards others with antagonism. Agreeable persons can be generally described as trustful, helpful, altruist, tender-minded and modest

c.

BFI_Cons. Conscientiousness [continuous scale from 1 to 5]; it describes socially prescribed impulse control that facilitates task- and goal-directed behavior. It is generally associated with individuals that that tend to think before acting, perform well following norms and rules, planning, organizing and prioritizing tasks and that are hard-working, reliable, organized and self-disciplined. The trait has been also related to an increased perceptual sensitivity [63].

d.

BFI_Neurot. Neuroticism [continuous scale from 1 to 5]; it contrasts emotional stability and even-temperedness (low scores) with negative emotionality, such as feeling anxious, nervous, sad, and tense (high scores). People scoring high on neuroticism are usually nervous, insecure, anxious, vulnerable and excitable

e.

BFI_Open. Openness to experience (vs. closed-mindedness) [continuous scale from 1 to 5]; it describes the breadth, depth, originality, and complexity of an individual's mental and experiential life. This factor is related to personality traits as adventurous, liberal, imaginative, receptive to new ideas and approaches and having a preference for variety

Presence and quality measures

7.

ITC-SOPI measures: Presence dimensions - ITC-SOPI Questionnaire [48]. The following factors were computed from the answers of each participant to the questionnaire:

a.

SP. Spatial Presence [continuous scale from 1 to 5]; it refers to a sense of physical placement in the mediated environment and of interaction with and control over parts of the mediated environment

b.

Eng. Engagement [continuous scale from 1 to 5]; it refers to the feeling of psychological involvement and of enjoying the content

8.

Quality measures - Quality assessment questionnaire (self-developed). Subjective quality assessment of each independent stimuli/component and of the overall QoE [11-point Likert scale from 0: extremely bad to 10: excellent]. We provide aclaratory notes associated to each quality measure on the specific issues encompassed by the component to be valuated, as follows:

a.

QoC. Quality of Content as perceived by the user. It encompassess issues as the plot and the specific sequence of game events;

b.

QoI. Quality of Image as perceived by the user. It encompassess issues as the image resolution, luminance, color, sharpness, contrast and depth;

c.

QoA. Quality of Audio as perceived by the user. It encompassess issues as the audio clarity, naturalness, richness, sharpness and smoothness;

d.

QoSE (only rated when SE = 1). Quality of Sensory Effects as perceivd by the user. It encompassess issues as the naturalness, richness and complementarity (to the sports media content) of sensory effects;

e.

QoE. Overall Quality of Experience as perceived by the user. It refers to the global quality of the media experience (encompassing all the components presented).
Appendix 2. Recruiting e-mail
The participants were recruited via e-mail. We e-mailed our collegaues at several research centers and departments at the Technical University of Madrid asking for volunteers to participate in the experiment. We raffled off a Tablet PC among all the participants as incentive. The recruiting e-mail reads as follows:
Dear colleague,
During the last two years our VR Group at CeDInt has collaborated with other entities in a R&D project called 'ImmersiveTV'. The project focuses on the creation of new immersive and interactive solutions aimed at complementing the media content with meaningful effects and/or functionalities.
The ImmersiveTV consortium has implemented an experimental setup integrating some of the immersive components considered in the project. Now we focus our efforts on analyzing the potential effect (either positive or negative, if any) of these components on the user experience. To that end we have designed a user experiment aimed at revealing how these components are perceived by the user in the light of his/her personal characteristics.
xThe purpose of this e-mail is to ask for volunteers to participate in the study. The experiment will take place in the 'Demos' Lab during the next two weeks. Volunteers will be exposed to the 'enhanced' media content and will be asked to valuate the experience on an individual basis according to his/her perception of it.
Should you be able to participate please contact me for further details on next steps.
Thank you in advance for your collaboration.
Best regards,
The ImmersiveTV team.
PS: A Tablet PC will be raffled off among all the participants in the experiment.
Appendix 3 Explanation Given To Participants Before The Experiment
In the laboratory, before initiating the experiment, we explained the general goals of the experiment and the procedure to be followed, as follows:
Goals:

The goal of this experiment is to analyze the potential effect (either positive or negative, if any) of a set of sensory effects on the user experience with media. In particular, we aim to study how these sensory effects are perceived by the user in the light of his/her individual characteristics. Therefore, this experiment is not intended to validate the specific solution implemented in our test bed but to inform future research and development works on the use of sensory effects to complement media content.

Procedure:

The experiment comprises two sessions in which you will watch a report of the first and second parts of a football match between the F.C. Barcelona and Real Madrid C.F. At each session, different sensory effects can be activated. We do not expect you to be particularly alert to these effects. On the contrary, we would ask you to relax and enjoy the experience as you would do in your living room.

After each session you will be asked to report on the experience using a questionnaire. Considering the previously mentioned goals we would like to ask you to be as faithful as possible to your individual perception of the experience in your answers to these questionnaires.

After this explanation, the participant was invited to formulate any question he/she may have and the issues raised were clarified at the same "general" level (i.e. without revealing further details on the content or the specific sensory effects introduced).
Appendix 4. Multivariate analysis on the independent variables (Pearson's correlation analysis)
About this article
Cite this article
Galloso, I., Palacios, J.F., Feijóo, C. et al. On the influence of individual characteristics and personality traits on the user experience with multi-sensorial media: an experimental insight. Multimed Tools Appl 75, 12365–12408 (2016). https://doi.org/10.1007/s11042-016-3360-z
Received:

Revised:

Accepted:

Published:

Issue Date:

DOI: https://doi.org/10.1007/s11042-016-3360-z
Keywords