Abstract
Knowledge sharing within a cooperative organization is an important issue since the power of its outcome has been the principal source of competitive advantage over the competitors in the market. However, without a proper collective knowledge management, its utilization as a strategic weapon or competitive advantage becomes difficult and inefficient. From an organizational perspective, the most important aspect of knowledge management is to transfer knowledge. In this regards, organizations must adopt structures that allow them to create and transfer more knowledge. Organizational communication structure affects the nature of human interactions and information flow which in its own turn can lead to a competitive advantage in the knowledge economy. However, in addition to that, social relationships between individuals in an organization can also be utilized to produce positive returns. In this article we emphasize the role of individual structural importance within an organizational informal communication structure as a mechanism for knowledge flow and speeding up organizational learning. Our experimental results indicate the fact that structural position of individuals within their informal communication networks can help the network members to have a better access to ongoing information exchange processes in the organization. The results of our analyses also show that organizational learning through an informal communication network of people in the form of scale-free connectivity pattern is faster comparing to the small-world connectivity style.
This is a preview of subscription content, log in to check access.
Access options
Buy single article
Instant access to the full article PDF.
US$ 39.95
Tax calculation will be finalised during checkout.
Subscribe to journal
Immediate online access to all issues from 2019. Subscription will auto renew annually.
US$ 199
Tax calculation will be finalised during checkout.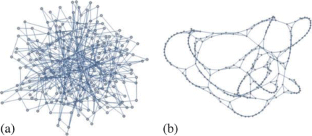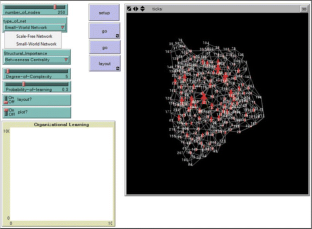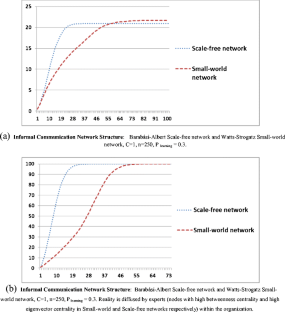 References
1.

Alazmi M, Zairi M (2003) Knowledge management critical success factors. Total Qual Manag Bus Excell 14(2):199–204

2.

Argote L, Greve H (2007) A behavioral theory of the firm—40 years and counting: introduction and impact. Organ Sci 18(3):337–349

3.

Argyris C, Schön D (1978) Organizational learning: a theory of action perspective. Addison-Wesley, Reading MA

4.

Axley SR (2000) Communicating change: questions to consider. Indust Manag 42(4):18–22

5.

Barabási A-L, Albert R (1999) Emergence of scaling in random networks. Science 286:509–512

6.

Barua A, Ravindran S, Whinston AB (2007) Enabling information sharing within organizations. Inf Technol Manag 8(1):31–45

7.

Berkhin P (2005) A survey on pagerank computing. Internet Math 2(1):73–120

8.

Bonacich P (1972) Factoring and weighting approaches to status scores and clique identification. J Math Sociol 2(1):113–120

9.

Bonacich P, Lloyd P (2001) Eigenvector-like measures of centrality for asymmetric relations. Soc Networks 23(3):191–201

10.

Bontis N, Crossan MM, Hulland J (2002) Managing an organizational learning system by aligning stocks and flows. J Manag Stud 39(4):437–469

11.

Brandes U (2001) A faster algorithm for betweenness centrality*. J Math Sociol 25(2):163–177

12.

Cross RL, Parker A (2004) The hidden power of social networks: Understanding how work really gets done in organizations. Harvard Business Press

13.

Crosson MM, Bedrow I (2003) Organizational learning and strategic renewal. Strategic Manag J 24:1087–1105

14.

Fang C, Lee J, Schilling MA (2010) Balancing exploration and exploitation through structural design: the isolation of subgroups and organizational learning. Organ Sci 21(3):625–642

15.

Fleming L (2001) Recombinant uncertainty in technological search. Manag Sci 47(1):117–132

16.

Freeman L, Borgatti SP, White DR (1991) Centrality in valued graphs: a measure of betweenness based on network flow. Soc Netw 13(2):141–154

17.

Gupta AK, Smith KG, Shalley CE (2006) The interplay between exploration and exploitation. Acad Manag J 49:693–706

18.

Harshman EF, Harshman CL (1999) Communicating with employees: building on an ethical foundation. J Bus Ethics 19(1):3–19

19.

Hasanali F (2002) Critical success factors of knowledge management. Knowledge Manag Advan

20.

Hatala JP (2006) Social network analysis in human resource development: a new methodology. Hum Resour Dev Rev 5(1):45–71

21.

Hatala JP, George Lutta J (2009) Managing information sharing within an organizational setting: a social network perspective. Perform Improv Q 21(4):5–33

22.

Jansen JJP, Van Den Bosch FAJ, Volberda HW (2006) Exploratory innovation, exploitative innovation, and performance: effects of organizational antecedents and environmental moderators. Manag Sci 52(11):1661–1674

23.

Johanson JE (2000) Formal structure and intra-organizational networks. an analysis in a combined social and health organization in Finland. Scand J Manag 16(3):249–267

24.

Kane GC, Alavi M (2007) Information technology and organizational learning: an investigation of exploration and exploitation processes. Organ Sci 18(5):796–812

25.

Kim DH (1998) The link between individual and organizational learning. Sloan Manag

26.

Kleinberg JM (1999) Authoritative sources in a hyperlinked environment. J ACM 46(5):604–632

27.

Koohborfardhaghighi S, Kim J (2013) Using structural information for distributed recommendation in a social network. Appl Intell 38(2):255–266

28.

Lee CY (2006) Correlations among centrality measures in complex networks. arXiv preprint physics/0605220

29.

Lewin AY, Long CP, Carroll TN (1999) The coevolution of new organizational forms. Organ Sci 10(5):535–550

30.

Liebowitz J (2000) Building organizational intelligence: a knowledge management primer. CRC Press

31.

March JG (1988) Decisions and organizations. Basil Backwell, New York

32.

March JG (1991) Exploration and exploitation in organizational learning. Organ Sci 2(1):71–87

33.

March JG (1994) Primer on decision making: how decisions happen. SimonandSchuster, Com

34.

Miller KD, Zhao M, Calantone RJ (2006) Adding interpersonal learning and tacit knowledge to March's exploration-exploitation model. Acad Manag J 49:709–722

35.

Newman ME (2001) Scientific collaboration networks. II. shortest paths, weighted networks, and centrality. Phys Rev E 64(1):016132

36.

Nonaka I, Takeuchi H (1995) The knowledge creating company. Oxford University Press, New York

37.

Page L, Brin S, Motwani R et al. (1999) The PageRank citation ranking: bringing order to the web. Technical Report, Stanford InfoLab

38.

Pedler M, Burgogyne J, Boydell T (1997) The learning company: a strategy for sustainable development, 2nd edn. McGraw-Hill, London

39.

Senge P (1990) The fifth discipline: the art and practice of the learning organization. Doubleday, New York

40.

Senge P (1996) Leading learning organizations. Train Dev 50(12):36–4

41.

Siggelkow N, Rivkin J (2005) Speed and search: designing organizations for turbulence and complexity. Organ Sci 16(2):101–122

42.

Warshall S (1962) A theorem on boolean matrices. J ACM (JACM) 9(1):11–12

43.

Wasserman S, Faust K (1994) Social network analysis: methods and applications. Cambridge University Press, New York

44.

Watts DJ, Strogatz SH (1998) Collective dynamics of 'small-world' networks. Nature 393:440

45.

White DR, Borgatti SP (1994) Betweenness centrality measures for directed graphs. Soc Netw 16(4):335–346

46.

Wilensky U (1999) NetLogo: Center for connected learning and computer-based modeling. Northwestern University, Evanston, http://ccl.northwestern.edu/netlogo/
Acknowledgments
This research has been funded by the "Leaders Industry-University Cooperation" Project, supported by the Ministry of Education.
About this article
Cite this article
Koohborfardhaghighi, S., Lee, D.B. & Kim, J. How different connectivity patterns of individuals within an organization can speed up organizational learning. Multimed Tools Appl 76, 17923–17936 (2017). https://doi.org/10.1007/s11042-016-3348-8
Received:

Revised:

Accepted:

Published:

Issue Date:
Keywords
Knowledge management system

Knowledge sharing

Centrality measures

Informal communication network topology

Organizational learning

Agent-based modeling