Abstract
We present the results of the user experience studies conducted as part of the European SEE TV-WEB project activities. The SEE TV-WEB project aims to use the free digital terrestrial television (DTT) broadcasting frequency spectrum capacities for transmitting selected Internet content and ensuring at least some Internet experience via TV devices to the certain less advantaged segments of the population, or those in rural areas without broadband access. Five different test study cases are presented, four in Slovenia and one in Austria, each with different specific target user groups and their own dynamics. According to the project disposition goals the focus was on the elderly. Methods, such as think-aloud protocol in combination with a guided interview and observation of verbal as well as of non-verbal responses, were used. To ensure the repeatability of tests and to help guide the process, a special questionnaire was developed. The research questions focused on: the navigation and interaction concept, the content, the readability, and the overall acceptance and the perception of value of the TV-WEB service. More than 74 users participated in the user experience studies, 27 of them 65 years old or older. The results indicate that the presented navigation and interaction concept is indeed intuitive and simple enough to be used by most users with no or little effort. This is especially proven by the results from studies at both elderly citizens homes, where the majority of participants were 65 years old or older.
Access options
Buy single article
Instant access to the full article PDF.
US$ 39.95
Tax calculation will be finalised during checkout.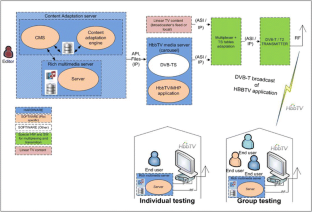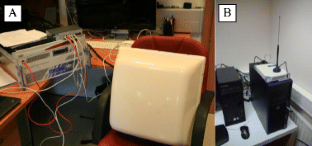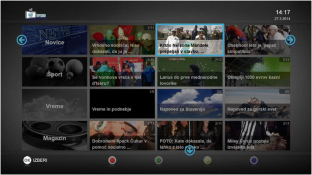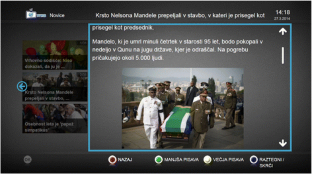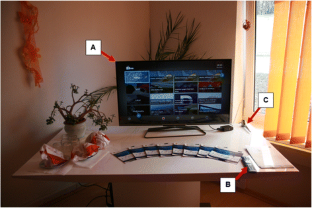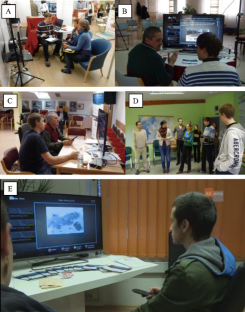 References
1.

Albert W, Thomas T (2013) Measuring the user experience: collecting, analyzing, and presenting usability metrics. Elsevier

2.

Carmichael A (1999) Style guide for the design of interactive television services for elderly viewers. Independent Television Commission, Winchester

3.

Chorianopoulos K (2008) User interface design principles for interactive television applications. Int J Hum Comput Interact 24(6):556–573

4.

Chorianopoulos K, Spinellis D (2006) User interface evaluation of interactive TV: a media studies perspective. Univ Access Inf Soc 5(2):209–218

5.

Dickinson A, Arnott J, Prior S (2007) Methods for human–computer interaction research with older people. Behav Inform Technol 26(4):343–352

6.

Eisma R, Dickinson A, Goodman J, Syme A, Tiwari L, Newell AF (2004) Early user involvement in the development of information technology-related products for older people. Univ Access Inf Soc 3(2):131–140

7.

Enhancing digital literacy, skills and inclusion, http://ec.europa.eu/digital-agenda/en/our-goals/pillar-vi-enhancing-digital-literacy-skills-and-inclusion (last accessed on 21.6.2014)

8.

ETSI Digital Video Broadcasting (DVB); Signalling and carriage of interactive applications and services in Hybrid broadcasting/broadband environments, ETSI TS 102 809 V1.1.1 (2010–01)

9.

ETSI Hybrid Broadcast Broadband TV, ETSI TS 102 796 v1.2.1 (2012–11)

10.

Festival of the 3rd Age, http://en.f3zo.si/home/ (last accessed on 21.6.2014)

11.

Fisk AD, Rogers WA, Charness N, Czaja SJ, Sharit J (2012) Designing for older adults: principles and creative human factors approaches. CRC press

12.

Guna J, Stojmenova E, Hauswirth D, Winkler R, Ninaus M, Pogačnik M (2013) WEB on TV: designing the user experience. V: STOJMENOVA, Emilija (ur.), LUGMAYR, Artur (ur.). Proceedings of the 1st Workshop on Defining a European Research Agenda on Information Systems and Management in eMedia Industries, Bled, Slovenia, 9th-13th June 2013, (International series on information systems and management in creative emedia, ISSN 2341–5576, no. 2013/1). Tampere: IugYmedia, 2013, str. 5–7

13.

Hybrid Broadcast Broadband TV, https://www.hbbtv.org (last accessed on 21.6.2014)

14.

Lowdermilk T (2013) User-centered design: a developer's guide to building user-friendly applications. O'Reilly Media, Inc.

15.

Lugmayr A, Serral E, Scherp A, Pogorelc B, Mustaquim M (2013) Ambient media today and tomorrow. Multimed Tools Appl:1–31

16.

OECD (2001) "Understanding the Digital Divide", OECD Digital Economy Papers, No. 49, OECD Publishing. http://www.oecd.org/sti/1888451.pdf (last accessed on 21.3.2014)

17.

Pak R, McLaughlin A (2011) Designing displays for older adults. CRC Press. Taylor&Francis Group, Boca Raton

18.

Pawson M, Greenberg S (2009) Extremely rapid usability testing. J Usability Stud 4(3):124–135

19.

Reutte Eins TV station, http://www.reeins.tv/2010/livestream (last accessed on 21.6.2014)

20.

Sayago S, Blat J (2006) Conducting thinking-aloud tests and focus groups with the young elderly. In HCI, the web and the older population workshop at HCI 2006 The 20th British HCI Group annual conference, Queen Mary, University of London (pp 11–15)

21.

Stojmenova E, Guna J, Hauswirth D, Winkler R, Ninaus M, Pogačnik M (2013) WEB on TV: cross-national user study for designing better user experience. V: LUGMAYR, Artur (ur.). Making sense of covering media. New York: Association for Computing Machinery, 2013, cop. 2007, str. 17–19.

22.

The TV-WEB project - Tackling the "Digital Divide" in SEE, http://www.see-tvweb.eu (last accessed on 30.6.2014)
Acknowledgments
We would like to kindly thank all the participants in the evaluation study for their participation and valuable feedback given.
About this article
Cite this article
Guna, J., Stojmenova, E., Kos, A. et al. The TV-WEB project - combining internet and television – lessons learnt from the user experience studies. Multimed Tools Appl 76, 20377–20408 (2017). https://doi.org/10.1007/s11042-016-3243-3
Received:

Revised:

Accepted:

Published:

Issue Date:
Keywords
SEE TV-WEB

TV

Internet

HBBTV

DVB

Digital divide

User study

User experience

User centered design

Human-computer interaction