Abstract
This paper presents a new technology that overlays virtual taste sensations on food and beverages while eating and drinking. This additional layer of taste sensation enables modifying the existing taste sensations (flavors) of food and beverages virtually. To achieve this technology, we primarily use weak and controlled electrical pulses on the tip of the tongue (while eating and drinking). The ability of this technology to simulate primary taste sensations such as salty, sour, and bitter has made us able to merge it into everyday eating and drinking utensils such as the spoon and beverage bottle, thus to augment the taste sensations of food and beverages. In addition to electrical pulses, we change the color of the beverage using an RGB Light Emitting Diode (LED). Two prototype systems produced with this technology, Spoon+ and Bottle+ are explained in this paper. First, we present a comprehensive technical description of these utensils. Then, we detailed a user experiment conducted to study the effectiveness of our approach. Through these two prototype systems, we discuss the impact of this technology to create immersive taste experiences when consuming food and beverages. With focus on new features and improvements of several limitations of the existing systems, we present our future vision that enables merging of this technology into more appliances thus making a platform for creating virtual food and beverage ingredients.
Access options
Buy single article
Instant access to the full article PDF.
US$ 39.95
Tax calculation will be finalised during checkout.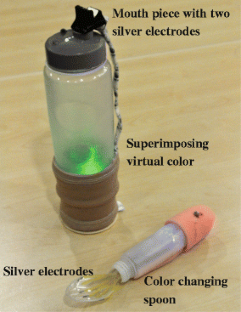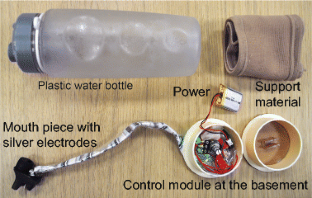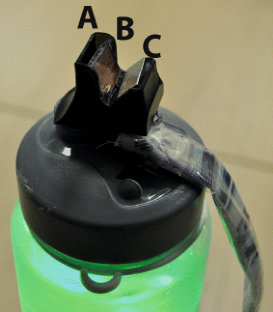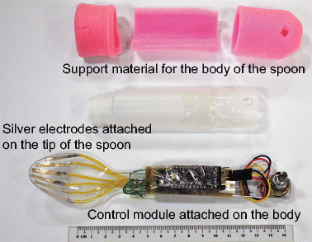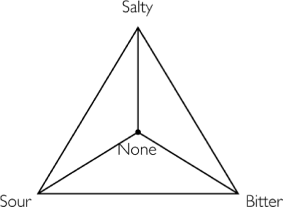 References
1.

Auvray M, Spence C (2008) The multisensory perception of flavor. Conscious Cogn 17(3):1016– 1031

2.

Beyreuther K, Biesalski H, Fernstrom J, Grimm P, Hammes W, Heinemann U, Kempski O, Stehle P, Steinhart H, Walker R (2007) Consensus meeting: monosodium glutamate–an update. Eur J Clin Nutr 61(3):304–313

3.

Boyce J, Shone G (2006) Effects of ageing on smell and taste. Postgrad Med J 82(966):239–241

4.

Buck LB (2000) Smell and taste: The chemical senses. Princ Neural Sci 4:625–647

5.

Cowart BJ (1981) Development of taste perception in humans: sensitivity and preference throughout the life span. Psychol Bull 90(1):43

6.

Cruz A, Green B (2000) Thermal stimulation of taste. Nature 403(6772):889–892

7.

DePuy V, Berger VW (2005) Counterbalancing. Wiley, pp 418–420

8.

Dobrin R Liquid cleaner-disinfectant composition for use in wiping down dental operatories (1984). US Patent 4,464,293

9.

Drewnowski A, Henderson SA, Barratt-Fornell A (2001) Genetic taste markers and food preferences. Drug Metab Dispos 29(4):535–538

10.

Eisenstein M (2010) Taste: More than meets the mouth. Nature 468(7327):S18–S19

11.

Firestein S (2001) How the olfactory system makes sense of scents. Nature 413 (6852):211–218

12.

Frank R, Ducheny K, Mize S (1989) Strawberry odor, but not red color, enhances the sweetness of sucrose solutions. Chem Senses 14(3):371–377

13.

Grabenhorst F, Rolls E (2008) Selective attention to affective value alters how the brain processes taste stimuli. Eur J Neurosci 27(3):723–729

14.

Harrar V, Spence C (2013) The taste of cutlery: how the taste of food is affected by the weight, size, shape, and colour of the cutlery used to eat it. Flavour 2(1):1–13

15.

Krut L, Perrin M, Bronte-Stewart B (1961) Taste perception in smokers and non-smokers. Br Med J 1(5223):384

16.

Kundu P, Chatterjee A, Panchariya P (2011) Electronic tongue system for water sample authentication: A slantlet-transform-based approach. IEEE Trans Instrum Meas 60(6):1959–1966

17.

Lackovic I, Stare Z (2007) Low-frequency dielectric properties of the oral mucosa. In: 13th international conference on electrical bioimpedance and the 8th conference on electrical impedance tomography. Springer, pp 154–157

18.

Lansdown A (2006) Silver in health care: antimicrobial effects and safety in use. Karger Publishers, pp 17–34

19.

Lawless H, Stevens D, Chapman K, Kurtz A (2005) Metallic taste from electrical and chemical stimulation. Chem Senses 30(3):185

20.

Lindemann B (2001) Receptors and transduction in taste. Nature (London):219–225

21.

Matsunami H, Montmayeur JP, Buck LB (2000) A family of candidate taste receptors in human and mouse. Nature 404(6778):601–604

22.

Meiselman HL, Dzendolet E (1967) Variability in gustatory quality identification. Percept Psychophys 2(11):496–498

23.

Nagata M, Suzuki W, Iizuka S, Tabuchi M, Maruyama H, Takeda S, Aburada M, Miyamoto KI (2006) Type 2 diabetes mellitus in obese mouse model induced by monosodium glutamate. Exp Anim 55(2):109–115

24.

Nakamura H, Miyashita H (2011) Augmented gustation using electricity. In: Proceedings of the 2nd augmented human international conference. ACM, p 34

25.

Narumi T, Sato M, Tanikawa T, Hirose M (2010) Evaluating cross-sensory perception of superimposing virtual color onto real drink: toward realization of pseudo-gustatory displays. In: Proceedings of the 1st augmented human international conference. ACM, p 18

26.

Palit M, Tudu B, Dutta P, Dutta A, Jana A, Roy J, Bhattacharyya N, Bandyopadhyay R, Chatterjee A (2010) Classification of black tea taste and correlation with tea taster's mark using voltammetric electronic tongue. IEEE Trans Instrum Meas 59(8):2230–2239

27.

Ranasinghe N, Cheok A, Nakatsu R, Do EYL (2013) Simulating the sensation of taste for immersive experiences. In: Proceedings of the 2013 ACM international workshop on immersive media experiences. ACM, pp 29–34

28.

Ranasinghe N, Cheok AD, Nakatsu R (2012) Taste/ip: the sensation of taste for digital communication. In: Proceedings of the 14th ACM international conference on multimodal interaction. ACM, pp 409–416

29.

Ranasinghe N, Karunanayaka K, Cheok AD, Fernando ONN, Nii H, Gopalakrishnakone P (2011) Digital taste and smell communication. In: Proceedings of the 6th international conference on body area networks. ICST (Institute for Computer Sciences, Social-Informatics and Telecommunications Engineering), pp 78–84

30.

Ranasinghe N, Lee KY, Do EYL (2014) Funrasa: an interactive drinking platform. In: Proceedings of the 8th international conference on tangible, embedded and embodied interaction. ACM, pp 133–136

31.

Ranasinghe N, Lee KY, Suthokumar G, Do EYL (2014) The sensation of taste in the future of immersive media. In: Proceedings of the 2nd ACM international workshop on immersive media experiences. ACM, pp 7–12

32.

Ranasinghe N, Nakatsu R, Nii H, Gopalakrishnakone P (2012) Tongue mounted interface for digitally actuating the sense of taste. In: 16th international symposium on wearable computers (ISWC), 2012. IEEE, pp 80–87

33.

Ratner B, Bankman I (2009) Biomedical engineering desk reference, chap 4.1. Academic Press, p 377

34.

Robinson J (1970) The misuse of taste names by untrained observers. Br J Psychol 61(3):375–378

35.

Shepherd G (2006) Smell images and the flavour system in the human brain. Nature 444(7117):316–321

36.

Silverthorn DU, Ober WC, Garrison CW, Silverthorn AC, Johnson BR (2009) Human physiology: an integrated approach, chap 10. Pearson/Benjamin Cummings, p 354

37.

Small D, Prescott J (2005) Odor/taste integration and the perception of flavor. Exp Brain Res 166(3):345–357

38.

Sørensen LB, Møller P, Flint A, Martens M, Raben A (2003) Effect of sensory perception of foods on appetite and food intake: a review of studies on humans. Int J Obes 27(10):1152–1166

39.

Spielman A (1990) Interaction of saliva and taste. J Dent Res 69(3):838–843

40.

Tortora GJ, Derrickson BH (2008) Principles of anatomy and physiology. Wiley

41.

Vega C, Ubbink J (2008) Molecular gastronomy: a food fad or science supporting innovative cuisine? Trends Food Sci Technol 19(7):372–382
Acknowledgments
This research is supported by the National Research Foundation, Prime Minister's Office, Singapore under its International Research Centre @ Singapore Funding Initiative and administered by the Interactive and Digital Media Programme Office.
About this article
Cite this article
Ranasinghe, N., Lee, KY., Suthokumar, G. et al. Virtual ingredients for food and beverages to create immersive taste experiences. Multimed Tools Appl 75, 12291–12309 (2016). https://doi.org/10.1007/s11042-015-3162-8
Received:

Revised:

Accepted:

Published:

Issue Date:
Keywords
Taste

Gustation

Taste media

Multimodal interaction

Perceptual immersion

Taste interfaces