Abstract
Numerous studies have proved that graphic strategies, such as graphic organization and concept mapping, can facilitate improving reading comprehension. However, the question as to what graphic strategies can improve argumentative essay reading comprehension ability is not yet resolved. To determine whether graphic strategies can improve students' reading comprehension ability, we designed a computer-aided argumentative essay reading system that can construct graphic strategies. In the designed system, three approaches, namely a traditional teaching approach without graphic strategies, concept mapping, and argument mapping, are created for determining the effects of graphic strategies on students' argumentative essay reading comprehension ability. In addition, the proposed argument mapping system provides a function for helping students identify three key argumentative essay elements, namely claims, reasons, and evidence, to enable them to construct an argument map with no burden. The designed system can help students learn how to read argumentative essays easily, improving their reading comprehension ability. The experimental results from 373 sixth graders showed that the argument mapping method enhanced students' argumentative essay reading comprehension ability compared with traditional and concept mapping approaches. Statistical results revealed that between-group differences were statistically significant (p value between the experimental and Control Group 1 was 0.001 and that between the experimental and Control Group 2 was 0.013).
This is a preview of subscription content, log in to check access.
Access options
Buy single article
Instant access to the full article PDF.
US$ 39.95
Tax calculation will be finalised during checkout.
Subscribe to journal
Immediate online access to all issues from 2019. Subscription will auto renew annually.
US$ 199
Tax calculation will be finalised during checkout.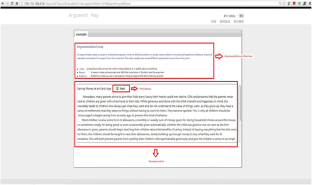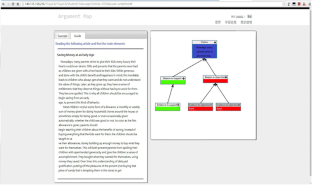 References
1.

Aidman EV, Egan G (1998) Academic assessment through computerized concept mapping: validating a method of implicit map reconstruction. Int J Instr Media 25(3):277–94

2.

Akhondi M, Malayeri FA, Samad AA (2011) How to teach expository text structure to facilitate reading comprehension. Read Teach 64(5):368–372

3.

Almasi JF, Fullerton SK (2012) Teaching strategic processes in reading. Guilford Press.

4.

Blunt JR, Karpicke JD (2014) Learning with retrieval-based concept mapping. J Educ Psychol 106(3):849

5.

Braund M et al (2013) First steps in teaching argumentation: a South African study. Int J Educ Dev 33(2):175–184

6.

Britt MA, Larson AA (2003) Constructing representations of arguments. J Mem Lang 48(4):794–810

7.

Butchart S et al. (2009) Improving critical thinking using web based argument mapping exercises with automated feedback. Australas J Educ Technol 25(2)

8.

Buzan T, Buzan B (2000) The concept map book. BBC Worldwide Ltd, London

9.

Chambliss MJ (1995) Text cues and strategies successful readers use to construct the gist of lengthy written arguments. Read Res Q 778–807

10.

Chambliss MJ, Murphy PK (2002) Fourth and fifth graders representing the argument structure in written texts. Discourse Process 34(1):91–115

11.

Davies M (2011) Concept mapping, mind mapping and argument mapping: what are the differences and do they matter? Higher Educ 62(3):279–301

12.

DeLauder H, Lin M (2012) Improving reading comprehension through the use of graphic organizing websites. Soc Inf Technol Teach Educ Int Conf 2012(1)

13.

Dwyer CP, Hogan MJ, Stewart I (2010) The evaluation of argument mapping as a learning tool: comparing the effects of map reading versus text reading on comprehension and recall of arguments. Think Skills Creat 5(1):16–22

14.

Dyer PA (1985) A study of computer assisted reading the effects of pre-reading mapping on comprehension and transfer of learning. Diss Abstr Int 46(9):26–41

15.

Felton MK, Herko S (2004) From dialogue to two-sided argument: scaffolding adolescents' persuasive writing. J Adolesc Adult Lit 672–683

16.

Gifford M (2014) The effects of technology-based graphic organizers to teach reading comprehension skills of students with learning disabilities. Diss. Rowan University

17.

Goldman SR, Graesser AC, Van Den Broek P (ed.) (1999) Narrative comprehension, causality, and coherence: essays in honor of Tom Trabasso. Routledge

18.

Griffin CC, Simmons DC, Kameenui EJ (1991) Investigating the effectiveness of graphic organizer instruction on the comprehension and recall of science content by students with learning disabilities. Read Writ Learn Disabil 7(4):355–376

19.

Grogan MS (2014) Reading, argumentation, and writing: collaboration and development of a reading comprehension intervention for struggling adolescents. University of Arkansas at Little Rock

20.

Guri-Rozenblit S (1989) Effects of a tree diagram on students' comprehension of main ideas in an expository text with multiple themes. Read Res Q 236–247

21.

Hogan M, Owen H, Benjamin B (2014) Integrating argument mapping with systems thinking tools: advancing applied systems science. In: Knowledge cartography. Springer, London, pp 401–421

22.

Hsu C-K, Hwang G-J, Chang C-K (2013) A personalized recommendation-based mobile learning approach to improving the reading performance of EFL students. Comput Educ 63:327–336

23.

Hwang G-J et al (2014) Effects of an integrated concept mapping and web-based problem-solving approach on students' learning achievements, perceptions and cognitive loads. Comput Educ 71:77–86

24.

Kalhor M, Shakibaei G (2012) Teaching reading comprehension through concept map. Life Sci J 9(4):725–731

25.

Karpicke JD, Blunt JR (2011) Retrieval practice produces more learning than elaborative studying with concept mapping. Science 331(6018):772–775

26.

Khajavi Y, Saeed K (2012) Influencing EFL learners' reading comprehension and self-efficacy beliefs: the effect of concept mapping strategy

27.

Kiili C (2013) Argument graph as a tool for promoting collaborative online reading. J Comput Assist Learn 29(3):248–259

28.

Kintsch W, Van Dijk TA (1978) Toward a model of text comprehension and production. Psychol Rev 85(5):363

29.

Kunsch DW, Schnarr K, van Tyle R (2014) The use of argument mapping to enhance critical thinking skills in business education. J Educ Bus 89(8):403–410

30.

Larson M, Britt MA, Larson AA (2004) Disfluencies in comprehending argumentative texts. Read Psychol 25(3):205–224

31.

Li L-Y (2015) Development and evaluation of a web-based e-book with a concept mapping system. J Comput Educ 2(2):211–226

32.

Lin S-S, Mintzes JJ (2010) Learning argumentation skills through instruction in socioscientific issues: the effect of ability level. Int J Sci Math Educ 8(6):993–1017

33.

Liu P-L, Chen C-J, Chang Y-J (2010) Effects of a computer-assisted concept mapping learning strategy on EFL college students' English reading comprehension. Comput Educ 54(2):436–445

34.

Liu C-C et al (2011) An enhanced concept map approach to improving children's storytelling ability. Comput Educ 56(3):873–884

35.

Lorch RF Jr, Lorch EP (1996) Effects of organizational signals on free recall of expository text. J Educ Psychol 88(1):38

36.

Mayer RE (1996) Learning strategies for making sense out of expository text: the SOI model for guiding three cognitive processes in knowledge construction. Educ Psychol Rev 8(4):357–371

37.

Merkley DM, Jefferies D (2000) Guidelines for implementing a graphic organizer. Read Teach 350–357

38.

Munneke L, Van Amelsvoort M, Andriessen J (2003) The role of diagrams in collaborative argumentation-based learning. Int J Educ Res 39(1):113–131

39.

Newell GE et al (2011) Teaching and learning argumentative reading and writing: a review of research. Read Res Q 46(3):273–304

40.

Northup S, Wilson D (2013) Twelve years a slave. In: Eakin SL, Logsdon J (Eds.) Penguin books

41.

Nussbaum EM, Schraw G (2007) Promoting argument-counterargument integration in students' writing. J Exp Educ 76(1):59–92

42.

Okada A, Shum SB (2008) Evidence-based dialogue maps as a research tool to investigate the quality of school pupils' scientific argumentation. Int J Res Method Educ 31(3):291–315

43.

Okada A, Shum SB, Sherborne T (eds) (2014) Knowledge cartography: software tools and mapping techniques. Springer

44.

Redford JS et al (2012) Concept mapping improves metacomprehension accuracy among 7th graders. Learn Instr 22(4):262–270

45.

Reed C, Walton D, Macagno F (2007) Argument diagramming in logic, law and artificial intelligence. Knowl Eng Rev 22(01):87–109

46.

Ruddell RB, Boylen OF (1989) A study of cognitive mapping as a means to improve summarization and comprehension of expository text. Lit Res Instr 29(1):12–22

47.

Shum SB (2003) The roots of computer supported argument visualization. In: Visualizing argumentation. Springer, London, pp 3–24

48.

Soleimani H, Nabizadeh F (2012) The effect of learner constructed, fill in the map concept Map technique, and summarizing strategy on Iranian pre-university students' reading comprehension. Engl Lang Teach 5(9):p78

49.

Toulmin SE (2003) The uses of argument. Cambridge University Press

50.

Van Amelsvoort M, Andriessen J, Kanselaar G (2008) How students structure and relate argumentative knowledge when learning together with diagrams. Comput Hum Behav 24(3):1293–1313

51.

Van Drie J et al (2005) Effects of representational guidance on domain specific reasoning in CSCL. Comput Hum Behav 21(4):575–602

52.

Van Gelder T (2002) Argument mapping with reason!able. Am Philos Assoc Newsl Philos Comput 2(1):85–90

53.

Van Gelder T (2007) The rationale for rationale™. Law Probab Risk 6(1–4):23–42

54.

Zumbach J (2009) The role of graphical and text based argumentation tools in hypermedia learning. Comput Hum Behav 25(4):811–817
Acknowledgments
This project was supported by the Ministry of Science and Technology of Taiwan under contract numbers MOST103-2511-S-008-002.
About this article
Cite this article
Chiang, KH., Fan, CY., Liu, HH. et al. Effects of a computer-assisted argument map learning strategy on sixth-grade students' argumentative essay reading comprehension. Multimed Tools Appl 75, 9973–9990 (2016). https://doi.org/10.1007/s11042-015-2904-y
Received:

Revised:

Accepted:

Published:

Issue Date:
Keywords
Argument mapping

Graphic organization

Reading comprehension

Argumentative essay