Abstract
This study investigated the effects of stress caused by social media network applications on the psychological and behavioral reactions of users: these included emotional exhaustion, the intention to switch applications, and resistance. We also examined the mediating role played by coping behaviors in these relationships. We analyzed a data from 446 users of Korean Social Network Services (SNSs) including Facebook, Twitter, and Kakao Talk, using a structural equation modeling (SEM) approach. Our findings showed that SNS-related stress increased users' emotional exhaustion, intention to switch, and resistance of user. While both approach coping and avoidance coping reduced emotional exhaustion and resistance, avoidance coping had no significant impact on switching intention. Our results also found that approach coping partially mediated the relationships between SNS-related stress, emotional exhaustion, switching intention, and resistance.
Access options
Buy single article
Instant access to the full article PDF.
USD 39.95
Price includes VAT (USA)
Tax calculation will be finalised during checkout.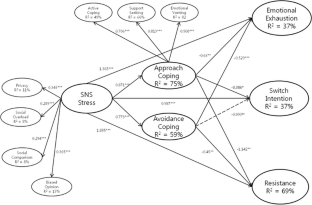 References
1.

Anshel MH (2000) A conceptual model and implications for coping with stressful events in police work. Crim Justice Behav 27(3):375–400

2.

Ayyagari R, Grover V, Purvis R (2011) Technostress: technological antecedents and implications. MIS Q 35(4):831–858

3.

Bagozzi RP, Yi Y (1988) On the evaluation of structural equation models. J Acad Mark Sci 16(1):74–94

4.

Bhattacherjee A (2001) Understanding information systems continuance: an expectation-confirmation model. MIS Q 25(3):351–370

5.

Bovey WH, Hede A (2001) Resistance to organizational change: the role of defense mechanisms. J Manag Psychol 16(7):534–548

6.

Brissette I, Scheier MF, Carver CS (2002) The role of optimism in social network development, coping, and psychological adjustment during a life transition. J Pers Soc Psychol 82(1):102–111

7.

Butler E, McCann E, Thomas J (2011) Privacy setting awareness on Facebook and its effect on user-posted content. Hum Commun 14(1):39–55

8.

Carver CS, Scheier MF (1994) Situational coping and coping dispositions in a stressful transaction. J Pers Soc Psychol 66(1):184–195

9.

Carver CS, Scheier MF, Weintraub JK (1989) Assessing coping strategies: a theoretically based approach. J Pers Soc Psychol 56(2):267–283

10.

Carver CS, Pozo C, Harris SD, Noriega V, Scheier MF, Robinson DS, Clark KC (1993) How coping mediates the effect of optimism on distress: a study of women with early stage breast cancer. J Pers Soc Psychol 65(2):375–390

11.

Choi C, Jeong H, Park JH, Jeong Y (2015) Relative weight evaluation of the factors inducing social media service use. Multimed Tools Appl 74(14):5041–5054

12.

Compas BE, Connor-Smith JK, Saltzman H, Thomsen AH, Wadsworth ME (2001) Coping with stress during childhood and adolescence: problems, progress, and potential in theory and research. Psychol Bull 127(1):87–127

13.

Cropanzano R, Rupp D, Byrne Z (2003) The relationship of emotional exhaustion to work attitudes, job performance, and organizational citizenship behaviors. J Appl Psychol 88(1):160–169

14.

Duhachek A (2005) Coping: a multidimensional, hierarchical framework of responses to stressful consumption episodes. J Consum Res 32(1):41–53

15.

Endler NS, Parker JDA (2000) Coping with health injuries and problems. MHS, New York

16.

Endler NS, Parkers JDA (1990) Multidimensional assessment of coping: a critical evaluation. J Pers Soc Psychol 58(5):844–854

17.

Fornell C, Larcker DF (1981) Evaluating structural equation models with unobservable variables and measurement error. J Mark Res 18:39–50

18.

Gartner (2011) Gartner survey highlights consumer fatigue with social media. http://www.gartner.com/it/page.jsp?id=1766814. Accessed 21 July 2015

19.

Gibbs JL, Ellison NB, Heino RD (2006) Self-presentation in online personals: the role of anticipated future interaction, self-disclosure, and perceived success in Internet dating. Commun Res 33(2):152–177

20.

Hair JF, Anderson RE, Tatham RL, Black WC (1998) Multivariate data analysis. Prentice Hall, London

21.

Hair JE, Anderson RE, Tatham RL, Black WC (2006) Multivariate data analysis. Prentice Hall, New Jerzy. U.S.A

22.

Harman HH (1967) Modern factor analysis. University of Chicago Press, Chicago

23.

Holland DK, Holahan CK (2003) The relation of social support and coping to positive adaptation to breast cancer. Psychol Health 18(1):15–29

24.

Hu LT, Bentler PM (1999) Cutoff criteria for fit indexes in covariance structure analysis: Conventional criteria versus new alternatives. Structural Equation Modeling. A Multidisci. J 6: 1--55

25.

Hung AW, Hwang S (2006) Measuring the effects of consumer, switching costs on switching intension in Taiwan mobile telecommunication services. J Am Acad Bus 9(1):75–85

26.

Jang Y, Kwak J (2015) Digital forensics investigation methodology applicable for social network services. Multimed Tools Applications 74(14):5029–5040

27.

Jeong O (2015) SNS-based recommendation mechanisms for social media. Multimed Tools Appl 74(7):2433–2447

28.

Kim H-W, Kankanhalli A (2009) Investigating user resistance to information systems implementation: a status quo bias perspective. MIS Q 33(3):567–582

29.

Kim G, Shin B, Lee HG (2006) A study of factors that affect user intentions toward email service switching. Inf Manag 43:884–893

30.

Kim HJ, Choi HG, Kim ST, An MS, Lee YM (2012) A study of innovation resistance among social media non users. Korean J Journal Commun Stud 56(4):439–482

31.

Kleijnen M, Lee N, Wetzels M (2009) An exploration of consumer resistance to innovation and its antecedents. J Econ Psychol 30(3):344–357

32.

Krasnova H, Wenninger H, Widjaja T, Buzmann P (2013) Envy on Facebook: a hidden threat to users' life satisfaction? In: Proceedings of the 11th International Conference on Wirtschaftsinformatik, Leipzig, Germany. pp. 1--16, 27th February – 1st March 2013

33.

Lazarus RS, Folkman S (1984) Stress, appraisal and coping. Springer, New York

34.

Lodge J, Feldman SS (2007) Avoidant coping as a mediator between appearances related victimization and self-esteem in young Australian adolescents. Br J Dev Psychol 25:633–642

35.

Maier C, Laumer S, Eckhardt A, Weitzel T (2012a) Online social networks as a source and symbol of stress: an empirical analysis. In Proceedings of the 33rd International Conference on Information Systems(ICIS), Orlando, USA. pp. 16--19, 1--19 December 2012

36.

Maier C, Laumer S, Eckhardt A, Weitzel T (2012b) When social networking turns to social overload: explaining the stress, emotional exhaustion, and quitting behavior from social network sites' users. In: Proceedings of the 20th European Conference on Information Systems (ECIS), Barcelona, Spain. pp. 10--13, 1--12 June 2012

37.

Maslach C, Jackson SE (1981) The measurement of experienced burnout. J Occup Behav 2(2):99–113

38.

Nunnally JC (1967) Psychometric theory. McGraw-Hill, New York

39.

O'Keeffe G, Clarke-Pearson K (2011) Clinical report on the impact of social media on children, adolescents, and families. Pediatrics 127:800–804

40.

Peacock EJ, Wong PTP, Reker GT (1992) Relations between appraisals and coping schemas: support for the congruence models. Can J Behav Sci 25:64–80

41.

Phelps JE, D'Souza G, Nowak GJ (2001) Antecedents and consequences of consumer privacy concerns: an empirical investigation. Journal of Interactive Marketing 15(4): 2–17

42.

Podsakoff N, MacKenzie SB, Lee J, Podsakoff PM (2003) Common method bias in behavioral research: a critical review of the literature and recommended remedies. J Appl Psychol 88(5):879–903

43.

Ram S (1989) Successful innovation using strategies to reduce consumer resistance: an empirical test. J Prod Innov Manag 6(1):20–34

44.

Rosen LD, Cheever NA, Carrier LM (2012) I-Disorder: understanding our obsession with technology and overcoming its hold on us. Palgrave Macmillan, New York

45.

Roth S, Cohen LJ (1986) Approach, avoidance, and coping with stress. Am Psychol 41:813–819

46.

Rudolph KD, Dennig MD, Weisz JR (1995) Determinants and consequences of children's coping in the medical setting: conceptualization, review, and critique. Psychol Bull 118(3):328–357

47.

Sacks MA, Graves N (2012) How many friends do you need? Teaching students how to network using social media. Bus Commun Q 75:80–88

48.

Samuelson W, Zeckhauser R (1988) Status quo bias in decision making. J Risk Uncertain 1(1):7–59

49.

Sheth JN (1981) Psychology of innovation resistance. Res Mark 4:273–282

50.

Simoni PS, Paterson JJ (1997) Hardiness, coping, and burnout in the nursing workplace. J Prof Nurs 13(3):178–185

51.

Sobel ME (1982) Asymptotic intervals for indirect effects in structural equations models. In: Leinhart S (ed) Sociological methodology. Jossey-Bass, San Francisco, pp 290–312

52.

Spreitzer GM, Kizilos MA, Nason SW (1997) A dimensional analysis of the relationship between psychological empowerment and effectiveness satisfaction, and strain. J Manag 23(5):679–704

53.

Tufekci Z (2008) Grooming, gossip, Facebook and my space: what can we learn about these sites from those who won't assimilate? Information. Commun Soc 11(4):544–564

54.

Weil MM, Rosen LD (1997) Technostress: coping with technology @work, @home, @play. Wiley, New York

55.

Weiten W, Dunn D, Hammer E (2011) Psychology applied to modern life: adjustment in the 21st century. Cengage Learning. Stanford Connecticut, U.S.A

56.

Wright TA, Cropanzano R (1998) Emotional exhaustion as a predictor of job performance and voluntary turnover. J Appl Psychol 83(3):486–493

57.

Ye C, Potter R (2011) The role of habit in post-adoption switching of personal information technologies: an empirical investigation. Commun Assoc Inf Syst 28(1):585–610

58.

Zaltman G, Wallendorf M (1983) Consumer behavior: basic finding and management implications. John Wiley and Sons, New York

59.

Zengyan C, Yinping Y, Lim J (2009) Cyber migration: an empirical investigation of factors that affect users' switch intentions in social networking sites, In: Proceedings of the 42nd Annual Hawaii International Conference on System Sciences(HICSS), Grand Wailea, Maui Hawaii, pp.1--11, 4--7 January 2009

60.

Zhang KZK, Cheung CMK, Lee MKO (2012) Switching behavior: the case of blog service providers. J Electron Commer Res 13(3):184–197
Appendix
Appendix
About this article
Cite this article
Lim, M.S., Choi, S.B. Stress caused by social media network applications and user responses. Multimed Tools Appl 76, 17685–17698 (2017). https://doi.org/10.1007/s11042-015-2891-z
Received:

Revised:

Accepted:

Published:

Issue Date:
Keywords
Social Media Network

SNS related stress

Psychological response