Abstract
This paper proposes a model, Recommendation of Appropriate Partners (RAP), used on a Social Networking Service (SNS) for locating appropriate "helpers" for users based on individual users' Chain of Friends (CoF) relationships. Using the RAP model, individual users can participate in a collaborative online community in remote locations, whereby helpers are willing to help other users solve their tasks/problems, and it is intended that both the users and helpers gain knowledge from these interactive online sessions. An example of the RAP-based system was implemented to invite Program Committee members to an international conference. The system was evaluated and the experimental results show that our model is very effective for discovering collaboration partners and finding users with similar interests in order to create communities for providing future and longer-term helping exchange.
Access options
Buy single article
Instant access to the full article PDF.
US$ 39.95
Tax calculation will be finalised during checkout.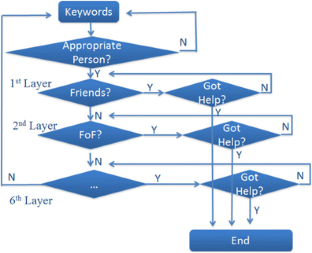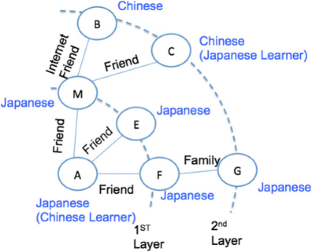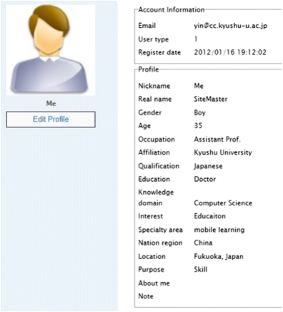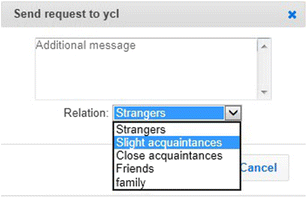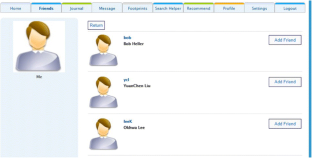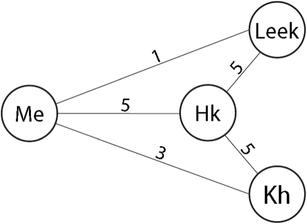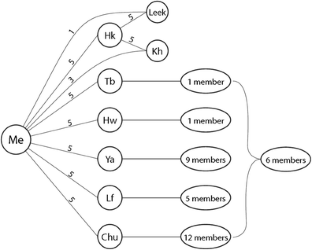 References
1.

Baier AC (1986) Trust and antitrust. Ethics 96:231–260

2.

Barile AL, Durso FT (2005) Computer-mediated communication in collaborative writing. Comput Hum Behav 18:173–190

3.

Boyd DM, Ellison NB (2008) Social network sites: definition, history, and scholarship. J Comput-Mediat Commun 13(1):210–230

4.

Brown BB (1989) The role of peer groups in adolescents' adjustment to secondary school. In: Belle D (ed) Children's social networks and social supports. Wiley, New York, p 188–215

5.

Chang W-L, Lee C-Y (2013) Trust as a learning facilitator that affects students' learning performance in the Facebook community: an investigation in a business planning writing course. Comput Educ 62:320–327

6.

Colquitt JA, Scott BA, LePine JA (2007) Trust, trustworthiness, and trust propensity: a meta-analytic test of their unique relationships with risk taking and job performance. J Appl Psychol 92(4):909

7.

Dinet J, Vivian R (2012) The impact of friendship on synchronous collaborative retrieval. Br J Educ Technol 43(3):439–447

8.

El-Bishouty MM, Ogata H, Rahman S, Yano Y (2010) Social knowledge awareness map for computer supported ubiquitous learning environment. Educ Technol Soc 13(4):27–37

9.

Eveland DJ, Brown W, Mattocks J (1994) The role of "help networks" in facilitating use of CSCW tools. In Proc. of Computer Supported Cooperative Work, ACM Press, p 265–274

10.

Facebook Fact Sheet (2014) available as http://newsroom.fb.com/Key-Facts

11.

Guzman ESD, Sharmin M, Bailey BP (2007) "Should I call now?" Understanding what context is considered when deciding whether to initiate remote communication via mobile devices. In Proc. of GI, p 143–155

12.

Heo GM, Lee R (2013) Blogs and social network sites as activity systems: exploring adult informal learning process through activity theory framework. Educ Technol Soc 16(4):133–145

13.

Howes C (2008) Friends and peers. Encycl Infant Early Child Dev 6:552–562

14.

Hsu MH, Ju TL, Yen CH, Chang CM (2007) Knowledge sharing behavior in virtual communities: the relationship between trust, self-efficacy, and outcome expectations. Int J Hum Comput Stud 65(2):153–169

15.

Joinson AN (2008) Looking at', " Looking up " or " Keeping up with " People ? Motives and Uses of Facebook. Social Networks 5

16.

Kelley PG et al (2011) An investigation into facebook friend grouping. In Proc. of Interact, p 216–233

17.

Lampe C, Ellison N, Steinfield C (2007) A familiar Face(book): profile elements as signals in an online social network. SIGCHI, ACM Press, New York, p 435–444

18.

Milgram S (1967) The small world problem. Psychol Today 2:60–67

19.

Ozenc FK, Farnham SD (2011) Life "modes" in social media. In Proc. Of CHI, 561–570

20.

Raento M et al (2005) ContextPhone: a prototyping platform for context-aware mobile applications. IEEE Pervasive Comput 4(2):51–59

21.

Rollett H, Lux M, Strohmaier M, Dösinger G, Tochtermann K (2007) The web 2.0 way of learning with technologies. Int J Learn Technol 3(1):87–107

22.

Stecher K, Counts S (2008) Thin slices of online profile attributes. In Proc. of AAAI, 127–135

23.

Tan Q, Kinshuk, Jeng Y-L, Huang Y-M (2010) A collaborative mobile virtual system based on location based dynamic grouping. In Proc. of IEEE International Conference on advanced Learning Technologies, p 16–18

24.

Yin C, Ogata H, Yano Y (2004) JAPELAS: supporting japanese polite expressions learning using PDA towards ubiquitous learning. J Inf Syst Educ 3(1):33–39

25.

Yin C, Dong Y, Tabata Y, Ogata H (2012) Recommendation of helpers based on personal connections in mobile learning. In Proc. of International Conference on Wireless, Mobile and Ubiquitous Technologies in Education, p 137–141
Acknowledgments
This work was supported in part by JSPS KAKENHI Grant Number 25750084.
About this article
Cite this article
Yin, C., Yau, J.YK., Hwang, GJ. et al. An SNS-based model for finding collaborative partners. Multimed Tools Appl 76, 11531–11545 (2017). https://doi.org/10.1007/s11042-015-2480-1
Received:

Revised:

Accepted:

Published:

Issue Date:
Keywords
Social networking

Personal relationship

Collaboration

Search engine