Abstract
Despite the fact that personal privacy has become a major concern, surveillance technology is now becoming ubiquitous in modern society. This is mainly due to the increasing number of crimes as well as the essential necessity to provide secure and safer environment. Recent research studies have confirmed now the possibility of recognizing people by the way they walk i.e. gait. The aim of this research study is to investigate the use of gait for people detection as well as identification across different cameras. We present a new approach for people tracking and identification between different non-intersecting un-calibrated stationary cameras based on gait analysis. A vision-based markerless extraction method is being deployed for the derivation of gait kinematics as well as anthropometric measurements in order to produce a gait signature. The novelty of our approach is motivated by the recent research in biometrics and forensic analysis using gait. The experimental results affirmed the robustness of our approach to successfully detect walking people as well as its potency to extract gait features for different camera viewpoints achieving an identity recognition rate of 73.6 % processed for 2270 video sequences. Furthermore, experimental results confirmed the potential of the proposed method for identity tracking in real surveillance systems to recognize walking individuals across different views with an average recognition rate of 92.5 % for cross-camera matching for two different non-overlapping views.
Access options
Buy single article
Instant access to the full article PDF.
USD 39.95
Price excludes VAT (USA)
Tax calculation will be finalised during checkout.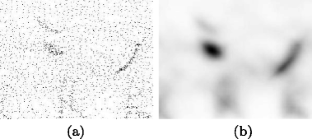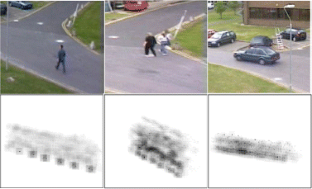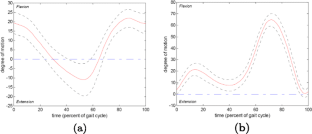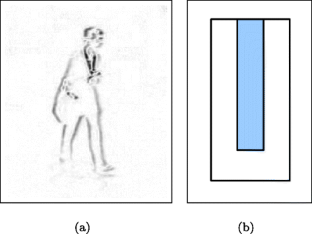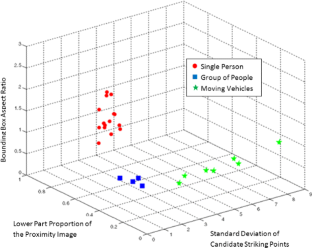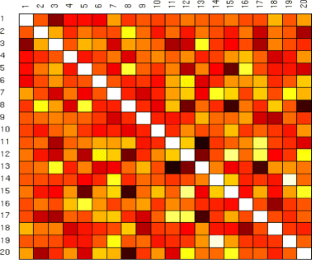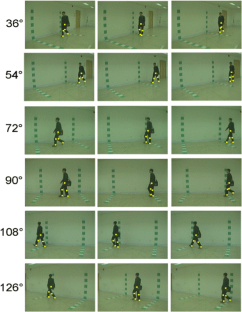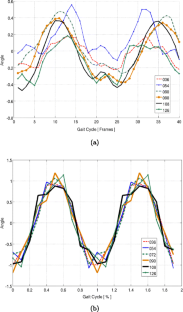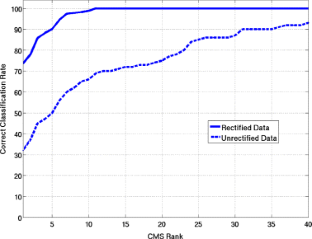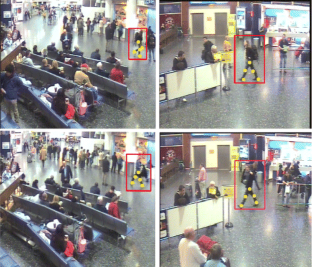 References
Bashir K, Xiang T, Gong S (2010) Cross view gait recognition using correlation strength. In: British Machine Vision Conference

BenAbdelkader C, Cutler R, Davis L (2002) Stride and Cadence as a Biometric in Automatic Person Identification and Verification. In: Proceedings of the Fifth IEEE International Conference on Automatic Face and Gesture Recognition, pp 357–362

BenAbdelkader C, Cutler R, Davis L (2002) View-invariant Estimation of Height and Stride for Gait Recognition. In: Proceedings of Workshop on Biometric Authentication

Bouchrika I (2008) Gait analysis and recognition for automated visual surveillance. University of Southampton. Ph.D. thesis

Bouchrika I, Carter J, Nixon M (2009) Recognizing People in Non-Intersecting Camera Views. In: Proceedings of Symposium on Imaging for Crime Detection and Prevention

Cai Q, Aggarwal J, Inc R, Seattle W (1999) Tracking human motion in structured environments using adistributed-camera system. IEEE Trans Pattern Anal Mach Intell 21(11):1241–1247

Carter JN, Nixon MS (1999) Measuring gait signatures which are invariant to their trajectory. Measurement Control 32(9):265–9

Chowdhury A, Kale A, Kale A (2003) Towards a view invariant gait recognition algorithm. In: Proceedings of IEEE Conference on Advanced Video and Signal Based Surveillance. Citeseer, pp 143–150

Cunado D, Nixon MS, Carter J (1997) Using gait as a Biometric, via Phase-Weighted Magnitude Spectra. In: Proceedings of 1st International Conference on Audio-and Video-Based Biometric Person Authentication, pp 95–102

Cunado D, Nixon MS, Carter JN (2003) Automatic Extraction and Description of Human Gait Models for Recognition Purposes. Comp Vision Image Underst 90(1):1–41

Cutler R, Davis LS (2003) Robust real-time periodic motion detection, analysis, and applications. IEEE Trans Pattern Anal Mach Intell 22(8):781–796

CVG (2001) Pets: Performance evaluation of tracking and surveillance. http://www.cvg.rdg.ac.uk/slides/pets.html

Dempster WT, Gaughran GR (1967) Properties of body segments based on size and weight. Am J Anat 120(1):33–54

Fujiyoshi H, Lipton AJ, Kanade T (2004) Real-time human motion analysis by image skeletonization. IEICE Trans Information System:113–120

Goffredo M, Bouchrika I, Carter J, Nixon M (2009) Self-Calibrating View-invariant Gait Biometrics. In: Journal of IEEE Transaction Systems, Man, and Cybernetics B

Goffredo M, Bouchrika I, Carter JN, Nixon MS (2010) Performance analysis for automated gait extraction and recognition in multi-camera surveillance. Multimedia Tools Appl 50(1):75–94

Guan Y, Li CT, Hu Y (2012) Robust clothing-invariant gait recognition. In: International Conference on Intelligent Information Hiding and Multimedia Signal Processing. IEEE, pp 321–324

Hadid A, Ghahramani M, Bustard J, Nixon M (2013) Improving gait biometrics under spoofing attacks. In: Image Analysis and Processing 2013. Springer, pp 1–10

Haritaoglu I, Harwood D, Davis LS (2000) W4: real-time surveillance of people and their activities. IEEE Trans Pattern Anal Mach Intell 22(8):809–830

Havasi L, Szlávik Z, Szirányi T (2007) Detection of gait characteristics for scene registration in video surveillance system. Image Processing. IEEE Transactions on 16(2):503–510

HOSD (2009) i-lids-imagery library for intelligent detection systems. https://www.gov.uk/government/collections/i-lids

Huang PS, Harris CJ, Nixon MS (1999) Human Gait Recognition in Canonical Space using Temporal Templates. In: IEE Proceedings of Vision, Image and Signal Processing, vol 146, pp 93–100

Javed O, Shah M (2002) Tracking and object classification for automated surveillance. In: Proceedings of the Seventh European Conference on Computer Vision, vol 4, pp 343–357

Johansson G (1973) Visual Perception of Biological Motion and a Model for its Analysis. Percept Psychophys 14:201–211

Katiyar R, Pathak VK, Arya K (2013) A study on existing gait biometrics approaches and challenges. Int J Comput Sci Issues 10 (1)

Khan S, Javed O, Rasheed Z, Shah M (2001) Human tracking in multiple cameras. In: Eighth IEEE International Conference on Computer Vision, 2001. ICCV 2001. Proceedings, vol 1

Kim IS, Choi HS, Yi KM, Choi JY, Kong SG (2010) Intelligent visual surveillancea survey. Int J Control Autom Syst 8(5):926–939

Kusakunniran W, Wu Q, Zhang J, Ma Y, Li H (2013) A new view-invariant feature for cross-view gait recognition. Information Forensics and Security. IEEE Trans on 8(10):1642–1653

Lipton AJ, Fujiyoshi H, Patil RS (1998) Moving target classification and tracking from real-time video. 4th IEEE Workshop on Application of Computer Vision

Mori G, Malik J (2006) Recovering 3d human body configurations using shape contexts. IEEE Trans Pattern Anal Mach Intell 28(7):1052–1062

Morzinger R, Thaler M, Stalder S, Grabner H, Van Gool L (2011) Improved person detection in industrial environments using multiple self-calibrated cameras. In: Advanced Video and Signal-Based Surveillance (AVSS), 2011 8th IEEE International Conference on, pp 486–491. IEEE

Murray MP (1967) Gait as a Total Pattern of Movement. Am J Phys Med 46(1):290–333

Nixon MS, Bouchrika I, Arbab-Zavar B, Carter JN (2010) On use of biometrics in forensics: gait and ear. In: European Signal Processing Conference

Nixon MS, Tan TN, Chellappa R (2005) Human Identification Based on Gait. Springer, New York

Oren M, Papageorgiou C, Sinha P, Osuna E, Poggio T (1997) Pedestrian detection using wavelet templates. In: IEEE Computer Society Conference on Computer Vision and Pattern Recognition, pp 193–199

Orwell J, Remagnino P, Jones G (1999) Multi-camera colour tracking. In: Second IEEE Workshop on Visual Surveillance, pp 14–21

Phillips PJ, Moon H, Rizvi SA, Rauss PJ (2000) The FERET Evaluation Methodology for Face Recognition Algorithms. IEEE Transactions on Pattern Analysis and Machine Intelligence 22(10):1090–1104

Shutler J, Grant M, Nixon MS, Carter JN (2002) On a Large Sequence-Based Human Gait Database. In: Proceedings of Recent Advances in Soft Computing, pp 66–71

Somol P, Pudil P, Novoviċová J, Paclík P (1999) Adaptive Floating Search Methods in Feature Selection. Pattern Recogn Lett 20(11–13):1157–1163

Spencer N, Carter JN (2005) Towards Pose Invariant Gait Reconstruction. In: Proceedings of IEEE International Conference on Image Processing, vol 3

Stein G (1999) Tracking from multiple view points: Self-calibration of space and time. In: Proceedings of the IEEE Computer Society Conference on Computer Vision and Pattern Recognition, vol 1, pp 521–527

Viola P, Jones MJ, Snow D (2005) Detecting pedestrians using patterns of motion and appearance. Int J Comput Vis 63(2):153–161

Wang L, Hu W, Tan T (2003) Recent Developments in Human Motion Analysis. Pattern Recog 36(3):585–601

Wang L, Ning H, Tan T, Hu W (2004) Fusion of Static and Dynamic Body Biometrics for Gait Recognition. IEEE Trans Circuits Syst Video Technol 14(2):149–158

Yam CY, Nixon MS, Carter JN (2004) Automated Person Recognition by Walking and Running via Model-Based Approaches. Pattern Recog 37(5):1057–1072

Yu S, Tan D, Tan T (2006) A framework for evaluating the effect of view angle, clothing and carrying condition on gait recognition. In: Proceedings of International Conference on Pattern Recognition, vol 4, pp 441–444
About this article
Cite this article
Bouchrika, I., Carter, J.N. & Nixon, M.S. Towards automated visual surveillance using gait for identity recognition and tracking across multiple non-intersecting cameras. Multimed Tools Appl 75, 1201–1221 (2016). https://doi.org/10.1007/s11042-014-2364-9
Received:

Revised:

Accepted:

Published:

Issue Date:

DOI: https://doi.org/10.1007/s11042-014-2364-9
Keywords
Gait analysis

Gait biometrics

Markerless extraction