Abstract
This paper proposes the authoring tools of the software robot (Sobot) for sharing intelligence among users and content providers. The proposed authoring tool package, Sobot studio is accessible to both developers and end-users of Sobot content. The Sobot studio allows them to easily create interactive software robot message with programming features. It encourages openness to everyone, user participation, and common ownership of emotional Sobot content based on web 2.0 paradigm. The authored Sobots can connect with and move to any device such as PCs, mobile phones, PDAs, or web portal sites at anytime. The experimental results verify that the emotional pet-type Sobots can easily transfer among heterogeneous devices through the network based on the ubiquitous paradigm.
Access options
Buy single article
Instant access to the full article PDF.
US$ 39.95
Tax calculation will be finalised during checkout.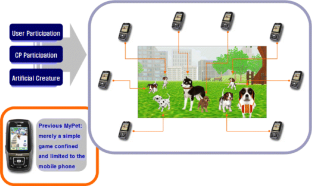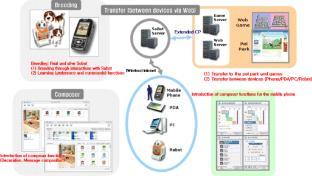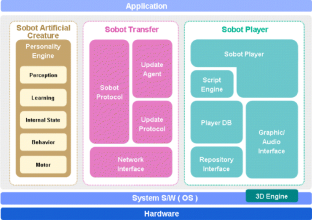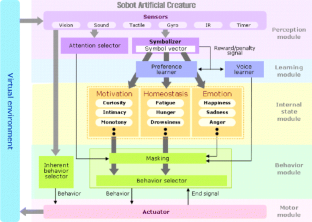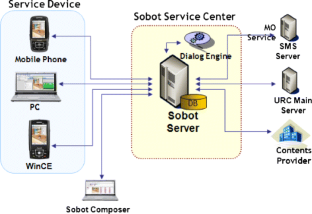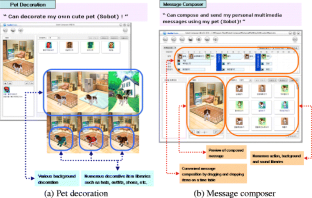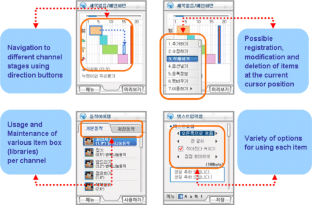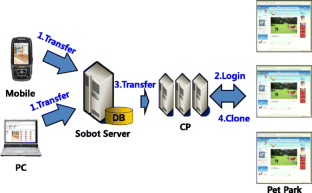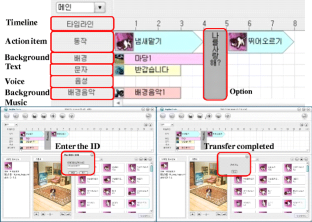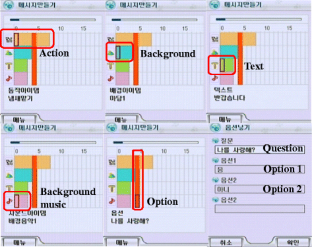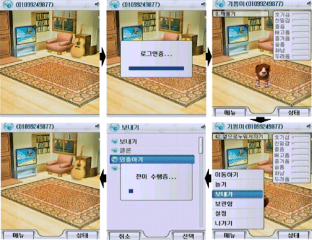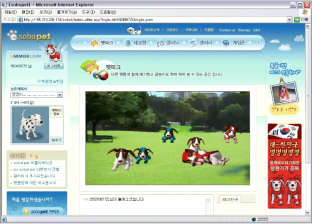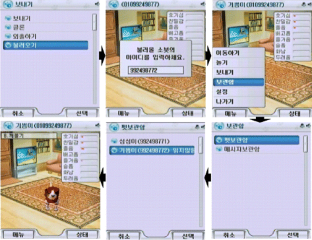 References
1.

Blumberg BM (1996) Old tricks, new dogs: Ethology and interactive creatures, Ph.D. dissertation. MIT, Cambridge

2.

Delicious. http://Del.icio.us

3.

Elliott C, Brzezinski J (1998) Autonomous agents as synthetic characters. AI Mag 19(2):13–30

4.

Flickr. http://www.flickr.com/

5.

HI corporation. http://www.hicorp.co.jp

6.

Kim H, Cho YJ, Oh SR (2005) CAMUS: A middleware supporting context-aware services for network-based robots. In: IEEE Workshop on Advanced Robotics and its Social Impacts (ARSO)

7.

Kim JH, Lee CH, Lee KH (2009) Evolutionary generative process for an artificial creature's personality. IEEE Trans Syst Man Cybern Part C 39(3):331–342

8.

Lee KH (2006) Evolutionary generative algorithm for genetic robot's personality, Ph. D. dissertation

9.

Lee KH (2011) Evolutionary algorithm for a genetic robot's personality. Appl Soft Comput 11(2):2286–2299

10.

Lee KH (2011) Exploring generation of a genetic robot's personality through neural and evolutionary means. Data Knowl Eng 70(11):923–954. doi:10.1016/j.datak.2011.06.002

11.

Lee KH (2012) Interactive child-care robotic game. J Future Game Technol 2(3):331–342

12.

Lee KH, Choi Y, Stonier DJ (2012) Evolutionary algorithm for a genetic robot's personality based on the Myers-Briggs type indicator. Robot Auton Syst 60:941–961. doi:10.1016/j.robot.2012.01.007

13.

Lee KH, Kim YD, Kim JH (2006) Ubiquitous network-based software robot system with own internet protocol address, Korean Patent No0627506

14.

Maes P (1995) Artificial life meets entertainment: Life like autonomous agents. Commun ACM 38(11):108–114

15.

Shim HS, Lee J, Kim TH, Kim H, Lee KW (2005) Communication protocol for the URC robot and server, 1st Japan-Korea Joint Symposium on Network Robot Systems

16.

Sims K (1994) Evolving virtual creatures. Proc Comput Graph Proc SIGGRAPH'94:15–22

17.

URC client/server protocols, TTA. http://www.tta.or.kr/data/ttas_view.jsp?pk_num=TTAS.KO-10.0198
Acknowledgments
This research was supported by the National Research Foundation of Korea Grant funded by the Korean Government (NRF-2013-S1A5A8020988).
About this article
Cite this article
Khil, AR., Lee, KH. & Kim, SK. Software robot authoring tools for sharing intelligence among users and content providers. Multimed Tools Appl 74, 3345–3360 (2015). https://doi.org/10.1007/s11042-014-1972-8
Keywords
Software robot

Sobot

Authoring tool

Transfer

Message

Intelligence sharing

Web 2.0