Abstract
Application Layer Forward Error Correction (AL-FEC) is becoming a popular addition to protocols for real-time video delivery over IP-based wireless networks. In particular, rateless codes are identified as suitable solution for AL-FEC due to their flexibility and capacity-approaching performance. Since each part of video data is not equally important for video reconstruction, it is beneficial to group it based on its importance, and then provide different degree of protection using Unequal Error Protection (UEP). Data partitioning (DP) is one such low-cost feature in H.264/AVC enabling partitioning of video data based on its importance. We propose schemes for the DP H.264/AVC video transmission using Raptor and Random Linear Codes (RLC) and investigate their performance as AL-FEC solutions in Digital Video Broadcasting. We provide comparisons between optimized Non-Overlapping Window RLC and Expanding Window (EW) RLC, which are two effective UEP RLC strategies. The results using realistic channel traces show viability of the EW RLC as a promising solution for multimedia broadcast applications.
This is a preview of subscription content, log in to check access.
Access options
Buy single article
Instant access to the full article PDF.
US$ 39.95
Tax calculation will be finalised during checkout.
Subscribe to journal
Immediate online access to all issues from 2019. Subscription will auto renew annually.
US$ 199
Tax calculation will be finalised during checkout.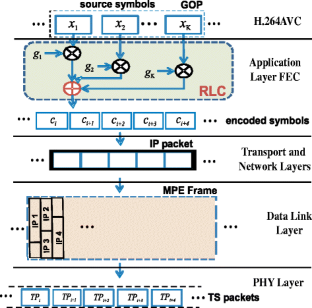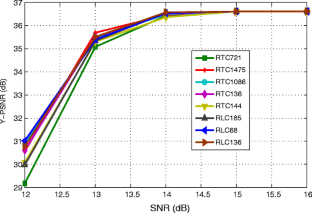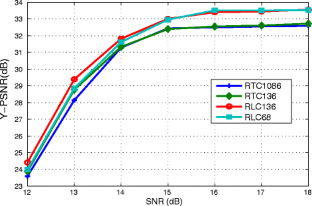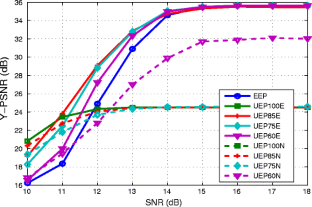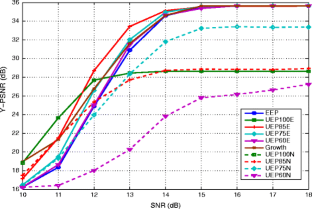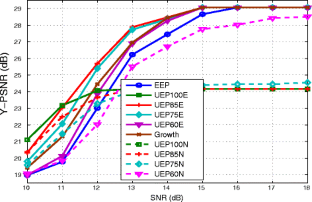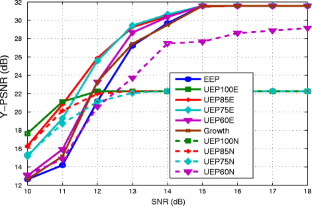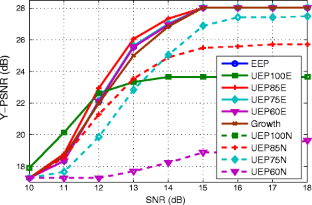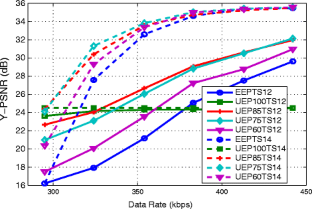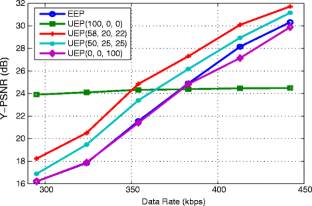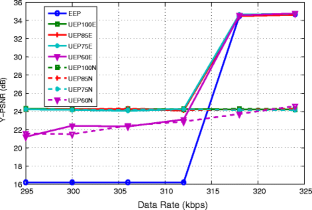 References
1.

Al-Jobouri L, Fleury M, Ghanbari M (2011) Error-resilient IPTV for an IEEE 802.16e channel. Wirel Eng Technol 2:2:70–79

2.

Angelopoulos G, Medard M, Chandrakasan AP (2011) Energy-aware hardware implementation of network coding. Lect Notes Comput Sci 6827:137–144

3.

Barmada B, Ghandi MM, Jones EV, Ghanbari M (2005) Prioritized transmission of data partitioned H.264 video with hierarchical QAM. IEEE Sig Process Lett 12(8):577–580

4.

Benacem L, Blostein SD (2010) Raptor-network coding enabled strategies for energy saving in DVB-H multimedia communications. In: Proceedings of 1st international conference green circuits and systems, pp 527–532

5.

Bouabdallah A, Lacan J (Apr. 2006) Dependency-aware unequal erasure protection codes. J Zheijiang Univ Sci A 7:27–33

6.

Connie T, Nasiopoulos P, Yasser YP, Leung VCM (2008) SCTP-transmission of data-partitioned H.264 video. In: Proceedings of 4th ACM workshop wireless multimedia networking and performance, pp 32–36

7.

Dhondt Y, Mys S, Vermeirsch K, Van de Walle R (2007) Constrained inter prediction: Removing dependencies between different data partitions. In: Proceedings of advanced concepts for intelligent visual systems, pp 720–731

8.

ETSI EN 302 755, Digital Video Broadcasting (DVB). Frame structure channel coding and modulation for a second generation digital terrestrial television broadcasting system (DVB-T2), V1.3.1, DRAFT, 2011

9.

ETSI TS 126 346, universal mobile telecommunications system (umts); multimedia broadcast/multicast service (mbms); protocols and codecs, ETSI Tech Spec 2005

10.

Faria G, Henriksson JA, Stare E, Talmola P (2006) DVB-H: digital broadcast services to handheld devices. Proc IEEE 94(1):194–209

11.

Gomez-Barquero D, Gozalvez D, Cardona N (2009) Application layer FEC for mobile TV delivery in IP datacast over DVB-H systems. IEEE Trans Broadcast 55(2):396–406

12.

H.264/AVC Reference Software. http://iphome.hhi.de

13.

Hellge C, Gomez-Barquero D, Schierl T, Wiegand T (2011) Layer-aware forward error correction for mobile broadcast of layered media. IEEE Trans Multimed 13:551–562

14.

Jin J, Li B, Kong T (2008) Is random network coding helpful in WiMAX? In: Proceedings of IEEE INFOCOM 2008. Phoenix

15.

Katti S, Rahul H, Hu W, Katabi D, Medard M, Crowcroft J (2006) XORs in the air: practical wireless network coding. In: Proceedings of ACM SIGCOMM-2006 computer communication review. Pisa

16.

Luby M, Gasiba T, Stockhammer T, Watson M (2007) Reliable multimedia download delivery in cellular broadcast networks. IEEE Trans Broadcast 53(1):235–246

17.

Lun D, Medard M, Koetter R, Effros M (2008) On coding for reliable communication over packet networks. Phys Commun 1(1):22–30

18.

Nybom K, Grönroos S, Björkqvist J (2010) "Expanding window fountain coded scalable video in broadcasting. In: Proceedings of ICME-2010 IEEE international conference multimedia and expo. Singapore

19.

Poikonen J, Paavola J (2006) Error models for the transport stream packet channel in the DVB-H link layer. In: Proceedings of ICC-2006 IEEE international conference communication, pp 1861–1866. Istanbul

20.

Razavi R, Fleury M, Altaf M, Sammak H, Ghanbari M (2009) H.264 video streaming with data-partitioning and Growth codes. In Proceedings of ICIP-2009 international conference image processing. Cairo

21.

Schierl T, Stockhammer T, Wiegand T (2007) Mobile video transmission using Scalable Video Coding. IEEE Trans Circ Syst Video Technol 17:1204–1217

22.

Schwarz H, Marpe D, Wiegand T (2007) Overview of the scalable video coding extension of the H.264/AVC standard. IEEE Trans Circ Syst Video Technol 17(9):1103–1120

23.

Shojania H, Li B (2007) Parallelized progressive network coding with hardware acceleration. In: Proceeding of IWQoS-2007 the 15th international workshop quality of service. Chicago

24.

Shojania H, Li B (2009) Random network coding on the iphone: Fact or fiction? In: Proceeding of NOSSDAV-2009. Williamsburg

25.

Shokrollahi A (2006) Raptor codes. IEEE Trans Inf Theory 52(6):2251–2567

26.

Stockhammer T, Bystrom M (2004) H.264/AVC data partitioning for mobile video communication. In: Proceedings of ICIP-2004 international conference image processing, pp 545–548. Singapore

27.

Stockhammer T, Shokrollahi A, Watson M, Luby M, Gasiba T (2008) Application Layer FEC for Mobile Multimedia Broadcasting. In: Furht B, Ahson S (eds) Handbook of mobile broadcasting. CRC Press, Boca Raton

28.

Teerapittayanon S, Fouli KM, Medard M, Montpetit M-J, Shi X, Seskar I, Gosain A (2012) Network coding as a WiMAX link reliability mechanism. In: Proceedings of MACOM-2012 international workshop on multiple access communications. Dublin

29.

Vangelista L et al (2009) Key technologies for next-generation terrestrial digital television standard DVB-T2. IEEE Commun Mag 47(10):146–153

30.

Vingelmann P, Fitzek FHP, Pedersen MV, Heide J, Charaf H (2011) Synchronized multimedia streaming on the iPhone platform with network coding. In: Proceedings of CCNC IEEE Consumer Communication and Networking Conference. Las Vegas

31.

Vukobratović D, Stanković V (2012) Unequal error protection random linear coding for erasure channels. IEEE Trans Commun 60:1243–1252

32.

Vukobratović D, Stanković V, Sejdinović D, Stanković L, Xiong Z (2009) Expanding window fountain codes for scalable video multicast. IEEE Trans Multimed 11(6):1094–1104

33.

Wenger S (2003) H.264/AVC over IP. IEEE Trans Circ Syst Video Technol 13(7):645–655

34.

Wiegand T, Sullivan G, Bjøntegaard G, Luthra A (2003) Overview of the H.264/AVC Video Coding Standard. IEEE Trans Circ Syst Video Technol 7:13
About this article
Cite this article
Nazir, S., Vukobratović, D., Stanković, V. et al. Unequal error protection for data partitioned H.264/AVC video broadcasting. Multimed Tools Appl 74, 5787–5809 (2015). https://doi.org/10.1007/s11042-014-1883-8
Keywords
Video compression

Rateless coding

Digital Video Broadcasting

Joint source-channel coding