Abstract
Image encryption is a useful technique for many applications, such as image content protection, image authentication, pay-TV and data hiding. In this paper, we propose an efficient image encryption algorithm with block shuffling and chaotic map. The proposed algorithm divides an input image into overlapping blocks, shuffles image blocks to make initial encryption, exploits a chaotic map and Arnold transform to generate secret matrices, and achieves final encryption by conducting exclusive OR operations between corresponding elements of each block and a random secret matrix. Many experiments are done to validate efficiency and advantages of the proposed algorithm.
Access options
Buy single article
Instant access to the full article PDF.
US$ 39.95
Tax calculation will be finalised during checkout.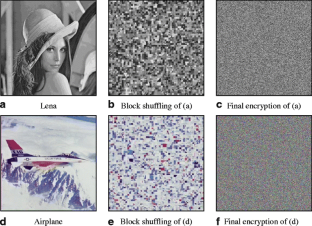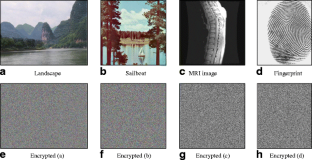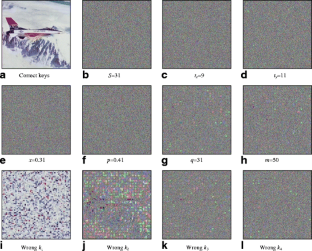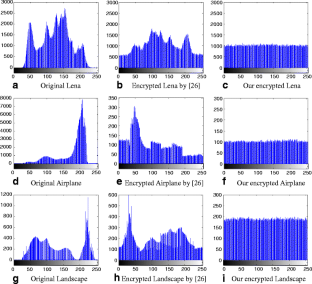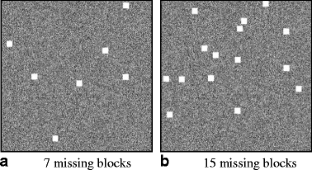 References
1.

Alvarez G, Li S (2006) Some basic cryptographic requirements for chaos-based cryptosystems. Int J Bifurcation Chaos 16(8):2129–2151

2.

Ginesu G, Giusto DD, Onali T (2006) Wavelet domain scrambling for image-based authentication. In: Proc. of International Conference on Acoustics, Speech, and Signal Processing (ICASSP), pp. 313–316

3.

Hermassi H, Belazi A, Rhouma R, Belghith SM (2013) Security analysis of an image encryption algorithm based on a DNA addition combining with chaotic maps. Multimed Tools Appl. doi:10.1007/s11042-013-1533-6

4.

Monga V, Evans BL (2006) Perceptual image hashing via feature points: performance evaluation and tradeoffs. IEEE Trans Image Proc 15(11):3452–3465

5.

Pareek NK, Patidar V, Sud KK (2006) Image encryption using chaotic logistic map. Image Vision Comput 24(9):926–934

6.

Patidar V, Pareek NK, Purohit G, Sud KK (2011) Robust and secure chaotic standard map based pseudorandom permutation-substitution scheme for image encryption. Opt Commun 284(19):4331–4339

7.

Qi D (1999) Matrix transformation and its application to image hiding. J North China Univ Technol 11(1):24–28 (in Chinese)

8.

Qin C, Wang Z, Chang CC (2012) Reversible data hiding scheme based on image inpainting. Fundam Informaticae 120(1):59–70

9.

Shang Z, Ren H, Zhang J (2008) A block location scrambling algorithm of digital image based on Arnold transformation. In: Proc. of the 9th International Conference for Young Computer Scientists, pp. 2942–2947

10.

Shannon CE (1948) A mathematical theory of communication. Bell Syst Tech J 27(3):379–423, 623–656

11.

Sun F, Lü Z, Liu S (2010) A new cryptosystem based on spatial chaotic system. Opt Commun 283(10):2066–2073

12.

Tang Z, Huang L, Dai Y, Yang F (2012) Robust image hashing based on multiple histograms. Int J Digit Content Technol Appl 6(23):39–47

13.

Tang Z, Lan W, Dai Y, He J (2011) Image encryption using mapping array and random division. ICIC Express Lett Part B Appl 2(6):1297–1302

14.

Tang Z, Wang S, Zhang X, Wei W, Su S (2008) Robust image hashing for tamper detection using nonnegative matrix factorization. J Ubiquit Converg Technol 2(1):18–26

15.

Tang Z, Zhang X (2011) Secure image encryption without size limitation using Arnold transform and random strategies. J Multimed 6(2):202–206

16.

Tang Z, Zhang X, Dai Y, Lan W (2013) Perceptual image hashing using local entropies and DWT. Imaging Sci J 61(2):241–251

17.

The SSIM Index for Image Quality Assessment. [Online] Available: http://www.cns.nyu.edu/lcv/ssim/

18.

USC-SIPI Image Database. [Online] Available: http://sipi.usc.edu/database/

19.

Van De Ville D, Philips W, Van de Walle R, Lemanhieu I (2004) Image scrambling without bandwidth expansion. IEEE Trans Circ Syst Video Technol 14(6):892–897

20.

Venkatesan R, Koon S M, Jakubowski M H, Moulin P (2000) Robust image hashing. In: Proc. of International Conference on Image Processing (ICIP), pp. 664–666

21.

Wang Z, Bovik AC, Sheikh HR, Simoncelli EP (2004) Image quality assessment: from error visibility to structural similarity. IEEE Trans Image Proc 13(4):600–612

22.

Wang Q, Guo Q, Zhou J (2012) Double image encryption based on linear blend operation and random phase encoding in fractional Fourier domain. Opt Commun 285(21–22):4317–4323

23.

Watanabe O, Nakazaki A, Kiya H (2004) A fast image-scramble method using public-key encryption allowing backward compatibility with JPEG2000. In: Proc. of International Conference on Image Processing (ICIP), pp. 3435–3438

24.

Wu Y, Zhou Y, Saveriades G, Agaian S, Noonan JP (2013) Local Shannon entropy measure with statistical tests for image randomness. Inf Sci 222:323–342

25.

Xiang S, Kim H J, Huang J (2007) Histogram-based image hashing scheme robust against geometric deformations. In: Proceedings of the 9th Workshop on Multimedia & Security, ACM, New York, NY, USA, pp. 121–128

26.

Zhang G, Liu Q (2011) A novel image encryption method based on total shuffling scheme. Opt Commun 284(12):2775–2780

27.

Zhou Y, Panetta K, Agaian S, Philip Chen CL (2012) Image encryption using P-Fibonacci transform and decomposition. Opt Commun 285(5):594–608

28.

Zhu L, Li W, Liao L, Li H (2006) A novel algorithm for scrambling digital image based on cat chaotic mapping. In: Proc. of International Conference on Intelligent Information Hiding and Multimedia, Signal Processing (IIH-MSP), pp. 601–604
Acknowledgements
The authors are grateful for the anonymous reviewers' insightful comments and valuable suggestions sincerely, which can substantially improve the quality of this paper.
This work was partially supported by the Natural Science Foundation of China (61300109, 61363034), the Guangxi Natural Science Foundation (2012GXNSFBA053166, 2012GXNSFGA060004, 2011GXNSFD018026), the Guangxi "Bagui" Teams for Innovation and Research, the Training Project for Excellent Middle-aged/Young Teachers in Guangxi Higher Education Institutions, the Project of the Guangxi Experiment Center of Information Science (20130204), the Guangxi Key Laboratory of Trusted Software (kx201327), the Scientific and Technological Research Projects of Chongqing's Education Commission (KJ121310), and the Scientific and Technological Program of Fuling District of Chongqing (FLKJ,2012ABA1056).
About this article
Cite this article
Tang, Z., Zhang, X. & Lan, W. Efficient image encryption with block shuffling and chaotic map. Multimed Tools Appl 74, 5429–5448 (2015). https://doi.org/10.1007/s11042-014-1861-1
Keywords
Image encryption

Image scrambling

Arnold transform

Block shuffling

Chaotic map

Skew tent map