Abstract
Biofeedback is a well-accepted approach in preventative and alternative healthcare. It is known to promote wellbeing and help prevent and treat a wide variety of disorders related to the human physiology and psychology. With the exceptional growth of wearable sensor technologies, the potential for devising biofeedback systems that blend into everyday living is immense. Therefore, we present our vision for U-Biofeedback, a reference model for systems designed to continuously monitor our physiology and convey to us important messages regarding our status. Also, we present a case study for an application that implements our reference model. The application is designed to monitor the stress of individuals working in an office setting and provide an assistive response whenever stress reaches elevated levels. By devising an algorithm for stress detection that makes use of Heart Rate Variability (HRV) measures, we were able to identify negative stress situations with an accuracy of 89.63 % and a false positive detection rate of 5.55 % during our evaluation.
Access options
Buy single article
Instant access to the full article PDF.
US$ 39.95
Tax calculation will be finalised during checkout.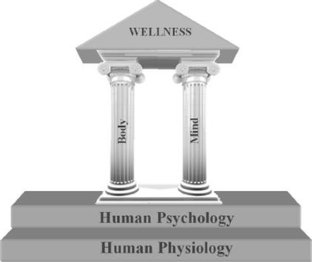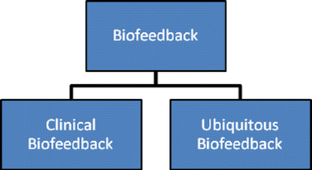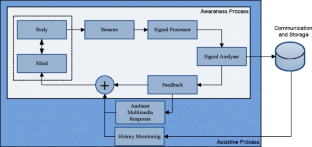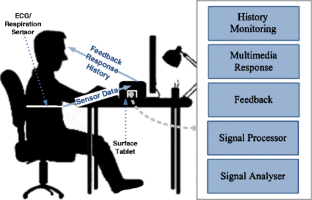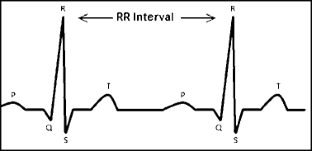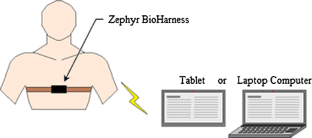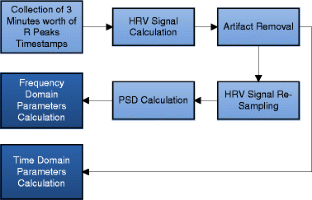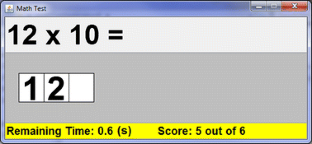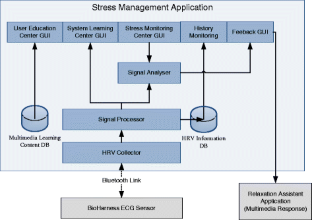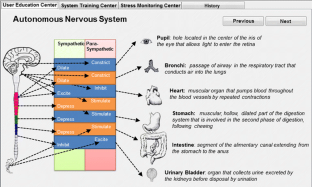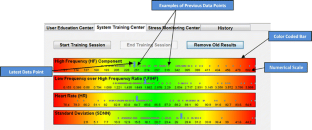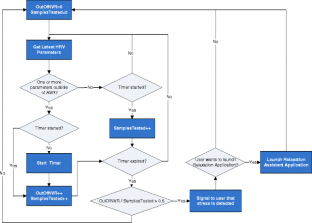 References
1.

American Institute of Stress, effects of stress [online] Available: www.stress.org

2.

Arora S, Bhattacharjee J (2008) Modulation of immune responses in stress by Yoga. Int J Yoga 1:45–55

3.

Badia P, Harsh J, Balkin T, Cantrell P, Klempert A, O'Rourke D, Schoen L (1984) Behavioral control of respiration in sleep. J Psychophysiol 21:494–500

4.

Basmajian JV (1989) Biofeedback: principles and practices for clinicians. Williams & Wilkins, Baltimore

5.

Baum A, Cohen L, Hall M (1993) Control and intrusive memories as possible determinants of chronic stress. Psychosom Med 55:274–286

6.

Benson H, Beary JF, Carol MK (1974) The relaxation response. Psychiatry J Study Interpersonal Process 37(1):37–46

7.

Bernardi L, Wdowczyk-Szulc J, Valenti C, Castoldi S, Passino C, Spadacini G (2000) Effects of controlled breathing, mental activity and mental stress with or without verbalization on heart rate variability. J Am Coll Cardiol 35(6):1462–1469

8.

Budzynski TH, Stoyva JM (1984) Biofeedback methods in the treatment of anxiety and stress. In: Woolfolk R, Lehrer P (eds) Principles and practice of stress management. New York: The Guilford Press

9.

Budzynski TH, Stoyva JM, Adler CS, Mullaney DJ (1973) EMG biofeedback and tension headache: a controlled outcome study. Psychosom Med 35(6):484–496

10.

Clark DM, Salkovskis PM, Chalkley AJ (1985) Respiratory control as a treatment for panic attacks. J Behav Ther Exp Psychiatry 1:23–30

11.

Colombo R, Mazzuero G, Soffiantino F, Ardizzoia M, Minuco G (1989) A comprehensive PC solution to heart rate variability analysis in mental stress, Computers in Cardiology 1989, Proceedings, vol., no., pp. 475–478, 19–22 Sep

12.

Conner SJ, Sullo E, Sheeler R (2006) How can you prevent migraines during pregnancy? J Fam Pract 55:429–432

13.

Cook DJ, Song W (2009) Ambient intelligence and wearable computing: sensors on the body, in the home, and beyond. J Ambient Intell Smart Environ 1(2):83–86

14.

Cooperstein MA (1998) Biofeedback technology: a prospectus. Pennsylvania Psychol Q 58:17–27

15.

Dong Q, Li Y, Hu B, Liu Q, Li X, Liu L (2010) A solution on ubiquitous EEG-based biofeedback music therapy, Pervasive Computing and Applications (ICPCA), 2010 5th International Conference on, vol., no., pp. 32,37, 1–3 Dec

16.

Elliot GR, Eisdorfer C (2008) Stress and human health: an analysis and implications of research. A study by the Institute of Medicine, National Academy of Sciences. Springer Publishing, New York

17.

Fehring RJ (1983) Effects of biofeedback-aided relaxation on the psychological stress symptoms of college students. Nurs Res 32:362–366

18.

Franco C, Fleury A, Gumery PY, Diot B, Demongeot J, Vuillerme N (2013) iBalance-ABF: a smartphone-based audio-biofeedback balance system. IEEE Trans Biomed Eng 60(1):211–215

19.

Green E, Green AM, Walters ED (1970) Voluntary control of internal states: psychological and physiological. J Transpers Psychol 2:1–26

20.

Healey JA, Picard RW (2005) Detecting stress during real-world driving tasks using physiological sensors. IEEE Trans Intell Transp Syst 6(2):156–166

21.

Heart Wizard, Stress Sweeper Product Description [online] Available: http://www.heartwizard.com

22.

Hjortskov N, Rissén D, Blangsted AK, Fallentin N, Lundberg U, Søgaard K (2004) The effect of mental stress on heart rate variability and blood pressure during computer work. Eur J Appl Physiol 92:84–89

23.

Hon EH, Lee ST (1965) Electronic evaluations of the fetal heart rate patterns preceding fetal death: further observations. Am J Obstet Gynecol 87:814–826

24.

Jacobson E (1938) Progressive relaxation. University of Chicago Press, Chicago

25.

Jovanov E, O'Donnell Lords A, Raskovic D, Cox PG, Adhami R, Andrasik F (2003) Stress monitoring using a distributed wireless intelligent sensor system. IEEE Eng Med Biol Mag 22(3):49–55

26.

Kamiya J (1969) Operant control of EEG alpha rhythm and some of its reported effects on consciousness. In: Tan C (ed) Altered States of Consciousness. New York: John Wiley

27.

Katta R, Zhang Y (2002) Medical data mining. Proc SPIE SPIE-4730:305–308

28.

Köhler T, Haimerl C (1990) Daily stress as a trigger of migraine attacks: results of thirteen single-subject studies. J Consult Clin Psychol 58(6):870–872

29.

Lanyon RI (1977) Effect of biofeedback-based relaxation on stuttering during reading and spontaneous speech. J Consult Clin Psychol 45(5):860–866

30.

Liu GZ, Huang BY, Wang L (2011) A wearable respiratory biofeedback system based on generalized body sensor network. Telemed e-Health 17(5):348–357

31.

Luthe W, Schultz JH (1969) Autogenic therapy methods. Grune and Stratton, New York

32.

Malliani A, Pagani M, Lombardi F (1994) Power spectrum analysis of heart rate variability: a tool to explore neural regulatory mechanisms. Br Heart J 71:1–2

33.

Mayo Clinic (2011) Available: http://www.mayoclinic.com/health/biofeedback/MY01072, [October 4th, 2011]

34.

Medicore, SA-3000P Clinical Manual VER.3.0 [online] Available: http://medi-core.com/download/HRV_clinical_manual_ver3.0.pdf

35.

Miller N (1976) Clinical applications of biofeedback: voluntary control of heart rate, rhythm, and blood pressure. In: Barber T (ed) Biofeedback and self-control. Aldine, Chicago, pp 367–377

36.

Moleiro MA, Villamarin FC (2001) Effects of biofeedback on voluntary heart rate control during dynamic exercise. J Appl Psychophysiol Biofeedback 26(4):279–292

37.

NurrieStearns M, NurrieStearns R (2010) Yoga for anxiety: meditations and practices for calming the body and mind. New Harbinger Publications, Oackland, pp 25–35

38.

Pantelopoulos A, Bourbakis N (2008) A survey on wearable biosensor systems for health monitoring. Engineering in Medicine and Biology Society, 2008. EMBS 2008. 30th Annual International Conference of the IEEE, vol., no., pp.4887–4890, 20–25 Aug. 2008

39.

Pelletier KR (1975) Theory and applications of clinical biofeedback. J Contemp Psychother 7:29–34

40.

Qian S, Chen D (1999) Joint time-frequency analysis. IEEE Signal Process Mag 16(2):52–67

41.

Radespiel-Tröger M, Rauh R, Mahlke C, Gottschalk T, Muck-Weymann M (2003) Agreement of two different methods for measurement of heart rate variability. Clin Auton Res 13:99–102

42.

Salahuddin L, Kim D (2006) Detection of acute stress by heart rate variability using a prototype mobile ECG Sensor. International Conference on Hybrid Information Technology, Proceeding in IEEE CS, 2006, vol. 2, pp. 453–459

43.

Scharff L, Marcus DA, Masek BJ (2002) A controlled study of minimal-contact thermal biofeedback treatment in children with migraine. J Pediatr Psychol 27:109–119

44.

Seaward BL (2002) Managing stress: principles and strategies for health and wellbeing. Jones and Bartlett, Boston

45.

Segerstrom SC, Miller GE (2004) Psychological stress and the human immune system: a meta-analytic study of 30 years of inquiry. Psychol Bull 130:601–663

46.

Shearn DW (1972) Operant analysis in psychophysiology. In: Greenfield NS, Sternbach RA (eds) Handbook of psychophysiology. Holt, Rinehart, Winston, New York

47.

Söderman A-CH, Möller J, Bagger-Sjöbäck D, Bergenius J, Hallqvist J (2004) Stress as a trigger of attacks in Menière's disease. A case-crossover study. Laryngoscope 114:1843–1848

48.

Steptoe A, Phillips J, Harling J (1981) Biofeedback and instructions in the modification of total respiratory resistance: an experimental study of asthmatic and nonasthmatic volunteers. J Psychosom Res 25:541–551

49.

Task Force of the European Society of Cardiology and the North American Society of Pacing and Electrophysiology (1996) Heart rate variability: standards of measurement, physiological interpretation and clinical use. Circulation 93:1043–1065

50.

Thompson M, Thompson L (2003) The biofeedback book: an introduction to basic concepts in applied psychophysiology. Association for Applied Psychophysiology and Biofeedback, Wheat Ridge

51.

Thought Technology Ltd., GSR2 Product Overview [online] Available: http://www.thoughttechnology.com

52.

Trichopoulos D, Zavitsanos X, Katsouyanni K, Tzonou A, Dalla-Vorgia P (1983) Psychological stress and fatal heart attack: the Athens (1981) earthquake natural experiment. Lancet 321(8322):441–444

53.

van Praag HM (2004) Can stress cause depression? Prog Neuro-Psychopharmacol Biol Psychiatry 28(5):891–907

54.

Zephyr, BioHarness BT [online] Available: http://www.zephyr-technology.com/bioharness-bt

55.

Zucker TL, Samuelson KW, Muench F, Greenberg MA, Gevirtz RN (2009) The effects of respiratory sinus arrhythmia biofeedback on heart rate variability and posttraumatic stress disorder symptoms: a pilot study. J Appl Psychophysiol Biofeedback 34:135–143
About this article
Cite this article
Al Osman, H., Eid, M. & El Saddik, A. U-biofeedback: a multimedia-based reference model for ubiquitous biofeedback systems. Multimed Tools Appl 72, 3143–3168 (2014). https://doi.org/10.1007/s11042-013-1590-x
Keywords
Biofeedback

Multimedia health systems

Heart rate variability

Stress management

Health monitoring

Occupancy-based services