Abstract
Selecting ambient media services in a smart home monitoring environment is challenging. Services in such an environment should be ubiquitous, adaptive, and robust with respect to access and delivery. Many different techniques exist for selecting services in smart environments, for example, dynamic programming, genetic algorithms, and fuzzy logic. However, existing approaches to service selection fail to address the dynamic nature of the services and the requirement of considering the user context and user satisfaction. We address this issue by proposing an ant-inspired service selection framework based on dynamic user preferences and satisfaction. This ant-inspired approach is robust to failures and adaptive to dynamic context. The proposed framework enables different categories of residents (e.g., elderly people, fathers with children, mothers, and so on) to access various media services in such a way that their experiences are optimized with regard to their surrounding environment. Experimental results demonstrate the viability of the proposed framework.
This is a preview of subscription content, log in to check access.
Access options
Buy single article
Instant access to the full article PDF.
US$ 39.95
Price includes VAT for USA
Subscribe to journal
Immediate online access to all issues from 2019. Subscription will auto renew annually.
US$ 199
This is the net price. Taxes to be calculated in checkout.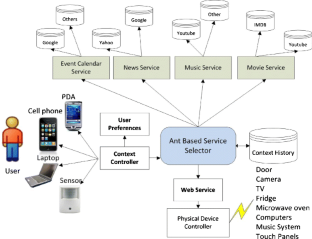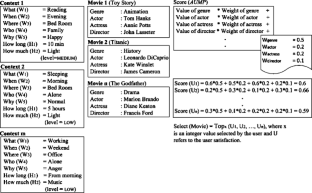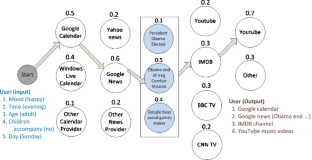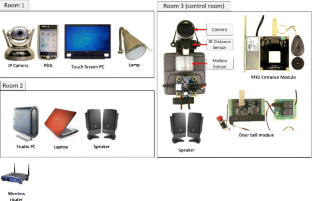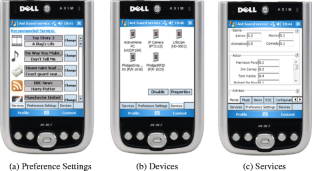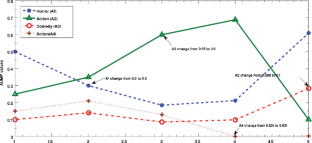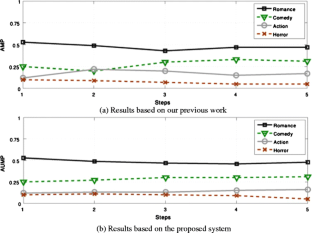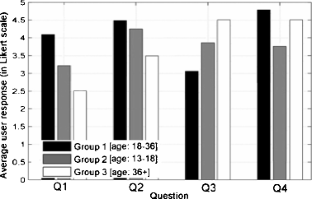 References
1.

Aarts E (2004) Ambient intelligence: a multimedia perspective. IEEE Multimed 11(1):12–19. doi:10.1109/MMUL.2004.1261101

2.

Boehm B (1996) Anchoring the software process. IEEE Softw 13:73–82

3.

Cao L, Li M, Cao J (2005) Cost-driven web service selection using genetic algorithm. In: Deng X, Ye Y (eds) Internet and network economics. Lecture notes in computer science, vol 3828. Springer, Berlin/Heidelberg, pp 906–915

4.

Chiang F, Braun R, Agbinya JI (2007) Self-configuration of network services with biologically inspired learning and adaptation. J Netw Syst Manag 15(1):87–116

5.

Di Caro G, Dorigo M (1998) Antnet: distributed stigmergetic control for communications networks. Artif Intell Res 9:317–365

6.

Gantner Z, Rendle S, Lars ST (2010) Factorization models for context-/time-aware movie recommendations. In: Proceedings of the workshop on context-aware movie recommendation, CAMRa '10. ACM, New York, NY, USA, pp 14–19

7.

Gao Y, Na J, Zhang B, Yang L, Gong Q (2006) Optimal web services selection using dynamic programming. In: 11th IEEE symposium on computers and communications, 2006. ISCC '06. Proceedings, pp 365–370

8.

Georgantas N, Mokhtar S, Bromberg Y, Issarny V, Kalaoja J, Kantarovitch J, Gerodolle A, Mevissen R (2005) The amigo service architecture for the open networked home environment. In: 5th Working IEEE/IFIP Conference on Software Architecture, 2005. WICSA 2005, pp 295–296

9.

Golbeck J (2006) Generating predictive movie recommendations from trust in social networks. In: Stlen K, Winsborough W, Martinelli F, Massacci F (eds) Trust management. Lecture notes in computer science, vol 3986. Springer, Berlin/Heidelberg, pp 93–104

10.

Hong DWK, Hong CS (2003) A qos management framework for distributed multimedia systems. Int J Netw Manage 13(2):115–127

11.

Hossain MS, El Saddik A (2010) Qos requirement in the multimedia transcoding service selection process. IEEE Trans Instrum Meas 59(6):1498–1506

12.

Hossain M, Atrey P, El Saddik A (2008) Gain-based selection of ambient media services in pervasive environments. Mob Netw Appl 13:599–613

13.

Hossain M, Parra J, Atrey P, El Saddik A (2009) A framework for human-centered provisioning of ambient media services. Multimed Tools Appl 44:407–431

14.

Hossain MS, Alamri A, El Saddik A (2009) A biologically-inspired framework for multimedia service management in ubiquitous environment. Concurr Comput: Practice and Experience 21(11):1450–1466

15.

Hossain SA, Rahman ASMM, El Saddik A (2011) Fusion of face networks through the surveillance of public spaces to address sociological security recommendations. In: IEEE international conference on multimedia & expo (ICME). Advances in automated multimedia surveillance for public safety (AAMS-PS), Barcelona, Spain

16.

Intel Corporation (2011) Open source computer vision library. Tech. rep., Intel. http://opencv.willowgarage.com/wiki/. Last accessed Feb 2011

17.

Likert R (1932) A technique for the measurement of attitudes. Arch Psychol 140:1–55

18.

Loke SW, Krishnaswamy S, Naing TT (2005) Service domains for ambient services: concept and experimentation. Mob Netw Appl 10:395–404

19.

Lugmayr A (2007) Ambience, ambience, ambience—what are ambient media? In: Interactive TV: a shared experience, TISCP adjunct proceedings of EuroITV 2007, vol. 35. TICSP, TICSP, Amsterdam. http://www.cs.tut.fi/~lartur/euroitv07_ajp/main.htm

20.

Mingkhwan A, Fergus P, Abuelmaatti O, Merabti M, Askwith B, Hanneghan M (2006) Dynamic service composition in home appliance networks. Multimed Tools Appl 29:257–284

21.

Mokhtar S, Georgantas N, Issarny V (2006) Cocoa: conversationbased service composition for pervasive computing environments. In: 2006 ACS/IEEE international conference on pervasive services, pp 29–38

22.

Musunoori S, Horn G (2006) Ant-based approach to the quality aware application service partitioning in a grid environment. In: In Proc. IEEE congress on evolutionary computation, pp 2604–2611

23.

Said A, Berkovsky S, De Luca EW (2010) Putting things in context: challenge on context-aware movie recommendation. In: Proceedings of the workshop on context-aware movie recommendation, CAMRa '10. ACM, New York, NY, USA, pp 2–6

24.

Shirehjini AAN A generic upnp architecture for ambient intelligence meeting rooms and a control point allowing for integrated 2d and 3d interaction. In: Proceedings of the 2005 joint conference on smart objects and ambient intelligence: innovative context-aware services: usages and technologies, sOc-EUSAI '05. ACM, New York, NY, USA, pp 207–212 (2005)

25.

Tsesmetzis D., Roussaki I, Sykas E (2008) Qos-aware service evaluation and selection. Eur J Oper Res 191(3):1101–1112

26.

Ubisense (2011) Ubisense location driven training. Tech. Rep. http://www.ubisense.net/. Last accessed Jan 2011

27.

VLC (2010) Video Lan. Tech. Rep. http://www.videolan.org/vlc/. Accessed Dec 2010

28.

Wikipedia (2011) Radio frequency identification. Tech. Rep. http://en.wikipedia.org/wiki/Radio-frequency_identification. Last accessed Feb 2011

29.

X10 (2010) Tech. Rep. http://www.x10.com/homepage.htm. Last accessed Dec 2010

30.

Xu D, Nahrstedt K (2002) Finding service paths in a media service proxy network. In: Multimedia computing networking (MMCN'02), San Jose, California, USA

31.

Yu T, Zhang Y, Lin KJ (2007) Efficient algorithms for web services selection with end-to-end qos constraints. ACM Trans Web (TWEB) 1(1):1–26
Acknowledgement
The authors extend their appreciation to the Deanship of Scientific Research at King Saud University for funding this work through the research group project No RGP-VPP-049.
About this article
Cite this article
Hossain, M.S., Hossain, S.K.A., Alamri, A. et al. Ant-based service selection framework for a smart home monitoring environment. Multimed Tools Appl 67, 433–453 (2013). https://doi.org/10.1007/s11042-012-1006-3
Keywords
Smart environment

Ambient media service

Ant based selection

Service composition