Abstract
This paper presents a study of quality on scalable video sequences coded using the scalable extension of the H.264 standard (SVC). A group of experiments was performed to measure, primarily, the effects that transmission instability has in the quality of the videos and the relationship among three scalability methods (spatial, temporal and quality) in terms of quality. A set of experiments was performed to measure the subjective quality using the ACR-HRR methodology and recommendations from ITU-R Rec. BT.500 and ITU-T Rec. P.910. The results show that the amount of instability is not as important as just the presence of instability, that video quality can be deteriorated due to instability and that temporal scalability usually produces videos with worse quality than spatial and quality scalabilities.
Access options
Buy single article
Instant access to the full article PDF.
US$ 39.95
Tax calculation will be finalised during checkout.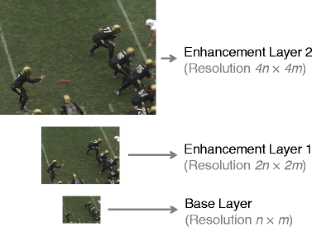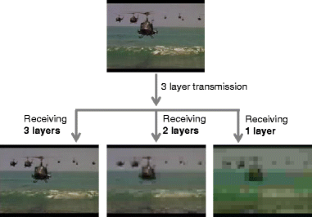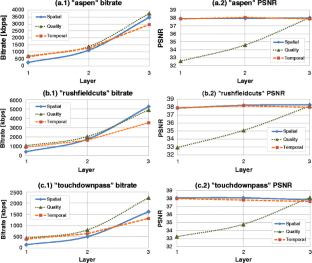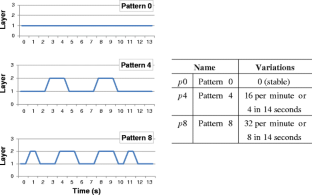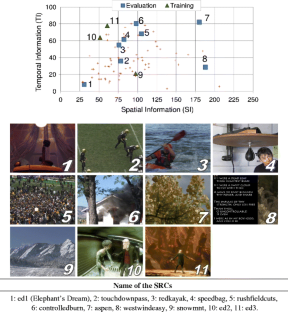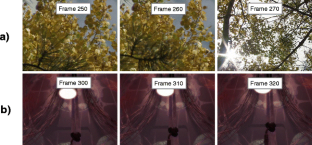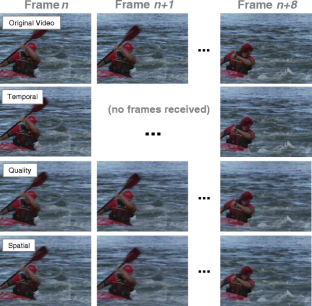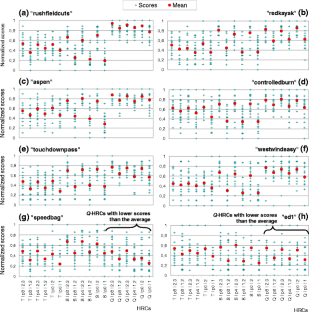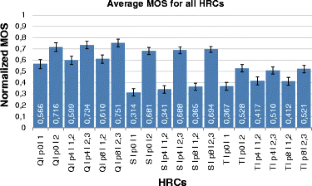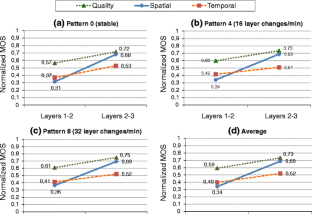 References
1.

Baroncini V (2006) New tendencies in subjective video quality evaluation. IEICE Trans Fundam Electron Commun Comput Sci 89:2933–2937

2.

Barzilay MAJ, Taal JR, Lagendijk RL (2007) Subjective quality analysis of bit rate exchange between temporal and SNR scalability in the MPEG4 SVC extension. In: Fifteenth IEEE international workshop on quality of service, pp 285–288

3.

Brotherton MD, Huynh-Thu Q, Hands DS, Brunnstrom K (2006) Subjective multimedia quality assessment. IEICE Trans Fundam Electron Commun Comput Sci E89-A:2920–2932

4.

Daronco LC, Roesler V, de Lima JV (2010) Quality assessment applied to scalable video coding and transmission instability. In: Proceedings of the 25th ACM symposium on applied computing, Sierre, Switzerland, vol 3, pp 1898–1904. The Printing House Inc., Stoughton

5.

De Simone F, Naccari M, Tagliasacchi M, Dufaux F, Tubaro S, Ebrahimi T (2009) Subjective assessment of H.264/AVC video sequences transmitted over a noisy channel. In: First international workshop on quality of multimedia experience (QoMEX 2009), San Diego, California, USA

6.

Dumic E, Grgic S, Grgic M (2010) Comparison of HDTV formats using objective video quality measures. Multimed Tools Appl. doi:10.1007/s11042-009-0441-2

7.

Hsu C-H, Hefeeda M (2007) Structuring multi-layer scalable streams to maximize cient-perceived quality. In: Fifteenth IEEE international workshop on quality of service, pp 182–187

8.

ITU-R (2002) Methodology for the subjective assessment of the quality of television pictures, Rec. BT.500

9.

ITU-T (1999) Subjective video quality assessment methods for multimedia applications. Rec. P.910

10.

Kozamernik F, Steinmann V, Sunna P, Wyckens E (2005) SAMVIQ—a new EBU methodology for video quality evaluations in multimedia. SMPTE Motion Imaging Journal 114:152–160

11.

Li B, Liu J (2003) Multirate video multicast over the Internet: an overview. IEEE Netw 17:24–29

12.

Li J, Yuksel M, Fan X, Kalyanaraman S (2007) Generalized multicast congestion control. Comput Networks 51:1421–1443

13.

Maccanne S, Jacobson V, Vetterli M (1996) Receiver-driven layered multicast. In: Proc. of the ACM Sigcomm, Stanford, USA, pp 117–130

14.

Miller RG (1997) Beyond ANOVA: basics of applied statistics (texts in statistical science series). Chapman & Hall/CRC

15.

Monteiro JM, Nunes MS (2007) A subjective quality estimation tool for the evaluation of video communication systems. In: IEEE symposium on computers and communications MW-75-MW-80

16.

Ohm J-R (2005) Advances in scalable video coding. Proc IEEE 93:42–56

17.

Pereira F, Alpert T (1997) MPEG-4 video subjective test procedures and results. IEEE Trans Circuits Syst Video Technol 7:32–51

18.

Pinson MH, Wolf S (2003) Comparing subjective video quality testing methodologies. In: Proc. of the SPIE 5150, Lugano, Switzerland, pp 573–582

19.

Pinson MH, Wolf S (2004) A new standardized method for objectively measuring video quality. IEEE Trans Broadcast 50:312–322

20.

Roesler V, Bruno GG, Valdeni de Lima J (2003) A new receiver adaptation method for congestion control in layered multicast transmissions. In: Proc. of the IEEE international conference on telecommunications (ICT), Tahiti, pp 1–16

21.

Schwarz H, Marpe D, Wiegand T (2006) Analysis of hierarchical B pictures and MCTF. In: IEEE international conference on multimedia and expo, pp 1929–1932

22.

Schwarz H, Marpe D, Wiegand T (2007) Overview of the scalable video coding extension of the H.264/AVC standard. IEEE Trans Circuits Syst Video Technol 9:1103–1120

23.

Vicisano L, Rizzo L, Crowcroft J (1998) TCP-like congestion control for layered multicast data transfer. In: Proc. of the IEEE INFOCOM, San Francisco, California, USA

24.

VQEG (2003) Final report from the video quality experts group on the validation of objective models of video quality assessment, Phase II. Available at www.vqeg.org

25.

VQEG (2008) Multimedia group test plan, draft version 1.21

26.

Wang Y, van der Schaar M, Chang S-F, Loui A C (2005) Classification-based multidimensional adaptation prediction for scalable video coding using subjective quality evaluation. IEEE Trans Circuits Syst Video Technol 15:1270–1279. doi:10.1109/TCSVT.2005.854224

27.

Widmer J, Denda R, Mauve M (2001) A survey on TCP-friendly congestion control. IEEE Netw 15:28–37

28.

Widmer J, Handley M (2001) Extending equation-based congestion control to multicast applications. In: Proc. of the conference on applications, technologies, architectures, and protocols for computer communications, San Diego, California, United States, pp 275–285

29.

Wiegand T, Sullivan G, Reichel J, Schwarz H, Wien M (2007) Joint Draft ITU-T Rec. H.264—ISO/IEC 14496-10 / Amd.3 Scalable video coding. Document: JVT-X201

30.

Wiegand T, Sullivan GJ, Bjøntegaard G, Luthra A (2003) Overview of the H.264/AVC video coding standard. IEEE Trans Circuits Syst Video Technol 7:560–576

31.

Winkler S (2009) Video quality measurement standards—current status and trends. In: Proc. IEEE 7th international conference on information, communications and signal processing (ICICS), Macau

32.

Winkler S, Campos R (2003) Video quality evaluation for Internet streaming applications. Proc SPIE 5007:104–115. doi:10.1117/12.477766
Acknowledgements
This work was possible due to the financial sponsorship by CNPq. We would also like to thank everyone that participated in the subjective evaluations and Marcelo Magalhães Foohs for the paper revision.
About this article
Cite this article
Daronco, L.C., Roesler, V., de Lima, J.V. et al. Quality analysis of scalable video coding on unstable transmissions. Multimed Tools Appl 61, 571–597 (2012). https://doi.org/10.1007/s11042-011-0760-y
Keywords
Scalable video coding

Subjective video assessment

Video quality

Layered multicast

H.264 SVC