Abstract
As more and more content migrates to the Internet, "personal" video choices are becoming the norm not the exception. The impact of Internet content and IP-based video distribution is still difficult to evaluate. However, there is obviously no turning back as this content pervades the home and the community. Driven in large part by the near-ubiquitous IP-based communication services, the TV experience has been extended over the years to embrace many of the same ancillary services provided by web applications. This new TV promises to deliver a world of content and services to "any device, anywhere, anytime." This article addresses the architecture, the value chain and the technical and business challenges of implementing this new connected mobile and social TV experience. To put the architecture into a context, this article also presents a use case of the distributed community Digital Video Recorder (DVR) as an implementation of this vision.
This is a preview of subscription content, log in to check access.
Access options
Buy single article
Instant access to the full article PDF.
US$ 39.95
Price includes VAT for USA
Subscribe to journal
Immediate online access to all issues from 2019. Subscription will auto renew annually.
US$ 199
This is the net price. Taxes to be calculated in checkout.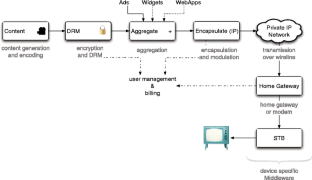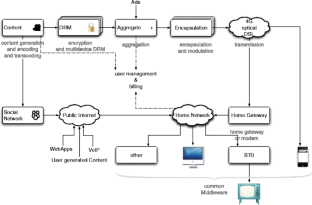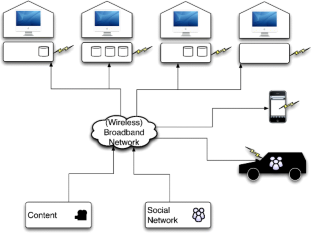 References
1.

ATIS (2004) Next generation network (NGN) framework part I: NGN definitions, requirements, and architecture. Technical report, ATIS

2.

ATIS IIF (2007) IPTV high level architecture. Technical report ATIS-0800007, ATIS

3.

Baca M, Holtzman H (2008) Facebook TV. In: Tscheligi M, Obrist M, Lugmayr A (eds) Proceedings of EuroITV 2008, vol 5066. Springer, Salzburg

4.

DVB (2008) Multimedia home platform

5.

ITU-T (2008) IPTV focus group proceedings

6.

Jenkins H (2008) Convergence culture: where old and new media collide. NYU, New York

7.

Kim M, Lucani D, Shi X, Zhao F, Medard M (2010) Network coding for multi-resolution multicast. In: Proceedings of IEEE conference on computer communications (INFOCOM), San Francisco, USA

8.

Klym N, Montpetit M-J (2008) Social TV: innovation at the edge. Technical report, Communication Futures Program

9.

Li F (2009) Community computation: information systems meet social networks. PhD thesis, MIT Media Lab, Cambridge, MA, USA

10.

Li J, Huang C (2006) DISCOVR: distributed collaborative video recorder. In: IEEE international conference on multimedia and expo, pp 1413–1416

11.

Lucani D, Fitzek F, Medard M, Stojanovic M (2009) Network coding for data dissemination: it is not what you know, but what your neighbors know. In: RAWNET/WNC3 2009

12.

Montpetit M-J, Medard M (2010) Video network coding strategies for 4G wireless networks—an overview. In: Proceedings of CCNC2010—workshop on network coding for wireless networks

13.

Montpetit M-J, Ganesan S, Joyce J (2007) IPTV: any device, any time, anywhere. In: SCTE 2007 emerging technologies

14.

Montpetit M-J, Klym N, Dain E (2009) The future of mobile TV. In: Cereijo-Roibas A (ed) Mobile TV. Springer, Berlin

15.

Palmer S (2008) Television disrupted: the transition from network to networked TV, 2nd edn. Focal, Boston

16.

Reed M, Santos AL, Shafran M, Holtzman H, Montpetit M-J (2010) neXtream: a multi-device, social approach to video content consumption. In: Proceedings of the consumer communications and networking conference (CCNC'10), Las Vegas, USA

17.

TISPAN (2007) Telecommunications and internet converged services and protocols for advanced networking (TISPAN); requirements for network transport capabilities to support IPTV services. Technical report DTS/TISPAN-01042-NGN-R2, TISPAN

18.

Vaishnav C (2008) Does technology disruption always mean industry disruption? In: International conference of system dynamics. Athens, Greece

19.

Xu T, Chen J, Li W, Lu S, Guo Y, Hamdi M (2009) Supporting VCR-like operations in derivative tree-based P2P streaming systems. In: ICC2009: IEEE international conference on communications. IEEE Computer Society, Los Alamitos
Acknowledgements
The authors would like to thank Emmanuel Blain from the MIT Communications Futures Program, Muriel Médard of MIT Research Lab for Electronics for their valuable inputs and discussions, and Oscar Martínez-Bonastre of Universidad Miguel Hernández for having invited us to present the first version of this article at the Workshop on IPTV Technology and Multidisciplinary Applications in Zagreb in 2009.
About this article
Cite this article
Montpetit, M., Klym, N. & Mirlacher, T. The future of IPTV. Multimed Tools Appl 53, 519–532 (2011). https://doi.org/10.1007/s11042-010-0504-4
Keywords
IPTV

Mobile

Social

Personal

Value chain

DVR