Abstract
The IST project Cuidado, which ran from January 2001 to December 2003, produced the first entirely automatic chain for extracting and exploiting musical metadata for browsing music. The Sony CSL laboratory is primarily interested in the context of popular music browsing in large-scale catalogues. First, we are interested in human-centred issues related to browsing "Popular Music." Popular here means that the music accessed to is widely distributed, and known to many listeners. Second, we consider "popular browsing" of music, i.e., making music accessible to non-specialists (music lovers), and allowing sharing of musical tastes and information within communities, departing from the usual, single user view of digital libraries. This research project covers all areas of the music-to-listener chain, from music description—descriptor extraction from the music signal, or data mining techniques—similarity based access and novel music retrieval methods such as automatic sequence generation, and user interface issues. This paper describes the scientific and technical issues at stake, and the results obtained.
Access options
Buy single article
Instant access to the full article PDF.
USD 39.95
Price includes VAT (USA)
Tax calculation will be finalised during checkout.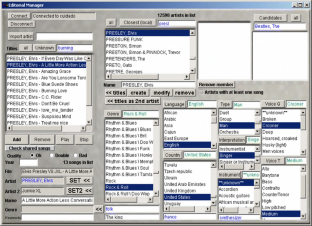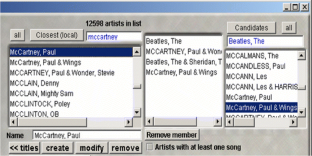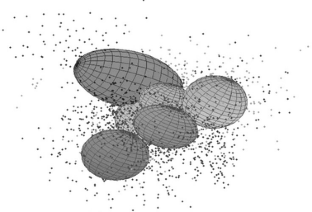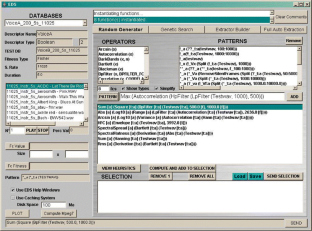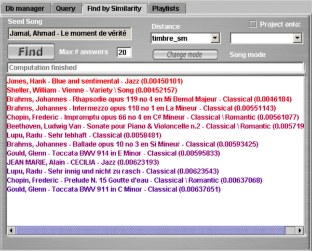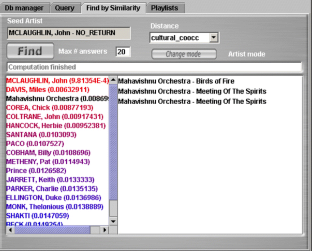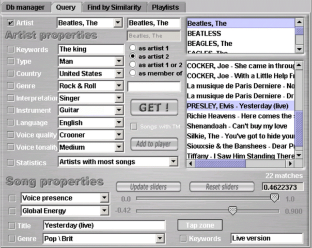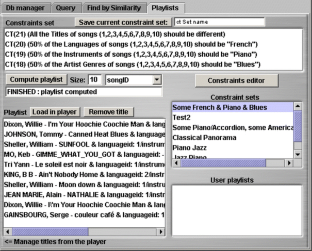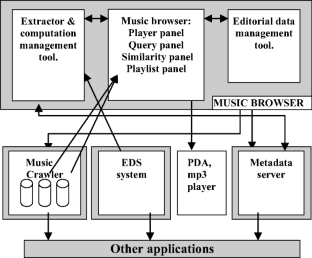 References
1.

Allamanche E, Herre J, Helmuth O, Frba B, Kasten T, Cremer M (2001) Content-based identification of audio material using MPEG-7 low level description. In: Proc. of the 2nd International Symposium on Music Information Retrieval, (ISMIR 01), Bloomington, Indiana, USA

2.

Aucouturier J-J, Pachet F (2002) Scaling up playlist generation. In: Proc. of the IEEE International Conference on Multimedia and Expo (ICME 02), Lauzanne, Switzerland

3.

Aucouturier J-J, Pachet F (2003) Musical genre: a survey. J New Music Res 32:1

4.

Aucouturier J-J, Pachet F (2004) Improving timbre similarity: how high's the sky? JNRSAS 1(1)

5.

Aucouturier J-J, Pachet F, Sandler M (2005, December) The way it sounds: timbre models for structural analysis and retrieval of polyphonic music signals. IEEE Trans Multimedia 7(6):1028–1035

6.

Berenzweig A, Ellis D (2001) Locating singing voice segments within music signals. In: Proc. IEEE Workshop on Applications of Signal Processing to Acoustics and Audio (WASPAA 01), Mohonk, NY, USA

7.

Cohen W, Fan W (2000) Web-collaborative filtering: recommending music by crawling the web. In Proc. 9th International World Wide Web Conference (WWW9), Amsterdam, The Netherlands

8.

Downie S (2003) Toward the scientific evaluation of music information retrieval systems. In: Proc. International Symposium on Music Information Retrieval (ISMIR 03), Baltimore, Maryland, USA

9.

Herrera P, Serra X, Peeters G (1999) Audio descriptors and descriptors schemes in the context of MPEG-7. In: Proceedings of the International Computer Music Conference (ICMC 99), Beijing, China

10.

La Burthe A, Pachet F, Aucouturier JJ (2003) Editorial metadata in the Cuidado Music Browser: between universalism and autism. In: Proc. 3rd International Conference of Web Delivering of music (WedelMusic 03), Leeds, UK

11.

Pachet F (2003) Content management for electronic music distribution: the real issues. Commun ACM 2003

12.

Pachet F, Cazaly D (2000). A taxonomy of musical genres. In: Proc. Content-Based Multimedia Information Access (RIAO), Paris, France

13.

Pachet F, Zils A (2003) Evolving automatically high-level music descriptors from acoustic signals. Springer, Berlin Heidelberg New York LNCS, 2771

14.

Pachet F, Westerman G, Laigre D (2001) Musical data mining for electronic music distribution. In: Proceedings of First International Conference of Web Delivering of Music (WedelMusic 01), Firenze, Italy

15.

Peeters G, Rodet X (2002) Automatically selecting signal descriptors for sound classification. In: Proc. of the International Computer Music Conference (ICMC 02), Goteborg (Sweden)

16.

Scheirer ED (1998, January) Tempo and beat analysis of acoustic musical signals. J Acoust Soc Am (JASA) 103(1):588–601

17.

Scheirer E, Slaney M. Construction and evaluation of a robust multifeature speech/music discriminator. In: Proc. IEEE International Conference on Acoustics, Speech and Signal Processing (ICASSP 97), Munich, Germany

18.

Tzanetakis G, Perry C (2002, July) Musical genre classification of audio signals. IEEE Trans Speech Audio Process 10(5)

19.

Wold E, Blum T, Keislar D, Wheaton J (1996) Content-based classification, search, and retrieval of audio. IEEE Multimed 3(3):27–36

20.

Zils A, Pachet F (2001) Musical mosaicing. In: Proc. of COST-G6 Conference on Digital Audio Effects (DAFX01), Limerick, Ireland

21.

Zils A, Pachet F. Extracting automatically the perceived intensity of music titles. In: Proc. of the COST-G6 Conference on Digital Audio Effects (DAFX03), London, UK

22.

Zils A, Pachet F, Delerue O, Gouyon F (2002) Automatic extraction of drum tracks from polyphonic music signals. In: Proc. 2nd International Conference of web Delivering of Music (WedelMusic 02), Darmstadt, Germany
About this article
Cite this article
Pachet, F., Aucouturier, JJ., La Burthe, A. et al. The Cuidado music browser: an end-to-end electronic music distribution system. Multimed Tools Appl 30, 331–349 (2006). https://doi.org/10.1007/s11042-006-0030-6
Keywords
Metadata

Music browser

Similarity

Cultural metadata

Acoustic metadata

Editorial metadata

Popular music