Computer simulation of the action of pressing deformation over a section of a tube from titanium alloy Grade 9 is performed. Acomputer model is used to determine the forces developed by the pressing tool during fabrication of the tube under a peak load and in a steady stage. The values computed are comparable to the experimental data obtained in actual production. The adequacy of the simulation is checked by comparative analysis of the evolution of the structure, texture, physical and mechanical properties in cross section of the hot-pressed tube.
Access options
Buy single article
Instant access to the full article PDF.
USD 39.95
Price excludes VAT (USA)
Tax calculation will be finalised during checkout.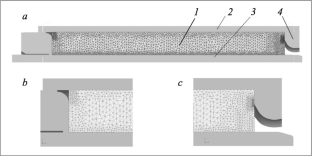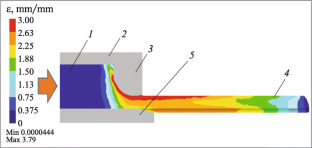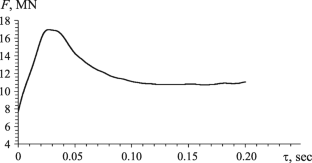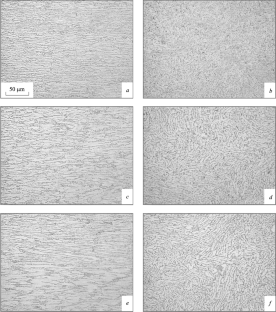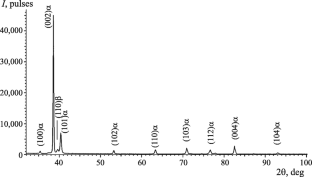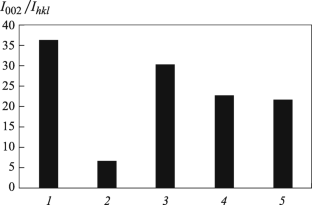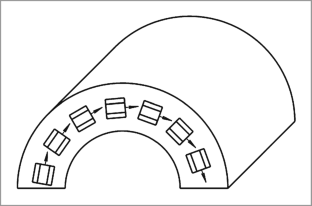 References
A. A. Il'in, B. A. Kolachev, and I. S. Pol'kin, Titanium Alloys. Composition, Structure, Properties [in Russian], VILS–MATI, Moscow (2009), 520 p.

R. Boyer, G. Welsch, and E. W. Collings (eds.), Materials Properties Handbook. Titanium Alloys, ASM Int. Mater. Inform. Soc. (1994), 1176 p.

Shengchuan Chen, Xiuyong Li, and Daoyu Xu, "Manufacture of Cr9 titanium alloy tube for small size and extra-thin wall," High Perform. Struct. Mater., 531 – 538 (2018); https://doi.org/10.1007/978-981-13-0104-9_56.

I. Y. Pyshmintsev, Y. I. Kosmatskii, E. A. Filyaeva, et al., "Alloy Ti – 3Al – 2.5V hot-extruded pipe metal structure and properties," Metallurgist, 62(3 – 4), 374 – 379 (2018).

Ya. I. Kosmatskii, E. A. Filyaeva, N. V. Fokin, and K. Yu. Yakovleva, "Determination of technological possibility of manufacturing of a new kind of seamless pipes TREX from titanium alloy Ti – 3Al – 2.5V," Kach.-vo Obrab. Mater., No. 2, 15 – 22 (2016).

C. E. Forney and H. S. Schemel, Ti 3Al 2.5V Seamless Tubing Engineering Guide, Sandvik Special Metals Corp., Washington (1987), 115 p.

A. G. Illarionov, Ya. I. Kosmatskii, E. A. Gornostaeva, and F. V. Vodolazskii, Deformation and Heat Treatment of Pipes from Titanium Alloys [in Russian], Izd. Ural. Univ., Ekaterinburg (2019), 144 p.

I. Y. Pyshmintsev, Y. I. Kostomarskii, E. A. Gornostaeva, et al., "Structure, phase composition and mechanical properties of hot-extruded Ti – 3Al – 2.5V pipe after vacuum annealing," Metallurgist, 63(7 – 8), 751 – 758 (2019).

V. G. Smirnov, B. G. Krokhin, and V. S. Kalinin, "Development of production of high-quality tube billets (TREX) from titanium alloys for aerospace systems," Titan, No. 1, 36 – 39 (2003).

N. V. Reddy, P. M. Dixit, and G. K. Lal, "Analysis of axisymmetric tube extrusion," Int. J. Mach. Tools Manuf., 36(11), 1253 – 1267 (1996); https://doi.org/10.1016/0890-6955(95)00079-8.

P. P. Dincu, G. Achimas, A. Neag, and A. Trif, "Analysis of distribution of the equivalent plastic strain, contact pressure and temperature during the metal tube extrusion," Acad. J. Manuf. Eng., 16(1), 27 – 32 (2018).

Yu. N. Loginov, V. G. Smirnov, and V. V. Kotov, "Special features of rheological characteristics of pressed tubes from titanium alloy GRADE 9," in: Forging Production: Perspectives and Development. Mater. 1st Russian Conf. on Forging Production "Ural Forgers – 2005" [in Russian], (2005), pp. 55 – 65.

Yu. N. Loginov and V. V. Kotov, "Simulation of the pressing process of tube billet from titanium alloy in QFORM 2D/3D software," Kuzn.-Shtamp. Proizvod., Obrab. Mater. Davl., No. 12, 36 – 40 (2010).

Yu. N. Loginov and A. A. Ershov, "An analytical study with the use of MKE pressing of alpha titanium alloys and prediction of texture orientation," Tekhnol. Legk. Splav., No. 3, 79 – 87 (2012).

A. G. Illarionov, F. V. Vodolazskii, N. A. Barannikova, et al., "Experimental determination of temperature parameters for evaluating the possibility of manufacturing alloy Ti – 3Al – 2.5V hot-extruded tubes," Metallurgist, 60(9 – 10), 983 – 988 (2017).

R. Sethy, L. Galdos, J. Mendiguren, and E. Saenz de Argandona, "Friction and heat transfer coefficient determination of titanium alloys during hot forging conditions," Adv. Eng. Mater., 19(6), 1 – 7 (2017); https://doi.org/10.1002/adem.201600060.

S. G. Glazunov and B. A. Kolachev (eds.), The Metallography of Titanium Alloys [in Russian], Metallurgiya, Moscow (1980), 464 p.

H. M. Rietveld, "A profile refinement method for nuclear and magnetic structures," J. Appl. Crystallogr., No. 2, 65 – 71 (1969).

W. C. Oliver and G. M. Pharr, "An introduced technique for determining hardness and elastic modulus using load and displacement sensing indentation experiments," J. Mater. Res., 7(6), 1564 – 1583 (1992).

Yu. N. Loginov and N. F. Kostousova, "Displacements and deformations in pressing of a tube billet," Vestn. Yuzhno-Ural. Gos. Univ., Ser. Metall., 16(1), 78 – 81 (2016).

A. G. Illarionov, F. V. Vodolazskii, N. A. Barannikova, et al., "Influence of phase composition on thermal expansion of Ti – 0.4Al, Ti – 2.2Al – 2.5Zr and Ti – 3Al – 2.5V alloys," J. Alloys Compd., 857, 158049 (2021); https://doi.org/10.1016/j.jallcom.2020.158049.

U. Zwicker, Titan und Titanlegierungen, Springer-Verlag, Berlin Heidelberg (1974), 717 p. https://doi.org/10.1007/978-3-642-80587-5.

A. G. Illarionov, F. V. Vodolazskii, M. S. Karabanalov, et al., "Effect of annealing on the structural and textural state and properties of hot-pressed tube from titanium alloy PT-1M," Met. Sci. Heat Treat., 62(7 – 8), 442 – 447 (2020).
Additional information
Translated from Metallovedenie i Termicheskaya Obrabotka Metallov, No. 8, pp. 39 – 44, August, 2022.
Rights and permissions
Springer Nature or its licensor (e.g. a society or other partner) holds exclusive rights to this article under a publishing agreement with the author(s) or other rightsholder(s); author self-archiving of the accepted manuscript version of this article is solely governed by the terms of such publishing agreement and applicable law.
About this article
Cite this article
Vodolazskii, F.V., Illarionov, A.G., Loginov, Y.N. et al. Comparison of the Structure and Properties of a Tube from Titanium Alloy Ti – 3% Al – 2.5% V with Results of Digitalization of the Process of its Pressing. Met Sci Heat Treat 64, 458–464 (2022). https://doi.org/10.1007/s11041-022-00831-9
Received:

Published:

Issue Date:

DOI: https://doi.org/10.1007/s11041-022-00831-9
Key words
Ti – 3% Al – 2.5% V

hot pressing

structure

phase composition

texture

DEFORM-3D