Abstract
The September 2007 encounter of Earth with the 1-revolution dust trail of comet C/1911 N1 (Kiess) is the most highly anticipated dust trail crossing of a known long period comet in the next 50 years. The encounter was modeled to predict the expected peak time, duration, and peak rate of the resulting outburst of Aurigid shower meteors. The Aurigids will radiate with a speed of 67 km/s from a radiant at R.A. = 92°, Decl. = +39° (J2000) in the constellation Auriga. The expected peak time is 11:36 ± 20 min UT, 2007 September 1, and the shower is expected to peak at Zenith Hourly Rate = 200/h during a 10-min interval, being above half this value during 25 min. The meteor outburst will be visible by the naked eye from locations in Mexico, the Western provinces of Canada, and the Western United States, including Hawaii and Alaska. A concerted observing campaign is being organized. Added in proof: first impression of the shower.
This is a preview of subscription content,
to check access.
Access this article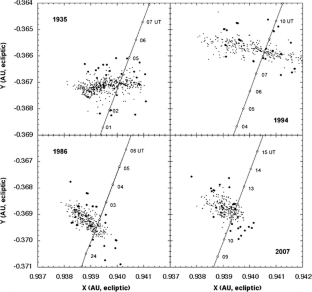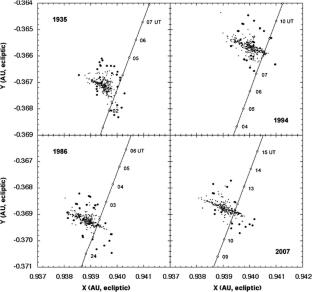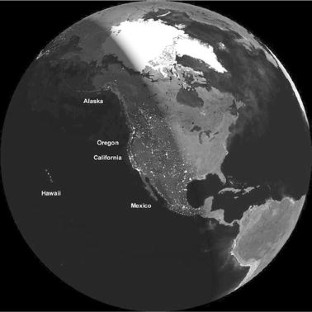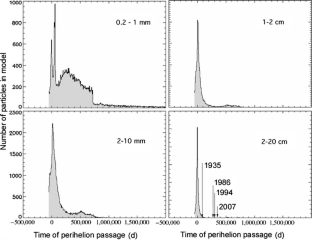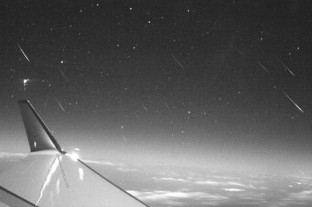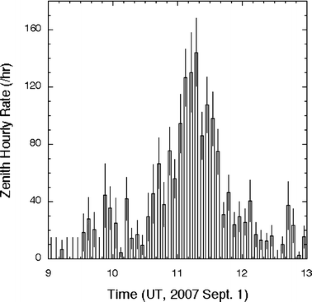 Similar content being viewed by others
References
M. Beech, P. Brown, Impact probabilities on artificial satellites for the 1993 Perseid meteoroid stream. MNRAS 262, L35–L36 (1993)

J. Borovička, P. Spurný, The visual observations of the outburst of the 1995 alpha-Monocerotids in Ondrejov. JIMO 23, 203–205 (1995)

J. Borovička, P. Spurný, P. Koten, Evidences for the existence of non-chondritic compact material on cometary orbits. Warmbein B. (Ed.) ESA Publications Division. ESA SP 500, 265–268 (2002)

J. Borovička, P. Koten, P. Spurný, J. Bocek, R. Stork, A survey of meteor spectra and orbits: evidence for three populations of Na-free meteoroids. Icarus 174, 15–30 (2005)

J.F. Crifo, A.V. Rodionov, The dependence of the circumnuclear coma structure on the properties of the nucleus. Icarus 129, 72–93 (1997)

A. Dubietis, R. Arlt, Annual activity of the alpha Aurigid meteor shower as observed in 1988–2000. JIMO 30, 22–31 (2002a)

A. Dubietis, R. Arlt, The current delta Aurigid meteor shower JIMO 30, 168–174 (2002b)

V. Guth, Über den meteorstrom des kometen 1911 II (Kiess) (in German). Astron. Nachr. 256, 27–28 (1936)

P. Jenniskens, Good prospects for alpha-Monocerotid outburst in 1995. JIMO 23, 84–86 (1995)

P. Jenniskens, Meteor stream activity. IV. Meteor outbursts and the reflex motion of the Sun. Astron. Astrophys. 317, 953–961 (1997)

P. Jenniskens, Meteor Showers and Their Parent Comets (Cambridge University Press, Cambridge, UK, 2006), 790 pp

P. Jenniskens, G. Docters van Leeuwen, The alpha-Monocerotids meteor outburst: the cross section of a comet dust trail. Planet. Space Sci. 45, 1649–1652 (1997)

P. Jenniskens, J. Vaubaillon, The 2007 September 1 Aurigid meteor storm. Dissertatio Cum Nuncio Sidereo III. No. 6. IAU General Assembly, Prague, p. 1 (2006)

P. Jenniskens, J. Vaubaillon, Aurigid predictions for 2007 September 1. JIMO 35, 30–34 (2007a)

P. Jenniskens, J. Vaubaillon, An unusual meteor shower on September 1, 2007. EOS, Trans. AGU 88 (August 7 issue), 1–2 (2007b)

P. Jenniskens, H. Betlem, M.C. de Lignie, M. Langbroek, The detection of a dust trail in the orbit of an Earth threatening long-period comet. Astrophys. J. 479, 441–447 (1997)

P. Jenniskens, J. Vaubaillon, S. Nakano, 2007 Aurigid meteors, in CBET 1045, ed. by D.W.E. Green (Central Bureau for Astronomical Telegrams, Smithsonian Astrophysical Observatory, Cambridge, MA, 2007)

E.D. Kondrat'eva, E.A. Reznikov, Comet Tempel-Tuttle and the Leonid meteor swarm. Solar Syst. Res. 19, 96–101 (1985)

M. Langbroek, De alpha Monocerotiden uitbarsting van 21/22 november 1995 (in Dutch) Radiant J. Dutch Meteor Soc. 18, 122–124 (1996)

E. Lyytinen, Leonid predictions for the years 1999–2007 with the satellite model of comets. Meta Res. Bull. 8, 33–40 (1999)

E. Lyytinen, P. Jenniskens, Meteor outbursts from long-period comet dust trails. Icarus 162, 443–452 (2003)

B.G. Marsden, Z. Sekanina, E. Everhart, New osculating orbits for 110 comets and analysis of original orbits for 200 comets. Astron. J. 83, 64–71 (1978)

R.H. McNaught, D.J. Asher, Leonid dust trails and meteor storms. JIMO 27, 85–102 (1999)

J. Rendtel, Activity burst of alpha-Monocerotids on November 22, (1995). JIMO 23, 200–230 (1995)

J. Rendtel, P. Brown, S. Molau, The 1995 outburst and possible origin of the alpha-Monocerotid meteoroid stream. MNRAS 279, L31–L36 (1996)

M. Šimek, The 1995 alpha-Monocerotids from radar observation at Ondrejov. JIMO 24, 88–89 (1996)

P. Spurný, J. Borovička, A. Gomez, L. Bellot Rubio, A. Roman, F. Reyes, J. Rendtel, S. Molau, G. Forti, R. Haver, R. Gorelli, Z.A. Nagy, K. Srenczky, I. Tepliczky, J. Gerbos, P. Rapavy, V. Hrusovsky, C. Steyaert, M. de Meyere, Alpha Monocerotid meteors 1995, in IAU Circular 6265, ed. by B.G. Marsden (Minor Planet Center, 1995)

A. Teichgraeber, Unerwarteter meteorstrom (in German). Sterne 15, 277 (1935)

I. Tepliczky, The maximum of the Aurigids in 1986. JIMO 15, 28–29 (1987)

J. Vaubaillon, F. Colas, L. Jorda, A new method to predict meteor showers. I. Description of the model. Astron. Astrophys. 439, 751–760 (2005a)

J. Vaubaillon, F. Colas, L. Jorda, A new method to predict meteor showers. II. Application to the Leonids. Astron. Astrophys. 439, 761–770 (2005b)

P.R. Weissman, The Oort cloud. Nature 344, 825–830 (1990)

P.R. Weissman, The cometary impactor flux at the Earth. in Near Earth Objects, our Celestial Neighbors: Opportunity and Risk. Proceedings of IAU Symposium 236, ed. by G.B. Valsecchi, D. Vokrouhlický (Cambridge University Press, Cambridge, UK, 2007), pp. 441–450

F.L. Whipple, A comet model. II. Physical relations for comets and meteors. Astrophys. J. 113, 464–474 (1951)

G. Zay, R. Lunsford, On a possible outburst of the 1994 α-Aurigids. JIMO 22, 224–226 (1994)

J.R. Zimbelman, Planetary impact probabilities for long-period comets. Icarus 57, 48–54 (1984)

V. Znojil, K. Hornoch, Observing the alpha-Monocerotids from Lelekovice. JIMO 23, 205–206 (1995)
Acknowledgements
This paper was improved by comments from editor Frans Rietmeijer and reviewers Peter Brown and David Asher. We thank operators at CINES (France) for their help with the super-computer used to do the simulations. The Aurigid Multi-Instrument Aircraft Campaign (Aurigid MAC) was sponsored by NASA Ames Research Center and the NASA Planetary Astronomy Program. This was the first deployment of the two Gulfstream V aircraft in a research mission. We received tremendous support from the aircraft operators of H211 LLC and organizers at NASA Ames Research Center, and thank all that made this mission possible.
Additional information
Prepared as a contribution to the conference proceedings of "Meteoroids 2007", to be published in the journal "Earth, Moon, and Planets".
About this article
Cite this article
Jenniskens, P., Vaubaillon, J. Predictions for the Aurigid Outburst of 2007 September 1. Earth Moon Planet 102, 157–167 (2008). https://doi.org/10.1007/s11038-007-9174-2
Received:

Accepted:

Published:

Issue Date:

DOI: https://doi.org/10.1007/s11038-007-9174-2
Keywords