Abstract
The article deals with the issue of identifying the impact of parking policy on the economy of road transport focusing on the conditions of the European Union. The aim of the article is to identify the impact of insufficient parking and the impact of EU social policy governing the work of drivers on the economy of the road transport sector. In terms of structure, the paper contains the identification of costs in road freight transport. The authors point to the fact that in Central Europe, the problems with cost calculation persist to this day. The authors conclude that a significant proportion of costs are fixed costs, which are related to the time use of the vehicle. The authors also define problems with vehicle parking. Authors point out that as the number of vehicles grows, there is not enough infrastructure to build. In the next part of article, the authors identify the need for the number of parking spaces and propose a methodology for determining their capacity. They also identify the impact of insufficient parking spaces on the economy of transport companies. In the discussion, the authors also discuss the impact of social law restrictions on the economy of a transport company.
Access options
Buy single article
Instant access to the full article PDF.
US$ 39.95
Tax calculation will be finalised during checkout.
Subscribe to journal
Immediate online access to all issues from 2019. Subscription will auto renew annually.
US$ 79
Tax calculation will be finalised during checkout.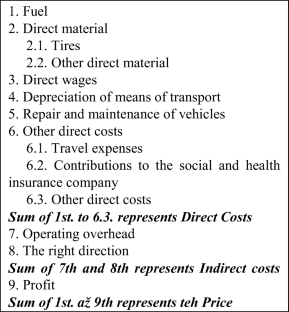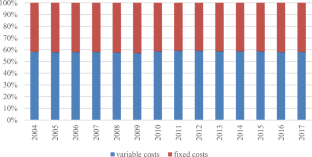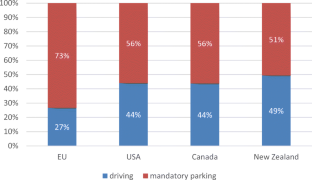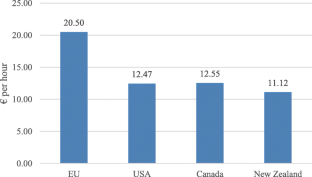 References
1.

Al-Kaisy A, Veneziano D, Kirkemo Z, Dorrington C (2012) Practical guidelines for estimation of rest area use on rural interstates and arterial highways. Transp Res Rec 2303:117–124

2.

Boris C, Brewster R (2018) A comparative analysis of truck parking travel diary data. Transportation Research Record: Journal of the Transportation Research Board 2672(9):242–248

3.

Bujnova D, Dubcová G (1995) Possibilities of applying costing in management decision-making. EKONOMICKY CASOPIS. Volume: 43 Issue: 6 Pages: 497–515

4.

Davis GA (2000) Accident reduction factors and causal inference in traffic safety studies: a review. Accid Anal Prev 32(1):95–109

5.

Drozdziel P, Piasecki S (1995) Study of the medthod of assessing the economic efficiency of exploitation cars in a transport company. In:Folia Societatis Scientarium Lublinensis. Lublin., pp. 60–66

6.

Forootani A, Tipaldi M, Zarch MG, Liuzza D, Glielmo L (2019) Modelling and solving resource allocation problems via a dynamic programming approach. Int J Control 94:1544–1555. https://doi.org/10.1080/00207179.2019.1661521

7.

Garaj, V. (1993) Competition and product quality. EKONOMICKY CASOPIS. Volume: 41 Issue: 2 Pages: 99–113

8.

Gašparík J, Abramović B, Zitrický V (2018) Research on dependences of railway infrastructure capacity. Tehnicki Vjesnik 25(4):1190–1195

9.

Gnap J (2002). Kalkulácia vlastných nákladov a tvorba ceny v cestnej doprave. Žilinská univerzita, 243 s. ISBN 80-7100-958-X

10.

Gnap J, Konecny V, Varjan P (2018) Research on Relationship between Freight Transport Performance and GDP in Slovakia and EU Countries. NASE MORE. Vol. 65 Issue 1, Pages 32–39, DOI: https://doi.org/10.17818/NM/2018/1.5

11.

Chatterjee A, Wegmann F (2000) Overnight truck parking along Tennessee's interstate highways and rest areas. Transp Res Rec 1734:64–68

12.

Jourquin B, Beuthe M (2019) Cost, transit time and speed elasticity calculations for the European continental freight transport. Transport Policy, Volume 83:1–12. https://doi.org/10.1016/j.tranpol.2019.08.009

13.

Jung S, Joo S, Oh C (2017) Evaluation the effects of supplemental rest areas on freeway crashes caused by drowsy driving. Accid Anal Prev 99(A):356–363

14.

Kalasova A, Mikulski J, Kubíková S (2016) The impact of intelligent transport systems on an accident rate of the chosen part of road communication network in the slovak republic. Communications in Computer and Information Science, vol. 640, pp. 47–58. Springer Verlag, Katowice-Ustron

15.

Kay J, Gates T, Savolainen P, McArthur A, Russo B (2014) Empirical models of demand levels and turn-in rates at roadside rest areas. Transp Res Rec 2430:200–206

16.

Kliestik T, Misankova M, Valaskova K, Svabova L (2018) Bankruptcy prevention: new effort to reflect on legal and social changes. Sci Eng Ethics 24:791–803. https://doi.org/10.1007/s11948-017-9912-4

17.

Konečný V, Gnap J, Šimková I (2016) Impact of fiscal decentralization on motor vehicle taxation in the Slovak Republic. Transport and Telecommunication 17(1):28–39

18.

Konečný V Semanova S, Gnap J, Stopka O (2018) Taxes and Charges in Road Freight Transport - a Comparative Study of the Level of Taxes and Charges in the Slovak Republic and the Selected EU Countries. NASE MORE. Volume: 65 Issue: 4 Pages: 208–212. DOI: https://doi.org/10.17818/NM/2018/4SI.8

19.

Lai YB (2010) The political economy of capital market integration and tax competition. Eur J Polit Econ 26(4):475–487

20.

Matsushita T, Kumagai T, Nonaka Y, Ishida T (2011) A basic study on rest spot choice behavior on expressway (in Japanese). In: Papers of Research Meeting on Civil Engineering Planning, vol. 44, CD-ROM

21.

McCartt AT, Hellinga LA, Solomon MG (2008) Work schedules of long-distance truck drivers before and after 2004 hours-of-service rule change. https://doi.org/10.1080/15389580802040287

22.

McLennan A (1984) Price dispersion and incomplete learning in the long run. J Econ Dyn Control 7(3):331–347. https://doi.org/10.1016/0165-1889(84)90023-X

23.

Mostafa B, Seghir Z, Mohammad F, Navid K, Morteza B (2019) Developing a train timetable according to track maintenance plans: A stochastic optimization of buffer time schedules. Transportation Research Procedia vol. 37, pp. 27–34. Elsevier, Braunschweig

24.

Muramatsu T, Oguchi T (2017) Methodology to measure the parking area performance of inter-city expressways. Transp Res Procedia 25:639–651

25.

Osterloh S, Debus M (2012) Partisan politics in corporate taxation. Eur J Polit Econ 28(2):192–207

26.

Osterloh S, Heinemann F (2013) The political economy of corporate tax harmonization — why do European politicians (dis)like minimum tax rates? Eur J Polit Econ 29(C):18–37

27.

Poliak M (2013) The Relationship with Reasonable Profit and Risk in Public Passenger Transport in the Slovakia. EKONOMICKY CASOPIS. Volume: 61 Issue: 2 Pages: 206–220

28.

Riha Z, Tichy J (2015) The Costs Calculation and Modelling in Transport. Transport Means 2015 - Proceedings of the International Conference. Kaunas Univ Technol. Pages: 388–391

29.

Seya H, Zhang J, Chikaraishi M et al (2018) Transportation 47:555–583. https://doi.org/10.1007/s11116-018-9899-y

30.

Sobczak P, Stawiarska E, Oláh J, Popp J, Kliestik T (2018) Logistics management of the rail connections using graph theory: The case of a public transportation company on the example of Koleje Dolnoślaskie S.A. Engineering Management in Production and Services 10(3):7–22

31.

Soccolich SA, Blanco M, Hanowski RJ, Olson RL, Morgan JF, Guo F, Wu Sh (2013) An analysis of driving and working hour on commercial motor vehicle driver safety using naturalistic data collection. https://doi.org/10.1016/j.aap.2012.06.024

32.

Trigaux D Wijnants L, De Troyer F, Allacker K (2017) Life cycle assessment and life cycle costing of road infrastructure in residential neighbourhoods. INTERNATIONAL JOURNAL OF LIFE CYCLE ASSESSMENT Volume: 22 Issue: 6 Pages: 938–951 DOI: https://doi.org/10.1007/s11367-016-1190-x

33.

Turner S, Park ES (2008) Incomplete archived data of intelligent transportation Systems for Calculation of annual average traffic statistics what level of missing data causes problems? Transportation research record, issue 2049:1–13. https://doi.org/10.3141/2049-01

34.

Vaishya SR, Sarkar V (2019) Accurate loss modelling in the DCOPF calculation for power markets via static piecewise linear loss approximation based upon line loading classification. Electric power systems research 170:150–157. https://doi.org/10.1016/j.epsr.2019.01.015

35.

Valaskova K, Kliestik T, Kovacova M (2018) Management of financial risks in Slovak enterprises using regression analysis. Oeconomia Copernicana 9(1):105–121. https://doi.org/10.24136/oc.2018.006

36.

EUR-LEX Access to European Union law - Homepage, https://eur-lex.europa.eu/legal-content/ENG/TXT/HTML/?uri=CELEX%3A62016CJ0102&qid=1515009809689&from=CS#Footnote*, last accessed 2017/12/20

37.

Mitteldeutscher Rundfung - Homepage, https://www.mdr.de/sachsen/politik/ueberfuellte-lkw-stellplaetze-autobahn-antrag-cdu-spd-100.html?fbclid=IwAR0J6XI-1VfpztQTgCnpPcDQZfpcS9bJB77zgDge98LYGPFL6VjKZqYo6ec, last accessed 2018/09/28

38.

WAZ - Homepage, https://www.waz.de/politik/tausende-lkw-parkplaetze-fehlen-in-nrw-id215413615.html, last accessed 2018/09/25

39.

EUR-Lex - Homepage, https://eur-lex.europa.eu/legal-content/sk/TXT/?uri=CELEX:32006R0561, last accessed 2019/12/07

40.

FMCSA - Homepage, https://csa.fmcsa.dot.gov/SafetyPlanner/MyFiles/SubSections.aspx?ch=23&sec=69&sub=176, last accessed 2019/12/04

41.

Ministry of Transport of Canada – Homepage, http://www.mto.gov.on.ca/english/trucks/handbook/section1-7-4.shtml, last accessed 2019/12/06

42.

New Zealand Transport Agency – Homepage, https://www.nzta.govt.nz/commercial-driving/commercial-safety/work-time-and-logbook-requirements/, last accessed 2019/12/05
Acknowledgments
The contribution was elaborated with the support of the Ministry of Education of the Slovak Republic VEGA no. 1/0245/20 POLIAK, M.: Identification of the impact of a change in transport related legislation on the competitiveness of carriers and carriage safety.
Additional information
Publisher's note
Springer Nature remains neutral with regard to jurisdictional claims in published maps and institutional affiliations.
About this article
Cite this article
Poliak, M., Poliakova, A., Zhuravleva, N.A. et al. Identifying the Impact of Parking Policy on Road Transport Economics. Mobile Netw Appl (2021). https://doi.org/10.1007/s11036-021-01786-6
Keywords
Transport

Sustainable

Parking