Abstract
Cognitive radio technologies are conceived as an emerging way to alleviate the current spectrum deficit problems. However, due to the growth of low power consumption devices and the increasing complexity of network structures in massive Internet of Things, and 5G to 6G communication scenarios, energy efficiency faces the serious challenges and attracts researcher more attention. To improve spectrum efficiency (SE) and energy efficiency (EE) jointly, and thus to achieve green cognitive communication in the future complex wireless networks, we consider a novel multichannel network model in which cognitive users are incorporated with the capacity of opportunistically harvesting radio energy in this paper. In this framework structure, secondary users adopt the Dual Cooperative spectrum Sensing scheme (DCS) with Dynamic and Variable of Time Division Multiple Access (DV-TDMA) scheduling to periodically cooperative sense the status of primary users whether exist or not in multi-bands, and harvest the radio frequency energy from primary user transmitters when they transmit data, or else, secondary users can occupancy this frequency. Then, formulate spectrum and energy efficiency function with respect to transmission power and cooperative sensing time, and a robust optimal power and channel allocations are proposed by convex optimization method. The experimental results show that the proposed DCS scheme with the capability of energy harvesting significantly enhance the spectrum-energy efficiency compared with another schemes.
Access options
Buy single article
Instant access to the full article PDF.
US$ 39.95
Tax calculation will be finalised during checkout.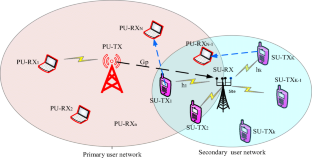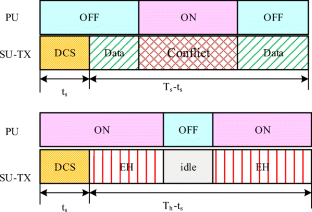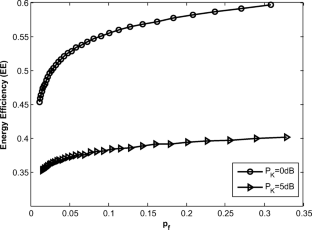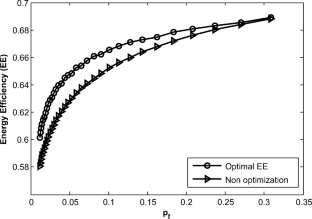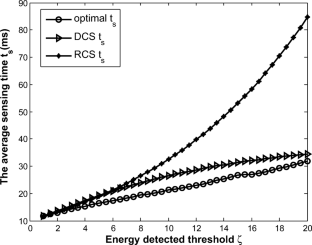 References
1.

Huang X, Han T, Ansari N (2015) On green-energy-powered cognitive radio networks. IEEE Commun Surv Tutorials 17:827–842

2.

Park H, Hwang T (2016) Energy-efficient power control of cognitive Femto users for 5G communications. IEEE J Sel Areas Commun 34(4):772–785

3.

Yan P, Zou Y, Zhu J (2018) Energy-aware multiuser scheduling for physical-layer security in energy-harvesting underlay cognitive radio systems. IEEE Trans Veh Technol 67(3):2084–2096

4.

Shahini A, Kiani A, Ansari N (2019) Energy efficient resource allocation in EH-enabled CR networks for IoT. IEEE Internet Things J 6(2):3186–3193

5.

Ren J, Hu J, Zhang D, Guo H, Zhang Y, Shen X (2018) RF energy harvesting and transfer in cognitive radio sensor networks: opportunities and challenges. IEEE Commun Mag 56(1):104–110

6.

Kim SW (2019) Simultaneous Spectrum sensing and energy harvesting. IEEE Trans Wirel Commun 18(2):769–779

7.

Gao Y, He H, Deng Z, Zhang X (2018) Cognitive radio network with energy-harvesting based on primary and secondary user signals. IEEE Access 6:9081–9090

8.

Pei E, Li L, Cheng W, Jiang J (2018) An energy efficient Spectrum sensing algorithm in EH-HCRSN. IEEE Access 6:63021–63032

9.

Park S, Kim H, Hong D (2013) Cognitive radio networks with energy harvesting. IEEE Trans Wirel Commun 12(3):1386–1397

10.

Pratibha M, Li KH, Teh KC (2016) Dynamic cooperative sensing-access policy for energy-harvesting cognitive radio systems. IEEE Trans Veh Technol 65(12):10137–11014

11.

Pratibha M, Li KH, Teh KC (2017) Optimal Spectrum access and energy supply for cognitive radio systems with opportunistic RF energy harvesting. IEEE Trans Veh Technol 66(8):7114–7122

12.

Alsharoa A, Neihart NM, Kim SW, Kamal AE (2018) Multi-band RF energy and spectrum harvesting in cognitive radio networks. 2018 IEEE International Conference on Communications (ICC), Kansas City, MO, pp 1-6

13.

Lee S, Zhang R (2015) Cognitive wireless powered network: Spectrum sharing models and throughput maximization. IEEE Trans Cogn Commun Netw 1(3):335–346

14.

Yin S, Qu Z, Wang Z, Li L (2017) Energy-efficient cooperation in cognitive wireless powered networks. IEEE Commun Lett 21(1):128–131

15.

Li M, Yin H, Huang Y, Wang Y, Yu R (2018) Physical layer security in overlay cognitive radio networks with energy harvesting. IEEE Trans Veh Technol 67(11):11274–11279

16.

Gurjar DS, Nguyen HH, Tuan HD (2019) Wireless information and power transfer for IoT applications in overlay cognitive radio networks. IEEE Internet Things J 6(2):3257–3270

17.

Usman M, Koo I (2014) Access strategy for hybrid underlay-overlay cognitive radios with energy harvesting. IEEE Sensors J 14(9):3164–3173

18.

Zheng K, Liu X, Liu X, Zhu Y Hybrid overlay-underlay cognitive radio networks with energy harvesting. IEEE Trans Commun. https://doi.org/10.1109/TCOMM.2019.2912605

19.

Yan Z, Chen S, Zhang X, Liu H (2018) Outage performance analysis of wireless energy harvesting relay-assisted random underlay cognitive networks. IEEE Internet Things J 5(4):2691–2699

20.

Ye J, Liu Z, Zhao H, Pan G, Ni Q, Alouini M (2019) Relay selections for cooperative underlay CR systems with energy harvesting. IEEE Trans Cogn Commun Netw 5(2):358–369

21.

Janghel K, Prakriya S (2018) Throughput of underlay cognitive energy harvesting relay networks with an improved time-switching protocol. IEEE Trans Cogn Commun Netw 4(1):66–81

22.

Xu C, Zheng M, Liang W, Yu HB, Liang YC (2017) End-to-end throughput maximization for underlay multi-hop cognitive radio networks with RF energy harvesting. IEEE Trans Wirel Commun 16(6):3561–3572

23.

Kalpant P, Adrish B (2018) Optimal harvest-or-transmit strategy for energy harvesting underlay cognitive radio network, 2018 International Conference on Signal Processing and Communications (SPCOM), Bangalore, India, pp 129–133

24.

El-Malek AHA, Aboulhassan MA, Abdou MA (2018) Power allocation scheme and performance analysis for multiuser underlay full-duplex cognitive radio networks with energy harvesting. IEEE Access 6:59031–59042

25.

Miridakis NI, Tsiftsis TA, Alexandropoulos GC (2018) MIMO underlay cognitive radio: optimized power allocation, effective number of transmit antennas and harvest-transmit tradeoff. IEEE Trans Green Commun Netw 2(4):1101–1114

26.

Cui C, Wang Y (2013) Analysis and optimization of sensing reliability for relay-based dual-stage collaborative spectrum sensing in cognitive radio networks. Wirel Pers Commun 72(4):2321–2337

27.

Cui C, Yang D (2017) Throughput optimization for dual collaborative Spectrum sensing with dynamic scheduling. Mod Phys Lett B 31(19-21):1740089-1-6
Acknowledgements
This work was supported by National Natural Science Fund of China with Grant No. 61801056, Project Founded by China Postdoctoral Science Foundation with Grant No.2018 M632203, Open fund for Key Laboratory of Agricultural Remote Sensing of Ministry of Agriculture with Grant No. 2017001, Open fund for Jiangsu Key Laboratory of Wireless Communications with Grant No. 2017WICOM07, as well as Technology support project (social development) of Changzhou City with Grant No. CE20185041.
Additional information
Publisher's Note
Springer Nature remains neutral with regard to jurisdictional claims in published maps and institutional affiliations.
About this article
Cite this article
Cui, C., Yang, D. & Jin, S. Robust Spectrum-Energy Efficiency for Green Cognitive Communications. Mobile Netw Appl 26, 1217–1224 (2021). https://doi.org/10.1007/s11036-019-01347-y
Keywords
Cognitive radio

Radio frequency energy harvesting

Dual cooperative spectrum sensing

Spectrum efficiency

Energy efficiency