Abstract
Wireless networks have experienced fast development in the past decades. Various advancing wireless technologies have been proposed. To catch up with the ever-increasing diverse communication needs, cloud-radio access networks (C-RAN), which decouples the baseband processing unit (BBU) from the remote radio head (RRH), has been proposed. On the other hand, it has been widely recognized that huge energy consumption has been raised due to the massive deployment of cellular networks. Lowering the network energy consumption therefore becomes a widely concerned topic. To combat the limitations in traditional power grid, smart grid, with the emphasis on distributed energy resource (DER) and bidirectional energy sharing, is advocated to power the wireless networks. In this paper, we are motivated to investigate a joint RRH-BBU association and energy sharing problem towards brown energy usage minimization in green energy powered C-RAN. The problem is formulated into a mixed integer linear programming (MILP) form. To deal with the computation complexity of solving MILP, a two-phase heuristic polynomial-time algorithm is proposed and evaluated via extensive simulation based studies.
Access options
Buy single article
Instant access to the full article PDF.
USD 39.95
Price excludes VAT (USA)
Tax calculation will be finalised during checkout.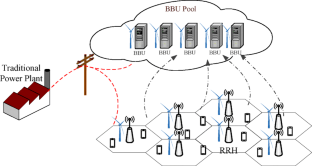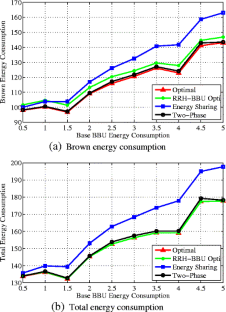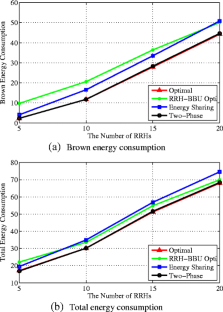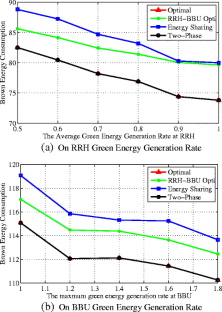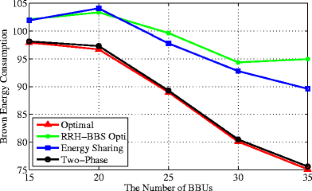 References
Swan M (2012) Sensor Mania! The internet of things, wearable computing, objective metrics, and the quantified self 2.0. J Sensor Actuator Netw 1(3):217–253

Institute CMR (2011) C-RAN: the road towards green RAN. China Mobile Research Institute

Vision I (2014) Framework and overall objectives of the future development of imt for 2020 and beyond, Working document toward preliminary draft new recommendation ITU-R M.[IMT Vision]

He Y, Dutkiewicz E, Fang G, Shi J (2014) Differential capacity bounds for distributed antenna systems under low SNR conditions. In: 2014 IEEE International conference on communications, ICC 2014, pp 5550–5554

Sabella D, De Domenico A, Katranaras E, Imran M A, Di Girolamo M, Salim U, Lalam M, Samdanis K, Maeder A (2015) Energy efficiency benefits of RAN-as-a-service concept for a cloud-based 5G mobile network infrastructure. IEEE Access 2:1586–1597

Suryaprakash V, Rost P, Fettweis G (2015) Are heterogeneous cloud-based radio access networks cost effective? IEEE J Selected Areas Commun 33(10):2239–2251

Alhumaima RS, Al-Raweshidy HS (2016) Evaluating the energy efficiency of software defined-based cloud radio access networks. IET Commun 10(8):987–994

Bu S, Yu FR, Cai Y, Liu XP (2012) When the smart grid meets energy-efficient communications: green wireless cellular networks powered by the smart grid. IEEE Trans Wirel Commun, 1–11

Niyato D, Lu X, Wang P (2012) Adaptive power management for wireless base stations in a smart grid environment. IEEE Wireless Commun 19(6):44–51

Piro G, Miozzo M, Forte G, Baldo N, Grieco LA, Boggia G, Dini P (Jan 2013) Hetnets powered by renewable energy sources: Sustainable next-generation cellular networks. IEEE Internet Comput 17(1):32–39

Li D, Saad W, Guvenc I, Mehbodniya A, Adachi F (2015) Decentralized energy allocation for wireless networks with renewable energy powered base stations. IEEE Trans Commun 63(6):2126–2142

Liang C, Yu FR, Yu R (2015) Wireless network virtualization: a survey, some research issues and challenges. IEEE Commun Surveys Tutor 17(1):358–380

Park SH, Simeone O, Sahin O, Shamai S (2012) Joint base station selection and distributed compression for cloud radio access networks. In: 2012 IEEE Globecom workshops, GC Wkshps 2012, pp 1134–1138

Kamel MI, Le LB, Girard A (2014) LTE wireless network virtualization: dynamic slicing via flexible scheduling. IEEE Veh Technol Conf, 0–4

Wang R, Hu H, Yang X (2014) Potentials and challenges of C-RAN supporting multi-RATs toward 5G mobile networks. IEEE Access 2:1200–1208

Marotta MA, Kaminski N, Gomez-Miguelez I, Granville LZ, Rochol J, DaSilva L, Both CB (2015) Resource sharing in heterogeneous cloud radio access networks. IEEE Wirel Commun 22(3):74–82

Cai Y, Yu FR, Bu S (2016) Dynamic operations of cloud radio access networks (C-RAN) for mobile cloud computing systems. IEEE Trans Veh Technol 65(3):1536–1548

Costa-Perez X, Swetina J, Guo Tao, Mahindra R, Rangarajan S (2013) Radio access network virtualization for future mobile carrier networks. IEEE Commun Mag 51(7):27–35

Sundaresan K, Arslan MY, Singh S, Rangarajan S, Krishnamurthy SV (2013) FluidNet: a flexible cloud-based radio access network for small cells. In: Proceedings of the 19th annual international conference on mobile computing & networking - MobiCom '13. ACM Press, New York, p 99

Akyildiz IF, Wang P, Lin SC (2015) SoftAir: a software defined networking architecture for 5G wireless systems. Comput Netw 85:1–18

Sun S, Kadoch M, Gong L, Rong B (2015) Integrating network function virtualization with SDR and SDN for 4G/5G networks. IEEE Netw 29(3):54–59

Yang C, Chen Z, Xia B, Wang J (2015) When ICN meets C-RAN for HetNets: an SDN approach. IEEE Commun Mag 53(11):118–125

Chih-Lin I, Han S, Xu Z, Wang S, Sun Q, Chen Y (2016) New paradigm of 5G wireless internet. IEEE J Selected Areas Commun 34(3):474–482

Liu C, Sundaresan K, Jiang M, Rangarajan S, Chang GK (2013) The case for re-configurable backhaul in cloud-RAN based small cell networks. In: Proceedings - IEEE INFOCOM, pp 1124–1132

Kong Z, Gong J, Xu CZ, Wang K, Rao J (2013) EBase: a baseband unit cluster testbed to improve energy-efficiency for cloud radio access network. In: IEEE International conference on communications, pp 4222–4227

Pompili D, Hajisami A, Viswanathan H (2015) Dynamic provisioning and allocation in cloud radio access networks (C-RANs). Ad Hoc Netw 30:128–143

Baliosian J, Serrat J, Gorricho J-l (2016) Resource slicing in virtual wireless networks. A Survey 4537(c):1–14

Tang J, Tay WP, Quek TQS (2015) Cross-layer resource allocation with elastic service scaling in cloud radio access network. IEEE Trans Wirel Commun 14(9):5068–5081

Tandon R, Simeone O (2016) Cloud-aided wireless networks with edge caching: fundamental latency trade-offs in fog radio access networks. In: 2016 IEEE International symposium on information theory (ISIT). IEEE, pp 2029–2033

Huang X, Han T, Ansari N (2015) On green-energy-powered cognitive radio networks. IEEE Commun Surv Tutor 17(2):827–842

Huang X, Ansari N (2015) Energy sharing within EH-enabled wireless communication networks. IEEE Wirel Commun 22(3):144–149

Erol-Kantarci M, Mouftah HT (2015) Energy-efficient information and communication infrastructures in the smart grid: a survey on interactions and open issues. IEEE Commun Surv Tutor 17(1):179–197

Li D, Saad W, Guvenc I, Mehbodniya A, Adachi F (2015) Decentralized energy allocation for wireless networks with renewable energy powered base stations. IEEE Trans Commun 63(6):2126–2142

Gkatzikis L, Iosifidis G, Koutsopoulos I, Tassiulas L (2015) Collaborative placement and sharing of storage resources in the Smart Grid. In: 2014 IEEE international conference on Smart Grid communications, SmartGridComm 2014, pp 103–108

Luo C, Guo SY, Guo S, Yang LT, Min G, Xie X (2014) Green communication in energy renewable wireless mesh networks: routing, rate control, and power allocation. IEEE Trans Parallel Distrib Syst 25(12):3211–3220

Wang K, Wang Y, Sun Y, Guo S, Wu J (2016) Green industrial internet of things architecture: an energy-efficient perspective. IEEE Commun Mag 54(12):48–54
Acknowledgments
The work was jointly supported by the Chongqing Municipal Basic and Advanced Research project under GRANT cstc2015jcyjBX0009 and CSTCKJCXLJRC20.
About this article
Cite this article
Guo, S., Zeng, D., Gu, L. et al. When Green Energy Meets Cloud Radio Access Network: Joint Optimization Towards Brown Energy Minimization. Mobile Netw Appl 24, 962–970 (2019). https://doi.org/10.1007/s11036-018-1028-9
Published:

Issue Date:

DOI: https://doi.org/10.1007/s11036-018-1028-9
Keywords