Advances on Network Protocols and Algorithms for Vehicular Ad Hoc Networks
1

Introduction

Vehicular Ad Hoc Network (VANET) is an emerging area of wireless ad hoc networks that facilitates ubiquitous connectivity between smart vehicles through Vehicle-to-Vehicle (V2V) or Vehicle-to-Roadside (V2R) and Roadside-to-Vehicle (R2V) communications. This emerging field of technology aims to improve safety of passengers and traffic flow, reduces pollution to the environment and enables in-vehicle entertainment applications. The safety-related applications could reduce accidents by providing drivers with traffic information such as collision avoidances, traffic flow alarms and road surface conditions. Moreover, the passengers could exploit an available infrastructure in order to connect to the internet for infomobility and entertainment applications [1].

The increasing necessity of this network is an impetus for leading car manufacturers, research communities and governments to increase their efforts toward creating a standardized platform for vehicular communications. However, VANET's unique characteristics and special requirements excite new challenges to the research community. To address these challenges in both safety- and comfort-oriented applications, there is a pressing need to develop new protocols and algorithms for channel characterization and modeling, Medium Access Control (MAC), obstacle modeling, adaptive geographical routing to sparse and dense traffic conditions.

This special issue aimed to theme innovative research achievements in the field of vehicular networks and communications. We were seeking original, innovative and unpublished papers related to radio obstacle modeling in urban vehicular environments [2], VANET routing protocols [3] (such as efficient geographical routing [4], delay-aware routing protocols [5], delay tolerant routing protocols [6], routing protocol using movement trends [7], etc.), adaptive beaconing protocols [8], mobility management and handovers [9], network size [10], transmission power adaptation systems [11], Quality of Service [12], security and privacy issues [13], efficient packet forwarding optimization[14], modeling and simulation [15], etc. We also welcomed other typical VANET topics such as channel characterization, congestion control and resource management, medium access protocols and channel assignments, mobility models, message dissemination for safety-related applications, cooperative vehicular communications, test-beds, case studies, experimental systems and real evaluations. Our purpose was also to include new VANET topics such as Inter-domain Proxy Mobile IPv6 in VANETs [16], Vehicular Cloud Computing [17] and security in Vehicular Clouds [18].

We received 77 submissions and only the best 12 papers have been accepted, which means an acceptance ratio of 15.58 %. We give many thanks to the reviewers for their time revising and providing useful comments to the authors and to the authors for their patience when some steps have been delayed because of the amount of received papers.

We have classified the accepted papers in the following list of topics:
1)

 

2)

 

3)

Vehicle route prediction and vehicular mobility

 

4)

 

5)

 

6)

 

7)

Audio and video streaming

 

8)

 
From a communication layer point of view, we can group them as it is provided in Fig. 
1
. We have split the architecture in 4 layers, where three of them are horizontal layers, while one of them (security) is vertical.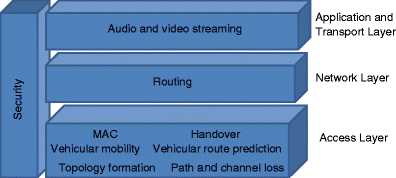 The number of papers accepted for each layer is shown in Table 
1
. We can see that the highest number of accepted papers belongs to the access layer.
Table 1
Number of papers accepted in each layer
| Layer | Number of papers |
| --- | --- |
| Access | 6 |
| Network | 3 |
| Application and transport | 2 |
| Security | 1 |
The rest of the paper is structured as follows. Section 2 shows the accepted papers focused on access layer issues. Accepted papers focused on network layer are shown in Section 3. Section 4 present the papers accepted which are focused on application and transport layer. Accepted papers focused on security are included in Section 5. Finally, Section 6 presents our conclusions.
2

Access layer

This section includes the accepted papers focused on path and channel loss,
3

Network layer

The accepted papers that belong to this layer are focused on routing techniques.

B. Blanco et al. proposed in [25] an intelligent routing algorithm called GARI, which adapts its operation based on the high mobility and changing characteristics of vehicular city environments. The nodes sense the network locally and collect information to feed the cognitive module which selects the best routing strategy. Their proposed algorithm performs the decision process locally without extra protocol overhead, without the need of additional protocol message dissemination or convergence mechanism, but the benefit is perceived globally with the general improvement of the network performance. This first approach to global adaptiveness has made use of linear discriminant analysis with successful results.

J. Kim et al. propose in [26] a novel routing protocol for cognitive radio vehicular networks, called Spectrum-Aware BEaconless geographical routing (SABE). The main idea in SABE is that the routing decision, as well as the resource allocation strategy, are made by the receivers on a per-packet and per-hop basis. A packet carrier vehicle broadcasts a forward request packet, and includes in it its available resources and location. Receivers calculate a link weight with consideration of their and source's available resources and locations. Then, a timer to reply to the request is set depending on the link weight. The receiver with the highest link weight replies first, establishing itself as the relay node. Simulation results show that our protocol increases the end-to-end network throughput by up to 250 % and decreases the end-to-end delay by up to 400 % compared with other geographical routing protocols.

In [27], João A. F. F. Dias et al. present a comprehensive study about the influence of cooperative nodes in the performance of vehicular delay tolerant networks when deployed in a rural environment. The authors proposed two levels of cooperation for VDTNs, considering buffer space and connection-time sharing. Finally, they conducted several studies to evaluate the impact of cooperation on the performance of VDTNs using five routing protocols, each one with single characteristics (First Contact, Epidemic, Spray and Wait, PRoPHET, and GeoSpray). Simulation results show that GeoSpray protocol performs better than the rest of the studied routing protocols. It is also concluded that cooperation between nodes improves the overall bundle delivery probability, leading to a better performance of VDTN networks.
4

Application and transport layer

The papers accepted in this layer are focused on audio and video streaming.

In the paper [28], Ali S. Sadiq et al. propose an Intelligent Network Selection (INS) scheme to make vertical handover decisions in VANETs using V2I communications. They used three parameters (Faded Signal-to-Noise Ratio, Residual Channel Capacity, and Connection Life Time) to develop a maximization scoring function that collectes data from each network candidate during the selection process to efficiently rank available wireless network candidates. The proposed INS scheme effectively decreases the delay associated with the handover process, End-to-End delays for VoIP and Video applications, packet loss ratios. Simulation results show how that the proposed INS scheme outperform existing approaches in terms of decreasing the probability of the link connection breakdown and unnecessary handovers. Moreover, it increases the efficiency of the network selection processes in comparison existing ones.

The paper in reference [29], presented by S. Machado et al., proposes a structured peer to peer (P2P) network designed for the distribution of live-content, with low bandwidth consumption in VANETs. It allows a peer to schedule consecutive video chunks, requesting parts of the media transmission to other peers, by means of a scheduling algorithm to a set of peers based on P2P paradigm. The transmitting peer may be placed in a road-side-unit or in a special car that patrols the area. Vehicles create a P2P network with the aim of achieving the maximum number of vehicles within a minimum delay. Each peer shares its buffer content and issues a set of requests to other peers for unreceived video chunks. Simulation show that under stable conditions of the network, the system can ensure certain quality of service parameters as the worst case chunk delay, the buffer size needed and the maximum number of peers that can be connected to the network.
5

Security

This section includes the accepted papers focused on security.

An efficient algorithm for modeling the node compromise attack in VANET is proposed by Chi Lin et al. in [30] to enhance the attacking efficiency of the node compromise attack in VANET by developing a general attack model based on the connected dominating set for modeling the node compromise. In the deployed VANET, the authors established a connected dominating set as network backbone. After that, an efficient algorithm is proposed to model node capture attack; a centralized and a distributed attack are developed for the purpose of destroying the connected dominating set of the network. In this paper, simulations are conducted and the results reveal that the proposed scheme enhances the attacking efficiency in different mobility models and different applications, which is suitable for modeling the node compromise attack in VANET.
6

Conclusion

We have observed in this special issue that it has increased the interest in the researchers on starting new research lines related with network protocols and algorithms for VANETS. We have classified the papers accepted in this special issue into 3 horizontal layers (Access, Network and Transport and Application layer) and 1 vertical layer (security). The layer where we have more accepted papers have been the access layer. This has happened because it includes more topics than the rest. We can state that there are appearing new research lines which will benefit the Vehicular technology and we hope to see them implemented in vehicles in a very near future.
Copyright information
© Springer Science+Business Media New York 2013