Abstract
Berberine is a bioactive isoquinoline alkaloid compound extracted from various medicinal plants, such as Barberry. Berberine shows various pharmacological properties that are mainly attributed to its anti-inflammatory and antioxidant effects. A growing body of evidence has shown that berberine influences cholesterol metabolism, and consequently, may ameliorate dyslipidemias and atherosclerosis. Plasma high-density lipoprotein cholesterol (HDL-C) is known to have an independent negative association with incident cardiovascular disease (CVD). However, several outcomes trials and genetic studies have failed to meet expecting the beneficial effects of elevating plasma HDL-C concentrations. Hence, investigations are currently focused on enhancing the functionality of HDL particles, independent of their plasma concentrations. HDL particles show various qualities because of a heterogeneous composition. Consistent with complex metabolism and composition, various biological functions are found for HDL, such as anti-inflammatory, antioxidant, anti-apoptotic, and anti-thrombotic activities. Protective effects of berberine may impact the functionality of HDL; therefore, the present literature review was intended to determine whether berberine can amplify HDL function. It was concluded that berberine may regulate markers of HDL activity, such as apo-AI, cholesterol efflux, LCAT, PON1, and S1P activities and levels. Consequently, berberine may recuperate conditions with dysfunctional HDL and, therefore, have the potential to emerge as a therapeutic agent. However, further human trials of berberine are warranted to evaluate its impact on HDL function and cholesterol metabolism.
Access options
Buy single article
Instant access to the full article PDF.
USD 39.95
Price excludes VAT (USA)
Tax calculation will be finalised during checkout.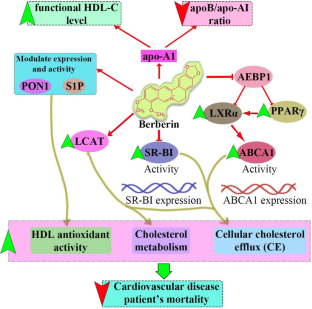 Data availability
The datasets used and analyzed during the current study are available from the corresponding author on reasonable request.
References
Zhou L, Li C, Gao L, Wang A (2015) High-density lipoprotein synthesis and metabolism. Mol Med Rep 12(3):4015–4021

Ouimet M, Barrett TJ, Fisher EA (2019) HDL and reverse cholesterol transport: Basic mechanisms and their roles in vascular health and disease. Circul Res 124(10):1505–1518

Camont L, Chapman MJ, Kontush A (2011) Biological activities of HDL subpopulations and their relevance to cardiovascular disease. Trends Mol Med 17(10):594–603

Rader DJ (2006) Molecular regulation of HDL metabolism and function: implications for novel therapies. J Clin Investig 116(12):3090–3100

Mulya A, Lee J-Y, Gebre AK, Thomas MJ, Colvin PL, Parks JS (2007) Minimal lipidation of pre-β HDL by ABCA1 results in reduced ability to interact with ABCA1. Arteriosclerosis, thrombosis, and vascular biology. 27:1828–18368

Adorni MP, Zimetti F, Billheimer JT, Wang N, Rader DJ, Phillips MC et al (2007) The roles of different pathways in the release of cholesterol from macrophages. J Lipid Res 48(11):2453–2462

Wang M, Briggs MR (2004) HDL: the metabolism, function, and therapeutic importance. Chem Rev 104(1):119–138

Oosterveer DM, Versmissen J, Yazdanpanah M, Defesche JC, Kastelein JJ, Sijbrands EJ (2009) The risk of tendon xanthomas in familial hypercholesterolaemia is influenced by variation in genes of the reverse cholesterol transport pathway and the low-density lipoprotein oxidation pathway. Eur Heart J 31(8):1007–1012

Collet X, Tall AR, Serajuddin H, Guendouzi K, Royer L, Oliveira H et al (1999) Remodeling of HDL by CETP in vivo and by CETP and hepatic lipase in vitro results in enhanced uptake of HDL CE by cells expressing scavenger receptor BI. J Lipid Res 40(7):1185–1193

Rysz-Górzyńska M, Banach M (2016) Subfractions of high-density lipoprotein (HDL) and dysfunctional HDL in chronic kidney disease patients. Archives of medical science: AMS 12(4):844

Pirro M, Vaudo G, Lupattelli G, Pasqualini L, Mannarino MR, Schillaci G et al (2013) On-treatment C-reactive protein and HDL cholesterol levels in patients at intermediate cardiovascular risk: impact on carotid intima-media thickness. Life Sci 93(8):338–343

Gordon DJ, Probstfield JL, Garrison RJ, Neaton JD, Castelli WP, Knoke JD et al (1989) High-density lipoprotein cholesterol and cardiovascular disease. Four prospective American studies. Circulation 79(1):8–15

Boekholdt SM, Arsenault BJ, Hovingh GK, Mora S, Pedersen TR, LaRosa JC et al (2013) Levels and changes of HDL cholesterol and apolipoprotein AI in relation to risk of cardiovascular events among statin-treated patients: a meta-analysis. Circulation 128(14):1504–1512

Voight BF, Peloso GM, Orho-Melander M, Frikke-Schmidt R, Barbalic M, Jensen MK et al (2012) Plasma HDL cholesterol and risk of myocardial infarction: a mendelian randomisation study. The Lancet 380(9841):572–580

Investigators A-H (2011) Niacin in patients with low HDL cholesterol levels receiving intensive statin therapy. N Engl J Med 365(24):2255–2267

Otocka-Kmiecik A, Mikhailidis DP, Nicholls SJ, Davidson M, Rysz J, Banach M (2012) Dysfunctional HDL: a novel important diagnostic and therapeutic target in cardiovascular disease? Prog Lipid Res 51(4):314–324

Barylski M, Toth PP, Nikolic D, Banach M, Rizzo M, Montalto G (2014) Emerging therapies for raising high-density lipoprotein cholesterol (HDL-C) and augmenting HDL particle functionality. Best Pract Res Clin Endocrinol Metab 28(3):453–461

de la Llera-Moya M, Drazul-Schrader D, Asztalos BF, Cuchel M, Rader DJ, Rothblat GH (2010) The ability to promote efflux via ABCA1 determines the capacity of serum specimens with similar high-density lipoprotein cholesterol to remove cholesterol from macrophages. Arterioscler Thromb Vasc Biol 30(4):796–801

Van Eck M, Twisk J, Hoekstra M, Van Rij BT, Van der Lans CA, Bos IST et al (2003) Differential effects of scavenger receptor BI deficiency on lipid metabolism in cells of the arterial wall and the liver. Journal of Biological Chemistry.

Van Eck M, Hoekstra M, Hildebrand RB, Yaong Y, Stengel D, Kruijt JK et al (2007) Increased oxidative stress in scavenger receptor BI knockout mice with dysfunctional HDL. Arteriosclerosis, thrombosis, and vascular biology. 27:2413–241911

Ganjali S, Momtazi AA, Banach M, Kovanen PT, Stein EA, Sahebkar A (2017) HDL abnormalities in familial hypercholesterolemia: Focus on biological functions. Prog Lipid Res 67:16–26

Soran H, Hama S, Yadav R, Durrington PN (2012) HDL functionality. Curr Opin Lipidol 23(4):353–366

Fielding CJ, Fielding PE (1995) Molecular physiology of reverse cholesterol transport. J Lipid Res 36(2):211–228

Navab M, Reddy ST, Van Lenten BJ, Anantharamaiah G, Fogelman AM (2009) The role of dysfunctional HDL in atherosclerosis. J Lipid Res 50(Supplement):S145–S9

Van Lenten BJ, Wagner AC, Navab M, Anantharamaiah G, Hama S, Reddy ST et al (2007) Lipoprotein inflammatory properties and serum amyloid A levels but not cholesterol levels predict lesion area in cholesterol-fed rabbits. J Lipid Res 48(11):2344–2353

Smith JD (2008) Inflammation impairs reverse cholesterol transport in vivo. Am Heart Assoc

Vaisar T, Tang C, Babenko I, Hutchins P, Wimberger J, Suffredini AF et al (2015) Inflammatory remodeling of the HDL proteome impairs cholesterol efflux capacity. Journal of lipid research. :jlr. M059089

Ferretti G, Bacchetti T, Masciangelo S, Bicchiega V (2010) HDL-paraoxonase and Membrane Lipid Peroxidation: A Comparison Between Healthy and Obese Subjects. Obesity 18(6):1079–1084

Sentí M, Tomás M, Fitó M, Weinbrenner T, Covas Ma I, Sala J et al (2003) Antioxidant paraoxonase 1 activity in the metabolic syndrome. J Clin Endocrinol Metabolism 88(11):5422–5426

Mackness M, Mackness B (2015) Human paraoxonase-1 (PON1): Gene structure and expression, promiscuous activities and multiple physiological roles. Gene 567(1):12–21

Pasqualini L, Cortese C, Marchesi S, Siepi D, Pirro M, Vaudo G et al (2005) Paraoxonase-1 activity modulates endothelial function in patients with peripheral arterial disease. Atherosclerosis 183(2):349–354

Khera AV, Cuchel M, de la Llera-Moya M, Rodrigues A, Burke MF, Jafri K et al (2011) Cholesterol efflux capacity, high-density lipoprotein function, and atherosclerosis. N Engl J Med 364(2):127–135

Van Wijk J, Coll B, Cabezas MC, Koning E, Camps J, Rabelink T et al (2006) Rosiglitazone modulates fasting and post-prandial paraoxonase 1 activity in type 2 diabetic patients. Clin Exp Pharmacol Physiol 33(12):1134–1137

Tang J, Feng Y, Tsao S, Wang N, Curtain R, Wang Y (2009) Berberine and Coptidis rhizoma as novel antineoplastic agents: a review of traditional use and biomedical investigations. J Ethnopharmacol 126(1):5–17

Zhang Q, Piao X-L, Piao X-S, Lu T, Wang D, Kim SW (2011) Preventive effect of Coptis chinensis and berberine on intestinal injury in rats challenged with lipopolysaccharides. Food Chem Toxicol 49(1):61–69

Kumar A, Chopra K, Mukherjee M, Pottabathini R, Dhull DK (2015) Current knowledge and pharmacological profile of berberine: an update. Eur J Pharmacol 761:288–297

Cicero AF, Baggioni A (2016) Berberine and its role in chronic disease. Springer, Anti-inflammatory Nutraceuticals and Chronic Diseases, pp 27–45

Ayati SH, Fazeli B, Momtazi-Borojeni AA, Cicero AF, Pirro M, Sahebkar A (2017) Regulatory effects of berberine on microRNome in cancer and other conditions. Crit Rev Oncol/Hematol 116:147–158

Li X-Y, Zhao Z-X, Huang M, Feng R, He C-Y, Ma C et al (2015) Effect of Berberine on promoting the excretion of cholesterol in high-fat diet-induced hyperlipidemic hamsters. J Translational Med 13(1):1–9

Stein TD, Anders NJ, DeCarli C, Chan SL, Mattson MP, Johnson JA (2004) Neutralization of transthyretin reverses the neuroprotective effects of secreted amyloid precursor protein (APP) in APPSW mice resulting in tau phosphorylation and loss of hippocampal neurons: support for the amyloid hypothesis. The Journal of neuroscience: the official journal of the Society for Neuroscience. 24(35):7707-17.

Zhang M, Feng L, Li J, Chen L (2016) Therapeutic Potential and Mechanisms of Berberine in Cardiovascular Disease. Curr Pharmacol Rep 2(6):281–292

Ju, J., Li, J., Lin, Q., & Xu, H. (2018). Efficacy and safety of berberine for dyslipidaemias: A systematic review and meta-analysis of randomized clinical trials. Phytomedicine : international journal of phytotherapy and phytopharmacology, 50, 25–34.

Wang, Y., & Zidichouski, J. A. (2018). Update on the Benefits and Mechanisms of Action of the Bioactive Vegetal Alkaloid Berberine on Lipid Metabolism and Homeostasis. Cholesterol, 2018, 7173920.

Goldstein JL, Brown MS (2009) The LDL receptor. Arteriosclerosis, thrombosis, and vascular biology. 29(4):431–438

Kong W, Wei J, Abidi P, Lin M, Inaba S, Li C et al (2004) Berberine is a novel cholesterol-lowering drug working through a unique mechanism distinct from statins. Nat Med 10(12):1344

Wang Y, Yi X, Ghanam K, Zhang S, Zhao T, Zhu X (2014) Berberine decreases cholesterol levels in rats through multiple mechanisms, including inhibition of cholesterol absorption. Metabolism 63(9):1167–1177

Gu S, Cao B, Sun R, Tang Y, Paletta JL, Wu X-L et al (2015) A metabolomic and pharmacokinetic study on the mechanism underlying the lipid-lowering effect of orally administered berberine. Mol Biosyst 11(2):463–474

Li Y-H, Yang P, Kong W-J, Wang Y-X, Hu C-Q, Zuo Z-Y et al (2008) Berberine Analogues as a novel class of the low-density-lipoprotein receptor up-regulators: synthesis, structure – activity relationships, and cholesterol-lowering efficacy. J Med Chem 52(2):492–501

He K, Ye X, Wu H, Wang Y, Zou Z, Ning N et al (2015) The safety and anti-hypercholesterolemic effect of coptisine in Syrian golden hamsters. Lipids 50(2):185–194

Abidi P, Zhou Y, Jiang J-D, Liu J (2005) Extracellular signal-regulated kinase–dependent stabilization of hepatic low-density lipoprotein receptor mRNA by herbal medicine berberine. Arteriosclerosis, thrombosis, and vascular biology. 25:2170–217610

Momtazi AA, Banach M, Pirro M, Katsiki N, Sahebkar A (2017) Regulation of PCSK9 by nutraceuticals. Pharmacol Res 120:157–169

Wang Y, Han Y, Chai F, Xiang H, Huang T, Kou S et al (2016) The antihypercholesterolemic effect of columbamine from Rhizoma Coptidis in HFHC-diet induced hamsters through HNF-4α/FTF-mediated CYP7A1 activation. Fitoterapia 115:111–121

Wang Y, Jia X, Ghanam K, Beaurepaire C, Zidichouski J, Miller L (2010) Berberine and plant stanols synergistically inhibit cholesterol absorption in hamsters. Atherosclerosis 209(1):111–117

Li X-Y, Zhao Z-X, Huang M, Feng R, He C-Y, Ma C et al (2015) Effect of Berberine on promoting the excretion of cholesterol in high-fat diet-induced hyperlipidemic hamsters. J translational Med 13(1):278

Kuo C-L, Chi C-W, Liu T-Y (2004) The anti-inflammatory potential of berberine in vitro and in vivo. Cancer Lett 203(2):127–137

Xiao H-B, Sun Z-L, Zhang H-B, Zhang D-S (2012) Berberine inhibits dyslipidemia in C57BL/6 mice with lipopolysaccharide induced inflammation. Pharmacol Rep 64(4):889–895

Wang FL, Tang LQ, Yang F, Zhu LN, Cai M, Wei W (2013) Renoprotective effects of berberine and its possible molecular mechanisms in combination of high-fat diet and low-dose streptozotocin-induced diabetic rats. Mol Biol Rep 40(3):2405–2418

Zhang W, Xu Y-c, Guo F-j, Meng Y, Li M-l (2008) Anti-diabetic effects of cinnamaldehyde and berberine and their impacts on retinol-binding protein 4 expression in rats with type 2 diabetes mellitus. Chin Med J (English Edition) 121(21):2124

Leng S-H, Lu F-E, Xu L-J (2004) Therapeutic effects of berberine in impaired glucose tolerance rats and its influence on insulin secretion. Acta Pharmacol Sin 25(4):496–502

He K, Kou S, Zou Z, Hu Y, Feng M, Han B et al (2016) Hypolipidemic effects of alkaloids from Rhizoma coptidis in diet-induced hyperlipidemic hamsters. Planta Med 82(08):690–697

Hu Y, Davies GE (2010) Berberine inhibits adipogenesis in high-fat diet-induced obesity mice. Fitoterapia 81(5):358–366

Chang X-x, Xu YH, Xia Q, Bian M-f, Zhu H (2012) The effects of berberine on hyperhomocysteinemia and hyperlipidemia in rats fed with a long-term high-fat diet. Lipids Health Dis 11(1):86

Hu Y, Ehli EA, Kittelsrud J, Ronan PJ, Munger K, Downey T et al (2012) Lipid-lowering effect of berberine in human subjects and rats. Phytomedicine 19(10):861–867

Li G-S, Liu X-H, Zhu H, Huang L, Liu Y-L, Ma C-M et al (2011) Berberine-improved visceral white adipose tissue insulin resistance associated with altered sterol regulatory element-binding proteins, liver X receptors, and peroxisome proliferator-activated receptors transcriptional programs in diabetic hamsters. Biol Pharm Bull 34(5):644–654

D'Addato, S., Scandiani, L., Mombelli, G., Focanti, F., Pelacchi, F., Salvatori, E., Di Loreto, G., Comandini, A., Maffioli, P., & Derosa, G. (2017). Effect of a food supplement containing berberine, monacolin K, hydroxytyrosol and coenzyme Q10 on lipid levels: a randomized, double-blind, placebo controlled study. Drug design, development and therapy, 11, 1585–1592.

Millán J, Cicero AF, Torres F, Anguera A (2016) Effects of a nutraceutical combination containing berberine (BRB), policosanol, and red yeast rice (RYR), on lipid profile in hypercholesterolemic patients: a meta-analysis of randomised controlled trials. Clin e investigacion en Arterioscler 28(4):178–187

Wei, X., Wang, C., Hao, S., Song, H., & Yang, L. (2016). The Therapeutic Effect of Berberine in the Treatment of Nonalcoholic Fatty Liver Disease: A Meta-Analysis. Evidence-based complementary and alternative medicine : eCAM, 2016, 3593951.

Lan J, Zhao Y, Dong F, Yan Z, Zheng W, Fan J et al (2015) Meta-analysis of the effect and safety of berberine in the treatment of type 2 diabetes mellitus, hyperlipemia and hypertension. J Ethnopharmacol 161:69–81

Weng TC, Yang YHK, Lin SJ, Tai SH (2010) A systematic review and meta-analysis on the therapeutic equivalence of statins. J Clin Pharm Ther 35(2):139–151

Cicero AF, Colletti A, Bajraktari G, Descamps O, Djuric DM, Ezhov M et al (2017) Lipid-lowering nutraceuticals in clinical practice: position paper from an International Lipid Expert Panel. Nutr Rev 75(9):731–767

Heinecke JW (2009) The HDL proteome: a marker–and perhaps mediator–of coronary artery disease. J Lipid Res 50(Supplement):S167–S71

Hassan MKN, Ali RM, Amom ZH, Arshad MSM, Shah ZM, Kadir KKA et al (2014) Effect of apigenin, berberine and rutin on cholesterol metabolism in Hep G2 cancer cell. SAINS MALAYSIANA 43(4):559–566

Liu D-l, Xu L-j, Dong H, Chen G, Huang Z-y, Zou X et al (2015) Inhibition of proprotein convertase subtilisin/kexin type 9: a novel mechanism of berberine and 8-hydroxy dihydroberberine against hyperlipidemia. Chin J Integr Med 21(2):132–138

Zhou JY, Zhou SW, Zhang KB, Tang JL, Guang LX, Ying Y et al (2008) Chronic effects of berberine on blood, liver glucolipid metabolism and liver PPARs expression in diabetic hyperlipidemic rats. Biol Pharm Bull 31(6):1169–1176

Solà R, Valls R-M, Puzo J, Calabuig J-R, Brea A, Pedret A et al (2014) Effects of poly-bioactive compounds on lipid profile and body weight in a moderately hypercholesterolemic population with low cardiovascular disease risk: a multicenter randomized trial. PLoS ONE 9(8):e101978

Brinton EA, Eisenberg S, Breslow JL (1994) Human HDL cholesterol levels are determined by apoA-I fractional catabolic rate, which correlates inversely with estimates of HDL particle size. Effects of gender, hepatic and lipoprotein lipases, triglyceride and insulin levels, and body fat distribution. Arterioscler Thromb Vasc Biol 14(5):707–720

Zhan X, Chen Y, Yan C, Liu S, Deng L, Yang Y et al (2018) Apolipoprotein B/apolipoprotein A1 ratio and mortality among incident peritoneal dialysis patients. Lipids Health Dis 17(1):117

Lee TS, Pan CC, Peng CC, Kou YR, Chen CY, Ching LC et al (2010) Anti-atherogenic effect of berberine on LXRα‐ABCA1‐dependent cholesterol efflux in macrophages. J Cell Biochem 111(1):104–110

LIU X-y YAN, S-m GONGH (2009) ZHAO X-l, CHEN F-l. Effects of berberine on cholesterol efflux in THP-1 macrophage derived foam cells. J Shanghai Jiaotong Univ (Medical Science) 1415-18

Huang Z, Dong F, Li S, Chu M, Zhou H, Lu Z et al (2012) Berberine-induced inhibition of adipocyte enhancer-binding protein 1 attenuates oxidized low-density lipoprotein accumulation and foam cell formation in phorbol 12-myristate 13-acetate-induced macrophages. Eur J Pharmacol 690(1–3):164–169

Majdalawieh A, Zhang L, Fuki IV, Rader DJ, Ro H-S (2006) Adipocyte enhancer-binding protein 1 is a potential novel atherogenic factor involved in macrophage cholesterol homeostasis and inflammation. Proceedings of the National Academy of Sciences. 103(7):2346-51

Tontonoz P, Nagy L, Alvarez JG, Thomazy VA, Evans RM (1998) PPARγ promotes monocyte/macrophage differentiation and uptake of oxidized LDL. Cell 93(2):241–252

Venkateswaran A, Laffitte BA, Joseph SB, Mak PA, Wilpitz DC, Edwards PA et al (2000) Control of cellular cholesterol efflux by the nuclear oxysterol receptor LXRα. Proceedings of the National Academy of Sciences. 97(22):12097-102

Chawla A, Boisvert WA, Lee C-H, Laffitte BA, Barak Y, Joseph SB et al (2001) A PPARγ-LXR-ABCA1 pathway in macrophages is involved in cholesterol efflux and atherogenesis. Mol Cell 7(1):161–171

Laffitte BA, Repa JJ, Joseph SB, Wilpitz DC, Kast HR, Mangelsdorf DJ et al (2001) LXRs control lipid-inducible expression of the apolipoprotein E gene in macrophages and adipocytes. Proceedings of the National Academy of Sciences. 98(2):507 – 12

Akiyama TE, Sakai S, Lambert G, Nicol CJ, Matsusue K, Pimprale S et al (2002) Conditional disruption of the peroxisome proliferator-activated receptor γ gene in mice results in lowered expression of ABCA1, ABCG1, and apoE in macrophages and reduced cholesterol efflux. Mol Cell Biol 22(8):2607–2619

Liang H, Wang Y (2018) Berberine alleviates hepatic lipid accumulation by increasing ABCA1 through the protein kinase C δ pathway. Biochem Biophys Res Commun 498(3):473–480

Linton MF, Tao H, Linton EF, Yancey PG (2017) SR-BI: a multifunctional receptor in cholesterol homeostasis and atherosclerosis. Trends in Endocrinology & Metabolism 28(6):461–472

Guan S, Wang B, Li W, Guan J, Fang X (2010) Effects of berberine on expression of LOX-1 and SR-BI in human macrophage-derived foam cells induced by ox-LDL. Am J Chin Med 38(06):1161–1169

Yang X-J, Liu F, Feng N, Ding X-S, Chen Y, Zhu S-X et al (2020) Berberine attenuates cholesterol accumulation in macrophage foam cells by suppressing AP-1 activity and activation of the Nrf2/HO-1 pathway. J Cardiovasc Pharmacol 75(1):45–53

Jin L, He Q, Zhou Q, YANG J-x (2010) Effect of berberine on lipid metabolism and expressions of low density lipoprotein receptor and scavenger receptor class-B type 1 genes in livers of hyperlipidemic rabbits. Chin J Biol 23:1226–1229

Rousset X, Vaisman B, Amar M, Sethi AA, Remaley AT (2009) Lecithin: cholesterol acyltransferase: from biochemistry to role in cardiovascular disease. Curr Opin Endocrinol Diabetes Obes 16(2):163

Cheng C-C, Hsueh C-M, Liang K-W, Ting C-T, Wen C-L, Hsu S-L (2011) Role of JNK and c-Jun signaling pathway in regulation of human serum paraoxonase 1 gene transcription by berberine in human HepG2 cells. Eur J Pharmacol 650(2–3):519–525

Abbott CA, Mackness MI, Kumar S, Boulton AJ, Durrington PN (1995) Serum paraoxonase activity, concentration, and phenotype distribution in diabetes mellitus and its relationship to serum lipids and lipoproteins. Arteriosclerosis, thrombosis, and vascular biology. 15:1812–181811

Tavernier G, Caspar-Bauguil S, Viguerie N, Apolipoprotein M (2020) New connections with diet, adipose tissue and metabolic syndrome. Curr Opin Lipidol 31(1):8–14

Levkau B (2015) HDL-S1P: cardiovascular functions, disease-associated alterations, and therapeutic applications. Front Pharmacol 6:243

Liu XH, Li GS, Huang L, Zhu H, Liu YL, Ma CM (2011) Effects of berberine on expression of hepatic sterol regulatory element-binding protein, its control and target genes in type 2 diabetic Chinese hamsters. J Dalian Med Univ 33(1):23–30 Chinese

Lan T, Shen X, Liu P, Liu W, Xu S, Xie X et al (2010) Berberine ameliorates renal injury in diabetic C57BL/6 mice: Involvement of suppression of SphK–S1P signaling pathway. Arch Biochem Biophys 502(2):112–120

PENG J, LAN T, HUANG K-p HUANGJ, XIE X (2011) HUANG H-q. Berberine ameliorates diabetic mouse renal injury through inhibition of SphK1-S1P signaling pathway [J]. Chin Pharmacol Bull 11:020

Huang K, Liu W, Lan T, Xie X, Peng J, Huang J et al (2012) Berberine reduces fibronectin expression by suppressing the S1P-S1P2 receptor pathway in experimental diabetic nephropathy models. PLoS ONE 7(8):e43874

Mortazavi, H., Nikfar, B., Esmaeili, S. A., Rafieenia, F., Saburi, E., Chaichian, S., Heidari Gorji, M. A., & Momtazi-Borojeni, A. A. (2020). Potential cytotoxic and anti-metastatic effects of berberine on gynaecological cancers with drug-associated resistance. European journal of medicinal chemistry, 187, 111951. https://doi.org/10.1016/j.ejmech.2019.111951
Ethics declarations
Compliance with ethical standards
The authors declare any conflict of interest. Research is not involving Human Participants and/or Animals.
Informed consent
or another Ethical Statement were not applicable.
Source of founding
None declared.
Additional information
Publisher's note
Springer Nature remains neutral with regard to jurisdictional claims in published maps and institutional affiliations.
About this article
Cite this article
Nourizadeh, N., Vazifeh Mostaan, L., Saburi, E. et al. Modulatory effect of berberine on plasma lipoprotein (or lipid) profile: a review. Mol Biol Rep 49, 10885–10893 (2022). https://doi.org/10.1007/s11033-022-07623-7
Received:

Revised:

Accepted:

Published:

Issue Date:

DOI: https://doi.org/10.1007/s11033-022-07623-7
Keywords
Berberine

Cholesterol efflux

Dyslipidemia

High-density lipoprotein