Abstract
Background
Small cell lung cancer (SCLC) is the most malignant type of lung cancer. We previously reported that arsenic trioxide (As2O3) inhibited tumor initiating cells (TICs) of SCLC in vitro. In the present study, we aimed to identify the above effect in vivo and shed light on its underlying mechanism.
Methods and results
TICs were enriched by culturing human SCLC cell line as sphere cells in specified serum-free medium. The expression of stem cell markers, CD133 and CD44, and the in vivo tumorigenicity of both TICs and their parental cells were examined. To demonstrate the inhibitory effect of As2O3 on TICs, cell proliferation, clone formation and sphere formation assays were performed. CD133 and Notch pathway-related factors were also measured after As2O3 treatment. Xenograft models were established by injecting TICs into nude mice. Mice were treated with As2O3 for 14 days. Afterwards, the tumor volume and the expression of CD133 and Notch1 were evaluated. TICs obtained by the above-mentioned method showed elevated levels of stem cell markers and increased tumorigenicity compared with their parental cells. As2O3 treatment largely inhibited TICs proliferation, sphere formation and clonogenic capacity. As2O3 also reduced the expression of CD133 and down-regulated Notch pathway in TICs. Furthermore, As2O3 potently inhibited tumor growth, decreased the expression of CD133 and down-regulated Notch1 in tumors originating from TICs.
Conclusions
Our data demonstrate that As2O3 has a remarkable inhibitory effect on TICs of SCLC both in vitro and in vivo, and the mechanism might involve the down-regulation of Notch pathway.
Access options
Buy single article
Instant access to the full article PDF.
USD 39.95
Price excludes VAT (USA)
Tax calculation will be finalised during checkout.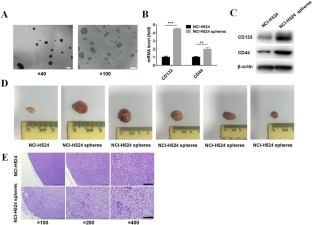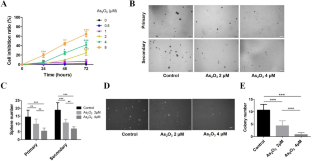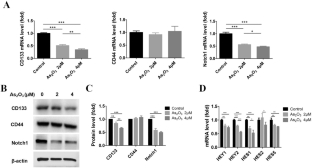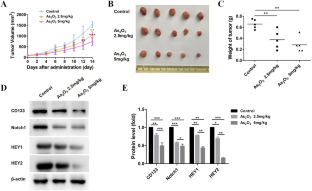 Data availability
All data included in this study are available upon request by contacting the corresponding authors.
References
Gelsomino F, Lamberti G, Parisi C et al (2019) The evolving landscape of immunotherapy in small-cell lung cancer: a focus on predictive biomarkers. Cancer Treat Rev 79:101887. https://doi.org/10.1016/j.ctrv.2019.08.003

George J, Lim JS, Jang SJ et al (2015) Comprehensive genomic profiles of small cell lung cancer. Nature 524(7563):47–53. https://doi.org/10.1038/nature14664

Huang T, Song X, Xu D et al (2020) Stem cell programs in cancer initiation, progression, and therapy resistance. Theranostics 10(19):8721–8743. https://doi.org/10.7150/thno.41648

Heng WS, Gosens R, Kruyt FAE (2019) Lung cancer stem cells: origin, features, maintenance mechanisms and therapeutic targeting. Biochem Pharmacol 160:121–133. https://doi.org/10.1016/j.bcp.2018.12.010

Qiu X, Wang Z, Li Y et al (2012) Characterization of sphere-forming cells with stem-like properties from the small cell lung cancer cell line H446. Cancer Lett 323(2):161–170. https://doi.org/10.1016/j.canlet.2012.04.004

Sarvi S, Mackinnon AC, Avlonitis N et al (2014) CD133+ cancer stem-like cells in small cell lung cancer are highly tumorigenic and chemoresistant but sensitive to a novel neuropeptide antagonist. Cancer Res 74(5):1554–1565. https://doi.org/10.1158/0008-5472.CAN-13-1541

Asai R, Tsuchiya H, Amisaki M et al (2019) CD44 standard isoform is involved in maintenance of cancer stem cells of a hepatocellular carcinoma cell line. Cancer Med 8(2):773–782. https://doi.org/10.1002/cam4.1968

Tirino V, Desiderio V, Paino F et al (2013) Cancer stem cells in solid tumors: an overview and new approaches for their isolation and characterization. FASEB J 27(1):13–24. https://doi.org/10.1096/fj.12-218222

Chang KJ, Yang MH, Zheng JC et al (2016) Arsenic trioxide inhibits cancer stem-like cells via down-regulation of Gli1 in lung cancer. Am J Transl Res 8(2):1133–1143 (PMID: 27158399)

Yang L, Shi P, Zhao G et al (2020) Targeting cancer stem cell pathways for cancer therapy. Signal Transduct Target Ther 5(1):8. https://doi.org/10.1038/s41392-020-0110-5

Kageyama R, Ohtsuka T (1999) The Notch-Hes pathway in mammalian neural development. Cell Res 9(3):179–188. https://doi.org/10.1038/sj.cr.7290016

Moore G, Annett S, McClements L et al (2020) Top notch targeting strategies in cancer: a detailed overview of recent insights and current perspectives. Cells 9(6):1503. https://doi.org/10.3390/cells9061503

Sourisseau T, Hassan KA, Wistuba I et al (2014) Lung cancer stem cell: fancy conceptual model of tumor biology or cornerstone of a forthcoming therapeutic breakthrough? J Thorac Oncol 9(1):7–17. https://doi.org/10.1097/JTO.0000000000000028

Yang MH, Zang YS, Huang H et al (2014) Arsenic trioxide exerts anti-lung cancer activity by inhibiting angiogenesis. Curr Cancer Drug Targets 14(6):557–566. https://doi.org/10.2174/1568009614666140725090000

Eramo A, Lotti F, Sette G et al (2008) Identification and expansion of the tumorigenic lung cancer stem cell population. Cell Death Differ 15(3):504–514. https://doi.org/10.1038/sj.cdd.4402283

Xie SL, Yang MH, Chen K et al (2015) Efficacy of arsenic trioxide in the treatment of malignant pleural effusion caused by pleural metastasis of lung cancer. Cell Biochem Biophys 71(3):1325–1333. https://doi.org/10.1007/s12013-014-0352-3

Qu GP, Xiu QY, Li B et al (2009) Arsenic trioxide inhibits the growth of human lung cancer cell lines via cell cycle arrest and induction of apoptosis at both normoxia and hypoxia. Toxicol Ind Health 25(8):505–515. https://doi.org/10.1177/0748233709345936

Yang MH, Chang KJ, Zheng JC et al (2017) Anti-angiogenic effect of arsenic trioxide in lung cancer via inhibition of endothelial cell migration, proliferation and tube formation. Oncol Lett 14(3):3103–3109. https://doi.org/10.3892/ol.2017.6518

Zheng JC, Chang KJ, Jin YX et al (2019) Arsenic trioxide inhibits the metastasis of small cell lung cancer by blocking calcineurin-nuclear factor of activated T cells (NFAT) signaling. Med Sci Monit 25:2228–2237. https://doi.org/10.12659/MSM.913091

Tomasetti C, Vogelstein B (2015) Variation in cancer risk among tissues can be explained by the number of stem cell divisions. Science 347(6217):78–81. https://doi.org/10.1126/science.1260825

Barbato L, Bocchetti M, Di Biase A et al (2019) Cancer stem cells and targeting strategies. Cells 8(8):926. https://doi.org/10.3390/cells8080926

Kim CF, Jackson EL, Woolfenden AE et al (2005) Identification of bronchioalveolar stem cells innormal lung and lung cancer. Cell 121(6):823–835. https://doi.org/10.1016/j.cell.2005.03.032

Liu YP, Yang CJ, Huang MS et al (2013) Cisplatin selects for multidrug-resistant CD133+ cells in lung adenocarcinoma by activating Notch signaling. Cancer Res 73(1):406–416. https://doi.org/10.1158/0008-5472.CAN-12-1733

Sullivan JP, Spinola M, Dodge M et al (2010) Aldehyde dehydrogenase activity selects for lung adenocarcinoma stem cells dependent on notch signaling. Cancer Res 70(23):9937–9948. https://doi.org/10.1158/0008-5472.CAN-10-0881

Zhen Y, Zhao S, Li Q et al (2010) Arsenic trioxide-mediated Notch pathway inhibition depletes the cancer stem-like cell population in gliomas. Cancer Lett 292(1):64–72. https://doi.org/10.1016/j.canlet.2009.11.005

Wu J, Ji Z, Liu H et al (2013) Arsenic trioxide depletes cancer stem-like cells and Inhibits repopulation of neurosphere derived from glioblastoma by downregulation of Notch pathway. Toxicol Lett 220(1):61–69. https://doi.org/10.1016/j.toxlet.2013.03.019

Yang MH, Chang KJ, Li B et al (2019) Arsenic trioxide suppresses tumor growth through antiangiogenesis via Notch signaling blockade in small-cell lung cancer. Biomed Res Int 2019:4647252. https://doi.org/10.1155/2019/4647252
Funding
This work was supported by the National Natural Science Foundation of China (Nos. 82074065, 81602618 and 81672929).
Ethics declarations
Conflict of interest
The authors declare that they have no competing interests.
Ethical approval
The animal experiment was given permission by the Committee on Ethics of Biomedicine, Naval Medical University, also known as Second Military Medical University (Reference Number: 20160218-8160110302). Animal welfare and laboratory procedures were performed strictly according to the Guide for the Care and Use of Laboratory Animals (Ministry of Science and Technology of China).
Additional information
Publisher's Note
Springer Nature remains neutral with regard to jurisdictional claims in published maps and institutional affiliations.
About this article
Cite this article
Yang, MH., Li, B. & Chang, KJ. Notch pathway inhibition mediated by arsenic trioxide depletes tumor initiating cells in small cell lung cancer. Mol Biol Rep 49, 2245–2253 (2022). https://doi.org/10.1007/s11033-021-07046-w
Received:

Accepted:

Published:

Issue Date:

DOI: https://doi.org/10.1007/s11033-021-07046-w
Keywords
Small cell lung cancer

Arsenic trioxide

Tumor initiating cells

Notch