Abstract
Traditional serotyping based on the phenotypic variation of O- and H-antigen remains as the gold-standard for the identification and classification of Salmonella isolates for last 70 years. Although this classification is a globally recognized nomenclature, huge diversity of Salmonella serotypes have made the serovar identification to be very complex. Seven gene multilocus sequence typing (MLST) on the other hand can provide serovar prediction as well as the evolutionary origin between the serovars. In this study non typhoidal Salmonella (NTS) strains (n = 45) isolated from clinical samples (blood, faeces and pus) were identified by traditional phenotypic serotyping and biochemical testing. All the tested Salmonella isolates were designated as serovar Typhimurium based on phenotyping. However, by MLST 60% (27/45) of the isolates were S. Typhimurium, 35.5% (16/45) were S. Agona (ST13), 2.2% (1/45) were S. Kentucky (ST198) and 2.2% (1/45) were S. Saintpaul (ST27). MLST analysis assigned S. Typhimurium isolates as ST36 (18/127), ST19 (7/27) and ST313 (2/27). Mismatches in serovar designation between MLST database and phenotypic serotyping can be due to the misinterpretation of phenotypic serotyping as the antigenic structures of S. Typhimurium, S. Agona differs by a surface antigen. MLST based phylogeny of study isolates showed clustering according to sequence types. Concordance between MLST based sequence type and phenotypic serotype is important to provide insights into genetic population structure of Salmonella.
Access options
Buy single article
Instant access to the full article PDF.
US$ 39.95
Tax calculation will be finalised during checkout.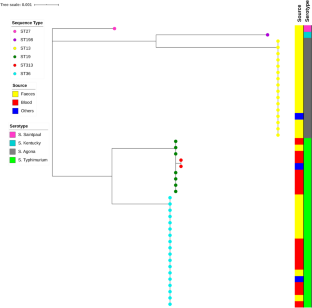 References
1.

Eng SK, Pusparajah P, Ab Mutalib NS, Ser HL, Chan KG, Lee LH (2015) Salmonella: a review on pathogenesis, epidemiology and antibiotic resistance. Front Life Sci 8:284–293

2.

Tindall BJ, Grimont PA, Garrity GM, Euzeby JP (2005) Nomenclature and taxonomy of the genus Salmonella. Int J Syst Evol Microbiol 55:521–524

3.

Porwollik S, Boyd EF, Choy C, Cheng P, Florea L, Proctor E, McClelland M (2004) Characterization of Salmonella enterica subspecies I genovars by use of microarrays. J Bacteriol 186:5883–5898

4.

Gal-Mor O, Boyle EC, Grassl GA (2014) Same species, different diseases: how and why typhoidal and non-typhoidal Salmonella enterica serovars differ. Front Microbiol 5:391

5.

Crump JA, Sjölund-Karlsson M, Gordon MA, Parry CM (2015) Epidemiology, clinical presentation, laboratory diagnosis, antimicrobial resistance, and antimicrobial management of invasive Salmonella infections. Clin Microbiol Rev 28:901–937

6.

Ferrari RG, Panzenhagen PH, Conte-Junior CA (2017) Phenotypic and genotypic eligible methods for Salmonella Typhimurium source tracking. Front Microbiol 8:2587

7.

Grimont PA, Weill FX (2007) Antigenic formulae of the Salmonella serovars. WHO collaborating centre for reference and research on Salmonella 9, 1–66

8.

Ibrahim GM, Morin PM (2018) Salmonella serotyping using whole genome sequencing. Front Microbiol 9:2993

9.

Chattopadhyay S, Paul S, Kisiela DI, Linardopoulou EV, Sokurenko EV (2012) Convergent molecular evolution of genomic cores in Salmonella enterica and Escherichia coli. J Bacteriol 194:5002–5011

10.

Alikhan NF, Zhou Z, Sergeant MJ, Achtman M (2018) A genomic overview of the population structure of Salmonella. PLoS Genet 14:e1007261

11.

Shi C, Singh P, Ranieri ML, Wiedmann M, Moreno Switt AI (2015) Molecular methods for serovar determination of Salmonella. Crit Rev Microbiol 41:309–325

12.

Gilmour MW, Graham MW, Reimer A, Van Domselaar G (2013) Public health genomics and the new molecular epidemiology of bacterial pathogens. Public Health Genomics 6:25–30

13.

Achtman M, Wain J, Weill FX, Nair S, Zhou Z, Sangal V, Krauland MG, Hale JL, Harbottle H, Uesbeck A, Dougan G (2012) Multilocus sequence typing as a replacement for serotyping in Salmonella enterica. PLoS Pathog 8:e1002776

14.

Pethplerdprao P, Supa-amornkul S, Panvisavas N, Chaturongakul S (2017) Salmonella enterica multilocus sequence typing and its correlation with serotypes. Food Biotechnol 31:73–79

15.

Phu Huong Lan N, Le Thi PT, Nguyen Huu H, Thuy L, Mather AE, Park SE, Marks F, Thwaites GE, Van Vinh CN, Thompson CN, Baker S (2016) Invasive non-typhoidal Salmonella infections in Asia: clinical observations, disease outcome and dominant serovars from an infectious disease hospital in Vietnam. PLoS Negl Trop Dis 10:e0004857

16.

Ashton PM, Nair S, Peters T, Bale J, Powell DG, Painset A, Tewolde R, Jenkins C, Dallman TJ, DePinna EM (2015) Identification and typing of Salmonella for public health surveillance using whole genome sequencing. PeerJ 3:e1425v1

17.

Bale JA, de Pinna EM, Threlfall E, Ward LR (2007) Kauffmann-white scheme-2007: Salmonella identification: serotypes and antigen formulae. Centre for Infections, Health Protection Agency, Colindale, London

18.

Jeanmougin F, Thompson JD, Gouy M, Higgins DG, Gibson TJ (1998) Multiple sequence alignment with Clustal X. Trends Biochem Sci 23:403–405

19.

Tamura K, Dudley J, Nei M, Kumar S (2007) MEGA4: molecular evolutionary genetics analysis (MEGA) software version 4.0. Mol Biol Evol 24:1596–1599

20.

Letunic I, Bork P (2016) Interactive tree of life (iTOL) v3: an online tool for the display and annotation of phylogenetic and other trees. Nucleic Acids Res 44(W1):W242–W245

21.

Lan NP, Phuong TL, Huu HN, Thuy L, Mather AE, Park SE, Marks F, Thwaites GE, Chau NV, Thompson CN, Baker S (2016) Invasive non-typhoidal Salmonella infections in Asia: clinical observations, disease outcome and dominant serovars from an infectious disease hospital in Vietnam. PLoS Negl Trop Dis 10:e0004857

22.

Kingsley RA, Msefula CL, Thomson NR, Kariuki S, Holt KE, Gordon MA, Harris D, Clarke L, Whitehead S, Sangal V, Marsh K (2009) Epidemic multiple drug resistant Salmonella Typhimurium causing invasive disease in sub-Saharan Africa have a distinct genotype. Genome Res 19:2279–2287

23.

Gordon MA, Graham SM, Walsh AL, Wilson L, Phiri A, Molyneux E, Zijlstra EE, Heyderman RS, Hart CA, Molyneux ME (2008) Epidemics of invasive Salmonella enterica serovar Enteritidis and S. enterica Serovar Typhimurium infection associated with multidrug resistance among adults and children in Malawi. Clin Infect Dis 46:963–969

24.

Jacob JJ, Anandan S, Venkatesan M, Neeravi A, Vasudevan K, Pragasam AK, Veeraraghavan B (2019) Genomic analysis of human invasive Salmonella enterica serovar Typhimurium ST313 isolate B3589 from India. Infect Genet Evol 73:416–424

25.

Worley J, Meng J, Allard MW, Brown EW, Timme RE (2018) Salmonella enterica phylogeny based on whole-genome sequencing reveals two new clades and novel patterns of horizontally acquired genetic elements. MBio 9:e02303–e2318

26.

Ranieri ML, Shi C, Switt AI, Den Bakker HC, Wiedmann M (2013) Comparison of typing methods with a new procedure based on sequence characterization for Salmonella serovar prediction. J Clin Microbiol 51:1786–1797

27.

Lienemann T, Kyyhkynen A, Halkilahti J, Haukka K, Siitonen A (2015) Characterization of Salmonella Typhimurium isolates from domestically acquired infections in Finland by phage typing, antimicrobial susceptibility testing, PFGE and MLVA. BMC Microbiol 15:131

28.

Pettengill JB, Timme RE, Barrangou R, Toro M, Allard MW, Strain E, Musser SM, Brown EW (2014) The evolutionary history and diagnostic utility of the CRISPR-Cas system within Salmonella enterica ssp. enterica. PeerJ 2:e340
Acknowledgements
The authors thank Department of clinical Microbiology, Christian Medical College and Hospital, Vellore for providing all necessary facilities and National Escherichia and Salmonella Centre (NESC), Kasauli, for their laboratory expertise in serotyping. The study has been funded by the Indian Council of Medical Research, New Delhi, India (Ref. No: AMR/Adoc/186/2019-ECD-II dated 26/08/2019).
Ethics declarations
Conflict of interest
The authors declare that there is no potential conflict of interest.
Additional information
Publisher's Note
Springer Nature remains neutral with regard to jurisdictional claims in published maps and institutional affiliations.
Electronic supplementary material
Below is the link to the electronic supplementary material.
About this article
Cite this article
Jacob, J.J., Rachel, T., Shankar, B.A. et al. MLST based serotype prediction for the accurate identification of non typhoidal Salmonella serovars. Mol Biol Rep 47, 7797–7803 (2020). https://doi.org/10.1007/s11033-020-05856-y
Received:

Accepted:

Published:

Issue Date:
Keywords
Serotyping

MLST

Non typhoidal Salmonella

Sequence types