Abstract
Rhododendron is a genus of evergreen woody ornamental plants of northern hemisphere with strong cold resistance, attractive flowers and high altitude adaptation capacity. The genus originated and diversified from Sino-Himalayan region and spread across the world, and has high species diversity in Northeast India. To assess cross-species amplification, we tested 32 microsatellites markers in fifteen taxa of the genus Rhododendron of North-eastern Himalaya, of which fourteen microsatellites were newly developed from Rhododendron simsii, and eighteen microsatellites were previously developed from Rhododendron catawbiense and Rhododendron mucronatum var. ripense. Nine pairs of primers were amplified successfully in all species, however, none of them was failed for amplification in any of the species. The average observed heterozygosity, expected heterozygosity and PIC value were recorded as 0.310, 0.433 and 0.379 respectively. Clustering based on neighbour-joining analysis revealed the potential of these markers to segregate species according to their subgenus level, however, subspecies exhibited closeness with each other. Cross-application of these microsatellite loci will provide a potentially useful tool to investigate the genetic diversity, population structure, gene flow, phylogenetics and evolutionary relationships in species of genus Rhododendron.
Access options
Buy single article
Instant access to the full article PDF.
USD 39.95
Price excludes VAT (USA)
Tax calculation will be finalised during checkout.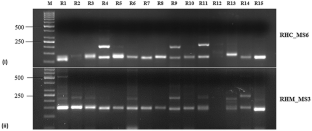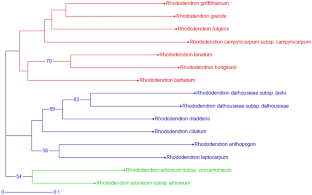 References
Cheng S, Zong Y, Chen M, Wang J, Liao M, Liu F (2018) De novo assembly and characterization of Rhododendron hybridum Hort. (Ericaceae) global transcriptome using Illumina sequencing. Pak J Bot 50:757–761

Dendauw J, De Riek J, Arens P, Van Bockstaele E, Vosman B, De Loose M (2001) Development of sequenced tagged microsatellite site (STMS) markers in azalea. Acta Hort 546:193–197

Gibbs D, Chamberlain D, Argent G (2011) The Red List of rhododendrons. Botanic Gardens Conservation International, Richmond

Jugran AK, Bhatt ID, Mondal S, Rawal RS, Nandi SK (2015) Genetic diversity assessment of Valeriana jatamansi Jones using microsatellites markers. Curr Sci 109:1273–1282

Kumar P (2012) Assessment of impact of climate change on Rhododendrons in Sikkim Himalayas using Maxent modelling: Limitations and challenges. Biodivers Conserv 21:1251–1266

Ma Y, Milne RI, Zhang C, Yang J (2010) Unusual patterns of hybridization involving a narrow endemic Rhododendron species (Ericaceae) in Yunnan, China. Amer J Bot 97:1749–1757

Masoudi-Nejad A, Tonomura K, Kawashima S, Moriya Y, Suzuki M, Itoh M et al (2006) EGassembler: online bioinformatics service for large-scale processing, clustering and assembling ESTs and genomic DNA fragments. Nucleic Acids Res 34:W459–W462

Naito K, Isagi Y, Nakagoshi N (1998) Isolation and characterization of microsatellites of Rhododendron metternichii Sieb. et Zucc. var. hondoense Nakai. Mol Ecol 7:927–928

Perrier X, Jacquemoud-Collet JP (2006) DARwin software. Genetic Improvement of Vegetatively Propagated Crops

Schrey AW, Sloss BL, Sheehan RJ, Heidinger RC, Heist EJ (2007) Genetic discrimination of middle Mississippi River Scaphirhynchus sturgeon into pallid, shovelnose, and putative hybrids with multiple microsatellite loci. Conserv Genet 8:683–693

Sharma H, Kumar P, Singh A, Aggarwal K, Roy J, Sharma V, Rawat S (2020) Development of polymorphic EST-SSR markers and their applicability in genetic diversity evaluation in Rhododendron arboreum. Mol Biol Rep 47:2447–2457

Sharma RK, Bhardwaj P, Negi R, Mohapatra T, Ahuja PS (2009) Identification, characterization and utilization of unigene derived microsatellite markers in tea (Camellia sinensis L). BMC Plant Biol 9:53

Sharma RK, Chaudhary A, Sharma H, Bhardwaj P, Sharma V, Kumar R, Ahuja PS (2015) Identification and cross-species amplification of microsatellite markers derived from expressed sequence data of rose species. J Plant Biochem Biotech 24:359–364

Sekar KC, Srivastava SK (2010) Rhododendrons in Indian Himalayan region: diversity and conservation. Amer J Plant Sci 1:131–137

Shrestha N, Wang Z, Su S, Xu X, Lyu L, Liu Y. Dimitrov D, Kennedy JD, Wang Q, Tang Z, Feng X (2018) Global patterns of Rhododendron diversity: The role of evolutionary time and diversification rates. Global Ecol Biogeogr 27:913–924

Tan XX, Li Y, Ge XJ (2009) Development and characterization of eight polymorphic microsatellites for Rhododendron simsii Planch (Ericaceae). Conserv Genet 10:1553

Wang XQ, Huang Y, Long CL (2009) Isolation and characterization of twenty-four microsatellite loci for Rhododendron decorum Franch. (Ericaceae). HortSci 44:2028–2030

Wang XQ, Huang Y, Long CL (2010) Cross-amplification and characterization of microsatellite loci for the genus Rhododendron. HortSci 45:1394–1397

Xing W, Liao J, Cai M, Xia Q, Liu Y, Zeng W, Jin X (2017) De novo assembly of transcriptome from Rhododendron latoucheae Franch. using Illumina sequencing and development of new EST-SSR markers for genetic diversity analysis in Rhododendron. Tree Genet Genom 13:53

Yeh FC, Yang RC, Boyle T et al (1999) POPGENE, version 1.32: the user friendly software for population genetic analysis. Molecular Biology and Biotechnology Centre, University of Alberta, Edmonton

Zhang Y, Zhang X, Wang YH, Shen SK (2017) De Novo assembly of transcriptome and development of novel EST-SSR markers in Rhododendron rex Levl. through Illumina sequencing. Frontier Plant Sci 8:1664
Acknowledgements
G. B. Pant National Institute of Himalayan Environment and National Agri-Food Biotechnology Institute, Mohali are acknowledged for providing necessary facilities. Department of Forest, Environment and Wildlife Management, Govt. of Sikkim is highly acknowledged for support in joint project on Himalayan Nature Learning Centre (H-NLC) Development.
Ethics declarations
Conflict of interest
The authors declare that they have no conflict of interest.
Ethical approval
This article does not contain any studies with human participants or animals performed by any of the authors.
Additional information
Publisher's Note
Springer Nature remains neutral with regard to jurisdictional claims in published maps and institutional affiliations.
About this article
Cite this article
Sharma, H., Bhandawat, A. & Rawat, S. Cross-transferability of SSR markers developed in Rhododendron species of Himalaya. Mol Biol Rep 47, 6399–6406 (2020). https://doi.org/10.1007/s11033-020-05606-0
Received:

Accepted:

Published:

Issue Date:

DOI: https://doi.org/10.1007/s11033-020-05606-0
Keywords