Abstract
Rheumatoid arthritis (RA) is an autoimmune disease characterized by chronic inflammation of synovial joints and often associated with chronic pain. Chronic joint inflammation is attributed to severe proliferation of synoviocytes and resident macrophages and infiltration of immune cells. These cells secrete pro-inflammatory cytokines such as tumor necrosis factor α (TNF-α), interleukin 6 (IL-6) and IL-17 to overcome actions of anti-inflammatory cytokines, thereby maintaining chronic inflammation and pain. The imbalance between pro-inflammatory cytokines (produced by M1 macrophages) and anti-inflammatory cytokines (produced by M2 macrophages) is a feature of RA progression, but the switch time of M1/M2 polarization and which receptor regulates the switch remain unsolved. Here we used an established RA mouse model to demonstrate that TNF-α expression was responsible for the initial acute stage of inflammation and pain (1–4 weeks), IL-17 expression the transition stage (4–12 weeks), and IL-6 expression the later maintenance stage (> 12 weeks). The switch time of M1/M2 polarization occurred at 4–8 weeks. We also identified a potential compound, anthra[2,1-c][1,2,5] thiadiazole-6,11-dione (NSC745885), that specifically inhibited T-cell death-associated gene 8 (TDAG8) function and expression. NSC745885 decreased joint inflammation and destruction and attenuated pain by reducing cytokine production and regulating the M1/M2 polarization switch. TDAG8 may participate in regulating the M1/M2 polarization and temporal expression of distinct cytokines to control RA progression.
Access options
Buy single article
Instant access to the full article PDF.
USD 39.95
Price includes VAT (USA)
Tax calculation will be finalised during checkout.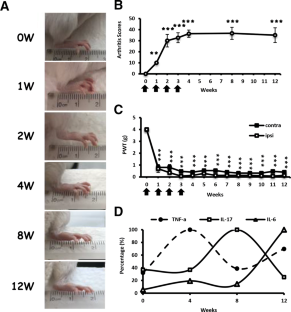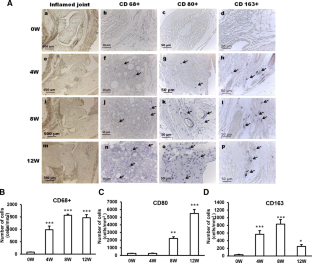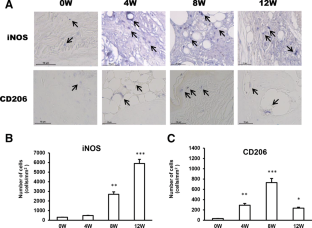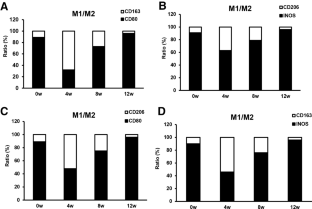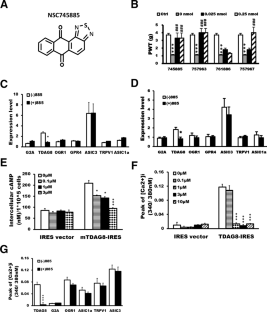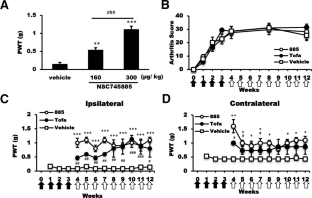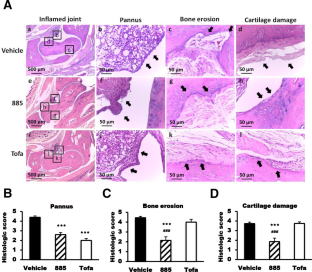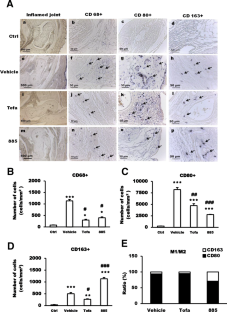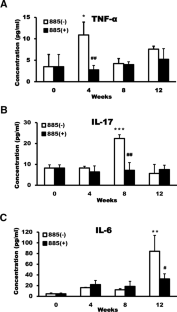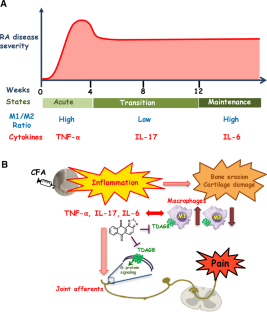 References
1.

Brenn D, Richter F, Schaible HG (2007) Sensitization of unmyelinated sensory fibers of the joint nerve to mechanical stimuli by interleukin-6 in the rat: an inflammatory mechanism of joint pain. Arthritis Rheum 56:351–359

2.

Brühl H, Cihak J, Plachy J, Kunz-Schughart L, Niedermeier M, Denzel A, Gomez MR, Talke Y, Luckow B, Stangassinger M, Mack M (2007) Targeting of Gr-1+, CCR2+ monocytes in collagen-induced arthritis. Arthritis Rheum 56:2975–2985

3.

Boettger MK, Hensellek S, Richter F, Gajda M, Stockigt R, Banchet GSV, Brauer R, Schaible HG (2008) Antinociceptive effects of tumor necrosis factor alpha neutralization in a rat model of antigen-induced arthritis: evidence of a neuronal target. Arthritis Rheum 58:2368–2378

4.

Butler DM, Maini RN, Feldmann M, Brennan FM (1995) Modulation of proinflammatory cytokine release in rheumatoid synovial membrane cell cultures. Comparison of monoclonal anti TNF-alpha antibody with the interleukin-1 receptor antagonist. Eur Cytokine Netw 6(4):225–230

5.

Chabaud M, Fossiez F, Taupin JL, Miossec P (1998) Enhancing effect of IL-17 on IL-1-induced IL-6 and leukemia inhibitory factor production by rheumatoid arthritis synoviocytes and its regulation by Th2 cytokines. J Immunol 161(1):409–414

6.

Chen YJ, Huang CW, Lin CS, Chang WH, Sun WH (2009) Expression and function of proton-sensing G-protein-coupled receptors in inflammatory pain. Mol Pain 5:19

7.

Dai SP, Huang YH, Chang CJ, Huang YF, Hsieh WS, Tabata Y, Ishii S, Sun WH (2017) TDAG8 involved in initiating inflammatory hyperalgesia and establishing hyperalgesic priming in mice. Sci Rep 7:41415

8.

Ebbinghaus M, Segond von Banchet G, Massier J, Gajda M, Bräuer R, Kress M, Schaible HG (2015) Interleukin-6-dependent influence of nociceptive sensory neurons on antigen-induced arthritis. Arthritis Res Ther 17:334

9.

Ebbinghaus M, Natura G, Segond von Banchet G, Hensellek S, Böttcher M, Hoffmann B, Salah FS, Gajda M, Kamradt T, Schaible HG (2017) Interleukin-17A is involved in mechanical hyperalgesia but not in the severity of murine antigen-induced arthritis. Sci Rep 7(1):10334

10.

Firestein GS (2003) Evolving concepts of rheumatoid arthritis. Nature 423:356–361

11.

Gabay C (2006) Interleukin-6 and chronic inflammation. Arthritis Res Ther 8(suppl 2):S3

12.

Gaublomme JT, Yosef N, Lee Y, Gertner RS, Yang LV, Wu C, Pandolfi PP, Mak T, Satija R, Shalek AK, Kuchroo VK, Park H, Regev A (2015) Single-cell genomics unveils critical regulators of Th17 cell pathogenicity. Cell 163:1400–1412

13.

Hahn G, Stuhlmuller B, Hain N, Kalden JR, Pfizenmaier K, Burmester GR (1993) Modulation of monocyte activation in patients with rheumatoid arthritis by leukapheresis therapy. J Clin Invest 91:862–870

14.

Hamilton Tak JAPP (2009) Analysis of the synovial cell infiltrate in early rheumatoid synovial tissue in relation to local disease activity. Arthritis Rheum 60:1210–1221

15.

Heiberg T, Finset A, Uhlig T, Kvien TK (2005) Seven year changes in health status and priorities for improvement of health in patients with rheumatoid arthritis. Ann Rheum Dis 64:191–195

16.

Hess A, Axmann R, Rech J, Finzel S, Heindl C, Kreitz S, Sergeeva M, Saake M, Garcia M, Kollias G, Straub RH, Sporns O, Doerfler A, Brune K, Schett G (2011) Blockade of TNF-α rapidly inhibits pain responses in the central nervous system. PNAS 108:3731–3736

17.

Houssiau FA, Devogelaer JP, Van Damme J, de Deuxchaisnes CN, Van Snick J (1988) Interleukin-6 in synovial fluid and serum of patients with rheumatoid arthritis and other inflammatory arthritides. Arthritis Rheum 31(6):784–788

18.

Hsieh WS, Kung CC, Huang SL, Lin SC, Sun WH (2017) TDAG8, TRPV1, and ASIC3 involved in establishing hyperalgesic priming in experimental rheumatoid arthritis. Sci Rep 7:8870

19.

Huang CW, Tzeng JN, Chen YJ, Tsai WF, Chen CC, Sun WH (2007) Nociceptors of dorsal root ganglion express proton-sensing G protein-coupled receptors. Mol Cell Neurosci 36:195–210

20.

Huang HS, Chen TC, Chen RH, Huang KF, Huang FC, Jhan JR, Chen CL, Lee CC, Lo Y, Lin JJ (2009) Synthesis, cytotoxicity and human telomerase inhibition activities of a series of 1,2-heteroannelated anthraquinones and anthra [1,2-d] imidazole-6,11-dione homologues. Bioorg Med Chem 17:7418–7428

21.

Ishikawa J, Takahashi N, Matsumoto T, Yoshioka Y, Yamamoto N, Nishikawa M, Hibi H, Ishigro N, Ueda M, Furukawa K, Yamamoto A (2016) Factors secreted from dental pulp stem cells show multifaceted benefits for treating experimental rheumatoid arthritis. Bone 83:210–219

22.

Jin Y, Sato K, Tobo A, Mogi C, Tobo M, Murata N, Ishii S, Im DS, Okajima F (2014) Inhibition of interleukin-1β production by extracellular acidification through the TDAG8/cAMP pathway in mouse microglia. J Neurochem 129:683–695

23.

Kennedy A, Fearon U, Veale DJ, Godson C (2011) Macrophages in synovial inflammation. Front Immunol 2:52

24.

Kokkonen H, Söderström I, Rocklöv J, Hallmans G, Lejon K, Rantapää DS (2010) Up-regulation of cytokines and chemokines predates the onset of rheumatoid arthritis. Arthritis Rheum 62(2):383–391

25.

Kolls JK, Lindén A (2004) Interleukin-17 family members and inflammation. Immunity 21(4):467–476

26.

Mogi C, Tobo M, Tomura H, Murata N, He XD, Sato K, Kimura T, Ishizuka T, Sasaki T, Sato T, Kihara Y, Ishii S, Harada A, Okajima F (2009) Involvement of proton-sensing TDAG8 in extracellular acidification-induced inhibition of proinflammatory cytokine production in peritoneal macrophages. J Immunol 182:3243–3251

27.

Morris VH, Cruwys SC, Kidd BL (1997) Characterization of capsacin-induced mechanical hyperalgesia as a marker for altered nociceptive processing in patients with rheumatoid arthritis. Pain 71:179–186

28.

Nawroth PP, Bank I, Handley D, Cassimeris J, Chess L, Stern D (1986) Tumor necrosis factor/cachectin interacts with endothelial cell receptors to induce release of interleukin 1. J Exp Med 163:1363–1375

29.

Nowell MA, Richards PJ, Horiuchi S, Yamamoto N, Rose JS, Topley N, Williams AS, Jones SA (2003) Soluble IL-6 receptor governs IL-6 activity in experimental arthritis: blockage of arthritis severity by soluble glycoprotein 130. J Immunol 171:3202–3209

30.

Onozawa Y, Fujita Y, Kuwabara H, Nagasaki M, Komai T, Oda T (2012) Activation of T cell death-associated gene 8 regulates the cytokine production of T cells and macrophages in vitro. Eur J Pharmacol 683:325–331

31.

Peng J, Gu N, Zhou L, Eyo UB, Murugan M, Gan WB, Wu LL (2016) Microglia and monocytes synergistically promote the transition from acute to chronic pain after nerve injury. Nat Commun 7:12029

32.

Qin S, Rottman JB, Myers P, Kassam N, Weinblatt M, Loetscher M, Koch AE, Moser B, Mackay CR (1998) The chemokine receptors CXCR3 and CCR5 mark subsets of T cells associated with certain inflammatory reactions. J Clin Invest 101(4):746–754

33.

Raggi F, Pelassa S, Pierobon D, Penco F, Gattorno M, Novelli F, Eva A, Varesio L, Giovarelli M, Bosco MC (2017) Regulation of human macrophage M1–M2 polarization balance by hypoxia and the triggering receptor expressed on myeloid cells-1. Front Immunol 8:1097

34.

Richter F, Natura G, Ebbinghaus M, von Banchet GS, Hensellek S, König C, Bräuer R, Schaible HG (2012) Interleukin-17 sensitizes joint nociceptors to mechanical stimuli and contributes to arthritic pain through neuronal interleukin-17 receptors in rodents. Arthritis Rheum 64:4125–4134

35.

Roiniotis J, Dinh H, Masendycz P, Turner A, Elsegood CL, Scholz GM, Hamilton JA (2009) Hypoxia prolongs monocyte/macrophage survival and enhanced glycolysis is associated with their maturation under aerobic conditions. J Immunol 82(12):7974–7981

36.

Schaible HG (2014) Nociceptive neurons detect cytokines in arthritis. Arthritis Res Ther 16:470

37.

Schrijver IA, Melief MJ, Tak PP, Hazenberg MP, Laman JD (2000) Antigen-presenting cells containing bacterial peptidoglycan in synovial tissues of rheumatoid arthritis patients coexpress costimulatory molecules and cytokines. Arthritis Rheum 43:2160–2168

38.

Tak PP, Smeets TJ, Daha MR, Kluin PM, Meijers KA, Brand R, Meinders AE, Breedveld FC (1997) Analysis of the synovial cell infiltrate in early rheumatoid synovial tissue in relation to local disease activity. Arthritis Rheum 40(2):217–225

39.

ten Klooster PM, Veehof MM, Taal E, Riel P, Laar M (2007) Changes in priorities for improvement in patients with rheumatoid arthritis during 1 year of anti-tumour necrosis factor treatment. Ann Rheum Dis 66:1485–1490

40.

Tsuneyoshi Y, Tanaka M, Nagai T, Sunahara N, Matsuda T, Sonoda T, Ijiri K, Komiya S, Matsuyama T (2012) Functional folate receptor beta-expressing macrophages in osteoarthritis synovium and their M1/M2 expression profiles. Scand J Rheumatol 41(2):132–140

41.

Udalova IA, Mantovani A, Feldmann M (2016) Macrophage heterogeneity in the context of rheumatoid arthritis. Nat Rev Rheumatol 12(8):472–485

42.

Vandooren B, Noordenbos T, Ambarus C, Krausz S, Cantaert T, Yeremenko N, Boumans M, Lutter R, Tak PP, Baeten D (2009) Absence of a classically activated macrophage cytokine signature in peripheral spondylarthritis, including psoriatic arthritis. Arthritis Rheum 60:966–975

43.

Zhang Q, Yuan R, Li C, Wei W, Shen W, Cui Y, Yuan X (2019) Macrophages depletion with clodronate-containing liposomes affects the incidence and development of rheumatoid arthritis. Z Rheimatol 78:996–1003
Acknowledgements
We thank the Taiwan Mouse Clinic (MOST 107-2319-B-001-002), which is funded by the National Research Program for Biopharmaceuticals (NRPB) at the Ministry of Science and Technology (MOST) of Taiwan, for technical support in H&E staining.
Funding
This work was supported by the funds from the Ministry of Science and Technology, Taiwan (Grant No. MOST 106-2320-B-008-004-MY3).
Ethics declarations
Conflicts of interest
None of the authors have any non-financial conflict of interest.
Ethical approval
All applicable international, national, and/or institutional guidelines for the care and use of animals were followed.
Additional information
Publisher's Note
Springer Nature remains neutral with regard to jurisdictional claims in published maps and institutional affiliations.
About this article
Cite this article
Kung, CC., Dai, SP., Chiang, H. et al. Temporal expression patterns of distinct cytokines and M1/M2 macrophage polarization regulate rheumatoid arthritis progression. Mol Biol Rep 47, 3423–3437 (2020). https://doi.org/10.1007/s11033-020-05422-6
Received:

Accepted:

Published:

Issue Date:
Keywords
TDAG8

Rheumatoid arthritis

Chronic pain

M1 macrophages

M2 macrophages

TNF-α

IL-6

IL-17