Abstract
Seven isolates of Trichoderma spp. (T1 to T7) from Egypt were evaluated in vitro by bioassay for their potential to antagonize Fusarium oxysporum f.sp. lycopersici (FOL, the causal pathogen of tomato wilt disease). The highest percentage of inhibition against the tested pathogenic isolate were obtained with Trichoderma isolate (T7) followed by Trichoderma isolate (T3). In greenhouse experiments, the application of the highly antagonistic isolates of Trichoderma spp. (T3 and T7) led to a significant decrease of disease severity compared to the untreated control treatment. The lowest severity was achieved with the T3 isolate (24.8%) followed by isolate T7 (34.6%) compared with the other tested isolates. To understand the ability of Trichoderma isolates to protect against wilt disease, its induced systemic resistance in tomato plants has been studied. The expression of a defense-related gene (β-1,3-glucanase gene) was assessed by real-time RT-PCR in tomato plants to test the accumulation kinetics of transcripts encoding PR proteins in the roots of tomato in control (only with the pathogen), T3&FOL, and T7&FOL treatments. The highest degree of gene expression was found in tomato plants which were treated with T3&FOL compared with control (pathogen only). Two species of antagonistic Trichoderma (T3& T7) were characterized based on molecular tools using internal transcribed spacers (ITS1 and ITS4). The results of genetic characterization identified two different species of Trichoderma (T. atroviride and T. longibrachiatum).
Access options
Buy single article
Instant access to the full article PDF.
US$ 39.95
Tax calculation will be finalised during checkout.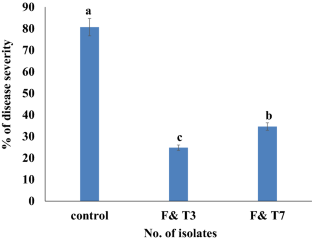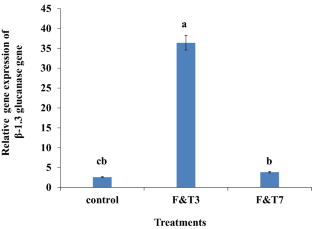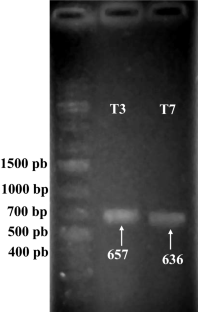 References
1.

Barari H (2016) Biocontrol of tomato Fusarium wilt by Trichoderma  species under in vitro and in vivo conditions. Cercet Agron Mold 49(1):91–98. https://doi.org/10.1515/cerce-2016-0008

2.

Jarvis W (1988) Fusarium crown and root rot of tomatoes. Phytoprotection 69:49–64

3.

Ghazalibiglar H, Hampton JG, van ZijlldeJong E, Holyoake A (2016) Evaluation of Paenibacillus spp. isolates for the biological control of black rot in Brassica oleracea var. capitata (cabbage). Biocontrol Sci Technol 26:504–515. https://doi.org/10.1080/09583157.2015.1129052

4.

Verma V, Ravindran P, Kumar PP (2016) Plant hormone-mediated regulation of stress responses. BMC Plant Biol 16:86. https://doi.org/10.1186/s12870-016-0771-y

5.

Harman GE (2006) Overview of mechanisms and uses of Trichoderma spp. Phytopathology 96:190–194. https://doi.org/10.1094/PHYTO-96-0190

6.

Akrami M, Yousefi Z (2015) Biological control of Fusarium wilt of tomato (Solanum lycopersicum) by Trichoderma spp as Antagonist fungi. Biol Forum 7:887–892

7.

Boureghda H, Bouznad Z (2009) Biological control of Fusarium wilt of chickpea using isolates of Trichoderma atroviride, T. harzianum and T. longibrachiatum. Acta Phytopathol Entomol Hungarica 44:25–38. https://doi.org/10.1556/APhyt.44.2009.1.4

8.

Kareem T, Ugoji O, Aboaba O (2016) Biocontrol of Fusarium wilt of cucumber with Trichoderma longibrachiatum NGJ167 (Rifai). Br Microbiol Res J 16:1–11. https://doi.org/10.9734/BMRJ/2016/28208

9.

Galarza L, Akagi Y, Takao K et al (2015) Characterization of Trichoderma species isolated in Ecuador and their antagonistic activities against phytopathogenic fungi from Ecuador and Japan. J Gen Plant Pathol 81:201–210. https://doi.org/10.1007/s10327-015-0587-x

10.

Bell DK, Wells HD, Markham CR (1982) In vitro antagonism of Trichoderma species against six fungal pathogens. Phytopathology 72(4):379–382

11.

Elad Y, Kapat A (1999) The role of Trichoderma harzianum protease in the biocontrol of Botrytis cinerea. Eur J Plant Pathol 105:177–189. https://doi.org/10.1023/A:1008753629207

12.

Ramezani H (2011) Efficacy of some fungal and bacterial bioagents against Fu sarium oxysporum f. sp. ciceri on chickpea

13.

Harman GE, Howell CR, Viterbo A et al (2004) Trichoderma species—opportunistic, avirulent plant symbionts. Nat Rev Microbiol 2:43–56. https://doi.org/10.1038/nrmicro797

14.

Yedidia I, Benhamou N, Chet I (1999) Induction of defense responses in cucumber plants (Cucumis sativus L.) By the biocontrol agent Trichoderma harzianum. Appl Environ Microbiol 65:1061–1070

15.

Leah R, Tommerup H, Svendsen I, Mundy J (1991) Biochemical and molecular characterization of three barley seed proteins with antifungal properties. J Biol Chem 266:1564–1573

16.

Kauffmann S, Legrand M, Geoffroy P, Fritig B (1987) Biological function of;pathogenesis-related' proteins: four PR proteins of tobacco have 1,3-beta-glucanase activity. EMBO J 6:3209–3212

17.

Druzhinina IS, Kopchinskiy AG, Komoń M et al (2005) An oligonucleotide barcode for species identification in Trichoderma and Hypocrea. Fungal Genet Biol 42:813–828. https://doi.org/10.1016/j.fgb.2005.06.007

18.

Samuels GJ (2006) Trichoderma: systematics, the sexual state, and ecology. Phytopathology 96:195–206. https://doi.org/10.1094/PHYTO-96-0195

19.

Kubicek CP, Komon-Zelazowska M, Druzhinina IS (2008) Fungal genus Hypocrea/Trichoderma: from barcodes to biodiversity. J Zhejiang Univ Sci B 9:753–763. https://doi.org/10.1631/jzus.B0860015

20.

Ospina-Giraldo MD, Royse DJ, Thon MR et al (1998) Phylogenetic relationships of Trichoderma harzianum causing mushroom green mold in Europe and North America to other species of Trichoderma from world-wide sources. Mycologia 90:76–81. https://doi.org/10.1080/00275514.1998.12026881

21.

Kullnig-Gradinger CM, Szakacs G, Kubicek CP (2002) Phylogeny and evolution of the genus Trichoderma: a multigene approach. Mycol Res 106:757–767. https://doi.org/10.1017/S0953756202006172

22.

Lee C-F, Hseu T-H (2002) Genetic relatedness of Trichoderma sect. Pachybasium species based on molecular approaches. Can J Microbiol 48:831–840

23.

Selim ME, Khalifa E, Amer G et al (2015) Evaluation and characterization of some Egyptian Fusarium oxysporum isolates for their virulence on tomato and PCR detection of (SIX) effector genes. J Bioprocess Biotech 05:1–6. https://doi.org/10.4172/2155-9821.1000204

24.

Elrazik AAA, Hassan M, Koch E (2009) Powder formulations of Bacillus subtilis, Trichoderma spp and Coniothyrium minitans for biocontrol of Onion White Rot. Arch Phytopathol Plant Protect 42(2):142–147. https://doi.org/10.1080/03235400600982675

25.

Frommel MI, Pazos GS, Nowak J (1991) Plant-growth stimulation and biocontrol of Fusarium wilt (Fusarium oxysporum f.sp. lycopersici) by co-inoculation of tomato seeds with Serratia plymuthica and Pseudomonas sp. Fitopatologia 26:66–73

26.

Waudo SW, Owino PO, Kuria M, (Kenyatta UN (Kenya). D of B (1995) Control of Fusarium wilt of tomatoes using soil amendments. East African Agric For J 60(4):235–245

27.

Liu YJ, Whelen S, Hall BD (1999) Phylogenetic relationships among ascomycetes: evidence from an RNA polymerse II subunit. Mol Biol Evol 16:1799–1808. https://doi.org/10.1093/oxfordjournals.molbev.a026092

28.

White TJ, Bruns T, Leem S, Taylor JW (1990) Amplification and direct sequencing of fungal ribosomal RNA genes for phylogenetics. In: Gelfandm MADH, Gelfand J, Sninsky J, White TJ (eds) PCR protocols: a guide to methods and applications. Academic Press, New York, pp 315–322

29.

Peakall R, Smouse PE (2006) genalex 6: genetic analysis in Excel. Population genetic software for teaching and research. Mol Ecol Notes 6:288–295. https://doi.org/10.1111/j.1471-8286.2005.01155.x

30.

Gomez KA, Gomez AA, Gomez KA (1984) Statistical procedures for agricultural research. Wiley, Hoboken

31.

Nakkeeran S, Renukadevi P, Marimuthu T (2005) Antagonistic potentiality of Trichoderma viride and assessment of its efficacy for the management of cotton root rot. Arch Phytopathol Plant Prot 38:209–225. https://doi.org/10.1080/03235400500094472

32.

Singh BN, Singh A, Singh BR, Singh HB (2014) Trichoderma harzianum elicits induced resistance in sunflower challenged by Rhizoctonia solani. J Appl Microbiol 116:654–666. https://doi.org/10.1111/jam.12387

33.

Srivastava RK, Singh RK, Kumar N, Singh S (2010) Management of macrophomina disease complex in jute (Corchorus olitorius) by Trichoderma viride. J Biol Control 24:77–79. https://doi.org/10.18311/JBC/2010/3578

34.

El-Komy MH, Saleh AA, Eranthodi A, Molan YY (2015) Characterization of Novel Trichoderma asperellum isolates to select effective biocontrol agents against tomato Fusarium Wilt. Plant Pathol J 31:50–60. https://doi.org/10.5423/PPJ.OA.09.2014.0087

35.

Adekunle A, Ikotun T, Florini D, Cardwell K (2002) Field evaluation of selected formulations of Trichoderma species as seed treatment to control damping-off of cowpea caused by Macrophomina phaseolina. Afr J Biotechnol 5:419–424

36.

Papavizas GC (1984) Liquid fermentation technology for experimental production of biocontrol fungi. Phytopathology 74:1171. https://doi.org/10.1094/Phyto-74-1171

37.

Mayo S, Gutiérrez S, Malmierca MG et al (2015) Influence of Rhizoctonia solani and Trichoderma spp. in growth of bean (Phaseolus vulgaris L.) and in the induction of plant defense-related genes. Front Plant Sci 6:685. https://doi.org/10.3389/fpls.2015.00685

38.

Juroszek P, von Tiedemann A (2011) Potential strategies and future requirements for plant disease management under a changing climate. Plant Pathol 60:100–112. https://doi.org/10.1111/j.1365-3059.2010.02410.x

39.

Tsegaye Redda E, Ma J, Mei J et al (2018) Antagonistic potential of different isolates of Trichoderma against Fusarium oxysporum, Rhizoctonia solani, and Botrytis cinerea. Eur J Exp Biol 08:212. https://doi.org/10.21767/2248-9215.100053

40.

Zehra A, Meena M, Kumar Dubey M et al (2017) Activation of defense response in tomato against Fusarium wilt disease triggered by Trichoderma harzianum supplemented with exogenous chemical inducers (SA and MeJA). Braz J Bot 40:651–664. https://doi.org/10.1007/s40415-017-0382-3

41.

Ashutosh Rai PU, Rai A, Kumar R et al (2014) Differential expression of pathogenesis related protein genes in tomato during inoculation with A. Solani. J Plant Pathol Microbiol 05:1–7. https://doi.org/10.4172/2157-7471.1000217

42.

Javed S, Ahmad M, Ahmad M et al (2013) Chitinases: an update. J Pharm Bioallied Sci 5:21. https://doi.org/10.4103/0975-7406.106559

43.

Khraiwesh B, Zhu J-K, Zhu J (2012) Role of miRNAs and siRNAs in biotic and abiotic stress responses of plants. Biochim Biophys Acta 1819:137–148. https://doi.org/10.1016/j.bbagrm.2011.05.001

44.

Kavroulakis N, Ehaliotis C, Ntougias S et al (2005) Local and systemic resistance against fungal pathogens of tomato plants elicited by a compost derived from agricultural residues. Physiol Mol Plant Pathol 66:163–174. https://doi.org/10.1016/J.PMPP.2005.06.003

45.

Chaverri P, Castlebury LA, Overton BE, Samuels GJ (2003) Hypocrea/Trichoderma: species with conidiophore elongations and green conidia. Mycologia 95:1100–1140

46.

Shahid M, Srivastava M, Sharma A et al (2013) Molecular characterization of Trichoderma longibrachiatum 21PP isolated from rhizospheric soil based on universal ITS primers. Afr J Microbiol Res 7:4902–4906. https://doi.org/10.5897/AJMR2013.5761

47.

Abd-Elsalam KA, Almohimeed I, Moslem MA, Bahkali AH (2010) M13-microsatellite PCR and rDNA sequence markers for identification of Trichoderma (Hypocreaceae) species in Saudi Arabian soil. Genet Mol Res 9:2016–2024. https://doi.org/10.4238/vol9-4gmr908
Acknowledgements
The authors wish to thank Prof. Dr. Ralf T. Vögele and his research team, Department of Phytopathology, Agricultural Science Faculty, University of Hohenheim, Germany for supporting this work. We also appreciate Dr. Javed Siddique, Wheat Breeding and Training Director GRAIN Project of the Michigan State University in Afghanistan and Nathan Abshir, University of Nebraska-Lincoln, USA for discussing the results of this study. This work was supported and funded by Cultural Affairs & Mission Sector in Egypt.
Funding
This work was supported and funded by Cultural Affairs & Mission Sector in Egypt.
Ethics declarations
Conflict of interest
The authors declare that they have no conflict of interests.
Additional information
Publisher's Note
Springer Nature remains neutral with regard to jurisdictional claims in published maps and institutional affiliations.
About this article
Cite this article
Sallam, N.M.A., Eraky, A.M.I. & Sallam, A. Effect of Trichoderma spp. on Fusarium wilt disease of tomato. Mol Biol Rep 46, 4463–4470 (2019). https://doi.org/10.1007/s11033-019-04901-9
Received:

Accepted:

Published:

Issue Date:
Keywords
Induced resistance

Tomato wilt disease

Internal transcribed spacer (ITS)

Real-time RT-PCR