Abstract
Primary hypolactasia is the main cause of lactose intolerance in adults. It is strongly associated with the single genetic variant LCT-13910C>T, located upstream of the lactase encoding gene. Consequently, analysis of LCT-13910C>T has been recommended as a direct genetic test for the trait. The aim of our study was to develop a TaqMan probe based real-time PCR protocol for the detection of the LCT-13910C>T variant directly from whole blood, circumventing DNA isolation. The LCT-13910C>T variant was determined using the DirectBlood Genotyping PCR Kit (myPOLS Biotec, Konstanz, Germany) together with an in-house TaqMan primer-probe assay. Validity and specificity of the assay was evaluated using EDTA anti-coagulated whole blood samples and corresponding DNA samples. Results from real-time PCR were compared with results obtained by Sanger sequencing from 105 blinded whole blood samples. Validity and specificity of the assay using whole blood were comparable to those using purified genomic DNA as substrate in PCR. Genetic analysis of blood samples were in complete agreement with results obtained by Sanger sequencing. In conclusion, we present a reliable real-time PCR protocol for the detection of the LCT-13910C>T variant directly from whole blood further facilitating diagnosis of primary hypolactasia in symptomatic patients.
This is a preview of subscription content, log in to check access.
Access options
Buy single article
Instant access to the full article PDF.
US$ 39.95
Price includes VAT for USA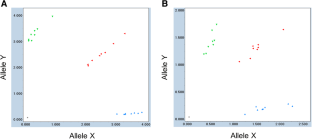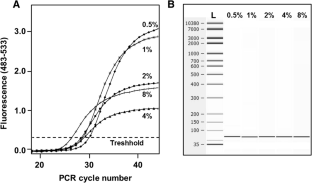 References
1.

Misselwitz B, Pohl D, Frühauf H, Fried M, Vavricka SR, Fox M (2013) Lactose malabsorption and intolerance: pathogenesis, diagnosis and treatment. United Eur Gastroenterol J 1:151–159

2.

Levitt M, Wilt T, Shaukat A (2013) Clinical implications of lactose malabsorption versus lactose intolerance. J Clin Gastroenterol 47:471–480

3.

Casellas F, Aparici A, Pérez MJ, Rodríguez P (2016) Perception of lactose intolerance impairs health-related quality of life. Eur J Clin Nutr 70:1068–1072

4.

Mishkin D, Sablauskas L, Yalovsky M, Mishkin S (1997) Fructose and sorbitol malabsorption in ambulatory patients with functional dyspepsia: comparison with lactose maldigestion/malabsorption. Dig Dis Sci 42:2591–2598

5.

Treister-Goltzman Y, Friger M, Peleg R (2018) Does primary lactase deficiency reduce bone mineral density in postmenopausal women? A systematic review and meta-analysis. Osteoporos Int 29:2399–2407

6.

Schiffner R, Kostev K, Gothe H (2016) Do patients with lactose intolerance exhibit more frequent comorbidities than patients without lactose intolerance? An analysis of routine data from German medical practices. Ann Gastroenterol 29:174–179

7.

Swallow DM (2003) Genetics of lactase persistence and lactose intolerance. Annu Rev Genet 37:197–219

8.

Wang Y, Harvey CB, Hollox EJ, Phillips AD, Poulter M, Clay P et al (1998) The genetically programmed down-regulation of lactase in children. Gastroenterology 114:1230–1236

9.

Bersaglieri T, Sabeti PC, Patterson N, Vanderploeg T, Schaffner SF, Drake JA et al (2004) Genetic signatures of strong recent positive selection at the lactase gene. Am J Hum Genet 74:1111–1120

10.

Enattah NS, Sahi T, Savilahti E, Terwilliger JD, Peltonen L, Järvelä I (2002) Identification of a variant associated with adult-type hypolactasia. Nat Genet 30:233–237

11.

Poulter M, Hollox E, Harvey CB, Mulcare C, Peuhkuri K, Kajander K et al (2003) The causal element for the lactase persistence/non-persistence polymorphism is located in a 1 Mb region of linkage disequilibrium in Europeans. Ann Hum Genet 67:298–311

12.

Olds LC, Sibley E (2003) Lactase persistence DNA variant enhances lactase promoter activity in vitro: functional role as a cis regulatory element. Hum Mol Genet 12:2333–2340

13.

Lewinsky RH, Jensen TGK, Møller J, Stensballe A, Olsen J, Troelsen JT (2005) T-13910 DNA variant associated with lactase persistence interacts with Oct-1 and stimulates lactase promoter activity in vitro. Hum Mol Genet 14:3945–3953

14.

Troelsen JT, Olsen J, Møller J, Sjöström H (2003) An upstream polymorphism associated with lactase persistence has increased enhancer activity. Gastroenterology 125:1686–1694

15.

Fang L, Ahn JK, Wodziak D, Sibley E (2012) The human lactase persistence-associated SNP -13910*T enables in vivo functional persistence of lactase promoter-reporter transgene expression. Hum Genet 131:1153–1159

16.

Büning C, Genschel J, Jurga J, Fiedler T, Voderholzer W, Fiedler E-M et al (2005) Introducing genetic testing for adult-type hypolactasia. Digestion 71:245–250

17.

Pohl D, Savarino E, Hersberger M, Behlis Z, Stutz B, Goetze O et al (2010) Excellent agreement between genetic and hydrogen breath tests for lactase deficiency and the role of extended symptom assessment. Br J Nutr 104:900–907

18.

Haberkorn BCM, Ermens AAM, Koeken A, Cobbaert CM, van Guldener C (2011) Improving diagnosis of adult-type hypolactasia in patients with abdominal complaints. Clin Chem Lab Med 50:119–123

19.

Mulcare CA, Weale ME, Jones AL, Connell B, Zeitlyn D, Tarekegn A et al (2004) The T allele of a single-nucleotide polymorphism 13.9 kb upstream of the lactase gene (LCT) (C-13.9kbT) does not predict or cause the lactase-persistence phenotype in Africans. Am J Hum Genet 74:1102–1110

20.

Nilsson TK, Olsson LA (2008) Simultaneous genotyping of the three lactose tolerance-linked polymorphisms LCT -13907C>G, LCT -13910C>T and LCT -13915T>G with Pyrosequencing™ technology. Clin Chem Lab Med 46:80–84

21.

Janukonyté J, Vestergaard EM, Ladefoged SA, Nissen PH (2010) High-resolution melting analysis using unlabeled probe and amplicon scanning simultaneously detects several lactase persistence variants. Scand J Clin Lab Invest 70:535–540

22.

Bergholdt HKM, Nordestgaard BG, Varbo A, Ellervik C (2015) Milk intake is not associated with ischaemic heart disease in observational or Mendelian randomization analyses in 98,529 Danish adults. Int J Epidemiol 44:587–603

23.

Bodlaj G, Stöcher M, Hufnagl P, Hubmann R, Biesenbach G, Stekel H et al (2006) Genotyping of the lactase-phlorizin hydrolase—13910 polymorphism by LightCycler PCR and implications for the diagnosis of lactose intolerance. Clin Chem 52:148–151

24.

Travis RC, Appleby PN, Siddiq A, Allen NE, Kaaks R, Canzian F et al (2013) Genetic variation in the lactase gene, dairy product intake and risk for prostate cancer in the European prospective investigation into cancer and nutrition. Int J Cancer 132:1901–1910

25.

Enko D, Pollheimer V, Németh S, Pühringer H, Stolba R, Halwachs-Baumann G et al (2016) Lactase non-persistence genotyping: comparison of two real-time PCR assays and assessment of concomitant fructose/sorbitol malabsorption rates. Clin Lab 62:727–730

26.

Abildgaard A, Tovbjerg SK, Giltay A, Detemmerman L, Nissen PH (2018) Lactase persistence genotyping on whole blood by loop-mediated isothermal amplification and melting curve analysis. Clin Chim Acta 482:50–56

27.

Sidstedt M, Hedman J, Romsos EL, Waitara L, Wadsö L, Steffen CR et al (2018) Inhibition mechanisms of hemoglobin, immunoglobulin G, and whole blood in digital and real-time PCR. Anal Bioanal Chem 410:2569–2583

28.

Miura M, Tanigawa C, Fujii Y, Kaneko S (2013) Comparison of six commercially-available DNA polymerases for direct PCR. Rev Inst Med Trop Sao Paulo 55:401–406

29.

Geiger K, Leiherer A, Brandtner E-M, Fraunberger P, Drexel H, Muendlein A (2019) Direct blood PCR: TaqMan-probe based detection of the venous thromboembolism associated mutations factor V Leiden and prothrombin c.20210G>A without DNA extraction. Clin Chim Acta 488:221–225

30.

Itan Y, Jones BL, Ingram CJE, Swallow DM, Thomas MG (2010) A worldwide correlation of lactase persistence phenotype and genotypes. BMC Evol Biol 10:36

31.

Storhaug CL, Fosse SK, Fadnes LT (2017) Country, regional, and global estimates for lactose malabsorption in adults: a systematic review and meta-analysis. Lancet Gastroenterol Hepatol 2:738–746

32.

Enattah NS, Trudeau A, Pimenoff V, Maiuri L, Auricchio S, Greco L et al (2007) Evidence of still-ongoing convergence evolution of the lactase persistence T-13910 alleles in humans. Am J Hum Genet 81:615–625

33.

Kerber M, Oberkanins C, Kriegshäuser G, Kollerits B, Dossenbach-Glaninger A, Fuchs D et al (2007) Hydrogen breath testing versus LCT genotyping for the diagnosis of lactose intolerance: A matter of age? Clin. Chim Acta 383:91–96

34.

Spiess A-N, Mueller N, Ivell R (2004) Trehalose is a potent PCR enhancer: lowering of DNA melting temperature and thermal stabilization of taq polymerase by the disaccharide trehalose. Clin Chem 50:1256–1259

35.

Zhang Z, Kermekchiev MB, Barnes WM (2010) Direct DNA amplification from crude clinical samples using a PCR enhancer cocktail and novel mutants of Taq. J Mol Diagn 12:152–161

36.

Abu Al-Soud W, Rådström P (2000) Effects of amplification facilitators on diagnostic PCR in the presence of blood, feces, and meat. J Clin Microbiol 38:4463–4470

37.

Ingram CJE, Elamin MF, Mulcare CA, Weale ME, Tarekegn A, Raga TO et al (2007) A novel polymorphism associated with lactose tolerance in Africa: multiple causes for lactase persistence? Hum Genet 120:779–788

38.

Tishkoff SA, Reed FA, Ranciaro A, Voight BF, Babbitt CC, Silverman JS et al (2007) Convergent adaptation of human lactase persistence in Africa and Europe. Nat Genet 39:31–40

39.

Sherry ST, Ward MH, Kholodov M, Baker J, Phan L, Smigielski EM et al (2001) dbSNP: the NCBI database of genetic variation. Nucleic Acids Res 29:308–311
Acknowledgements
We are grateful to the Vorarlberger Landesregierung (Bregenz, Austria) for continuously supporting our research institute.
Funding
This research did not receive any specific grant from funding agencies in the public, commercial, or not-for-profit sectors.
Ethics declarations
Conflict of interest
The authors declare that they have no conflicts of interest related to the contents of this article.
Informed consent
All patients gave written confirmed consent for clinical LCT-13910C>T testing.
Additional information
Publisher's Note
Springer Nature remains neutral with regard to jurisdictional claims in published maps and institutional affiliations.
Electronic supplementary material
Below is the link to the electronic supplementary material.
About this article
Cite this article
Muendlein, A., Leiherer, A., Zach, C. et al. Real-time PCR based detection of the lactase non-persistence associated genetic variant LCT-13910C>T directly from whole blood. Mol Biol Rep 46, 2379–2385 (2019). https://doi.org/10.1007/s11033-019-04696-9
Received:

Accepted:

Published:

Issue Date:
Keywords
Lactose intolerance

Primary hypolactasia

LCT-13910C>T

Real-time PCR

Direct blood PCR

TaqMan probe

Locked nucleic acids