Abstract
The germination and growth of seedlings are not only essential stages in plant growth but also indicator of environmental stress. Evaluation of seed germination and early seedling in order to improve the understanding of influential processes of exogenic substances. This study aimed to reveal the possible toxicity of antimony (Sb) using Raphanus sativus L. Radish (radish) and Brassica napus L. (rape) seeds as the experimental materials. With Sb concentrations ranging from 2 to 100 mg/L, the seed germination and seedlings growth were investigated by calculating the germination rate, germinative energy, germination index, vitality index and root elongation. The results indicated that Sb exhibited different levels of toxicity to different plants. The low concentration of Sb increased the germination rate and germination index of rape seeds, whereas high concentrations of Sb sharply decreased the germination rate and germination index when the Sb was greater than 10 mg/L. The radish seeds remained almost constant. The germinative energy of both seeds exhibited the same change. In addition, the root elongation was more sensitive to the antimony pollution than the germination rate was. The vitality index decayed exponentially as the Sb concentration increased for both species of seed. These results have significant ecological meaning in assessing the toxicity of Sb.
Access options
Buy single article
Instant access to the full article PDF.
US$ 39.95
Tax calculation will be finalised during checkout.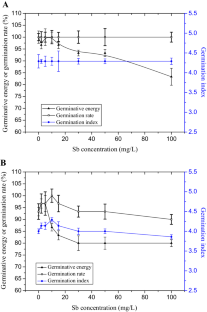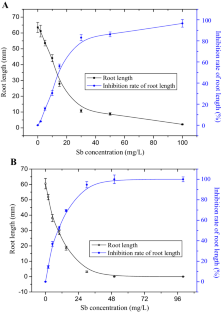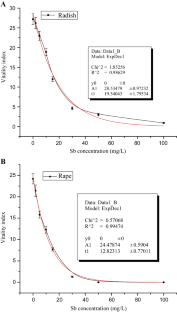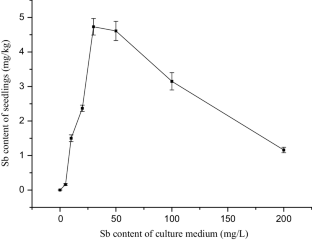 References
1.

Shtangeeva I, Bali R, Harris A (2011) Bioavailability and toxicity of antimony. J Geochem Explor 110(1):40–44

2.

He MC, Wang XQ, Wu FC, Fu ZY (2012) Antimony pollution in China. Sci Total Environ 421–422:41–50

3.

Gomez DR, Gine MF, Bellato ACS, Smichowski P (2005) Antimony: a traffic-related element in the atmosphere of Buenos Aires, Argentina. J Environ Monit 7:1162–1168

4.

Maher WA (2009) Antimony in the environment—the new global puzzle. Environ Chem 6:93–94

5.

Furuta N, Iijima A, Kambe A, Sakai K, Sato K (2005) Concentrations, enrichment and predominant sources of Sb and other trace elements in size classified airborne particulate matter collected in Tokyo from 1995 to 2004. J Environ Monit 7:1155–1161

6.

Yang HL, He MC, Wang XQ (2015) Concentration and speciation of antimony and arsenic in soil profiles around the world's largest antimony metallurgical area in China. Environ Geochem Health 37(1):21–33

7.

Hou H, Yao N, Li JN, Wei Y, Zhao L, Zhang J, Li FS (2013) Migration and leaching risk of extraneous antimony in three representative soils of China: lysimeter and batch experiments. Chemosphere 93(9):1980–1988

8.

Filella M, Williams PA, Belzile N (2009) Antimony in the environment: knowns and unknowns. Environ Chem 6(2):95–105

9.

Chugh LK, Sawhney SK (1996) Effect of cadmium on germination, amylases and rate of respiration of germinating pea seeds. Environ Pollut 92(1):1–5

10.

Huang ML, Zhou S, Sun B, Zhao QG (2008) Heavy metals in wheat grain: assessment of potential health risk for inhabitants in Kunshan, China. Sci Total Environ 405(1–3):54–61

11.

Latare AM, Kumar O, Singh SK, Gupta A (2014) Direct and residual effect of sewage sludge on yield, heavy metals content and soil fertility under rice–wheat system. Ecol Eng 69:17–24

12.

Gu HH, Qiu H, Tian T, Zhan S, Deng S, Chaney THB, Wang RL, Tang SZ, Morel YT, Qiu JL RL (2011) Mitigation effects of silicon rich amendments on heavy metal accumulation in rice (Oryza sativa L.) planted on multi-metal contaminated acidic soil. Chemosphere 83(9):1234–1240

13.

Li QS, Cai SS, Mo CH, Chu B, Peng LH, Yang FB (2010) Toxic effects of heavy metals and their accumulation in vegetables grown in a saline soil. Ecotox Environ Safe 73(1):84–88

14.

Bian B, Lv L, Yang D, Zhou LJ (2014) Migration of heavy metals in vegetable farmlands amended with biogas slurry in the Taihu Basin, China. Ecol Eng 71:380–383

15.

Siddiqui MM, Abbasi BH, Ahmad N, Ali M, Mahmood T (2014) Toxic effects of heavy metals (Cd, Cr and Pb) on seed germination and growth and DPPH-scavenging activity in Brassica rapa var. turnip. Toxicol Ind Health 30(3):238–249

16.

Cardoso AA, Borges EEL, Souza GA, Silva CJ, Pires RMO, Dias DCFS (2015) Seed imbibition and germination of Plathymenia reticulata Benth. (Fabaceae) affected by mercury: possible role of aquaporins. Acta Bot Bras 29(3):285–291

17.

Baroni F, Boscagli A, Protano G, Riccobono F (2000) Antimony accumulation in Achillea ageratum, Plantago lanceolata and Silene vulgaris growing in an old Sb-mining area. Environ Pollut 109:347–352

18.

He MC, Yang JR (1999) Effects of different forms of antimony on rice during the period of germination and growth and antimony concentration in rice tissue. Sci Total Environ 243–244:149–155

19.

Shtangeeva I, Steinnes E, Lierhagen S (2012) Uptake of different forms of antimony by wheat and rye seedlings. Environ Sci Pollut Res 19(2):502–509

20.

Xiong JL, Li J, Wang HC, Zhang CL, Naeem MS (2018) Fullerol improves seed germination, biomass accumulation, photosynthesis and antioxidant system in Brassica napus L. under water stress. Plant Physiol Biochem 129:130–140

21.

de Souza Costa ET, Guilherme LRG, de Melo ÉEC, Ribeiro BT, dos Santos B, Inácio E, da Costa Severiano E, Faquin V, Hale BA (2012) Assessing the tolerance of castor bean to Cd and Pb for phytoremediation purposes. Biol Trace Elem Res 145:93–100

22.

Fan H, Ding L, Xu Y, Du C (2017) Seed germination, seedling growth and antioxidant system responses in cucumber exposed to Ca(NO3)2. Hortic Environ Biotechnol 58(6):548–559

23.

Babula P, Adam V, Opatrilova R, Zehnalek J, Havel L, Kizek R (2008) Uncommon heavy metals, metalloids and their plant toxicity: a review. Environ Chem Lett 6(4):189–213

24.

Vunain E, Mishra AK, Mamba BB (2016) Dendrimers, mesoporous silicas and chitosan-based nanosorbents for the removal of heavy-metal ions: a review. Int J Biol Macromol 86:570–586
Acknowledgements
This work was supported by the Natural Science Foundation of Hebei Province (B2018201283) and Key Projects of Science and Technology Research in Hebei Higher Education Institutions (ZD2017207).
Ethics declarations
Conflict of interest
The authors declare that they have no competing interests.
About this article
Cite this article
Liang, Sx., Gao, N., Li, X. et al. Toxic effects of antimony on the seed germination and seedlings accumulation in Raphanus sativus L. radish and Brassica napus L.. Mol Biol Rep 45, 2609–2614 (2018). https://doi.org/10.1007/s11033-018-4430-2
Received:

Accepted:

Published:

Issue Date:
Keywords
Antimony stress

Radish

Rape

Germination

Growth of seedling