Abstract
Ventricular septal defect (VSD) including outlet VSD of double outlet right ventricle (DORV) and perimembranous VSD are among the most common congenital heart diseases found at birth. HOXB1 encodes a homeodomain transcription factor essential for normal cardiac outflow tract development. The aim of the present study was to investigate the possible genetic effect of sequence variations in HOXB1 on VSD. The coding regions and splice junctions of the HOXB1 gene were sequenced in 57 unrelated VSD patients. As a result, a homozygous c.74_82dup (p.Pro28delinsHisSerAlaPro) variant was identified in one individual with DORV. We also identified five previously reported polymorphisms (rs35114525, rs12946855, rs14534040, rs12939811, and rs7207109) in 18 patients (12 DORV and 6 perimembranous VSD). Our study did not show any pathogenic alterations in the coding region of HOXB1 among patients with VSD. To our knowledge this is the first study investigating the role of HOXB1 in nonsyndromic VSD, which provide more insight on the etiology of this disease.
Access options
Buy single article
Instant access to the full article PDF.
US$ 39.95
Tax calculation will be finalised during checkout.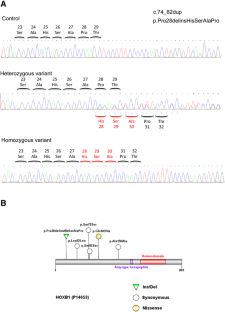 References
1.

Hoffman JI, Kaplan S (2002) The incidence of congenital heart disease. J Am Coll Cardiol 39(12):1890–1900

2.

Bajolle F, Zaffran S, Bonnet D (2009) Genetics and embryological mechanisms of congenital heart diseases. Arch Cardiovasc Dis 102(1):59–63. https://doi.org/10.1016/j.acvd.2008.06.020

3.

Mostefa-Kara M, Bonnet D, Belli E, Fadel E, Houyel L (2015) Anatomy of the ventricular septal defect in outflow tract defects: similarities and differences. J Thorac Cardiovasc Surg 149(3):682–688 e681. https://doi.org/10.1016/j.jtcvs.2014.11.087

4.

Poelmann RE, Gittenberger-de Groot AC, Hierck BP (2008) The development of the heart and microcirculation: role of shear stress. Med Biol Eng Comput 46(5):479–484

5.

Buckingham ME, Meilhac SM (2011) Tracing cells for tracking cell lineage and clonal behavior. Dev Cell 21(3):394–409. https://doi.org/10.1016/j.devcel.2011.07.019

6.

Zaffran S, Kelly RG (2012) New developments in the second heart field. Differentiation 84(1):17–24. https://doi.org/10.1016/j.diff.2012.03.003

7.

Vincent SD, Buckingham ME (2010) How to make a heart: the origin and regulation of cardiac progenitor cells. Curr Top Dev Biol 90:1–41. https://doi.org/10.1016/S0070-2153(10)90001-X

8.

Cai CL, Liang X, Shi Y, Chu PH, Pfaff SL, Chen J, Evans S (2003) Isl1 identifies a cardiac progenitor population that proliferates prior to differentiation and contributes a majority of cells to the heart. Dev Cell 5(6):877–889

9.

Prall OW, Menon MK, Solloway MJ, Watanabe Y, Zaffran S, Bajolle F, Biben C, McBride JJ, Robertson BR, Chaulet H, Stennard FA, Wise N, Schaft D, Wolstein O, Furtado MB, Shiratori H, Chien KR, Hamada H, Black BL, Saga Y, Robertson EJ, Buckingham ME, Harvey RP (2007) An Nkx2-5/Bmp2/Smad1 negative feedback loop controls heart progenitor specification and proliferation. Cell 128(5):947–959

10.

Ward C, Stadt H, Hutson M, Kirby ML (2005) Ablation of the secondary heart field leads to tetralogy of Fallot and pulmonary atresia. Dev Biol 284(1):72–83

11.

Alexander T, Nolte C, Krumlauf R (2009) Hox genes and segmentation of the hindbrain and axial skeleton. Ann Rev Cell Dev Biol 25:431–456. https://doi.org/10.1146/annurev.cellbio.042308.113423

12.

Duboule D, Dolle P (1989) The structural and functional organization of the murine HOX gene family resembles that of Drosophila homeotic genes. EMBO J 8(5):1497–1505

13.

Searcy RD, Yutzey KE (1998) Analysis of Hox gene expression during early avian heart development. Dev Dyn 213(1):82–91

14.

Makki N, Capecchi MR (2012) Cardiovascular defects in a mouse model of HOXA1 syndrome. Hum Mol Genet 21(1):26–31. https://doi.org/10.1093/hmg/ddr434

15.

Soshnikova N, Dewaele R, Janvier P, Krumlauf R, Duboule D (2013) Duplications of hox gene clusters and the emergence of vertebrates. Dev Biol 378(2):194–199. https://doi.org/10.1016/j.ydbio.2013.03.004

16.

Bertrand N, Roux M, Ryckebusch L, Niederreither K, Dolle P, Moon A, Capecchi M, Zaffran S (2011) Hox genes define distinct progenitor sub-domains within the second heart field. Dev Biol 353(2):266–274. https://doi.org/10.1016/j.ydbio.2011.02.029

17.

Roux M, Laforest B, Capecchi M, Bertrand N, Zaffran S (2015) Hoxb1 regulates proliferation and differentiation of second heart field progenitors in pharyngeal mesoderm and genetically interacts with Hoxa1 during cardiac outflow tract development. Dev Biol 406(2):247–258. https://doi.org/10.1016/j.ydbio.2015.08.015

18.

Roux M, Laforest B, Eudes N, Bertrand N, Stefanovic S, Zaffran S (2017) Hoxa1 and Hoxb1 are required for pharyngeal arch artery development. Mech Dev 143:1–8. https://doi.org/10.1016/j.mod.2016.11.006

19.

Salgado D, Desvignes JP, Rai G, Blanchard A, Miltgen M, Pinard A, Levy N, Collod-Beroud G, Beroud C (2016) UMD-Predictor: a high throughput sequencing compliant system for pathogenicity prediction of any human cDNA substitution. Hum Mutat 37:439–446. https://doi.org/10.1002/humu.22965

20.

Lek M, Karczewski KJ, Minikel EV, Samocha KE, Banks E, Fennell T, O'Donnell-Luria AH, Ware JS, Hill AJ, Cummings BB, Tukiainen T, Birnbaum DP, Kosmicki JA, Duncan LE, Estrada K, Zhao F, Zou J, Pierce-Hoffman E, Berghout J, Cooper DN, Deflaux N, DePristo M, Do R, Flannick J, Fromer M, Gauthier L, Goldstein J, Gupta N, Howrigan D, Kiezun A, Kurki MI, Moonshine AL, Natarajan P, Orozco L, Peloso GM, Poplin R, Rivas MA, Ruano-Rubio V, Rose SA, Ruderfer DM, Shakir K, Stenson PD, Stevens C, Thomas BP, Tiao G, Tusie-Luna MT, Weisburd B, Won HH, Yu D, Altshuler DM, Ardissino D, Boehnke M, Danesh J, Donnelly S, Elosua R, Florez JC, Gabriel SB, Getz G, Glatt SJ, Hultman CM, Kathiresan S, Laakso M, McCarroll S, McCarthy MI, McGovern D, McPherson R, Neale BM, Palotie A, Purcell SM, Saleheen D, Scharf JM, Sklar P, Sullivan PF, Tuomilehto J, Tsuang MT, Watkins HC, Wilson JG, Daly MJ, MacArthur DG (2016) Analysis of protein-coding genetic variation in 60,706 humans. Nature 536(7616):285–291. https://doi.org/10.1038/nature19057

21.

Liu W, Xie Y, Ma J, Luo X, Nie P, Zuo Z, Lahrmann U, Zhao Q, Zheng Y, Zhao Y, Xue Y, Ren J (2015) IBS: an illustrator for the presentation and visualization of biological sequences. Bioinformatics 31(20):3359–3361. https://doi.org/10.1093/bioinformatics/btv362

22.

Minette MS, Sahn DJ (2006) Ventricular septal defects. Circulation 114(20):2190–2197. https://doi.org/10.1161/CIRCULATIONAHA.106.618124

23.

Faiella A, Zortea M, Barbaria E, Albani F, Capra V, Cama A, Boncinelli E (1998) A genetic polymorphism in the human HOXB1 homeobox gene implying a 9 bp tandem repeat in the amino-terminal coding region. Mutations in brief no. 200. Online. Hum Mut 12 (5):363

24.

Schwarz JM, Cooper DN, Schuelke M, Seelow D (2014) MutationTaster2: mutation prediction for the deep-sequencing age. Nat Methods 11(4):361–362. https://doi.org/10.1038/nmeth.2890

25.

Webb BD, Shaaban S, Gaspar H, Cunha LF, Schubert CR, Hao K, Robson CD, Chan WM, Andrews C, MacKinnon S, Oystreck DT, Hunter DG, Iacovelli AJ, Ye X, Camminady A, Engle EC, Jabs EW (2012) HOXB1 founder mutation in humans recapitulates the phenotype of Hoxb1-/- mice. Am J Hum Genet 91(1):171–179. https://doi.org/10.1016/j.ajhg.2012.05.018

26.

Caravella L, Rogers GL (1978) Dextrocardia and ventricular septal defect in the Mobius syndrome. Ann Ophthalmol 10(5):572–575

27.

Raroque HG Jr, Hershewe GL, Snyder RD (1988) Mobius syndrome and transposition of the great vessels. Neurology 38(12):1894–1895

28.

Deda G, Caksen H, Atalay S (2001) Mobius syndrome associated with ventricular septal defect. Indian J Pediatr 68(5):455–456

29.

Thapa R, Bhattacharya A (2009) Moebius syndrome with atrial septal defect. Singapore Med J 50(10):1030–1031

30.

Ingram JL, Stodgell CJ, Hyman SL, Figlewicz DA, Weitkamp LR, Rodier PM (2000) Discovery of allelic variants of HOXA1 and HOXB1: genetic susceptibility to autism spectrum disorders. Teratology 62(6):393–405

31.

Di Rocco G, Mavilio F, Zappavigna V (1997) Functional dissection of a transcriptionally active, target-specific Hox-Pbx complex. EMBO J 16(12):3644–3654. https://doi.org/10.1093/emboj/16.12.3644

32.

Desmet FO, Hamroun D, Lalande M, Collod-Béroud G, Claustres M, Béroud C (2009) Human Splicing Finder: an online bioinformatics tool to predict splicing signals. Nucleic Acids Res 37(9):e67. https://doi.org/10.1093/nar/gkp215

33.

Holve S, Friedman B, Hoyme H, Tarby T, Johnstone S, Erickson R, Clericuzio C, Cunniff C (2003) Athabascan brainstem dysgenesis syndrome. Am J Med Genet A 120A(2):169–173. https://doi.org/10.1002/ajmg.a.20087

34.

Tischfield M, Bosley T, Salih M, Alorainy I, Sener E, Nester M, Oystreck D, Chan W, Andrews C, Erickson R et al (2005) Homozygous hoxa1 mutations disrupt human brainstem, inner ear, cardiovascular and cognitive development. Nat Genet 37(10):1035–1037. https://doi.org/10.1038/ng1636
Acknowledgements
This work was supported by "AFM-Telethon" (MNH-Decrypt) and "ANR" (ANR-13-BSV2-0003) grants. A.P. received a PhD fellowship by the AFSMa (Association Française des Syndromes de Marfan et Apparentés). CARREG (http://carreg.fr/en/) is supported by the Fondation cœur et artères and the Association pour la Recherche en Cardiologie du Fœtus à l'Adulte (ARCFA).
Ethics declarations
Conflict of interest
The authors declare that they have no conflict of interest.
Ethical approval
All procedures followed were in accordance with the ethical standards of the responsible committee on human experimentation (institutional and national) and with the Helsinki Declaration of 1975, as revised in 2008. The study subjects included seventy-seven patients from the Necker-Enfants Malades Hospital. This study was approved by the Committee for the Protection of Persons (Comité de Protection des Personnes (CPP) Paris, France No. 2009-164).
Informed consent
Informed consent was obtained from all patients for being included in the study.
About this article
Cite this article
Pinard, A., Eudes, N., Mitchell, J. et al. Analysis of HOXB1 gene in a cohort of patients with sporadic ventricular septal defect. Mol Biol Rep 45, 1507–1513 (2018). https://doi.org/10.1007/s11033-018-4212-x
Received:

Accepted:

Published:

Issue Date:
Keywords
Genetics

Ventricular septal defect

HOXB1

Variant

Congenital heart disease