Abstract
In the present work, we identified two novel compound heterozygote mutations in the GPR98 (G protein-coupled receptor 98) gene causing Usher syndrome. Whole-exome sequencing was performed to study the genetic causes of Usher syndrome in a Moroccan family with three affected siblings. We identify two novel compound heterozygote mutations (c.1054C > A, c.16544delT) in the GPR98 gene in the three affected siblings carrying post-linguale bilateral moderate hearing loss with normal vestibular functions and before installing visual disturbances. This is the first time that mutations in the GPR98 gene are described in the Moroccan deaf patients.
This is a preview of subscription content, log in to check access.
Access options
Buy single article
Instant access to the full article PDF.
US$ 39.95
Price includes VAT for USA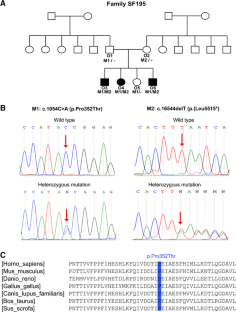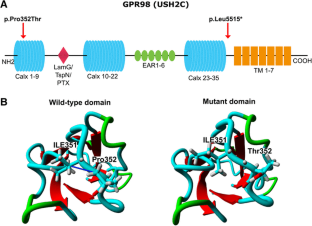 References
1.

Skradski SL, Clark AM, Jiang H et al (2001) A novel gene causing a mendelian audiogenic mouse epilepsy. Neuron 31:537–544. doi:10.1016/S0896-6273(01)00397-X

2.

McMillan DR, Kayes-Wandover KM, Richardson JA, White PC (2002) Very large G protein-coupled receptor-1, the largest known cell surface protein, is highly expressed in the developing central nervous system. J Biol Chem 277:785–792. doi:10.1074/jbc.M108929200

3.

Zou J, Mathur PD, Zheng T et al (2015) Individual USH2 proteins make distinct contributions to the ankle link complex during development of the mouse cochlear stereociliary bundle. Hum Mol Genet. doi:10.1093/hmg/ddv398

4.

Weston MD, Luijendijk MWJ, Humphrey KD et al (2004) Mutations in the VLGR1 gene implicate G-protein signaling in the pathogenesis of usher syndrome type II. Am J Hum Genet 74:357–366

5.

Kimberling WJ, Hildebrand MS, Shearer AE et al (2010) Frequency of Usher syndrome in two pediatric populations: implications for genetic screening of deaf and hard of hearing children. Genet Med 12:512–516. doi:10.1097/GIM.0b013e3181e5afb8

6.

Mathur P, Yang J (2015) Usher syndrome: hearing loss, retinal degeneration and associated abnormalities. Biochim Biophys Acta BBA-Mol Basis Dis 1852:406–420. doi:10.1016/j.bbadis.2014.11.020

7.

Bonnet C, El-Amraoui A (2012) Usher syndrome (sensorineural deafness and retinitis pigmentosa): pathogenesis, molecular diagnosis and therapeutic approaches. Curr Opin Neurol 25:42–49. doi:10.1097/WCO.0b013e32834ef8b2

8.

Abidi O, Boulouiz R, Nahili H et al (2007) GJB2 (connexin 26) gene mutations in Moroccan patients with autosomal recessive non-syndromic hearing loss and carrier frequency of the common GJB2-35delG mutation. Int J Pediatr Otorhinolaryngol 71:1239–1245. doi:10.1016/j.ijporl.2007.04.019

9.

Charif M, Bounaceur S, Abidi O et al (2012) The c.242G > A mutation in LRTOMT gene is responsible for a high prevalence of deafness in the Moroccan population. Mol Biol Rep 39:11011–11016. doi:10.1007/s11033-012-2003-3

10.

Bakhchane A, Charif M, Salime S et al (2015) Recessive TBC1D24 mutations are frequent in Moroccan non-syndromic hearing loss pedigrees. PLoS ONE. doi:10.1371/journal.pone.0138072

11.

Bakhchane A, Charoute H, Nahili H et al (2015) A novel mutation in the TMC1 gene causes non-syndromic hearing loss in a Moroccan family. Gene 574:28–33. doi:10.1016/j.gene.2015.07.075

12.

Sim N-L, Kumar P, Hu J et al (2012) SIFT web server: predicting effects of amino acid substitutions on proteins. Nucleic Acids Res 40:W452–W457. doi:10.1093/nar/gks539

13.

Adzhubei IA, Schmidt S, Peshkin L et al (2010) A method and server for predicting damaging missense mutations. Nat Methods 7:248–249. doi:10.1038/nmeth0410-248

14.

Choi Y, Sims GE, Murphy S et al (2012) Predicting the Functional Effect of Amino Acid Substitutions and Indels. PLoS ONE. doi:10.1371/journal.pone.0046688

15.

Folkman L, Yang Y, Li Z et al (2015) DDIG-in: detecting disease-causing genetic variations due to frameshifting indels and nonsense mutations employing sequence and structural properties at nucleotide and protein levels. Bioinformatics (Oxf Engl) 31:1599–1606. doi:10.1093/bioinformatics/btu862

16.

SWISS-MODEL: modelling protein tertiary and quaternary structure using evolutionary information. http://www.ncbi.nlm.nih.gov/pubmed/24782522. Accessed 6 Mar 2016

17.

Schymkowitz JWH, Rousseau F, Martins IC et al (2005) Prediction of water and metal binding sites and their affinities by using the Fold-X force field. Proc Natl Acad Sci USA 102:10147–10152. doi:10.1073/pnas.0501980102

18.

Krieger E, Vriend G (2014) YASARA View—molecular graphics for all devices - from smartphones to workstations. Bioinformatics (Oxf Engl) 30:2981–2982. doi:10.1093/bioinformatics/btu426

19.

Laimer J, Hiebl-Flach J, Lengauer D, Lackner P (2016) MAESTROweb: a web server for structure-based protein stability prediction. Bioinformatics (Oxf Engl). doi:10.1093/bioinformatics/btv769

20.

Parthiban V, Gromiha MM, Schomburg D (2006) CUPSAT: prediction of protein stability upon point mutations. Nucleic Acids Res 34:W239–W242. doi:10.1093/nar/gkl190

21.

Worth CL, Preissner R, Blundell TL (2011) SDM–a server for predicting effects of mutations on protein stability and malfunction. Nucleic Acids Res 39:W215–W222. doi:10.1093/nar/gkr363

22.

Mill NJ et al (2010) An update on the genetics of usher syndrome, an update on the genetics of usher syndrome. J Ophthalmol 2011:e417217. doi:10.1155/2011/417217

23.

García-García G, Besnard T, Baux D et al (2013) The contribution of GPR98 and DFNB31 genes to a Spanish usher syndrome type 2 cohort. Mol Vis 19:367–373

24.

Le Quesne Stabej P, Saihan Z, Rangesh N et al (2012) Comprehensive sequence analysis of nine usher syndrome genes in the UK National Collaborative Usher Study. J Med Genet 49:27–36. doi:10.1136/jmedgenet-2011-100468

25.

Bonnet C, Grati M, Marlin S et al (2011) Complete exon sequencing of all known Usher syndrome genes greatly improves molecular diagnosis. Orphanet J Rare Dis 6:21. doi:10.1186/1750-1172-6-21

26.

Jiang L, Liang X, Li Y et al (2015) Comprehensive molecular diagnosis of 67 Chinese usher syndrome probands: high rate of ethnicity specific mutations in Chinese USH patients. Orphanet J Rare Dis. doi:10.1186/s13023-015-0329-3

27.

Besnard T, Vaché C, Baux D et al (2012) Non-USH2A mutations in USH2 patients. Hum Mutat 33:504–510. doi:10.1002/humu.22004

28.

Abadie C, Blanchet C, Baux D et al (2012) Audiological findings in 100 USH2 patients. Clin Genet 82:433–438. doi:10.1111/j.1399-0004.2011.01772.x

29.

Nikkila H, McMillan DR, Nunez BS et al (2000) Sequence similarities between a novel putative g protein-coupled receptor and Na+/Ca2+ exchangers define a cation binding domain. Mol Endocrinol 14:1351–1364. doi:10.1210/mend.14.9.0511

30.

Ammar-Khodja F, Bonnet C, Dahmani M et al (2015) Diversity of the causal genes in hearing impaired Algerian individuals identified by whole exome sequencing. Mol Genet Genom Med 3:189–196. doi:10.1002/mgg3.131

31.

Ebermann I, Wiesen MHJ, Zrenner E et al (2009) GPR98 mutations cause usher syndrome type 2 in males. J Med Genet 46:277–280. doi:10.1136/jmg.2008.059626

32.

Ebermann I, Phillips JB, Liebau MC et al (2010) PDZD7 is a modifier of retinal disease and a contributor to digenic usher syndrome. J Clin Invest 120:1812–1823. doi:10.1172/JCI39715

33.

Hmani-Aifa M, Benzina Z, Zulfiqar F et al (2008) Identification of two new mutations in the GPR98 and the PDE6B genes segregating in a Tunisian family. Eur J Hum Genet 17:474–482. doi:10.1038/ejhg.2008.167

34.

Hilgert N, Kahrizi K, Najmabadi H et al (2009) A large deletion in GPR98 causes type IIC Usher syndrome in male and female patients of an Iranian family. J Med Genet 46:272–276. doi:10.1136/jmg.2008.060947

35.

Kahrizi K, Bazazzadegan N, Jamali L et al (2014) A novel mutation of the USH2C (GPR98) gene in an Iranian family with Usher syndrome type II. J Genet 93:837–841
Acknowledgements
Authors are indebted to the family that contributed to this study. This work was supported by Pasteur Institute of Morocco (IPM) and a collaborative project between the French National Institute of Health and Medical Research (INSERM) and the Moroccan National Centre for Scientific and Technical Research (CNRST).
Ethics declarations
Conflict of interest
The authors declare that they have no conflict of interest.
Electronic supplementary material
Below is the link to the electronic supplementary material.
About this article
Cite this article
Bousfiha, A., Bakhchane, A., Charoute, H. et al. Novel compound heterozygous mutations in the GPR98 (USH2C) gene identified by whole exome sequencing in a Moroccan deaf family. Mol Biol Rep 44, 429–434 (2017). https://doi.org/10.1007/s11033-017-4129-9
Received:

Accepted:

Published:

Issue Date:
Keywords
Usher syndrome

Hearing loss

Retinitis pigmentosa

GPR98 gene

Mutation

Moroccan family