Abstract
The gene expression profile of breast cancer has been described as a great breakthrough on the way to comprehend differences in cancer origin, behavior and therapy. However, gene expression profile in histologically normal epithelium (HNEpi) which could harbor genetic abnormalities predisposing breast tissue to develop malignancy was minor scope for scientists in the past. Thus, we aimed to analyze gene expressions in HNEpi and breast cancer tissue (BCTis) in order to establish its value as potential diagnostic marker for cancer development. We evaluated a panel of disease-specific genes in luminal type (A/B) of breast cancer and tumor surrounding HNEpi by qRT-PCR Array in 32 microdissected samples. There was 20.2 and 2.4 % deregulation rate in genes with at least 2-fold or 5-fold over-expression between luminal (A/B) type breast carcinomas and tumor surrounding HNEpi, respectively. The high-grade luminal carcinomas showed higher number of deregulated genes compared to low-grade cases (50.6 vs. 23.8 % with at least 2-fold deregulation rate). The main overexpressed genes in HNEpi were KLK5, SCGB1D2, GSN, EGFR and NGFR. The significant differences in gene expression between BCTis and HNEpi samples were revealed for BAG1, C3, CCNA2, CD44, FGF1, FOSL1, ID2, IL6R, NGFB, NGFR, PAPPA, PLAU, SERPINB5, THBS1 and TP53 gene (p < 0.05) and BCL2L2, CTSB, ITGB4, JUN, KIT, KLF5, SCGB1D2, SCGB2A1, SERPINE1 (p < 0.01), and EGFR, GABRP, GSN, MAP2K7 and THBS2 (p < 0.001), and GSN, KLK5 (p < 0.0001). The ontological gene analyses revealed high deregulations in gene group directly associated with breast cancer prognosis and origin.
Access options
Buy single article
Instant access to the full article PDF.
US$ 39.95
Tax calculation will be finalised during checkout.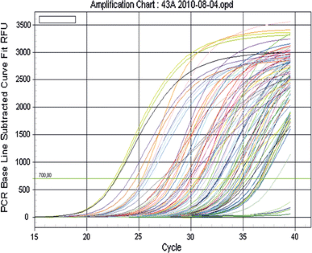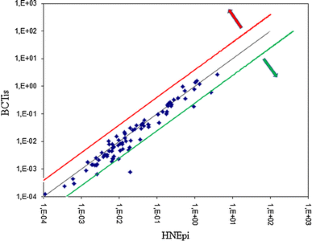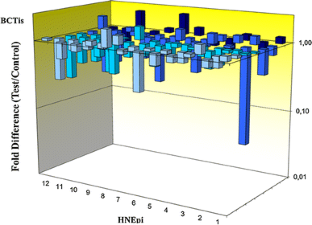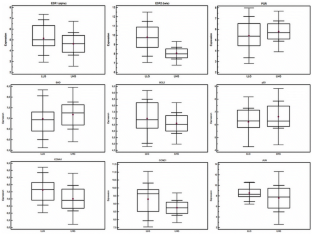 References
1.

Jemal A, Bray F, Center MM, Ferlay J, Ward E, Forman D (2011) Global cancer statistics. CA Cancer J Clin 61:69–90

2.

Bennis S, Abbass F, Akasbi Y, Znati K, Joutei KA, El Mesbahi O, Amarti A (2012) Prevalence of molecular subtypes and prognosis of invasive breast cancer in north-east of Morocco: retrospective study. BMC Res Notes 5:436

3.

Ishitobi M, Okumura Y, Arima N, Yoshida A, Nakatsukasa K, Iwase T, Shien T, Masuda N, Tanaka S, Tanabe M, Tanaka T, Komoike Y, Taguchi T, Nishimura R, Inaji H (2013) Breast cancer subtype and distant recurrence after ipsilateral breast tumor recurrence. Ann Surg Oncol 20(6):1886–1892

4.

Graham K, Ge X, de Las Morenas A, Tripathi A, Rosenberg CL (2011) Gene expression profiles of estrogen receptor-positive and estrogen receptor-negative breast cancers are detectable in histologically normal breast epithelium. Clin Cancer Res 17:236–246

5.

Grigoriadis A, Mackay A, Reis-Filho JS, Steele D, Iseli C, Stevenson BJ, Jongeneel CV, Valgeirsson H, Fenwick K, Iravani M, Leao M, Simpson AJ, Strausberg RL, Jat PS, Ashworth A, Neville AM, O'Hare MJ (2006) Establishment of the epithelial-specific transcriptome of normal and malignant human breast cells based on MPSS and array expression data. Breast Cancer Res 8:R56

6.

Schummer M, Green A, Beatty JD, Karlan BY, Karlan S, Gross J, Thornton S, McIntosh M, Urban N (2010) Comparison of breast cancer to healthy control tissue discovers novel markers with potential for prognosis and early detection. PLoS One 5:e9122

7.

Dahl E, Kristiansen G, Gottlob K, Klaman I, Ebner E, Hinzmann B, Hermann K, Pilarsky C, Dürst M, Klinkhammer-Schalke M, Blaszyk H, Knuechel R, Hartmann A, Rosenthal A, Wild PJ (2006) Molecular profiling of laser-microdissected matched tumor and normal breast tissue identifies karyopherin alpha-2 as a potential novel prognostic marker in breast cancer. Clin Cancer Res 12:3950–3960

8.

Tripathi A, King C, de la Morenas A, Perry VK, Burke B, Antoine GA, Hirsch EF, Kavanah M, Mendez J, Stone M, Gerry NP, Lenburg ME, Rosenberg CL (2008) Gene expression abnormalities in histologically normal breast epithelium of breast cancer patients. Int J Cancer 122:1557–1566

9.

Chen DT, Nasir A, Culhane A, Venkataramu C, Fulp W, Rubio R, Wang T, Agrawal D, McCarthy SM, Gruidl M, Bloom G, Anderson T, White J, Quackenbush J, Yeatman T (2010) Proliferative genes dominate malignancy-risk gene signature in histologically-normal breast tissue. Breast Cancer Res Treat 119:335–346

10.

Pau Ni IB, Zakaria Z, Muhammad R, Abdullah N, Ibrahim N, Aina Emran N, Hisham Abdullah N, Syed Hussain SN (2010) Gene expression patterns distinguish breast carcinomas from normal breast tissues: the Malaysian context. Pathol Res Pract 206:223–228

11.

Feng Y, Li X, Sun B, Wang Y, Zhang L, Pan X, Chen X, Wang X, Wang J, Hao X (2010) Evidence for a transcriptional signature of breast cancer. Breast Cancer Res Treat 122:65–75

12.

Turashvili G, Bouchal J, Baumforth K, Wei W, Dziechciarkova M, Ehrmann J, Klein J, Fridman E, Skarda J, Srovnal J, Hajduch M, Murray P, Kolar Z (2007) Novel markers for differentiation of lobular and ductal invasive breast carcinomas by laser microdissection and microarray analysis. BMC Cancer 7:55

13.

Finak G, Sadekova S, Pepin F, Hallett M, Meterissian S, Halwani F, Khetani K, Souleimanova M, Zabolotny B, Omeroglu A, Park M (2006) Gene expression signatures of morphologically normal breast tissue identify basal-like tumors. Breast Cancer Res 8:R58

14.

Work ME, Reimers LL, Quante AS, Crew KD, Whiffen A, Terry MB (2013) Differences in mammographic density decline over time in breast cancer cases and women at high risk for breast cancer. Cancer Epidemiol Biomark Prev 22:476

15.

Narod SA, Offit K (2005) Prevention and management of hereditary breast cancer. J Clin Oncol 23:1656–1663

16.

Chen DT, Nasir A, Venkataramu C, Fulp W, Gruidl M, Yeatman T (2010) Evaluation of malignancy-risk gene signature in breast cancer patients. Breast Cancer Res Treat 120:25–34

17.

Ellis IO, Schnitt SJ, Sastre-Garau X et al (2003) Invasive breast carcinoma. In: Tavassoli FA, Devilee P (eds) Pathology and genetics of tumours of the breast and female genital organs. world health organization classification of tumours. IARC Press, Lyon, pp 13–59

18.

Elston CW, Ellis IO (1991) Pathological prognostic factors in breast cancer I. The value of histological grade in breast cancer: experience from a large study with long-term follow-up. Histopathology 19:403–410

19.

Wellings SR, Jensen HM (1973) On the origin and progression of ductal carcinoma in the human breast. J Natl Cancer Inst 50:1111–1118

20.

Shackney SE, Silverman JF (2003) Molecular evolutionary patterns in breast cancer. Adv Anat Pathol 10:278–290

21.

Coleman WB, Tsongalis GJ (2006) Molecular mechanisms of human carcinogenesis. EXS 96:321–349

22.

Wu XZ (2008) Origin of cancer stem cells: the role of self-renewal and differentiation. Ann Surg Oncol 15:407–414

23.

Tsongalis GJ, Coleman WB (1998) Molecular oncology: diagnostic and prognostic assessment of human cancers in the clinical laboratory. Cancer Invest 16:485–502

24.

Reis-Filho JS, Pusztai L (2011) Gene expression profiling in breast cancer: classification, prognostication, and prediction. Lancet 378:1812–1823

25.

Dedeurwaerder S, Fumagalli D, Fuks F (2011) Unravelling the epigenomic dimension of breast cancers. Curr Opin Oncol 23:559–565

26.

Schedin P, Borges V (2009) Breaking down barriers: the importance of the stromal microenvironment in acquiring invasiveness in young women's breast cancer. Breast Cancer Res 112:102

27.

Graham K, delas Morenas A, Tripathi A, King C, Kavanah M, Mendez J, Stone M, Slama J, Miller M, Antoine G, Willers H, Sebastinani P, Rosenberg CL (2010) Gene expression in histologically normal epithelium from breast cancer patients and from cancer-free prophylactic mastectomy patients shares a similar profile. Br J Cancer 102:1284–1293

28.

Ma XJ, Salunga R, Tuggle JT, Gaudet J, Enright E, McQuary P, Payette T, Pistone M, Stecker K, Zhang BM, Zhou YX, Varnholt H, Smith B, Gadd M, Chatfield E, Kessler J, Baer TM, Erlander MG, Sgroi DC (2003) Gene expression profiles of human breast cancer progression. Proc Natl Acad Sci USA 100:5974–5979

29.

Sotiriou C, Wirapati P, Loi S, Harris A, Fox S, Smeds J, Nordgren H, Farmer P, Praz V, Haibe-Kains B, Desmedt C, Larsimont D, Cardoso F, Peterse H, Nuyten D, Buyse M, Van de Vijver MJ, Bergh J, Piccart M, Delorenzi M (2006) Gene expression profiling in breast cancer: understanding the molecular basis of histologic grade to improve prognosis. J Natl Cancer Inst 98:262–272

30.

Ma XJ, Dahiya S, Richardson E, Erlander M, Sgroi DC (2009) Gene expression profiling of the tumor microenvironment during breast cancer progression. Breast Cancer Res 11:R7

31.

Sgroi DC (2010) Preinvasive breast cancer. Annu Rev Pathol 5:193–221

32.

Gjerstorff MF, Benoit VM, Laenkholm AV, Nielsen O, Johansen LE, Ditzel HJ (2006) Identification of genes with altered expression in medullary breast cancer versus ductal breast cancer and normal breast epithelia. Int J Oncol 28:1327–1335
Acknowledgments
The authors thank Jana Guranova for her excellent technical support. This work was supported by Grant UK 243/2012 and VEGA 1/0243/12 from Ministry of Education.
Conflict of interest
The authors declare no conflict of interests.
About this article
Cite this article
Zubor, P., Hatok, J., Moricova, P. et al. Gene expression abnormalities in histologically normal breast epithelium from patients with luminal type of breast cancer. Mol Biol Rep 42, 977–988 (2015). https://doi.org/10.1007/s11033-014-3834-x
Received:

Accepted:

Published:

Issue Date:
Keywords
Breast cancer

Luminal type

Gene expression

Disease risk