Abstract
ATP binding cassette transporter G1 (ABCG1) promotes lipidation of nascent high-density lipoprotein (HDL) particles, acting as an intracellular transporter. SNP rs1893590 (c.-204A > C) of ABCG1 gene has been previously studied and reported as functional over plasma HDL-C and lipoprotein lipase activity. This study aimed to investigate the relationships of SNP rs1893590 with plasma lipids and lipoproteins in a large Brazilian population. Were selected 654 asymptomatic and normolipidemic volunteers from both genders. Clinical and anthropometrical data were taken and blood samples were drawn after 12 h fasting. Plasma lipids and lipoproteins, as well as HDL particle size and volume were determined. Genomic DNA was isolated for SNP rs1893590 detection by TaqMan® OpenArray® Real-Time PCR Plataform (Applied Biosystems). Mann–Whitney U, Chi square and two-way ANOVA were the used statistical tests. No significant differences were found in the comparison analyses between the allele groups for all studied parameters. Conversely, significant interactions were observed between SNP and age over plasma HDL-C, were volunteers under 60 years with AA genotype had increased HDL-C (p = 0.048). Similar results were observed in the group with body mass index (BMI) < 25 kg/m2, where volunteers with AA genotype had higher HDL-C levels (p = 0.0034), plus an increased HDL particle size (p = 0.01). These findings indicate that SNP rs1893590 of ABCG1 has a significant impact over HDL-C under asymptomatic clinical conditions in an age and BMI dependent way.
Access options
Buy single article
Instant access to the full article PDF.
US$ 39.95
Tax calculation will be finalised during checkout.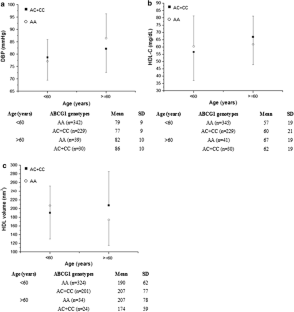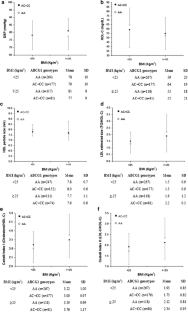 References
1.

Vaughan AM, Oram JF (2005) ABCG1 redistributes cell cholesterol to domains removable by high density lipoprotein but not by lipid-depleted apolipoproteins. J Biol Chem 280(34):30150–30157. doi:10.1074/jbc.M505368200

2.

Kobayashi A, Takanezawa Y, Hirata T, Shimizu Y, Misasa K, Kioka N, Arai H, Ueda K, Matsuo M (2006) Efflux of sphingomyelin, cholesterol, and phosphatidylcholine by ABCG1. J Lipid Res 47(8):1791–1802. doi:10.1194/jlr.M500546-JLR200

3.

Tarling EJ, Edwards PA (2011) ATP binding cassette transporter G1 (ABCG1) is an intracellular sterol transporter. Proc Natl Acad Sci USA 108(49):19719–19724. doi:10.1073/pnas.1113021108

4.

Terasaka N, Yu S, Yvan-Charvet L, Wang N, Mzhavia N, Langlois R, Pagler T, Li R, Welch CL, Goldberg IJ, Tall AR (2008) ABCG1 and HDL protect against endothelial dysfunction in mice fed a high-cholesterol diet. J Clin Investig 118(11):3701–3713. doi:10.1172/JCI35470

5.

Terasaka N, Westerterp M, Koetsveld J, Fernandez-Hernando C, Yvan-Charvet L, Wang N, Sessa WC, Tall AR (2010) ATP-binding cassette transporter G1 and high-density lipoprotein promote endothelial NO synthesis through a decrease in the interaction of caveolin-1 and endothelial NO synthase. Arterioscler Thromb Vasc Biol 30(11):2219–2225. doi:10.1161/ATVBAHA.110.213215

6.

Sturek JM, Castle JD, Trace AP, Page LC, Castle AM, Evans-Molina C, Parks JS, Mirmira RG, Hedrick CC (2010) An intracellular role for ABCG1-mediated cholesterol transport in the regulated secretory pathway of mouse pancreatic beta cells. J Clin Investig 120(7):2575–2589. doi:10.1172/JCI41280

7.

Fryirs MA, Barter PJ, Appavoo M, Tuch BE, Tabet F, Heather AK, Rye KA (2010) Effects of high-density lipoproteins on pancreatic beta-cell insulin secretion. Arterioscler Thromb Vasc Biol 30(8):1642–1648. doi:10.1161/ATVBAHA.110.207373

8.

Kennedy MA, Barrera GC, Nakamura K, Baldan A, Tarr P, Fishbein MC, Frank J, Francone OL, Edwards PA (2005) ABCG1 has a critical role in mediating cholesterol efflux to HDL and preventing cellular lipid accumulation. Cell Metab 1(2):121–131. doi:10.1016/j.cmet.2005.01.002

9.

Klucken J, Buchler C, Orso E, Kaminski WE, Porsch-Ozcurumez M, Liebisch G, Kapinsky M, Diederich W, Drobnik W, Dean M, Allikmets R, Schmitz G (2000) ABCG1 (ABC8), the human homolog of the Drosophila white gene, is a regulator of macrophage cholesterol and phospholipid transport. Proc Natl Acad Sci USA 97(2):817–822

10.

Teupser D, Kretzschmar D, Tennert C, Burkhardt R, Wilfert W, Fengler D, Naumann R, Sippel AE, Thiery J (2008) Effect of macrophage overexpression of murine liver X receptor-alpha (LXR-alpha) on atherosclerosis in LDL-receptor deficient mice. Arterioscler Thromb Vasc Biol 28(11):2009–2015. doi:10.1161/ATVBAHA.108.175257

11.

Li AC, Binder CJ, Gutierrez A, Brown KK, Plotkin CR, Pattison JW, Valledor AF, Davis RA, Willson TM, Witztum JL, Palinski W, Glass CK (2004) Differential inhibition of macrophage foam-cell formation and atherosclerosis in mice by PPARalpha, beta/delta, and gamma. J Clin Investig 114(11):1564–1576. doi:10.1172/JCI18730

12.

Out R, Hoekstra M, Meurs I, de Vos P, Kuiper J, Van Eck M, Van Berkel TJ (2007) Total body ABCG1 expression protects against early atherosclerotic lesion development in mice. Arterioscler Thromb Vasc Biol 27(3):594–599. doi:10.1161/01.ATV.0000257136.24308.0c

13.

Larrede S, Quinn CM, Jessup W, Frisdal E, Olivier M, Hsieh V, Kim MJ, Van Eck M, Couvert P, Carrie A, Giral P, Chapman MJ, Guerin M, Le Goff W (2009) Stimulation of cholesterol efflux by LXR agonists in cholesterol-loaded human macrophages is ABCA1-dependent but ABCG1-independent. Arterioscler Thromb Vasc Biol 29(11):1930–1936. doi:10.1161/ATVBAHA.109.194548

14.

Chinetti-Gbaguidi G, Baron M, Bouhlel MA, Vanhoutte J, Copin C, Sebti Y, Derudas B, Mayi T, Bories G, Tailleux A, Haulon S, Zawadzki C, Jude B, Staels B (2011) Human atherosclerotic plaque alternative macrophages display low cholesterol handling but high phagocytosis because of distinct activities of the PPARgamma and LXRalpha pathways. Circ Res 108(8):985–995. doi:10.1161/CIRCRESAHA.110.233775

15.

Olivier M, Tanck MW, Out R, Villard EF, Lammers B, Bouchareychas L, Frisdal E, Superville A, Van Berkel T, Kastelein JJ, Eck MV, Jukema JW, Chapman MJ, Dallinga-Thie GM, Guerin M, Le Goff W (2012) Human ATP-binding cassette G1 controls macrophage lipoprotein lipase bioavailability and promotes foam cell formation. Arterioscler Thromb Vasc Biol 32(9):2223–2231. doi:10.1161/ATVBAHA.111.243519

16.

Chen H, Rossier C, Lalioti MD, Lynn A, Chakravarti A, Perrin G, Antonarakis SE (1996) Cloning of the cDNA for a human homologue of the Drosophila white gene and mapping to chromosome 21q22.3. Am J Hum Genet 59(1):66–75

17.

Croop JM, Tiller GE, Fletcher JA, Lux ML, Raab E, Goldenson D, Son D, Arciniegas S, Wu RL (1997) Isolation and characterization of a mammalian homolog of the Drosophila white gene. Gene 185(1):77–85. doi:10.1016/S0378-1119(96)00633-6

18.

Lorkowski S, Rust S, Engel T, Jung E, Tegelkamp K, Galinski EA, Assmann G, Cullen P (2001) Genomic sequence and structure of the human ABCG1 (ABC8) gene. Biochem Biophys Res Commun 280(1):121–131. doi:10.1006/bbrc.2000.4089

19.

Iida A, Saito S, Sekine A, Mishima C, Kitamura Y, Kondo K, Harigae S, Osawa S, Nakamura Y (2002) Catalog of 605 single-nucleotide polymorphisms (SNPs) among 13 genes encoding human ATP-binding cassette transporters: ABCA4, ABCA7, ABCA8, ABCD1, ABCD3, ABCD4, ABCE1, ABCF1, ABCG1, ABCG2, ABCG4, ABCG5, and ABCG8. J Hum Genet 47(6):285–310. doi:10.1007/s100380200041

20.

Abellan R, Mansego ML, Martinez-Hervas S, Martin-Escudero JC, Carmena R, Real JT, Redon J, Castrodeza-Sanz JJ, Chaves FJ (2010) Association of selected ABC gene family single nucleotide polymorphisms with postprandial lipoproteins: results from the population-based Hortega study. Atherosclerosis 211(1):203–209. doi:10.1016/j.atherosclerosis.2010.01.030

21.

Parra ES, Zago VHdS, Panzoldo NB, Alexandre F, Vendrame F, Virginio VWdM, Vieira IC, Rodrigues MSD, Cassol AdS, D'Alexandri F, Castanho VS, Nakamura R, Baracat J, Danelon MRG, Pozeti RCS, Facin ACC, Honorio HMdS, Mesquita SdCD, Silva MJd, Lot MCF, Nunes VS, Leança CC, Nakandakare ER, Quintão ECR, Faria ECd (2013) Development of a clinical laboratory data base of hyper and hypo alpha lipoproteins in Campinas-SP and neighboring region. J Bras de Patolo e Med Lab 49:26–33

22.

Kahn HS (2005) The "lipid accumulation product" performs better than the body mass index for recognizing cardiovascular risk: a population-based comparison. BMC Cardiovasc Disord 5:26. doi:10.1186/1471-2261-5-26

23.

Bergman RN, Stefanovski D, Buchanan TA, Sumner AE, Reynolds JC, Sebring NG, Xiang AH, Watanabe RM (2011) A better index of body adiposity ((Silver Spring)). Obesity 19(5):1083–1089. doi:10.1038/oby.2011.38

24.

Friedewald WT, Levy RI, Fredrickson DS (1972) Estimation of the concentration of low-density lipoprotein cholesterol in plasma, without use of the preparative ultracentrifuge. Clin Chem 18(6):499–502

25.

Boizel R, Benhamou PY, Lardy B, Laporte F, Foulon T, Halimi S (2000) Ratio of triglycerides to HDL cholesterol is an indicator of LDL particle size in patients with type 2 diabetes and normal HDL cholesterol levels. Diabetes Care 23(11):1679–1685

26.

Castelli WP (1988) Cholesterol and lipids in the risk of coronary artery disease–the Framingham Heart Study. Can J Cardiol 4(Suppl A):5A–10A

27.

Lima ES, Maranhao RC (2004) Rapid, simple laser-light-scattering method for HDL particle sizing in whole plasma. Clin Chem 50(6):1086–1088. doi:10.1373/clinchem.2004.032383

28.

Lagrost L (1998) Determination of the mass concentration and the activity of the plasma cholesteryl ester transfer protein (CETP). Methods Mol Biol 110:231–241. doi:10.1385/1-59259-582-0:231

29.

McPherson R, Mann CJ, Tall AR, Hogue M, Martin L, Milne RW, Marcel YL (1991) Plasma concentrations of cholesteryl ester transfer protein in hyperlipoproteinemia. Relation to cholesteryl ester transfer protein activity and other lipoprotein variables. Arterioscler Thromb 11(4):797–804

30.

Gross-Bellard M, Oudet P, Chambon P (1973) Isolation of high-molecular-weight DNA from mammalian cells. Eur J Biochem 36(1):32–38

31.

Vogelstein B, Gillespie D (1979) Preparative and analytical purification of DNA from agarose. Proc Natl Acad Sci USA 76(2):615–619

32.

Terasaka N, Wang N, Yvan-Charvet L, Tall AR (2007) High-density lipoprotein protects macrophages from oxidized low-density lipoprotein-induced apoptosis by promoting efflux of 7-ketocholesterol via ABCG1. Proc Natl Acad Sci USA 104(38):15093–15098. doi:10.1073/pnas.0704602104

33.

Yvan-Charvet L, Pagler TA, Seimon TA, Thorp E, Welch CL, Witztum JL, Tabas I, Tall AR (2010) ABCA1 and ABCG1 protect against oxidative stress-induced macrophage apoptosis during efferocytosis. Circ Res 106(12):1861–1869. doi:10.1161/CIRCRESAHA.110.217281

34.

Tarling EJ, Bojanic DD, Tangirala RK, Wang X, Lovgren-Sandblom A, Lusis AJ, Bjorkhem I, Edwards PA (2010) Impaired development of atherosclerosis in Abcg1-/- Apoe-/- mice: identification of specific oxysterols that both accumulate in Abcg1-/- Apoe-/- tissues and induce apoptosis. Arterioscler Thromb Vasc Biol 30(6):1174–1180. doi:10.1161/ATVBAHA.110.205617

35.

Xue J, Wang C, Zhu C, Li Y (2013) ATP-binding cassette transporter G1 protects against endothelial dysfunction induced by high glucose. Diabetes Res Clin Pract. doi:10.1016/j.diabres.2013.04.009

36.

Wiersma H, Nijstad N, de Boer JF, Out R, Hogewerf W, Van Berkel TJ, Kuipers F, Tietge UJ (2009) Lack of Abcg1 results in decreased plasma HDL cholesterol levels and increased biliary cholesterol secretion in mice fed a high cholesterol diet. Atherosclerosis 206(1):141–147. doi:10.1016/j.atherosclerosis.2009.02.022

37.

Westerterp M, Murphy AJ, Wang M, Pagler TA, Vengrenyuk Y, Kappus MS, Gorman DJ, Nagareddy PR, Zhu X, Abramowicz S, Parks JS, Welch C, Fisher EA, Wang N, Yvan-Charvet L, Tall AR (2013) Deficiency of ATP-binding cassette Transporters A1 and G1 in macrophages increases inflammation and accelerates atherosclerosis in mice. Circ Res 112(11):1456–1465. doi:10.1161/CIRCRESAHA.113.301086

38.

Xu Y, Wang W, Zhang L, Qi LP, Li LY, Chen LF, Fang Q, Dang AM, Yan XW (2011) A polymorphism in the ABCG1 promoter is functionally associated with coronary artery disease in a Chinese Han population. Atherosclerosis 219(2):648–654. doi:10.1016/j.atherosclerosis.2011.05.043

39.

Furuyama S, Uehara Y, Zhang B, Baba Y, Abe S, Iwamoto T, Miura S, Saku K (2009) Genotypic Effect of ABCG1 gene promoter −257T > G polymorphism on coronary artery disease severity in Japanese men. J Atheroscler Thromb 16(3):194–200

40.

Abellan R, Mansego ML, Martinez-Hervas S, Morcillo S, Pineda-Alonso M, Carmena R, Real JT, Redon J, Rojo-Martinez G, Martin-Escudero JC, Chaves FJ (2011) Dietary polyunsaturated fatty acids may increase plasma LDL-cholesterol and plasma cholesterol concentrations in carriers of an ABCG1 gene single nucleotide polymorphism: study in two Spanish populations. Atherosclerosis 219(2):900–906. doi:10.1016/j.atherosclerosis.2011.09.018
About this article
Cite this article
Zago, V.H.S., Scherrer, D.Z., Parra, E.S. et al. Association between ABCG1 polymorphism rs1893590 and high-density lipoprotein (HDL) in an asymptomatic Brazilian population. Mol Biol Rep 42, 745–754 (2015). https://doi.org/10.1007/s11033-014-3823-0
Received:

Accepted:

Published:

Issue Date:
Keywords
ABCG1

Polymorphism

Lipids

High-density lipoprotein