Abstract
This study aimed to identify gene expression profile in the rat brain resulting from acute alcohol intoxication (AAI). Eighteen SD rats were divided into the alcohol-treated group (n = 9) and saline control group (n = 9). Periorbital blood samples were taken to determine their blood alcohol content by gas chromatography. Tissue sections were analyzed by H and E staining and biochemical assays. Real-time reverse transcription PCR was used to validate microarray data. Statistical analysis was carried out using SPSS18.0 software (Version 18.0, SPSS Inc., Chicago, IL, USA). H and E staining demonstrated that alcohol-treated rats showed no obvious pathological changes in nerve cells compared with those in the control group. Biochemical tests revealed that alcohol-treated rats had lower superoxide dismutase activity than those in the control group (167.3 ± 10.3 U/mg vs. 189.2 ± 5.9 U/mg, P < 0.05). Furthermore, the malondialdehyde levels in alcohol-treated rats were higher than those in the control group (3.48 ± 0.24 mmol/mg vs. 2.51 ± 0.23 mmol/mg, P < 0.05). Microarray data presented 366 up-regulated genes and 300 down-regulated genes in the AAI rat brain. Gene ontology analysis identified 31 genes up-regulated and 39 down-regulated among all differentially expressed genes. Twenty-four pathways showed significant differences, including 12 pathways involved with up-regulated genes and 12 pathways involved with down-regulated genes. Selected genes showed significantly different expression in both alcohol-treated and control groups (P < 0.05). Gene expression analysis enabled clustering of alcohol intoxication-related genes by function. These genes expression may be potential targets for treatment or drug screening for acute alcohol intoxication.
Access options
Buy single article
Instant access to the full article PDF.
USD 39.95
Price includes VAT (USA)
Tax calculation will be finalised during checkout.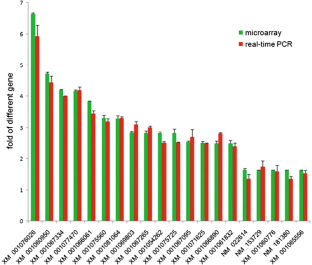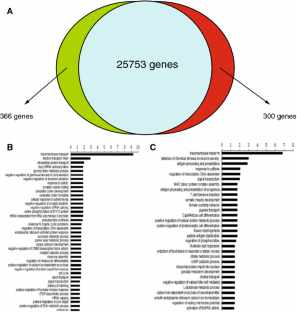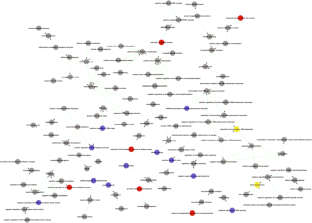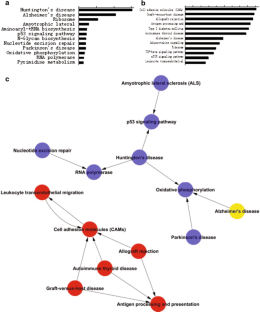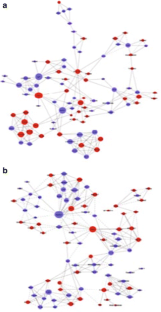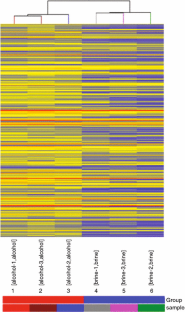 References
1.

McKay JR, Hiller-Sturmhofel S (2011) Treating alcoholism as a chronic disease: approaches to long-term continuing care. Alcohol Res Health 33:356–370

2.

Keyes KM, Liu XC, Cerda M (2012) The role of race/ethnicity in alcohol-attributable injury in the United States. Epidemiol Rev 34:89–102

3.

Darke S, Duflou J, Torok M et al (2013) Characteristics, circumstances and toxicology of sudden or unnatural deaths involving very high-range alcohol concentrations. Addiction 108:1411–1417

4.

Zoethout RW, Delgado WL, Ippel AE et al (2011) Functional biomarkers for the acute effects of alcohol on the central nervous system in healthy volunteers. Br J Clin Pharmacol 71:331–350

5.

Bjork JM, Gilman JM (2014) The effects of acute alcohol administration on the human brain: insights from neuroimaging. Neuropharmacology 84:101-110

6.

Jordaan GP, Warwick JM, Nel DG et al (2012) Alcohol-induced psychotic disorder: brain perfusion and psychopathology—before and after anti-psychotic treatment. Metab Brain Dis 27:67–77

7.

Maia CS, Lucena GM, Correa PB et al (2009) Interference of alcohol and methylmercury in the developing central nervous system. Neurotoxicology 30:23–30

8.

Seymen P, Aytac E, Esen F et al (2013) Darbepoetin alpha ameliorates neuronal damage in a rat model of acute alcohol intoxication. Int J Neurosci 123:99–103

9.

Augustyniak A, Skrzydlewska E (2010) The influence of L-carnitine suplementation on the antioxidative abilities of serum and the central nervous system of alcohol-induced rats. Metab Brain Dis 25:381–389

10.

Ruggeri B, Braconi S, Cannella N et al (2010) Neuropeptide S receptor gene expression in alcohol withdrawal and protracted abstinence in postdependent rats. Alcohol Clin Exp Res 34:90–97

11.

Kulkarny VV, Wiest NE, Marquez CP et al (2011) Opposite effects of acute alcohol exposure on GAP-43 and BDNF expression in the hippocampus versus the cerebellum of juvenile rats. Alcohol 45:461–471

12.

Schwanhausser B, Busse D, Li N et al (2011) Global quantification of mammalian gene expression control. Nature 473:337–342

13.

Kaern M, Elston TC, Blake WJ et al (2005) Stochasticity in gene expression: from theories to phenotypes. Nat Rev Genet 6:451–464

14.

Lopez-Maury L, Marguerat S, Bahler J (2008) Tuning gene expression to changing environments: from rapid responses to evolutionary adaptation. Nat Rev Genet 9:583–593

15.

Liu P, Kenney JM, Stiller JW et al (2010) Genetic organization, length conservation, and evolution of RNA polymerase II carboxyl-terminal domain. Mol Biol Evol 27:2628–2641

16.

Jaenisch R, Bird A (2003) Epigenetic regulation of gene expression: how the genome integrates intrinsic and environmental signals. Nat Genet 33(Suppl):245–254

17.

Maniatis T, Reed R (2002) An extensive network of coupling among gene expression machines. Nature 416:499–506

18.

Proudfoot NJ, Furger A, Dye MJ (2002) Integrating mRNA processing with transcription. Cell 108:501–512

19.

Lange RT, Iverson GL, Brubacher JR (2012) Clinical utility of the protein S100B to evaluate traumatic brain injury in the presence of acute alcohol intoxication. J Head Trauma Rehabil 27:123–134

20.

Kong LM, Zheng WB, Lian GP et al (2012) Acute effects of alcohol on the human brain: diffusion tensor imaging study. AJNR (Am J Neuroradiol) 33:928–934

21.

Mulligan MK, Rhodes JS, Crabbe JC et al (2011) Molecular profiles of drinking alcohol to intoxication in C57BL/6J rat. Alcohol Clin Exp Res 35:659–670

22.

McClung CA, Nestler EJ (2008) Neuroplasticity mediated by altered gene expression. Neuropsychopharmacology 33:3–17

23.

Hu W, Saba L, Kechris K et al (2008) Genomic insights into acute alcohol tolerance. J Pharmacol Exp Ther 326:792–800

24.

le Moal M, Koob GF (2007) Drug addiction: pathways to the disease and pathophysiological perspectives. Eur Neuropsychopharmacol 17:377–393

25.

Tabakoff B, Saba L, Kechris K et al (2008) The genomic determinants of alcohol preference in rat. Mamm Genome 19:352–365

26.

Himes R, Wezeman FH, Callaci JJ (2008) Identification of novel bone-specific molecular targets of binge alcohol and ibandronate by transcriptome analysis. Alcohol Clin Exp Res 32:1167–1180

27.

Wright GW, Simon RM (2003) A random variance model for detection of differential gene expression in small microarray experiments. Bioinformatics 19:2448–2455

28.

Clarke R, Ressom HW, Wang A et al (2008) The properties of high-dimensional data spaces: implications for exploring gene and protein expression data. Nat Rev Cancer 8:37–49

29.

Ashburner M, Ball CA, Blake JA et al (2000) Gene ontology: tool for the unification of biology. The gene ontology consortium. Nat Genet 25:25–29

30.

Schlitt T, Palin K, Rung J et al (2003) From gene networks to gene function. Genome Res 13:2568–2576

31.

Kanehisa M, Goto S, Kawashima S et al (2004) The KEGG resource for deciphering the genome. Nucleic Acids Res 32:D277–D280

32.

Thomas PD, Campbell MJ, Kejariwal A et al (2003) Panther: a library of protein families and subfamilies indexed by function. Genome Res 13:2129–2141

33.

Yi M, Horton JD, Cohen JC et al (2006) WholePathwayScope: a comprehensive pathway-based analysis tool for high-throughput data. BMC Bioinformatics 7:30

34.

Draghici S, Khatri P, Tarca AL et al (2007) A systems biology approach for pathway level analysis. Genome Res 17:1537–1545

35.

Zhang B, Horvath S (2005) A general framework for weighted gene co-expression network analysis. Stat Appl Genet Mol Biol 4(1):1128 (Article 17)

36.

Langfelder P, Zhang B, Horvath S (2008) Defining clusters from a hierarchical cluster tree: the dynamic tree cut package for R. Bioinformatics 24:719–720

37.

Barabasi AL, Oltvai ZN (2004) Network biology: understanding the cell's functional organization. Nat Rev Genet 5:101–113

38.

Prieto C, Risueno A, Fontanillo C et al (2008) Human gene coexpression landscape: confident network derived from tissue transcriptomic profiles. PLoS ONE 3:e3911

39.

Pujana MA, Han JD, Starita LM et al (2007) Network modeling links breast cancer susceptibility and centrosome dysfunction. Nat Genet 39:1338–1349

40.

Liang J, Suryanarayanan A, Abriam A et al (2007) Mechanisms of reversible GABAA receptor plasticity after ethanol intoxication. J Neurosci 27:12367–12377

41.

Heinz AJ, Beck A, Meyer-Lindenberg A et al (2011) Cognitive and neurobiological mechanisms of alcohol-related aggression. Nat Rev Neurosci 12:400–413

42.

Banan A, Fields JZ, Decker H et al (2000) Nitric oxide and its metabolites mediate alcohol-induced microtubule disruption and intestinal barrier dysfunction. J Pharmacol Exp Ther 294:997–1008

43.

Apel K, Hirt H (2004) Reactive oxygen species: metabolism, oxidative stress, and signal transduction. Annu Rev Plant Biol 55:373–399

44.

Husain K, Scott BR, Reddy SK et al (2001) Chronic alcohol and nicotine interaction on rat tissue antioxidant defense system. Alcohol 25:89–97

45.

Oner P, Cinar F, Kocak H et al (2002) Effect of exogenous melatonin on alcohol-induced changes in Na(+), K(+)- and Ca(2+)-ATPase activities in rat synaptosomes. Neurochem Res 27:1619–1623

46.

Zimatkin SM, Pronko SP, Vasiliou V et al (2006) Enzymatic mechanisms of alcohol oxidation in the brain. Alcohol Clin Exp Res 30:1500–1505

47.

Chizhikov V, Millen KJ (2003) Development and malformations of the cerebellum in rat. Mol Genet Metab 80:54–65

48.

Luo J (2012) Mechanisms of alcohol-induced death of cerebellar granule cells. Cerebellum 11:145–154

49.

Jorntell H, Ekerot CF (2006) Properties of somatosensory synaptic integration in cerebellar granule cells in vivo. J Neurosci 26:11786–11797

50.

Huang CM, Huang RH (2007) Alcohol inhibits the sensory responses of cerebellar granule cells in anesthetized cats. Alcohol Clin Exp Res 31:336–344

51.

Goral J, Karavitis J, Kovacs EJ (2008) Exposure-dependent effects of alcohol on the innate immune system. Alcohol 42:237–247

52.

Kong EC, Allouche L, Chapot PA et al (2010) Alcohol-regulated genes that contribute to alcohol sensitivity and rapid tolerance in Drosophila. Alcohol Clin Exp Res 34:302–316

53.

Brown RC, Lockwood AH, Sonawane BR (2005) Neurodegenerative diseases: an overview of environmental risk factors. Environ Health Perspect 113:1250–1256

54.

Martin LJ, Liu Z, Pipino J et al (2009) Molecular regulation of DNA damage-induced apoptosis in neurons of cerebral cortex. Cereb Cortex 19:1273–1293
Acknowledgments
We would like to acknowledge the reviewers for their helpful comments on this paper.
Competing interests
The authors have declared that no competing interests exist.
Additional information
The article "Identification of gene expression profile in the rat brain resulting from acute alcohol intoxication", published in Mol Biol Rep, (2014, 41:8303–8317, DOI 10.1007/s11033-014-3731-3), is retracted by agreement between the authors and the Editor in Chief. Consent for publication was not provided by all of the participants in the main research group; in addition the original experimental data was matched to incorrect rat samples, and significant statistical errors were found in the Results section.
About this article
Cite this article
Kong, LY., Li, GP., Yang, P. et al. RETRACTED ARTICLE: Identification of gene expression profile in the rat brain resulting from acute alcohol intoxication. Mol Biol Rep 41, 8303–8317 (2014). https://doi.org/10.1007/s11033-014-3731-3
Received:

Accepted:

Published:

Issue Date:
Keywords
Acute alcohol intoxication

Gene expression profile

Rat model

Real-time PCR