Abstract
PHA665752 (PHA), a selective small molecule c-Met Inhibitor, potently inhibited HGF-stimulated and constitutive c-Met phosphorylation, as well as HGF and c-Met-driven phenotypes of a variety of tumor cells including hepatocellular carcinoma cells. However, these effects were impaired in c-Met-deficient cancer cells. In the present study, we investigated the potential anti-human c-Met-deficient hepatocellular carcinoma effects of Celastrol, a novel triterpene, and its combination with PHA. Human hepatocellular carcinoma cells BEL-7402 (c-Met-positive) and Huh7 (c-Met-deficient) were treated with different dose of PHA with or without equal dose of Celastrol, and cell growth, cell cycle and apoptosis were evaluated, respectively, by MTT assay, flow cytometry and Caspase3/7 activity. Nude mice bearing Huh7 xenografts were used to assess the in vivo anti-tumor activity. Our results showed that Celastrol at high concentration (>1.0 μM) induced G2/M arrest and apoptosis with the activation of Caspase3/7 in Huh7 cells whereas at low concentration (<1.0 μM) had no obvious effects. Low concentration Celastrol presented significant combined effects with PHA on Huh7 cells and Huh7 xenografts in terms of growth inhibition, migration inhibition and apoptosis induction. These results suggest that Celastrol and its combination with PHA present the therapeutic potential on c-Met-deficient hepatocellular carcinoma, and deserve further preclinical and clinical studies.
This is a preview of subscription content, log in to check access.
Access options
Buy single article
Instant access to the full article PDF.
US$ 39.95
Price includes VAT for USA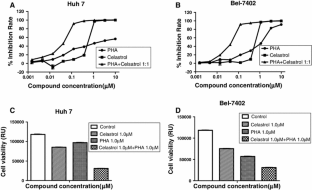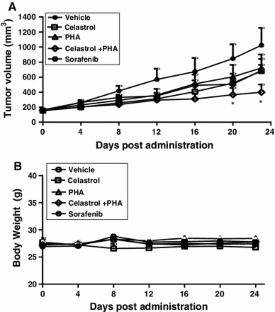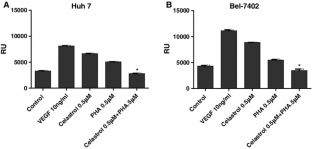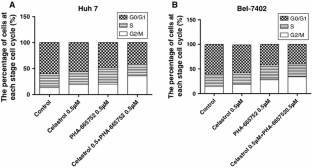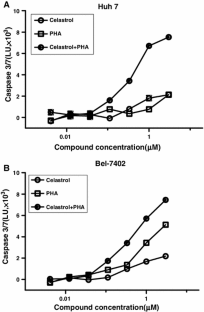 References
1.

Baatarkhuu O, Kim do Y, Bat-Ireedui P, Han KH (2011) Current situation of hepatocellular carcinoma in Mongolia. Oncology 81(Suppl 1):148–151

2.

Tanaka M, Katayama F, Kato H, Tanaka H, Wang J, Qiao YL, Inoue M (2011) Hepatitis B and C virus infection and hepatocellular carcinoma in China: a review of epidemiology and control measures. J Epidemiol 21:401–416

3.

Nakamura T, Matsumoto K, Kiritoshi A, Tano Y, Nakamura T (1997) Induction of hepatocyte growth factor in fibroblasts by tumor-derived factors affects invasive growth of tumor cells: in vitro analysis of tumor-stromal interactions. Cancer Res 57:3305–3313

4.

Yap TA, de Bono JS (2010) Targeting the HGF/c-Met axis: state of play. Mol Cancer Ther 9:1077–1079

5.

Grzelakowska-Sztabert B, Dudkowska M (2011) Paradoxical action of growth factors: antiproliferative and proapoptotic signaling by HGF/c-MET. Growth Factors 29:105–118

6.

Yap TA, Sandhu SK, Alam SM, de Bono JS (2011) HGF/c-MET targeted therapeutics: novel strategies for cancer medicine. Curr Drug Targets 12:2045–2058

7.

Sierra JR, Tsao MS (2011) c-MET as a potential therapeutic target and biomarker in cancer. Ther Adv Med Oncol 3:S21–S35

8.

Christensen JG, Schreck R, Burrows J, Kuruganti P, Chan E, Le P, Chen J, Wang X, Ruslim L, Blake R, Lipson KE, Ramphal J, Do S, Cui JJ, Cherrington JM, Mendel DB (2003) A selective small molecule inhibitor of c-Met kinase inhibits c-Met-dependent phenotypes in vitro and exhibits cytoreductive antitumor activity in vivo. Cancer Res 63:7345–7355

9.

Hov H, Holt RU, Ro TB, Fagerli UM, Hjorth-Hansen H, Baykov V, Christensen JG, Waage A, Sundan A, Borset M (2004) A selective c-met inhibitor blocks an autocrine hepatocyte growth factor growth loop in ANBL-6 cells and prevents migration and adhesion of myeloma cells. Clin Cancer Res 10:6686–6694

10.

You H, Ding W, Dang H, Jiang Y, Rountree CB (2011) c-Met represents a potential therapeutic target for personalized treatment in hepatocellular carcinoma. Hepatology 54:879–889

11.

Rajendran P, Li F, Shanmugam MK, Kannaiyan R, Goh JN, Wong KF, Wang W, Khin E, Tergaonkar V, Kumar AP, Luk JM, Sethi G (2012) Celastrol suppresses growth and induces apoptosis of human hepatocellular carcinoma through the modulation of STAT3/JAK2 signaling cascade in vitro and in vivo. Cancer Prev Res (Phila) 5:631–643

12.

Lau PC, Wong EY (2012) Targeting MET by tyrosine kinase inhibitor suppresses growth and invasion of nasopharyngeal carcinoma cell lines. Pathol Oncol Res 18:357–363

13.

Kim S, Lee SH, Kang S, Lee L, Park JD, Ryu DY (2011) Involvement of c-Met- and phosphatidylinositol 3-kinase dependent pathways in arsenite-induced downregulation of catalase in hepatoma cells. Biol Pharm Bull 34:1748–1752

14.

Yang H, Chen D, Cui QC, Yuan X, Dou QP (2006) Celastrol, a triterpene extracted from the Chinese "Thunder of God Vine," is a potent proteasome inhibitor and suppresses human prostate cancer growth in nude mice. Cancer Res 66:4758–4765

15.

Westerheide SD, Bosman JD, Mbadugha BN, Kawahara TL, Matsumoto G, Kim S, Gu W, Devlin JP, Silverman RB, Morimoto RI (2004) Celastrols as inducers of the heat shock response and cytoprotection. J Biol Chem 279:56053–56060

16.

Kim Y, Kang H, Jang SW, Ko J (2011) Celastrol inhibits breast cancer cell invasion via suppression of NF-kB-mediated matrix metalloproteinase-9 expression. Cell Physiol Biochem 28:175–184
About this article
Cite this article
Jiang, H., Jin, J., Wu, D. et al. Celastrol exerts synergistic effects with PHA-665752 and inhibits tumor growth of c-Met-deficient hepatocellular carcinoma in vivo. Mol Biol Rep 40, 4203–4209 (2013). https://doi.org/10.1007/s11033-013-2501-y
Received:

Accepted:

Published:

Issue Date:
Keywords
Celastrol

PHA-665752

Hepatocellular carcinoma

Combination