Abstract
Evidences from randomized controlled trials (RCTs) for the efficiency of traditional Chinese medicine (TCM) on the treatment of nonalcoholic fatty liver disease (NAFLD) are conflicting. Here we conducted a systematic review and meta-analysis of RCTs to evaluate the efficiency and safety of TCM in the treatment of NAFLD. Studies were searched on PubMed and China National Knowledge Infrastructure from January 1995 to June 2010. RCTs comparing either TCM formulations alone or in combination with placebo, ursodeoxycholic acid, insulin sensitizers, lipid-lowering drugs, or antioxidants were included. The category of most usually used herbs in the treatment of NAFLD was also calculated. Five thousand nine hundred and four patients from 62 RCTs were included for meta-analysis and 25,661 patients from 419 clinical studies were for TCM formulation analysis. Comparing with western medicines mentioned above, TCM had a better effect on the normalization of alanine aminotransferase and disappearance of radiological steatosis in the treatment of NAFLD. Furthermore, 246 kinds of Chinese herbs were included in our present study, with an average of 10 herbs (range 1–31) in each formulation. Hawthorn Fruit (321 times in 17,670 patients) was the most often used herb in the treatment of NAFLD. In conclusion, TCM is of modest benefit to the treatment of NAFLD.
This is a preview of subscription content, log in to check access.
Access options
Buy single article
Instant access to the full article PDF.
US$ 39.95
Price includes VAT for USA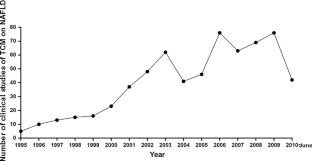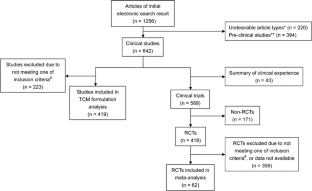 Abbreviations
ALT:

Alanine aminotransferase

CI:

Confidence interval

CONSORT:

Consolidated Standards of Reporting Trials

NAFLD:

Nonalcoholic fatty liver disease

OR:

Odds ratio

RCT:

Randomized controlled trial

TCM:

Traditional Chinese medicine

UDCA:

Ursodeoxycholic acid
References
1.

Fan JG, Farrell GC (2009) Epidemiology of non-alcoholic fatty liver disease in China. J Hepatol 50:204–210

2.

Angulo P (2002) Nonalcoholic fatty liver disease. N Engl J Med 346:1221–1231

3.

Williams CD, Stengel J, Asike MI, Torres DM, Shaw J, Contreras M, Landt CL, Harrison SA (2011) Prevalence of nonalcoholic fatty liver disease and nonalcoholic steatohepatitis among a largely middle-aged population utilizing ultrasound and liver biopsy: a prospective study. Gastroenterology 140:124–131

4.

David K, Kowdley KV, Unalp A, Kanwal F, Brunt EM, Schwimmer JB (2009) Quality of life in adults with nonalcoholic fatty liver disease: baseline data from the nonalcoholic steatohepatitis clinical research network. Hepatology 49:1904–1912

5.

Valenti L, Fracanzani AL, Bugianesi E, Dongiovanni P, Galmozzi E, Vanni E, Canavesi E, Lattuada E, Roviaro G, Marchesini G et al (2010) HFE genotype, parenchymal iron accumulation, and liver fibrosis in patients with nonalcoholic fatty liver disease. Gastroenterology 138:905–912

6.

Starley BQ, Calcagno CJ, Harrison SA (2010) Nonalcoholic fatty liver disease and hepatocellular carcinoma: a weighty connection. Hepatology 51:1820–1832

7.

Targher G, Day CP, Bonora E (2010) Risk of cardiovascular disease in patients with nonalcoholic fatty liver disease. N Engl J Med 363:1341–1350

8.

Sung KC, Ryan MC, Wilson AM (2009) The severity of nonalcoholic fatty liver disease is associated with increased cardiovascular risk in a large cohort of non-obese Asian subjects. Atherosclerosis 203:581–586

9.

Soon RK Jr, Yan JS, Grenert JP, Maher JJ (2010). Stress signaling in the methionine-choline-deficient model of murine fatty liver disease. Gastroenterology 139:1730–1739, 1739, e1731

10.

Rafiq N, Bai C, Fang Y, Srishord M, McCullough A, Gramlich T, Younossi ZM (2009) Long-term follow-up of patients with nonalcoholic fatty liver. Clin Gastroenterol Hepatol 7:234–238

11.

Kashi MR, Torres DM, Harrison SA (2008) Current and emerging therapies in nonalcoholic fatty liver disease. Semin Liver Dis 28:396–406

12.

Chen J, Ma M, Lu Y, Wang L, Wu C, Duan H (2009) Rhaponticin from rhubarb rhizomes alleviates liver steatosis and improves blood glucose and lipid profiles in KK/Ay diabetic mice. Planta Med 75:472–477

13.

Lee TY, Chang HH, Lo WC, Lin HC (2010) Alleviation of hepatic oxidative stress by Chinese herbal medicine Yin–Chen–Hao–Tang in obese mice with steatosis. Int J Mol Med 25:837–844

14.

Lee SC, Chang SJ, Tsai LY (2004) Effects of traditional Chinese medicines on serum lipid profiles and homocysteine in the ovariectomized rats. Am J Chin Med 32:541–550

15.

Higgins JP, Thompson SG (2002) Quantifying heterogeneity in a meta-analysis. Stat Med 21:1539–1558

16.

Rosenthal R, DiMatteo MR (2001) Meta-analysis: recent developments in quantitative methods for literature reviews. Annu Rev Psychol 52:59–82

17.

Egger M, Davey Smith G, Schneider M, Minder C (1997) Bias in meta-analysis detected by a simple, graphical test. BMJ 315:629–634

18.

Ji G, Fan JG, Chen JJ (2005) Clinical study on treatment of non-alcoholic fatty liver of damp-heat syndrome type by Danning tablet [in Chinese]. Chin J Integr Tradit West Med 25:485–488

19.

Hsiao WL, Liu L (2010) The role of traditional Chinese herbal medicines in cancer therapy—from TCM theory to mechanistic insights. Planta Med 76:1118–1131

20.

Chien CF, Wu YT, Tsai TH (2011) Biological analysis of herbal medicines used for the treatment of liver diseases. Biomed Chromatogr 25:21–38

21.

Stickel F, Patsenker E, Schuppan D (2005) Herbal hepatotoxicity. J Hepatol 43:901–910

22.

Stedman C (2002) Herbal hepatotoxicity. Semin Liver Dis 22:195–206

23.

Kyrlagkitsis I, Portmann B, Smith H, O'Grady J, Cramp ME (2003) Liver histology and progression of fibrosis in individuals with chronic hepatitis C and persistently normal ALT. Am J Gastroenterol 98:1588–1593

24.

Saab S, Hu R, Ibrahim AB, Goldstein LI, Kunder G, Durazo F, Han S, Yersiz H, Ghobrial RM, Farmer DG et al (2003) Discordance between ALT values and fibrosis in liver transplant recipients treated with ribavirin for recurrent hepatitis C. Am J Transplant 3:328–333

25.

Berger VW (2010) Randomization, permuted blocks, masking, allocation concealment, and selection bias in the Tobacco Quit Line Study. Contemp Clin Trials 31:201

26.

Moher D, Dulberg CS, Wells GA (1994) Statistical power, sample size, and their reporting in randomized controlled trials. JAMA 272:122–124

27.

O'Connor TM, Jago R, Baranowski T (2009) Engaging parents to increase youth physical activity a systematic review. Am J Prev Med 37:141–149
Acknowledgments
This work was supported by grants from National Science and Technology Major Project of China (2012ZX10002004), the Scientific Research Foundation of Wenzhou, Zhejiang Province, China (H20090014, Y20090269), Zhejiang Provincial Administration of Traditional Chinese Medicine (2011ZQ015), Health Bureau of Zhejiang Province (2010KYB070), Research Foundation of Education Bureau of Zhejiang Province (Y201009942) and Project of New Century 551 Talent Nurturing in Wenzhou, Natural Science Foundation of Shandong Province (ZR2010HQ040), Independent Innovation Foundation of Shandong University (IIFSDU, 2010TS013).
Conflict of Interest
All authors have no conflicts of interest.
Additional information
K.-Q. Shi and Y.-C. Fan contribute equally to the study.
Electronic supplementary material
Below is the link to the electronic supplementary material.
About this article
Cite this article
Shi, K., Fan, Y., Liu, W. et al. Traditional Chinese medicines benefit to nonalcoholic fatty liver disease: a systematic review and meta-analysis. Mol Biol Rep 39, 9715–9722 (2012). https://doi.org/10.1007/s11033-012-1836-0
Received:

Accepted:

Published:

Issue Date:
Keywords
Herb

Fatty liver

Therapy

Meta-analysis

Nonalcoholic fatty liver disease