Abstract
Tumor necrosis factor-related apoptosis-inducing ligand (TRAIL) is a promising agent for cancer therapy. However, a number of prostate cancer cells exhibit high resistance to TRAIL effect. In this study, we found that Triptolide, a Chinese medicine, significantly sensitizes prostate cancer cells to TRAIL-mediated cellular apoptosis by up-regulating DR5 expression. Triptolide treatment can suppress Akt/Hdm2 signaling pathway, and lead to p53 accumulation, thereby up-regulating DR5 expression. Taken together, all evidences indicate that Triptolide may become a promising therapeutic agent that prevents the progression of prostate cancer.
Access options
Buy single article
Instant access to the full article PDF.
USD 39.95
Price excludes VAT (USA)
Tax calculation will be finalised during checkout.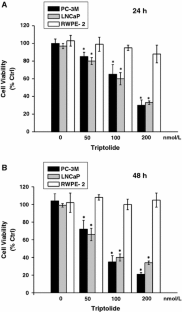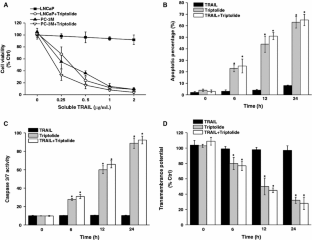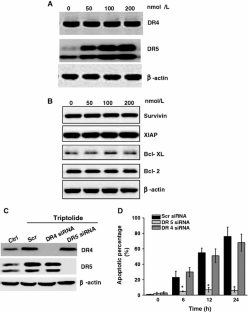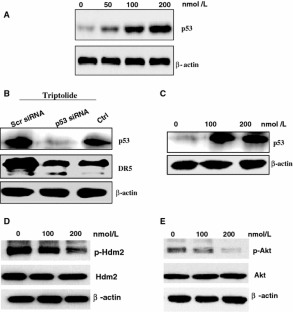 References
Lu-Yao GL, Albertsen PC, Moore DF, Shih W, Lin Y, DiPaola RS, Yao SL (2008) Survival following primary androgen deprivation therapy among men with localized prostate cancer. JAMA 300(2):173–181

Frew AJ, Lindemann RK, Martin BP et al (2008) Combination therapy of established cancer using a histone deacetylase inhibitor and a TRAIL receptor agonist. Proc Natl Acad Sci USA 105(32):11317–11322

Mahalingam D, Szegezdi E, Keane M, de Jong S, Samali A (2009) TRAIL receptor signalling and modulation: are we on the right TRAIL? Cancer Treat Rev 35(3):280–288

Falschlehner C, Ganten TM, Koschny R, Schaefer U, Walczak H (2009) TRAIL and other TRAIL receptor agonists as novel cancer therapeutics. Adv Exp Med Biol 647:195–206

Pukac L, Kanakaraj P, Humphreys R et al (2005) HGS-ETR1, a fully human TRAIL-receptor 1 monoclonal antibody, induces cell death in multiple tumour types in vitro and in vivo. Br J Cancer 92(8):1430–1441

Colucci S, Brunetti G, Cantatore FP et al (2007) The death receptor DR5 is involved in TRAIL-mediated human osteoclast apoptosis. Apoptosis 12(9):1623–1632

Menke C, Goncharov T, Qamar L et al (2011) TRAIL receptor signaling regulation of chemosensitivity in vivo but not in vitro. PLoS One 16(1):e14527

Carter BZ, Mak DH, Schober WD et al (2008) Triptolide sensitizes AML cells to TRAIL-induced apoptosis via decrease of XIAP and p53-mediated increase of DR5. Blood 111(7):3742–3750

Phillips PA, Dudeja V, McCarroll JA et al (2007) Triptolide induces pancreatic cancer cell death via inhibition of heat shock protein 70. Cancer Res 67(19):9407–9416

Mak DH, Schober WD, Chen W et al (2009) Triptolide induces cell death independent of cellular responses to imatinib in blast crisis chronic myelogenous leukemia cells including quiescent CD34+ primitive progenitor cells. Mol Cancer Ther 8(9):2509–2516

Liu X, Yue P, Zhou Z, Khuri FR, Sun SY (2004) Death receptor regulation and celecoxib-induced apoptosis in human lung cancer cells. J Natl Cancer Inst 96(23):1769–1780

Tomasetti M, Andera L, Alleva R, Borghi B, Neuzil J, Procopio A (2006) Alpha-tocopheryl succinate induces DR4 and DR5 expression by a p53-dependent route: implication for sensitisation of resistant cancer cells to TRAIL apoptosis. FEBS Lett 580(8):1925–1931

Yamaguchi H, Wang HG (2004) CHOP is involved in endoplasmic reticulum stress-induced apoptosis by enhancing DR5 expression in human carcinoma cells. J Biol Chem 279(44):45495–45502

Matoba S, Kang JG, Patino WD et al (2006) p53 regulates mitochondrial respiration. Science 312(5780):1650–1653

Takimoto R, El-Deiry W (2000) Wild-type p53 transactivates the KILLER/DR5 gene through an intronic sequence-specific DNA-binding site. Oncogene 19:1735–1743

Meng RD, El-Deiry WS (2001) p53-independent upregulation of KILLER/DR5 TRAIL receptor expression by glucocorticoids and interferon-[gamma]. Exp Cell Res 262:154–169

Ciliberto A, Novak B, Tyson JJ (2005) Report steady states and oscillations in the p53/HDM2 network. Cell Cycle 4:488–493

Boehme KA, Kulikov R, Blattner C (2008) p53 stabilization in response to DNA damage requires Akt/PKB and DNA-PK. Proc Natl Acad Sci USA 105:7785–7790

Zhang L, Fang B (2004) Mechanisms of resistance to TRAIL-induced apoptosis in cancer. Cancer Gene Ther 12:228–237

Lee KY, Park JS, Jee YK, Rosen GD (2002) Triptolide sensitizes lung cancer cells to TNF-related apoptosis-inducing ligand (TRAIL)-induced apoptosis by inhibition of NF-kappaB activation. Exp Mol Med 34(6):462–468

Vispé S, DeVries L, Créancier L et al (2009) Triptolide is an inhibitor of RNA polymerase I and II-dependent transcription leading predominantly to down-regulation of short-lived mRNA. Mol Cancer Ther 8(10):2780–2790

Titov DV, Gilman B, He QL et al (2010) XPB, a subunit of TFIIH, is a target of the natural product triptolide. Nat Chem Biol 7(3):182–188

Pan J (2010) RNA polymerase—an important molecular target of triptolide in cancer cells. Cancer Lett 292(2):149–152

Zerafa N, Westwood JA, Cretney E, Mitchell S, Waring P, Iezzi M, Smyth MJ (2005) Cutting edge: TRAIL deficiency accelerates hematological malignancies. J Immunol 175(9):5586–5590

Kim K, Fisher MJ, Xu SQ, el-Deiry WS (2000) Molecular determinants of response to TRAIL in killing of normal and cancer cells. Clin Cancer Res 6(2):335–346

Bellail AC, Qi L, Mulligan P, Chhabra V, Hao C (2009) TRAIL agonists on clinical trials for cancer therapy: the promises and the challenges. Rev Recent Clin Trials 4(1):34–41

Yang A, Wilson NS, Ashkenazi A (2010) Proapoptotic DR4 and DR5 signaling in cancer cells: toward clinical translation. Curr Opin Cell Biol 22(6):837–844

Whibley C, Pharoah PD, Hollstein M (2009) p53 polymorphisms: cancer implications. Nat Rev Cancer 9(2):95–107

Toscano F, Fajoui ZE, Gay F et al (2008) P53-mediated up-regulation of DcR1 impairs oxaliplatin/TRAIL-induced synergistic anti-tumour potential in colon cancer cells. Oncogene 27(30):4161–4171

Prasad S, Yadav VR, Kannappan R, Aggarwal BB (2011) Ursolic acid, a pentacyclin triterpene, potentiates TRAIL-induced apoptosis through p53-independent up-regulation of death receptors: evidence for the role of reactive oxygen species and JNK. J Biol Chem 286(7):5546–5557

Dey A, Lane DP, Verma CS (2010) Modulating the p53 pathway. Semin Cancer Biol 20(1):3–9

Chipuk JE, Green DR (2006) Dissecting p53-dependent apoptosis. Cell Death Differ 13(6):994–1002

Li W, Liu Y, Li XX, Yu Y, Wu JJ, Wang Q, Huo H, Wang LM, Yang L (2011) MAPKs are not involved in triptolide-induced cell growth inhibition and apoptosis in prostate cancer cell lines with different p53 status. Planta Med 77(1):27–31
About this article
Cite this article
Xiaowen, H., Yi, S. Triptolide sensitizes TRAIL-induced apoptosis in prostate cancer cells via p53-mediated DR5 up-regulation. Mol Biol Rep 39, 8763–8770 (2012). https://doi.org/10.1007/s11033-012-1737-2
Received:

Accepted:

Published:

Issue Date:

DOI: https://doi.org/10.1007/s11033-012-1737-2
Keywords