Abstract
Insulin-like growth factors (IGFs), vascular endothelial growth factor (VEGF), hypoxia-inducible factor-1 (HIF-1), and nuclear factor kappa-B (NF-κB) are known to play an important role in endometrial cancer pathogenesis. However, the proteolytic regulation of these factors is still poorly understood. We studied the correlation between chymotrypsin-like activity of proteasomes and IGF-I, IGF-II, VEGF, HIF-1, and NF-κB levels in endometrial cancer tissues. It was shown that the total activity of proteasomes and the activity of the 20S and 26S proteasomes in malignant tumors were significantly higher than those observed in the normal endometrium. Negative relationships between the proteasome activity and IGF-I, HIF-1, and NF-κB p50 expressions were found. High 20S proteasome activity was associated with increase of HIF-1 level. Positive relationships between IGF-I expression and two classic forms of NF-κB p50 and p65 in endometrial cancer were revealed. The data obtained indicate the possible proteasomal regulation of growth and transcription factors. The major pool of IGF-I is located in the extracellular space, and it is likely that extracellular proteasomes also take part in the regulation of the IGF-I content. The present data show the evidence of proteasome regulation of growth and nuclear factors that can play an important role in cancer pathogenesis.
Access options
Buy single article
Instant access to the full article PDF.
USD 39.95
Price includes VAT (USA)
Tax calculation will be finalised during checkout.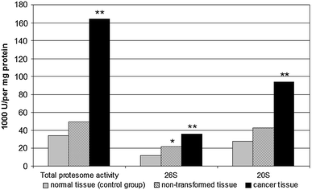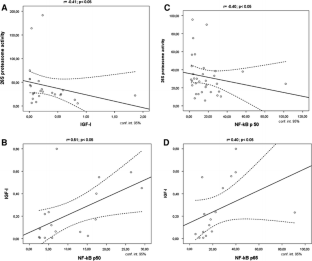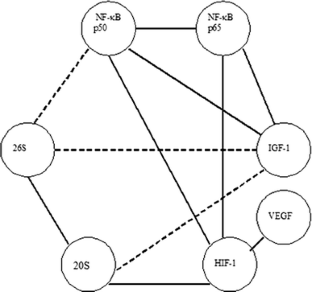 Abbreviations
20S and 26S:

Proteasome

IGF-I, IGF-II:

Insulin-like growth factors

IGFBPs:

Insulin growth factors binding proteins

IRS:

Insulin receptor substrate

HIF-1:

Hypoxia-inducible factor-1

NF-κB:

Nuclear factor kappa-B

VEGF:

Vascular endothelial growth factor

pVHL:

Von Hippel–Lindau protein
References
1.

Holman L, Lu K (2012) The epidemiology of endometrial cancer. Glob libr women's med (ISSN: 1756–2228). doi:10.3843/GLOWM.10236

2.

Berstein LM, Tchernobrovkina AE, Gamayunova VB, Kovalevskij AJ, Vasilyev DA, Chepik OF, Turkevitch EA, Tsyrlina EV, Maximov SJ, Ashrafian LA, Thijssen JH (2003) Tumor estrogen content and clinico-morphological and endocrine features of endometrial cancer. J Cancer Res Clin Oncol 129(4):245–249

3.

Firth SM (2002) Baxter RC Cellular action of the insulin-like growth factor binding proteins. Endocr Rev 23:824–854

4.

Zhang H, Yee D (2006) Is the type I insulin-like growth factor receptor a therapeutic target in endometrial cancer? Clin Cancer Res 12:6323–6325

5.

McCampbell AS, Broaddus RR, Loose DS, Davis PJA (2006) Overexpression of the insulin-like growth factor I receptor and activation of the AKT pathway in hyperplastic endometrium. Clin Cancer Res 12:6373–6378

6.

Badinga L, Song S, Simmen RCM, Clarke JB, Clemmons DR, Simmen FA (1999) Complex mediation of uterine endometrial epithelial cell growth by insulin-like growth factor-II (IGF-II) and IGF-binding protein-2. J Mol Endocrinol 23:277–285

7.

Gielen SC (2005) Steroid-modulated proliferation of human endometrial carcinoma cell lines: any role for insulin-like growth factor signaling? J Soc Gynecol Investig 12:58–64

8.

Molitoris KH, Kazi AA, Koos RD (2009) Inhibition of oxygen-induced hypoxia-inducible factor-1 alpha degradation unmasks estradiol induction of vascular endothelial growth factor expression in ECC-1 cancer cells in vitro. Endocrinology 150(12):5405–5414

9.

Dobrzycka B, Terlikowski SJ, Kwiatkowski M, Garbowicz M, Kinalski M, Chyczewski L (2010) Prognostic significance of VEGF and its receptors in endometrioid endometrial cancer. Ginekol Pol 81:422–425

10.

Feldser D, Agani F, Iyer NV et al (1999) Reciprocal positive regulation of hypoxia-inducible factor 1 alpha and insulin-like growth factor 2. Cancer Res 59(16):3915–3918

11.

Beppu K, Nakamura K, Linehan WM et al (2005) Topotecan blocks hypoxia-inducible factor-1 alpha and vascular endothelial growth expression induced by insulin-like growth factor-1 in neuroblastoma cells. Cancer Res 65(11):4775–4781

12.

Gariboldi MB, Ravizza R, Monti E (2010) The IGFR1 inhibitor NVP-AEW541 disrupts a pro-survival and proangiogenic IGF-STAT3-HIF1 pathway in human glioblastoma cells. Biochem Pharmacol 80(4):455–462

13.

Seeber LM, Zweemer RP, Verheijen RH et al (2010) Hypoxia-inducible factor-1 as a therapeutic target in endometrial cancer management. Obstet Gynecol Int 2010:580971–580979

14.

Zhou J, Kohl R, Herr B et al (2006) Calpain mediates a von Hippel-Lindau protein-independent destruction of hypoxia-inducible factor-1α. Mol Biol Cell 17(4):1549–1558

15.

Baldwin AS (1996) The NF-kappa B and I-kappa B proteins: new discoveries and insights. Annu Rev Immunol 14:649–683

16.

Goldberg AL (2007) Functions of the proteasome: from protein degradation and immune surveillance to cancer therapy. Biochem Soc Trans 35:12–17

17.

Kostadinova RM, Nawrocki AR, Frey FJ, Frey BM (2005) Tumor necrosis factor alpha and phorbol 12-myristate-13-acetate down-regulate human 11 beta-hydroxysteroid dehydrogenase type 2 through p50/p50 NF-kappaB homodimers and Egr-1. FASEB J 19(6):650–652

18.

Marui N, Medford RM, Ahmad M (2005) Activation of RelA homodimers by tumor necrosis factor alpha: a possible transcriptional activator in human vascular endothelial cells. Biochem J 390:317–324

19.

Juvekar A, Manna S, Ramaswami S, Chang TP, Vu HY, Ghosh CC, Celiker MY, Vancurova I (2011) Bortezomib induces nuclear translocation of IkBα resulting in gene-specific suppression of NF-kB-dependent transcription and induction of apoptosis in CTCL. Mol Cancer Res 9(2):183–194

20.

Conner JR, Smirnova II, Moseman AP, Poltorak A (2010) IRAK1BP1 inhibits inflammation by promoting nuclear translocation of NF-kappaB p50. Proc Natl Acad Sci USA 107(25):11477–11482

21.

Almond JB, Cohen GM (2002) The proteasome: a novel target for cancer chemotherapy. Leukemia 16(4):433–443

22.

Fan M, Narshatri H, Nephew KP (2004) Inhibiting proteasomal proteolysis sustains estrogen receptor-alpha activation. Mol Endocrinol 18(11):2603–2615

23.

Satoh S, Yanagita T, Maruta T et al (2008) Proteasomal degradation of IRS-2, but not IRS-1 by calcineurin inhibition: attenuation of insulin-like growth factor-I-induced GSK-3 beta and ERK pathways in adrenal chromaffin cells. Neuropharmacology 55(1):71–79

24.

Girnita L, Girnita A, Larsson O (2003) Mdm2-dependent ubiquitination and degradation of the insulin-like growth factor 1 receptor. Proc Nat Acad Sci USA 100:8247–8252

25.

Yue CX, Ma J, Zhou HJ et al (2011) The effect of RhoA and proteasome inhibitor MG132 on angiogenesis in tumors. Sichuan Da Xue Xue Bao Yi Xue Ban 42(4):445–451

26.

Muller M, Morotti A, Ponzetto C (2002) Activation of NF-B is essential for hepatocyte growth factor-mediated proliferation and tubulogenesis. Mol Cell Biol 22(4):13012–13017

27.

Cramer M, Nagy I, Murphy BJ, Gassmann M, Hottiger MO, Georgiev O, Schaffner W (2005) NF-kappaB contributes to transcription of placenta growth factor and interacts with metal responsive transcription factor-1 in hypoxic human cells. Biol Chem 386(9):865–872

28.

Crisostomo PR, Wang Y, Markel T et al (2008) Human mesenchymal stem cells stimulated by TNF-alpha, LPS, or hypoxia produce growth factors by NF kappa B- but not JNK-dependent mechanism. Am Physiol Cell Physiol 294(3):675–682

29.

Kondakova IV, Spirina LV, Shashova EE, Koval VD, Kolomiets LA, Chernyshova AL, Slonimskaya EM (2012) Proteasome activity in tumors of the female reproductive system. Russ J Bioorg Chem 38:89–92

30.

Abramova EB, Astakhova TM, Erokhov PA, Sharova NP (2004) Multiple forms of the proteasomes and some approaches to their separation. Izv Akad Nauk Ser Biol 2:150–156

31.

Ben-Shahar S, Komlosh A, Nadav E, Shaked I, Ziv T, Admon A, DeMartino GN, Reiss Y (1999) 26S proteasome-mediated production of an authentic major histocompatibility class I-restricted epitope from an intact protein substrate. J Biol Chem 274(31):21963–21972

32.

Maiorano E, Loverro G, Viale G, Giannini T, Napola A, Perlino E (1999) Insulin-like growth factor-I expression in normal and diseased endometrium. Int J Cancer 80(2):188–193

33.

Libermann TA, Zerbini LF (2006) Targeting transcription factors for cancer gene therapy. Curr Gana Ther 1:17–33

34.

Pallares J, Martinez-Guitarte JL, Dolcet X, Llober D, Rue M, Palacoos J, Prat J, Matias-Guiu X (2004) Abnormalities in the NF-kappaB family and related proteins in endometrial carcinoma. J Pathol 204(5):569–577

35.

van Uden P, Kenneth NS, Rocha S (2008) Regulation of hypoxia-inducible factor-1 alpha by NF-kappaB. Biochem J 412(3):477–484

36.

Xie Y (2010) Structure, assembly and homeostatic regulation of the 26S proteasome. J Mol Cell Biol 2:308–317

37.

Jacobsen J, Grankvist K, Rasmuson T, Bergh A, Landberg G, Ljungberg B (2004) Expression of vascular endothelial growth factor protein in human renal cell carcinoma. BJU Int 93:297–302

38.

Dolcet X, Llobet D, Encinas M et al (2006) Proteasome inhibitors induce death but activate NF-kappaB on endometrial carcinoma cell lines and primary culture explants. J Biol Chem 281(31):22118–222130

39.

Perkins ND, Gilmore TD (2006) Good cop, bad cop: the different faces of NF-kappaB. Cell Death Differ 5:759–772

40.

Sixt SU, Peters J (2010) Extracellular alveolar proteasome. Possible role in lung injury and repair. Am Thor Soc 7:91–96

41.

Heubner M, Wimberger P, Dahlmann B et al (2011) The prognostic impact of circulating proteasome concentrations in patients with epithelial ovarian cancer. Gynecol Oncol 120(2):233–238
Acknowledgments
This study was supported by the Federal target program "Scientific and scientific-pedagogical personnel of innovative Russia" in 2009–2013 (Governmental Contract No. P320).
About this article
Cite this article
Spirina, L.V., Yunusova, N.V., Kondakova, I.V. et al. Association of growth factors, HIF-1 and NF-κB expression with proteasomes in endometrial cancer. Mol Biol Rep 39, 8655–8662 (2012). https://doi.org/10.1007/s11033-012-1720-y
Received:

Accepted:

Published:

Issue Date:
Keywords
Insulin-like growth factors

Vascular endothelial growth factor

Hypoxia-inducible factor-1

Proteasome

Nuclear factor kappa-B

Endometrial cancer